ROOMDEX Webinar: Boost Revenue through a Better Pre-Arrival Engagement Plan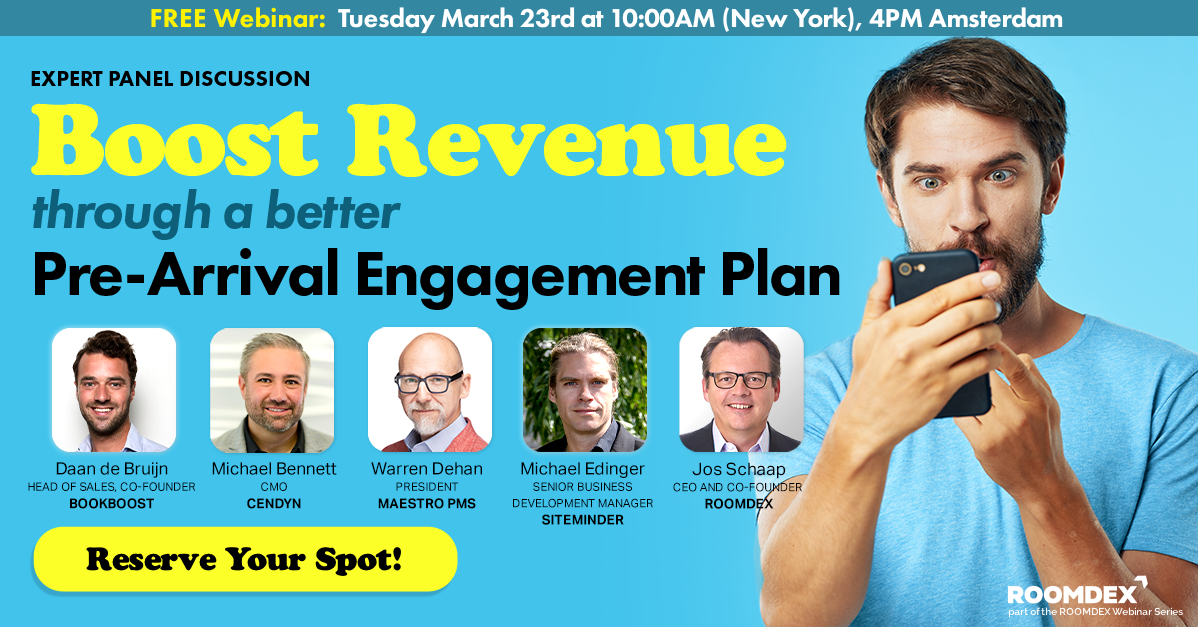 An expert panel discussion with the 4 Leading Hotel Software Companies, moderated by ROOMDEX's own Paul Peddrick as part of our Webinar Series.
Join:
Michael Bennett, CMO at Cendyn
Michael Edinger, Senior Business Development Manager at SiteMinder
Warren Dehan, President at Maestro PMS 
Daan de Bruijn, Head of Sales – Co-Founder at Bookboost
and Jos Schaap CEO and Co-Founder at ROOMDEX for a lively discussion on how to maximize ancillary guest revenue through an actionable guest engagement plan. We will also discuss the latest in CRM, the dos and don'ts of guest communications, and what the future holds.
Join us on Tuesday, March 23rd at 10:00AM (New York), 4PM Amsterdam
Format: Online panel discussion + Q&A 
More about our speaker:
Michael Edinger – Senior Business Development Manager
A native of the United States, Michael moved across to sales in London for various SAAS companies before meeting with SiteMinder in 2013.
Michael is now developing close tech relationships with hospitality providers and partners across EMEA with a strong focus on London and the Middle East. His primary initiatives are to strengthen the SiteMinder brand and also help businesses achieve their sought-after levels of growth. He believes in SiteMinder and is only too happy to share the benefits with anyone willing to listen.