By Fig Cakar, Managing Director – the Americas, SiteMinder

If we know one thing about the US,  it's that there are good reasons for its 'land of opportunity' association. And the independent hotel industry is no exception, with an enormous market set to grow still further, according to a new wide-ranging report.
Overall market outlook
Phocuswright and h2c's Independent Lodging Market Report, co-sponsored by SiteMinder, reveals that the gross booking figure for US independent properties will rise 7.2% – from $38bn in 2014 to $40.7bn this year – while online penetration will rise 2% to 44% by 2017.
US independents not only generate more than twice the revenue per room (about €30,000 vs €13,000 per room per year) of their European counterparts, but their compound annual growth rate is projected to be 6.8% between 2013 and 2017 – Europe's is just 1.1%.
Despite roughly equivalent populations, the total US lodging market dwarfs that of the five key European markets combined, with projections for the end of this year suggesting figures of $144.8bn and $68.1bn respectively.
Role of online travel agents
As you'd expect, given general industry trends, OTAs are an ever-growing force in the independent sector. The report notes that online distribution of independent properties is "dominated" by intermediaries – particularly OTAs, who control 52% of online distribution. Accordingly, direct online penetration makes up 18% of the market.
This may come as a surprise to a significant portion of hoteliers though, with 72% of independent properties saying they believe their website to be their most important distribution channel. The report claims that this misunderstanding of the relative importance of various distribution channels means independent properties often fail to address the key needs of their business.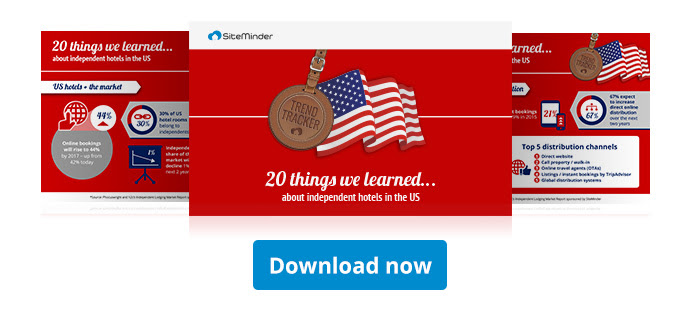 Understanding the business
"Many (independent hotels) are confused as to where their business is coming from, how much it costs and how to effectively manage multiple channels," the report states. "Most want to drive increased business directly, but fail to take concrete action to achieve this goal."
Unsurprisingly then, the report also notes that US independents' use of efficient technology-based hotel management tools like SiteMinder's Channel Manager is "weak", with only a small minority employing such technology. It suggests increased use of these systems to manage (rather than just facilitate) rooms, hotels, and inventory is an area where independents can steal a march on competitors.
Marketing and business relationships
Marketing is also targeted as a potential area for improvement. Although 71% of the independents' marketing spend is on online channels, it is described as "too basic", with TripAdvisor and Google the big winners at the expense of other channels.
As with almost every other market though, OTAs are, one way or another, the burning issue in the US market, with the report saying they will continue to grow market share in the short-term.
Although OTAs are used extensively by independents, according to hoteliers distribution costs and a loss of control are the main challenges of working with the big guns.
It's important for independents to get their relationship with OTAs right, with the report stating that they are more important for hotels and motels than any other type of accommodation.
It's also crucial for independent hotel owners to keep on top of mobile traffic, with mobile direct bookings expected to rise from a 21% share to a 29% share in 2015.
What does the future look like?
While the headline figures look positive for independents, the sector's expected growth of 8.6% in 2015 is slower than that of the overall market.
However, with an increased awareness of effective marketing, investment in smarter hotel management technologies and an increased focus on mobile, the independent sector could become one of the industry's most successful players.