By Clare Riley, Content and Editorial Manager, SiteMinder
You only have to take one look at the SiteMinder twitter account to see that the inaugural Travel Marketing Summit, hosted by Mumbrella yesterday in Sydney, gave the tweeters in our team plenty of food for thought.
Throughout the day SiteMinder sent more than 50 tweets featuring business advice for hotel and travel companies looking to get smart with their marketing. It was good stuff (even if we do say so ourselves!) and of course that's down to the quality of the talks being given, which were presented by some of the most experienced marketers in the travel sector.
Here are nine brilliant business insights that resonated with us:
1. Have an adaptable attitude to your marketing
Adapting your marketing to suit a fast-changing industry such as travel isn't easy. But Flight Centre's Keith Stanley says moving away from "rigid and process-driven" marketing was key to the company's revamped approach. His team has focused less on the details surrounding product and pricing, and thought more about how experiences can drive customer loyalty and retention.
SiteMinder says: Don't be afraid to change it up and focus on a new angle – especially if it means putting the customer first.
2. The traveller cycle just got interesting
The way travellers plan and book is changing all the time. First they dream, then they plan before they book, then there's a pre-travel phase, followed by the actual travel, and then there's the social sharing to make everyone back home jealous. Keith Stanley also says that consumers will "check what they see online with travel agents, then check the travel agents' advice by looking again online".
SiteMinder says: Think about the steps you personally take to book a trip – how much research would it involve? Where would you look and who would you trust? Add these considerations into your marketing efforts to make sure you're speaking to today's traveller at each stage of the cycle – including post-stay.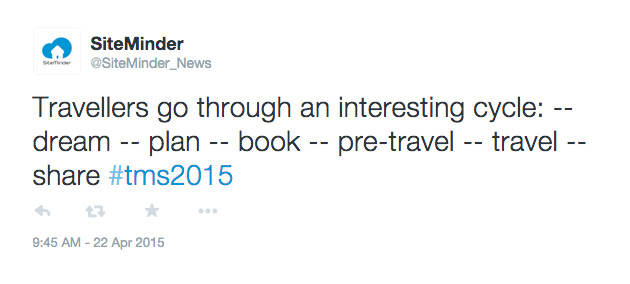 3. Capture and transport social media users
Hotel and travel businesses are at a huge advantage when it comes to social media. Everyone dreams of their next holiday and with just a few simple, yet beautiful images of your hotel, the likes of Facebook and Instagram become an attractive promotional vehicle for your business. More than 70 million photos are uploaded to Instagram every day (most of which are taken on smartphones) so the opportunity to capture, share and transport social media users to your property is enormous.
SiteMinder says: If you know a guest has had an amazing time, then encourage them to share that experience online. Your hotel will become part of a 'friends and family' discussion, which is a sure-fire way to get in to social media newsfeeds.
4. Customers will do the promoting for you
This really struck a chord with the SiteMinder team and we couldn't agree more with Katrina Barry from Contiki Holidays who believes: "If you're delivering the right experience, customers will do the promoting for you via social media."
SiteMinder says: It's easy to focus on the scary side of review sites such as TripAdvisor – complaints! But don't forget to engage with the positive feedback too. These guests will, in time, become your brand advocates.
5. Add a phone number to every page on your website
It sounds like a backwards step in today's digital age, but this advice is pure gold. Broadening your appeal and reaching new customers is as easy as placing your phone number on every page of your website. Booking site Skidoo did it and sales doubled. Managing director Mirza Juddani believes hotel and travel businesses should embrace all aspects of communication because "…customer connection is key" whatever the method.
SiteMinder says: The older generation of 'Silver-surfers' are a perfect example of a demographic that likes to research online but then pick up a phone and speak to a real person. You could be missing out on bookings if you're focused on being digital-only.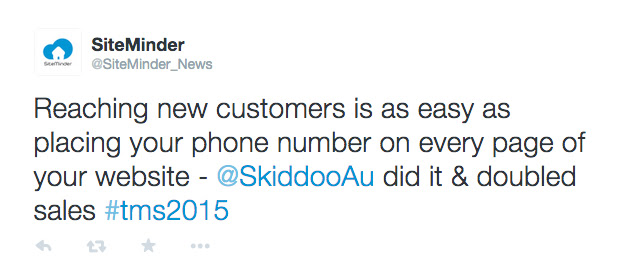 6. Get in touch with your emotions
Olivia Wirth from Qantas is passionate about the airline's 'Feels Like Home' campaign and says it helped people think more positively about the brand and the values it represents. She says emotional campaigns are only possible when you have a true understanding of your customers and urges travel businesses to connect on a deeper level.
SiteMinder says: Businesses today have a multitude of stats and data at their disposal and you should analyse, analyse, analyse. As a hotelier, think about all the information your own property management system has on each of your guests and how you can use that to personalise their experience. It will put you at a serious competitive advantage if you know who your customers are, why they're visiting, and how they found out about you in the first place.
7. Think about blogs as the new magazines
Engaging with travel bloggers might seem daunting but it's something you should start to mastermind as they can influence many online users and sway booking decisions. Many blogs have bigger readerships than printed magazines so you should stand up and take notice of them.
SiteMinder says: Be authentic and do your research by familiarising yourself with the blog. They will only ever write about topics they're genuinely interested in. Start by finding a local blogger and build your networking from there.
8. People don't wake up and head to your website
It's a sad reality but unfortunately the masses don't wake up and immediately log on to your website. Tourism Australia's new marketing chief, Lisa Ronson, says that's her dream, but believes brands have to be realistic about where users are heading online. Put simply, you have to expand your reach.
SiteMinder says: Technology is your biggest weapon when it comes to getting in front of users online. Whether it's boosting your posts on Facebook, or using software like SiteMinder's Channel Manager to increase your awareness via online travel agents, reach is everything and the conversions will come. Spread your message further.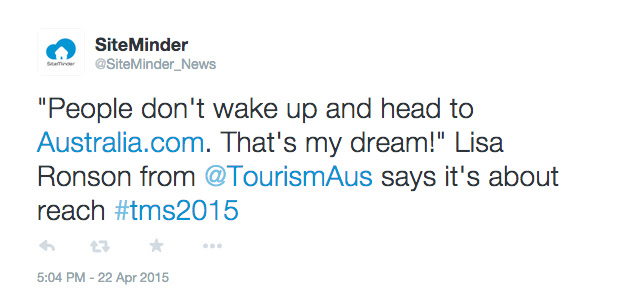 9. And our favourite business insight of the day…
"Brands don't belong to us, they belong to consumers." This great piece of advice came from Kim Portrate at Helloworld and we think all hotel and travel businesses should live by this. Kim also said that sleep is overrated but the SiteMinder jury is still out on that one!