Big picture
The digital behaviours and expectations of today's traveller are intricately linked to the online experiences they have in other parts of their life, including the way they bank, shop and dine.
As screen time nudges past six-and-a-half hours a day globally, and travellers of all ages become more closely bound to their devices, technical ability, and an awareness of digital experiences that aren't optimised, are both on the rise.
Digital platforms are the go-to for accommodation discovery
Globally, today's traveller is more than two-and-a-half times more likely to begin the research process for their accommodation on a search engine rather than via their friends. In Thailand, today's traveller is five times more likely to start with search.
With a proliferation of data, the digital dependent is turning to global platforms to deliver suitable options quickly, and is turning to friends and brands less.
At 36%, the Australian traveller is the most likely to start their research via a search engine, followed by the UK and French traveller. Meanwhile, the Italian traveller, at 32%, is the most likely to begin their research via a specific online travel agency, website or app, followed by the Spanish (29%) and Chinese (28%) traveller.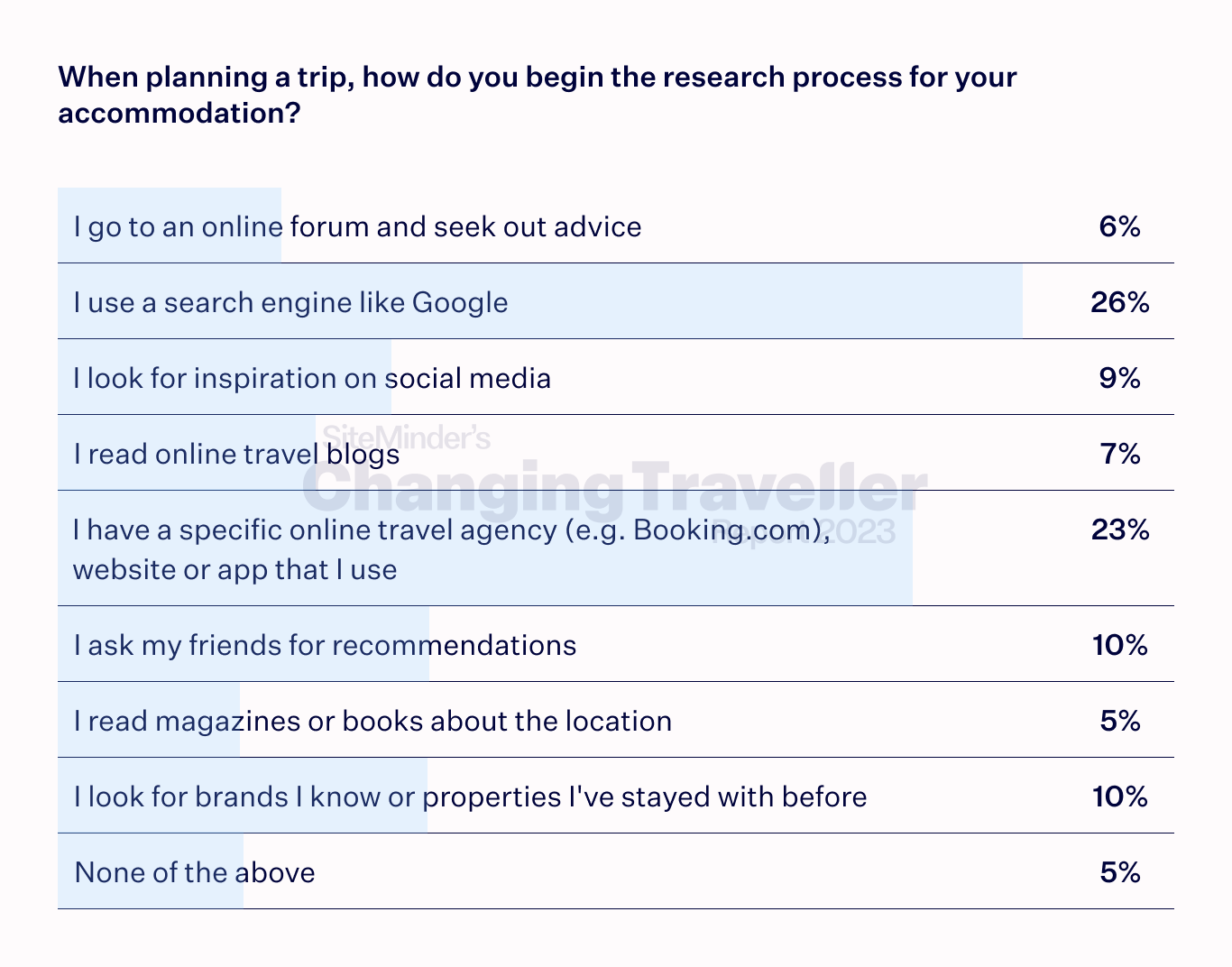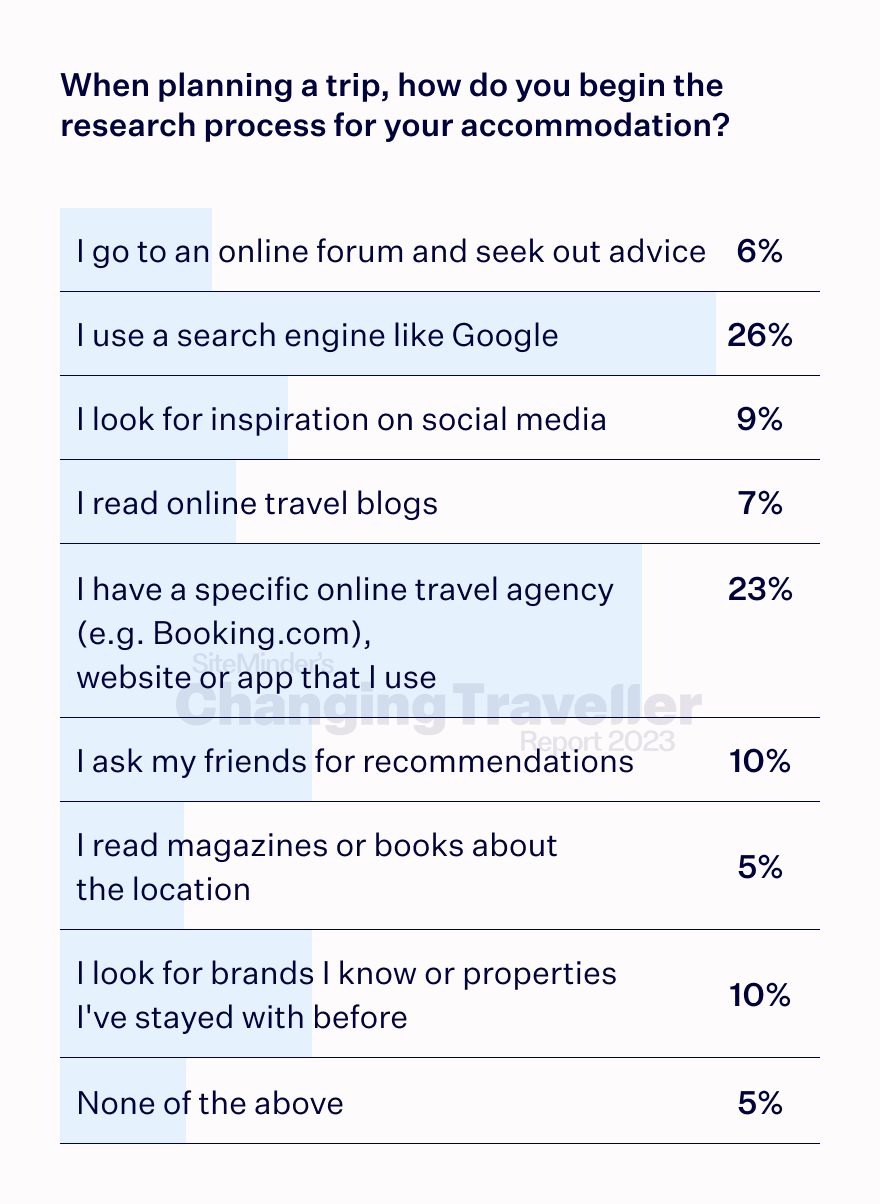 Social media, which collectively added 150 million new users in 2022 (4), continues to more deeply permeate the travel industry. While it is again the first step in accommodation discovery for only around 1-in-10 travellers, social media use has continued to grow globally since last year, its influence increasing for the Gen X traveller in particular.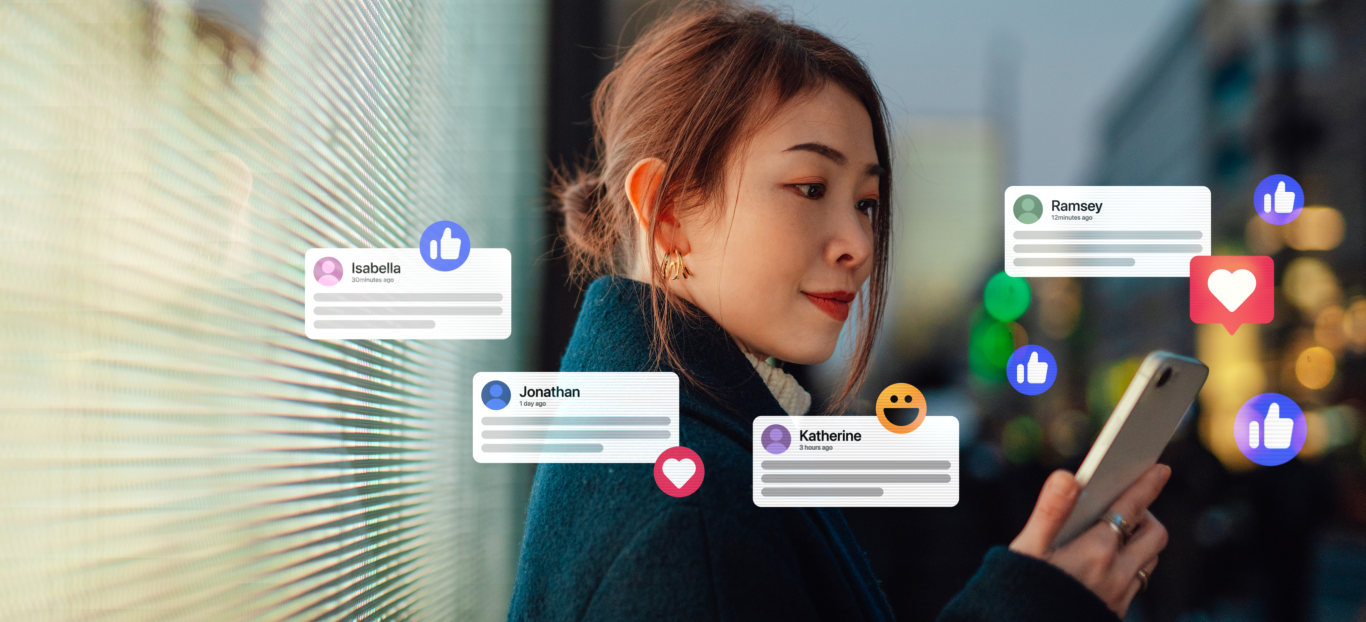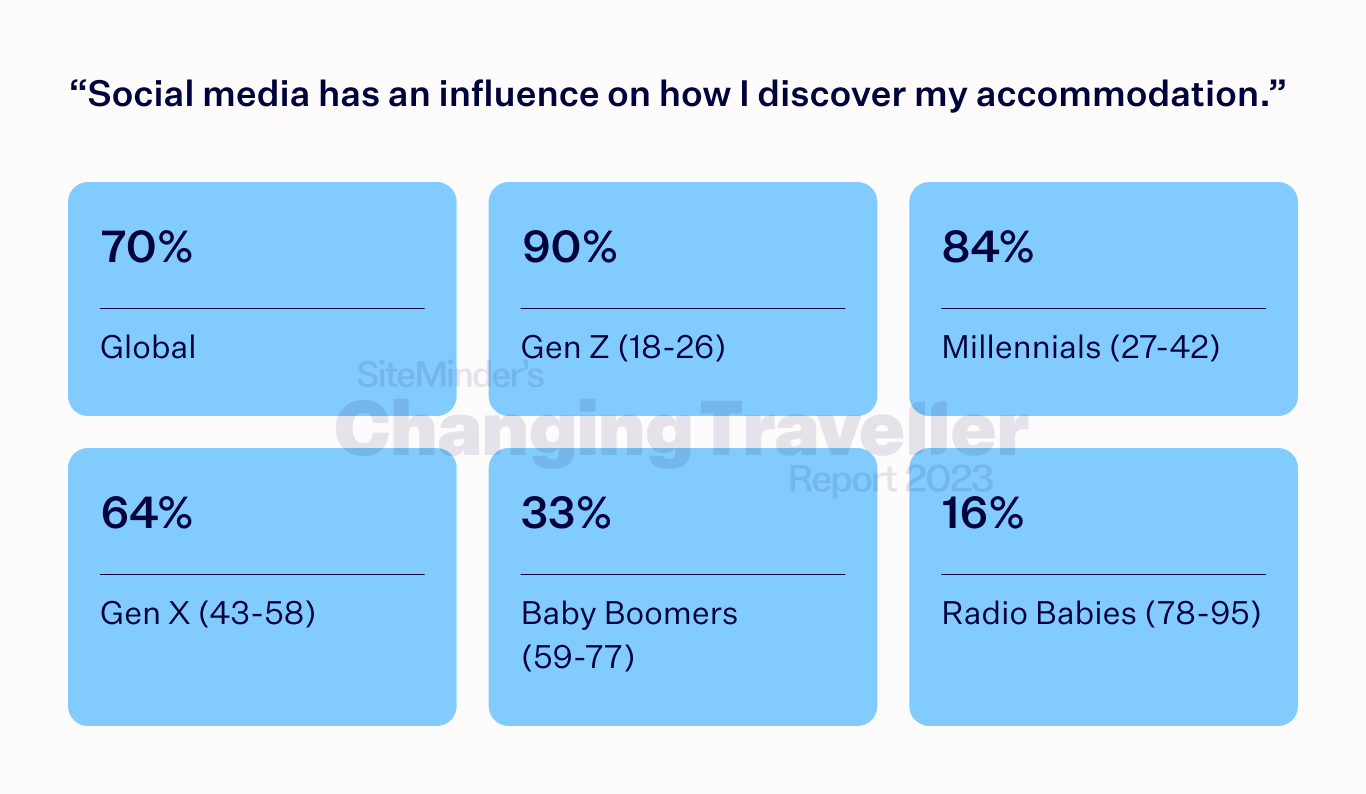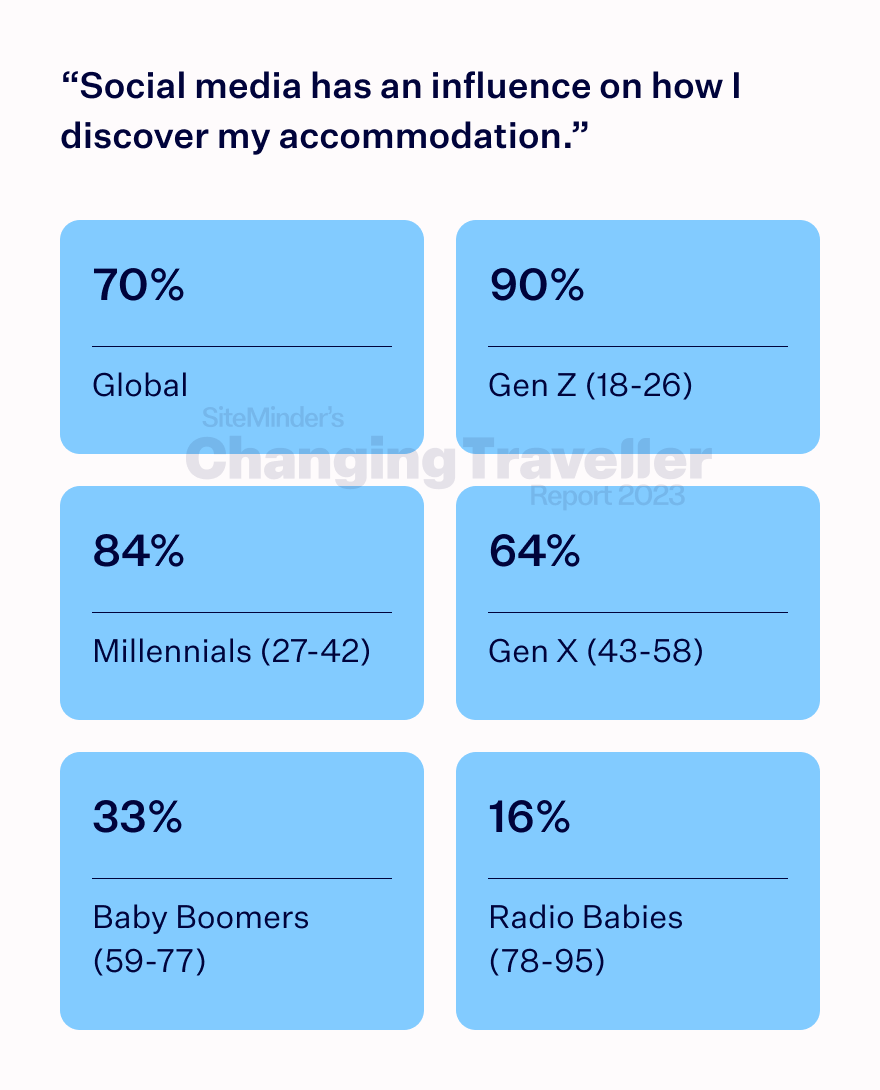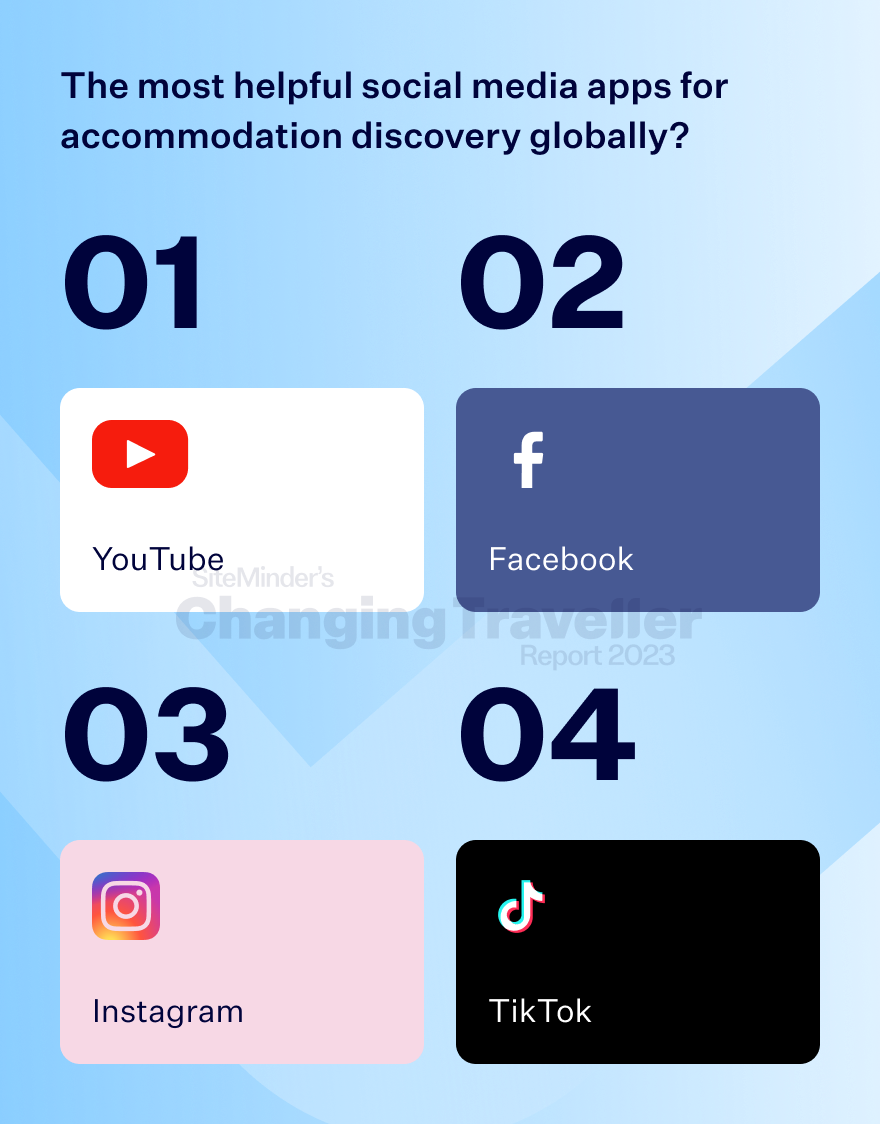 AI embraced by the young urban traveller, as intelligent solutions become more normalised
AI
More than 50% of this year's survey respondents are either 'likely' or 'very likely' to use AI to generate accommodation recommendations – a number that rises to 68% among millennials, indicating the technology's sharp trajectory.
However, while the young urban traveller (alongside the Indian, Indonesian and Chinese traveller) is ready to go all-in with AI, the older traveller, living outside of a city centre in Germany, France and the UK particularly, needs more convincing.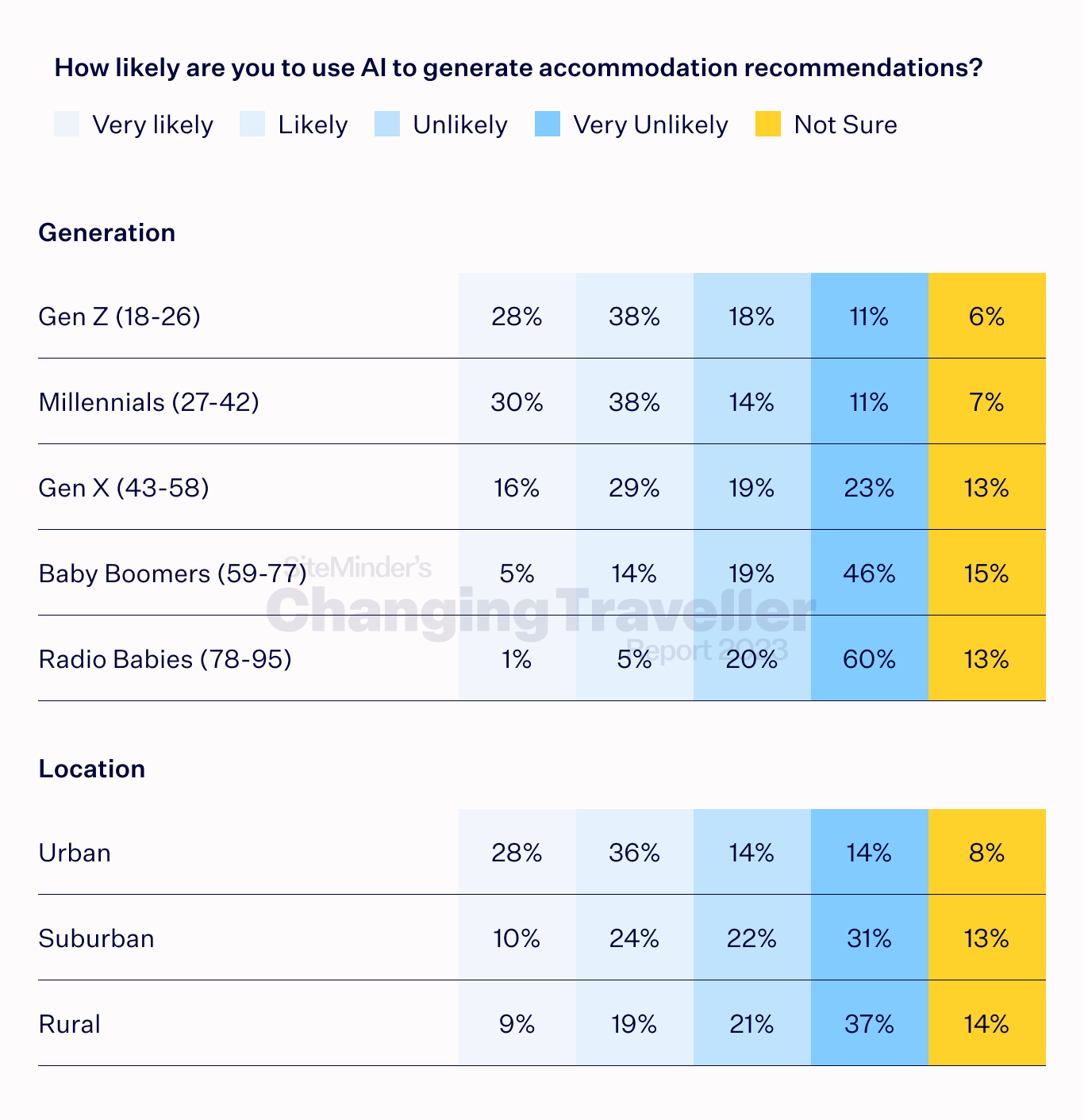 Intelligent solutions
Today's traveller has become more open to their accommodation providers streamlining operations in the last 12 months, as smart solutions improve and their use becomes more normalised. Two examples are the incrementally shifting attitudes towards both automated check-ins and website chatbots.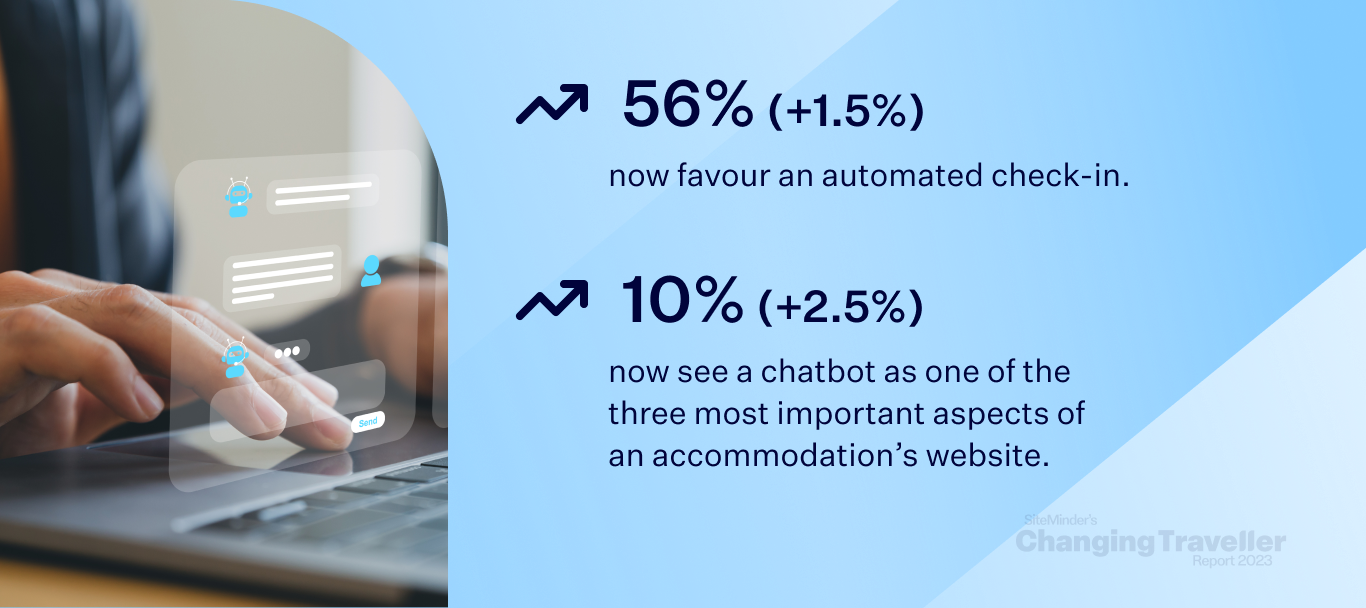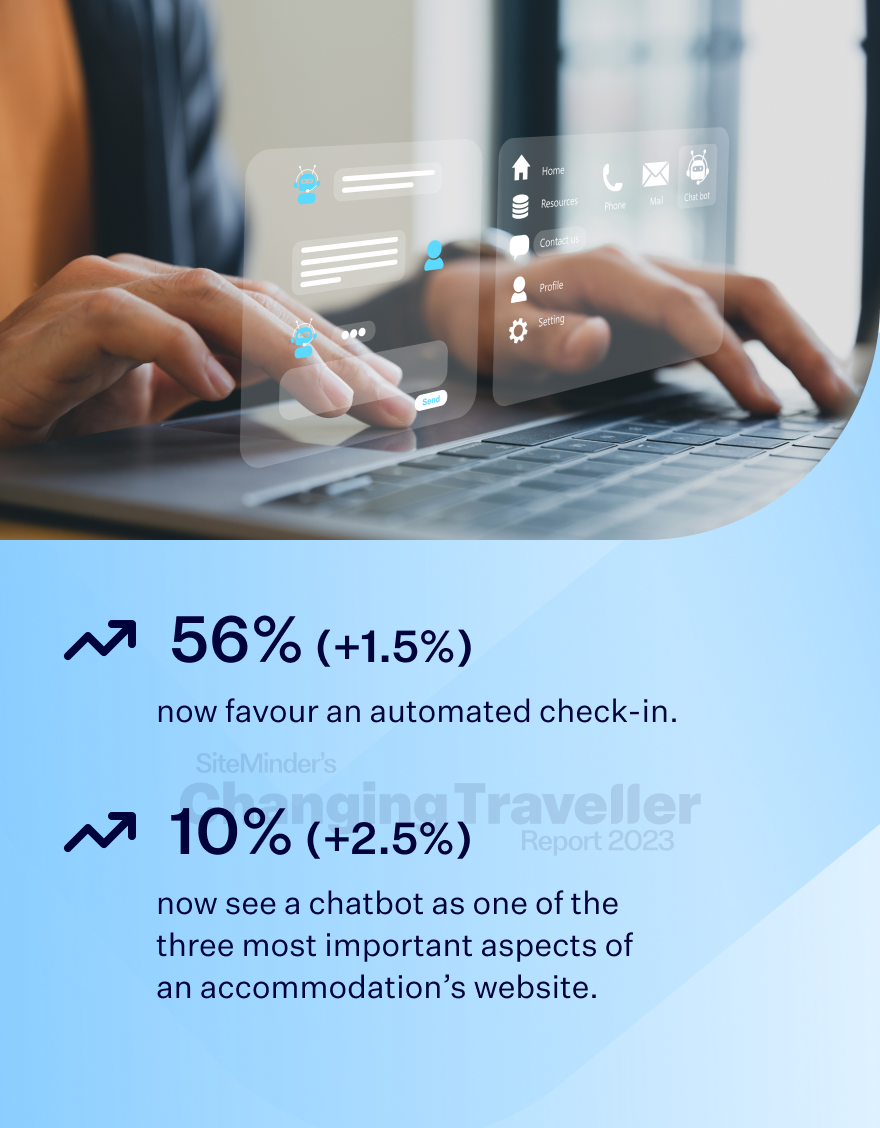 Sensitivity to poor digital experiences reaches a high point
Security and a seamless digital experience are now bigger priorities for today's traveller, as they spend more time online and expose themselves to the boom in scams. An easy and secure booking and payment process is again the most important aspect of an accommodation's website, while booking abandonment, particularly among the Gen Z and Millennial traveller, is rife.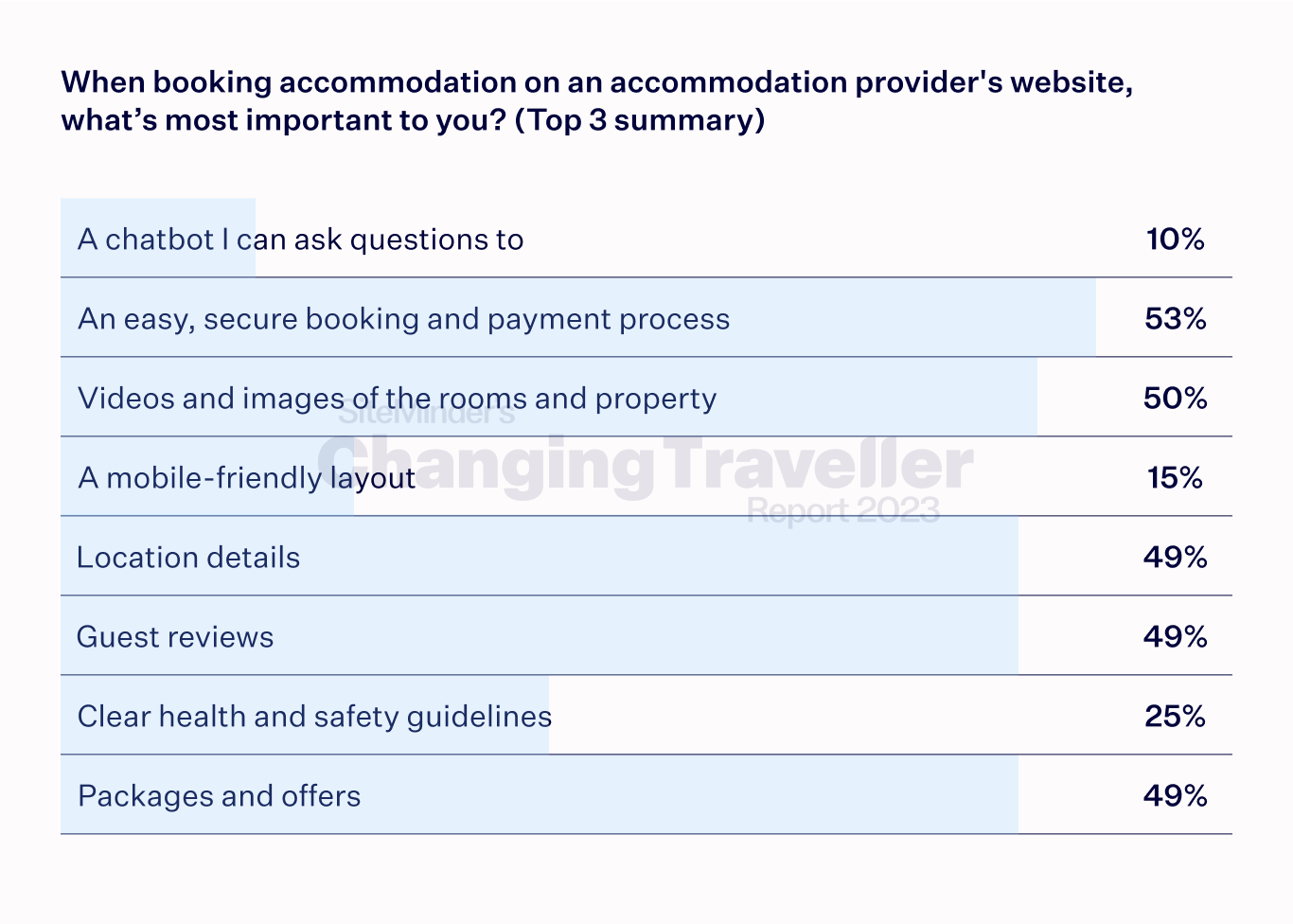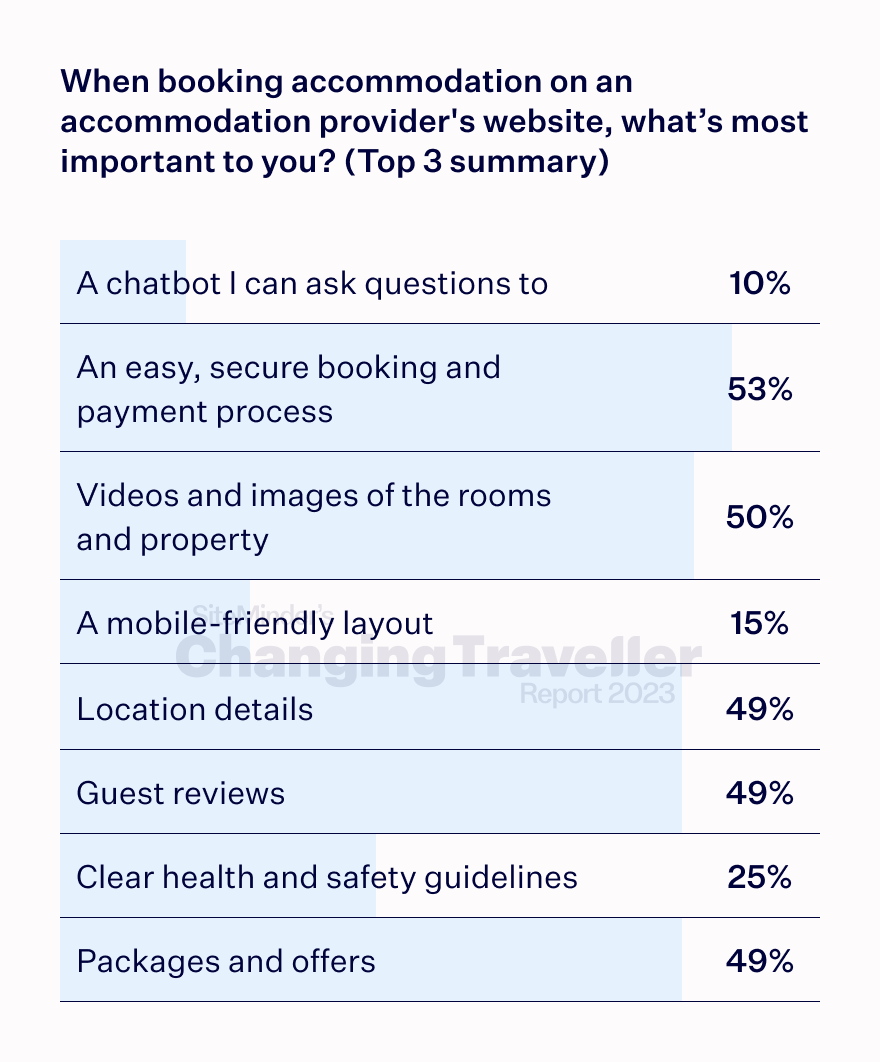 Critically, more than 1-in-2 travellers have decided not to proceed with an accommodation booking online because of a bad experience, jumping to almost 3-in-4 among Gen Zs.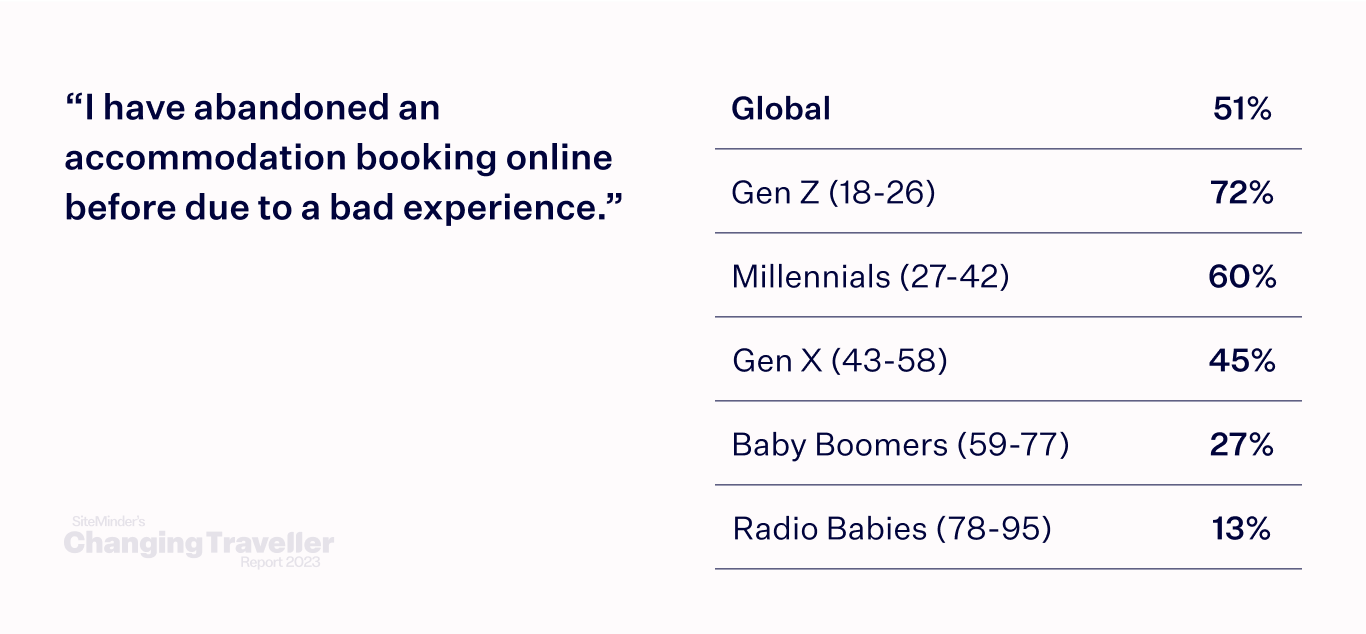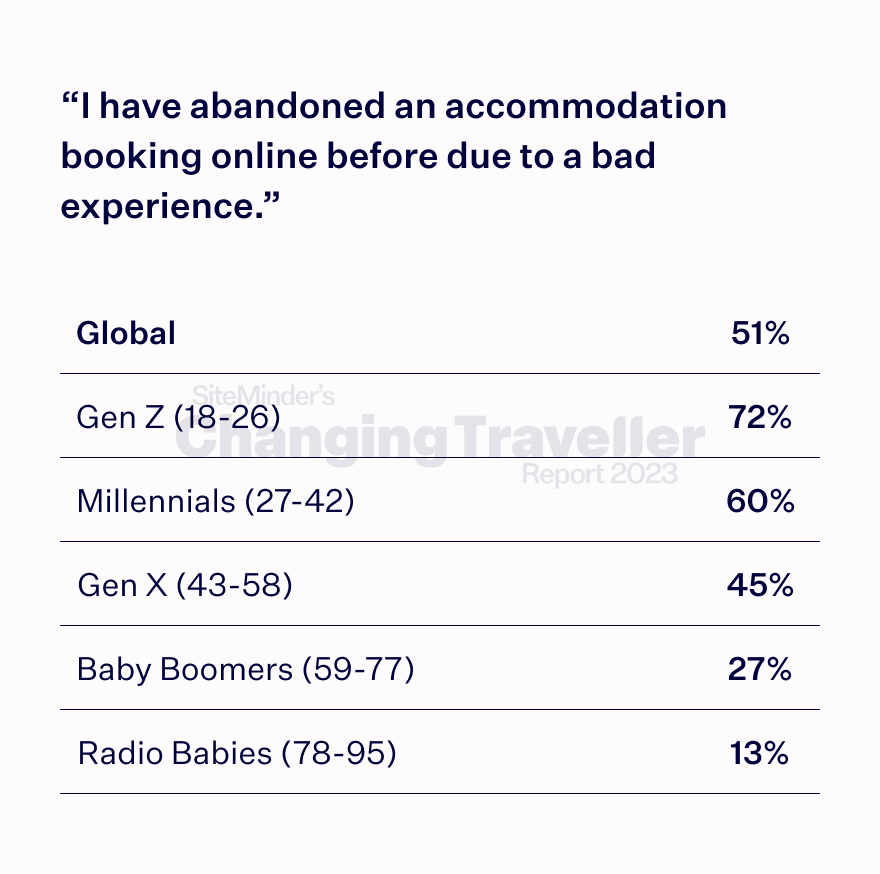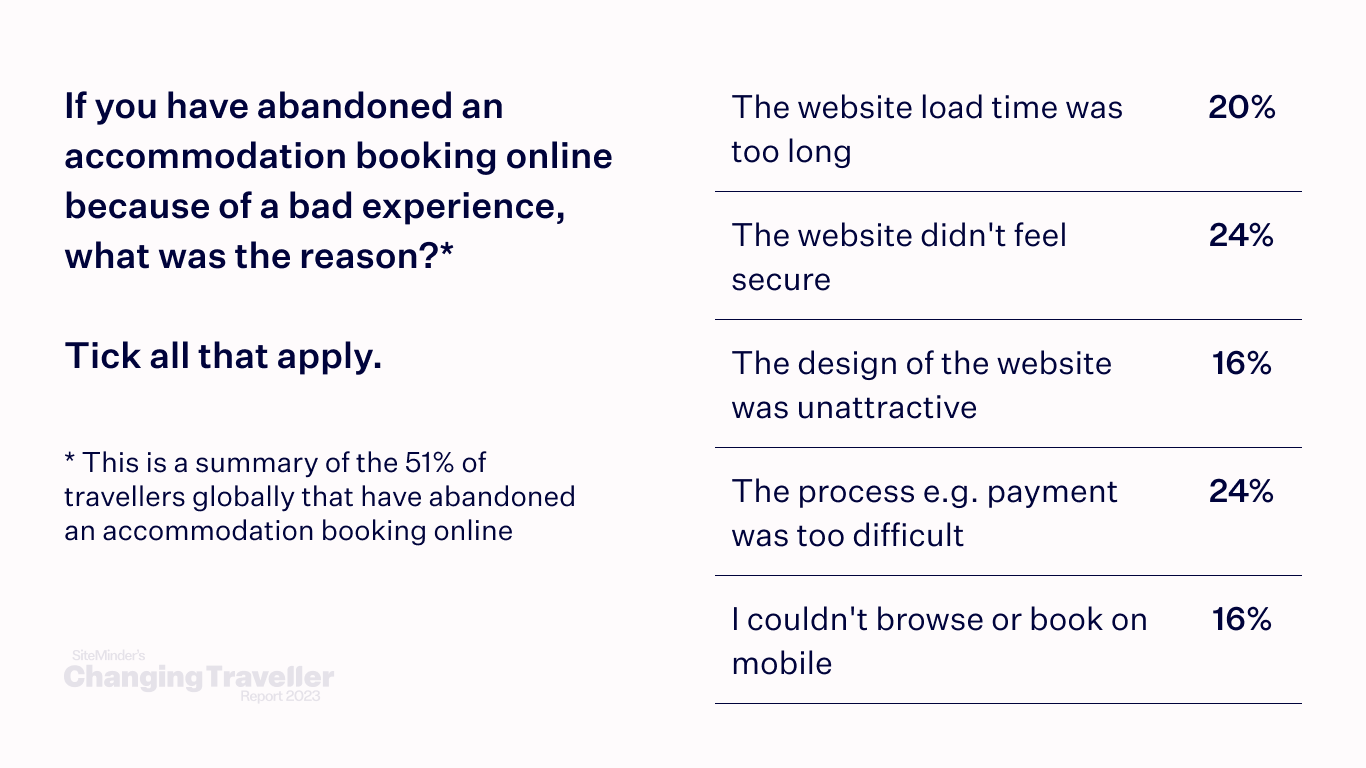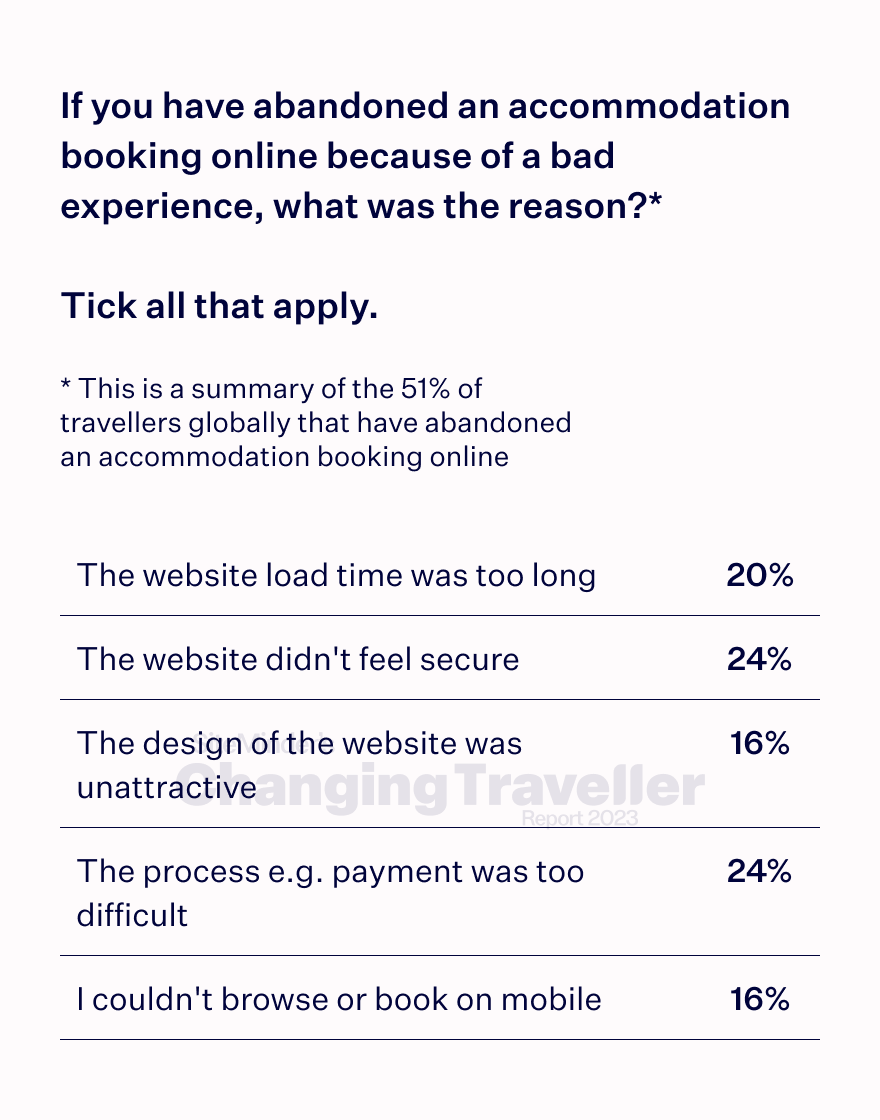 The innovation imbalance within the accommodation sector
A fundamental finding from today's digital dependent is that, from a technology standpoint, the accommodation sector is being left behind by other industries. There is an innovation imbalance that currently sees accommodation providers not meeting the demand for a tech-driven experience, particularly from today's younger traveller.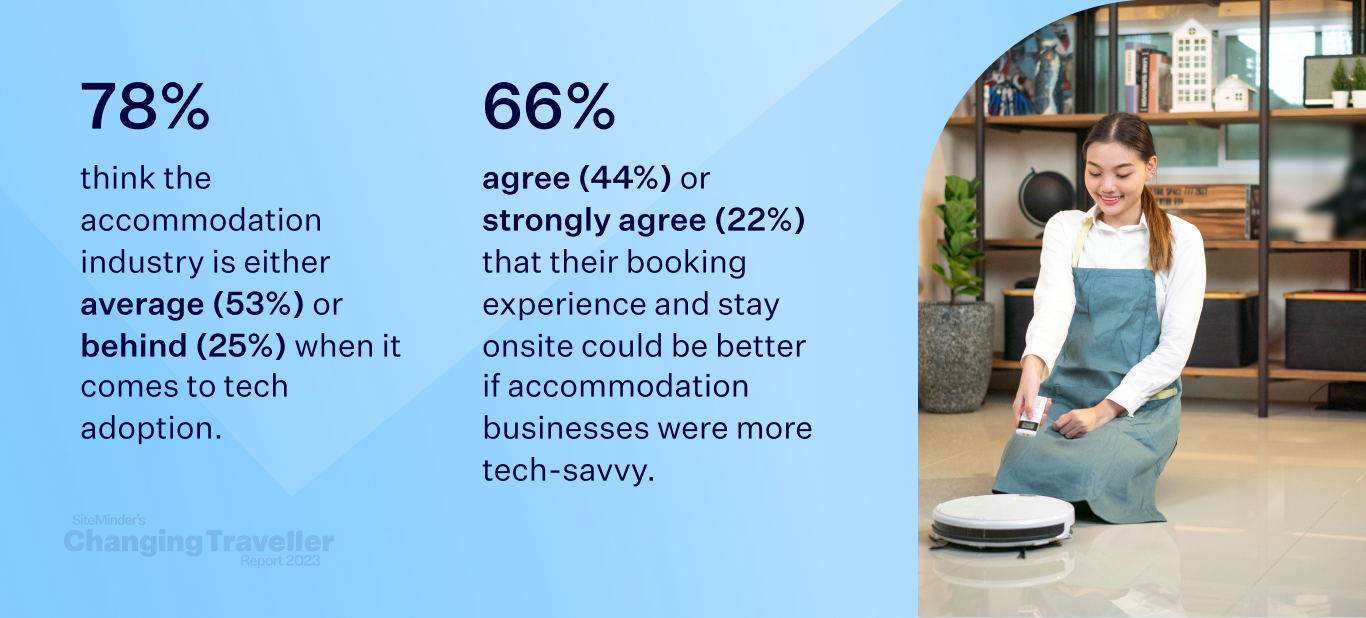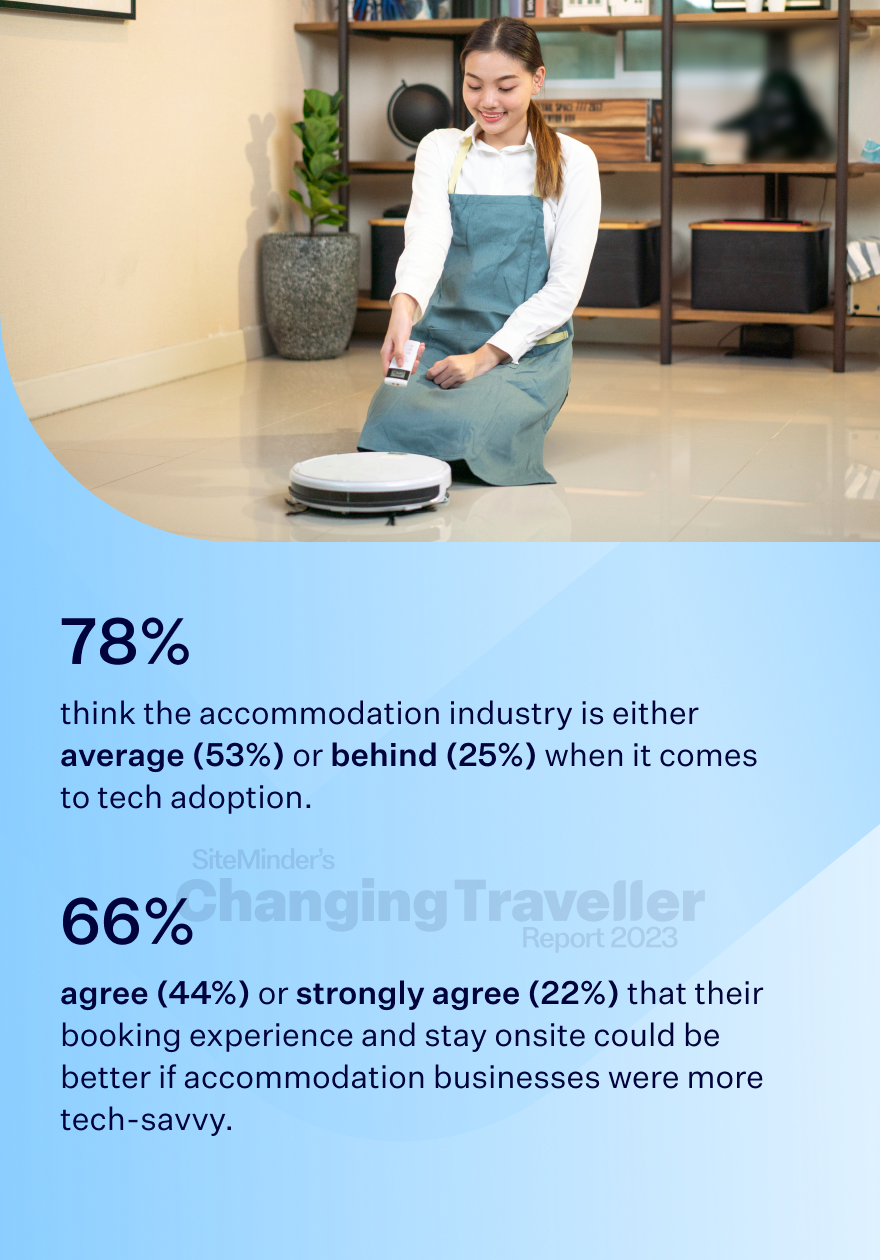 "In today's age, travel and technology have become intrinsically tied together. Travellers are relying on their devices for recommendations to bookings and everything in between, making it more essential than ever for merchants to provide a seamless digital experience.

In particular, easy and secure payments have become non-negotiable for travellers and it's important businesses ensure they are backed with the right technological infrastructure to retain customers. Similarly to SiteMinder's finding that an easy and secure booking and payment process is the most important aspect of an accommodation's website, a recent report by Stripe that examined ecommerce checkouts found that consumers said the top reason they would perceive a business negatively is if its website didn't feel secure or trustworthy. Given how valuable word-of-mouth recommendations are in the world of travel, providing a secure and seamless payment experience is critical to ensure businesses gain trust and can expand their customer base."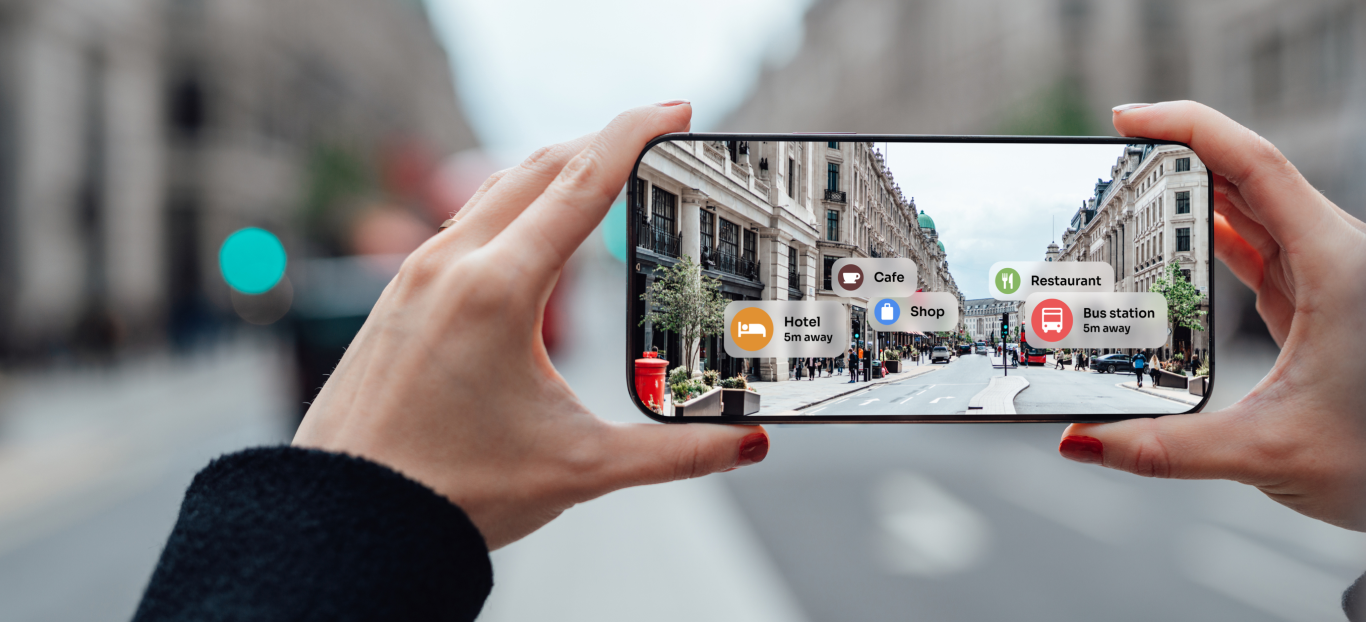 How far are digital dependents willing to lean into technology use?
While 67% are open to using augmented reality (AR) and virtual reality (VR) to plan or experience their accommodation, only 16% are open to AR/VR replacing a real-life stay.
---
Sources
'The next chapter in China's consumer story', Boston Consulting Group
'How the middle class will play the hero in India's rise as world power', The Economic Times
'The average screen time and usage by country', ElectronicsHub
'2023 global digital report', Meltwater and We Are Social