Guest Engagement
Unlock the spend potential of every guest.
Enhance your guests experience and drive revenue beyond the room with Guest Engagement. Provide a digital check-in experience, send personalised upsell offers, request feedback from guests and more.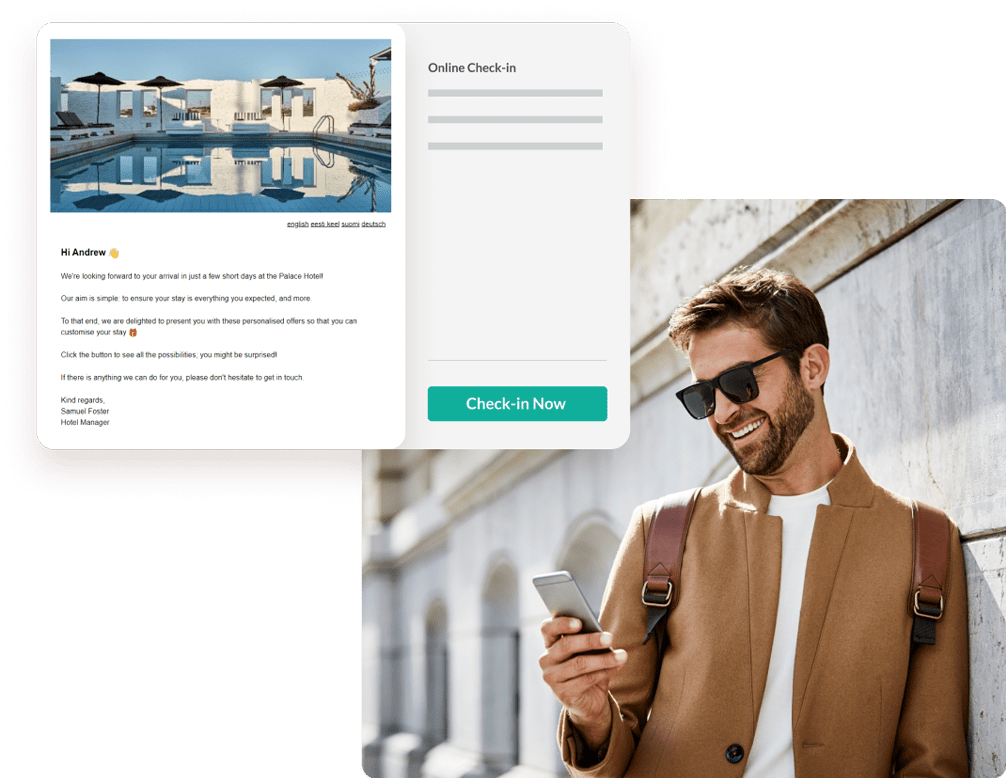 Raise your guest communications game.
Engaging emails
Create emails with charm and impact, communicating with your guests from pre- to post-stay. Own and grow the relationship, to keep the return visits ticking over.
Schedule Automated Sends
Set up automatic emails for every stage of your guests' journey, and free up valuable time to manage your property.
Revenue Beyond The Room
Drive additional revenue with upsell opportunities to your guests. Offer an unlimited range of add-ons and offerings to select from prior-to and during their stay.
Personalised Offers
Impress your guests and increase chances of conversion with offers custom-made to suit your guests interests, travel situation, and type of stay.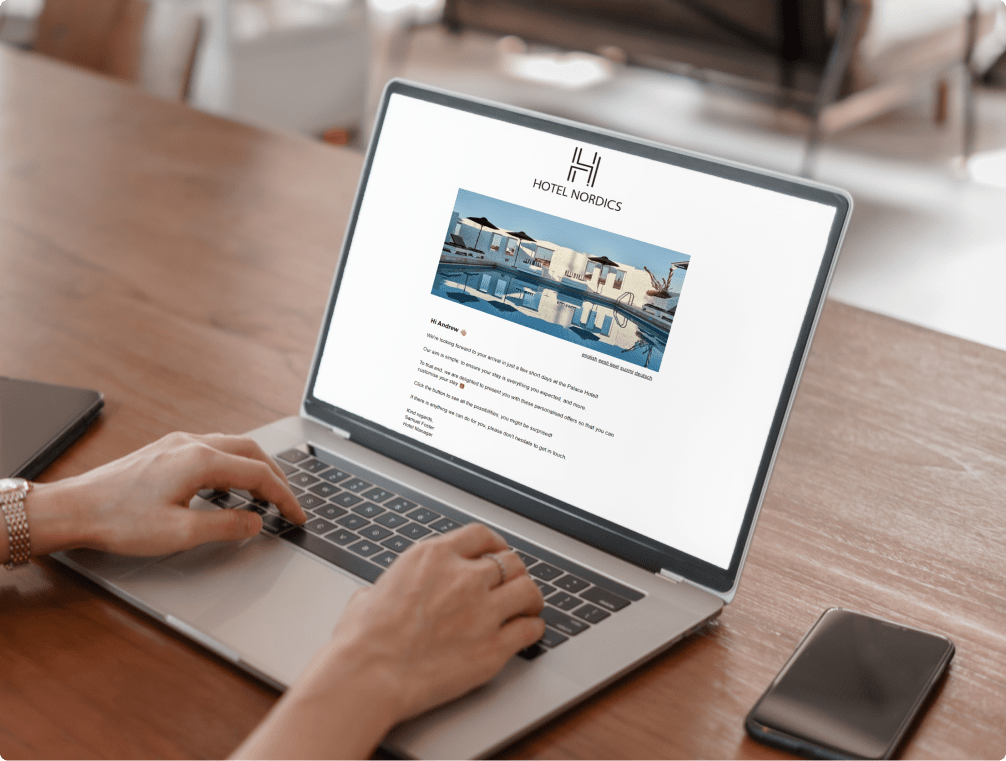 Make your guests' stays as smooth as possible.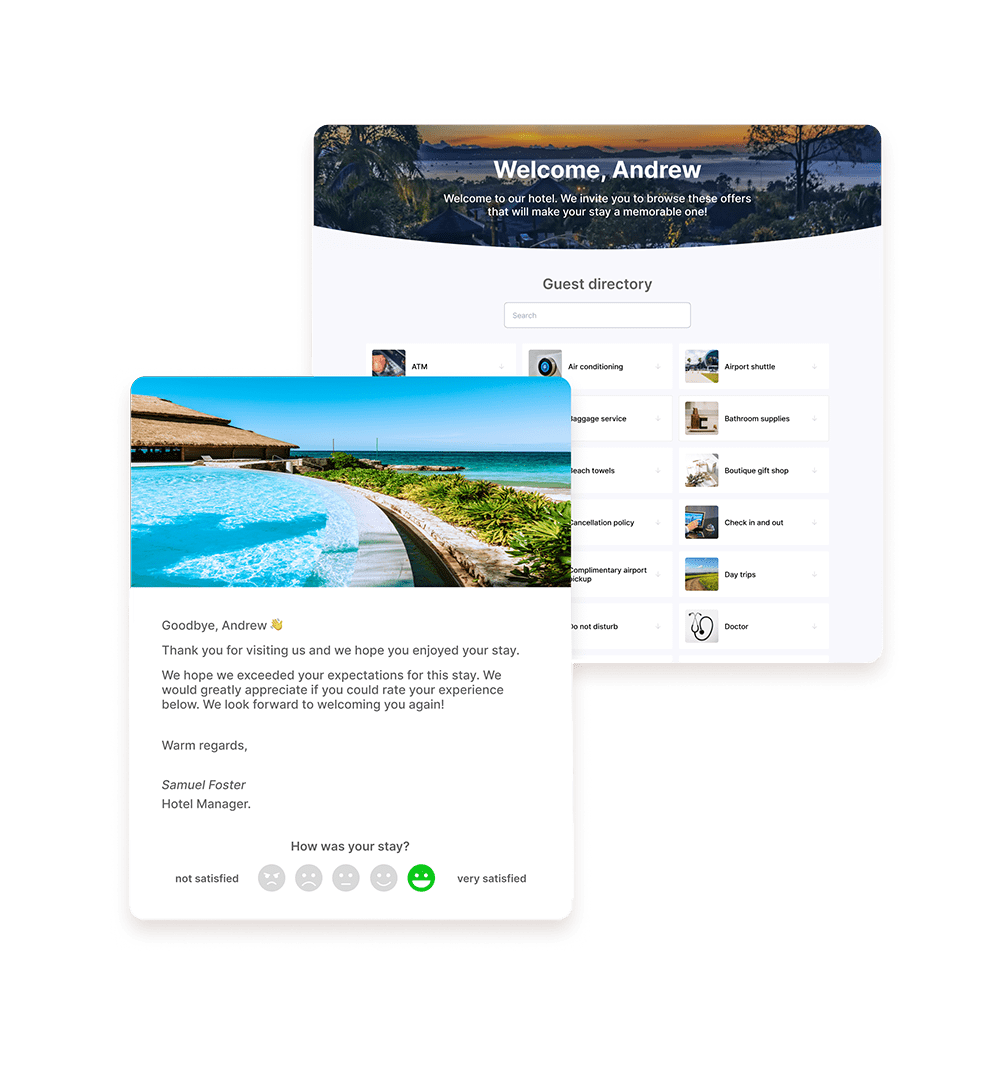 Online Check-in
Give your guests a convenient way to check in online — with simple ID upload, digital signature, and a Ts & Cs check.
Digital Directory
Say goodbye to outdated booklets and hello to rich digital directories – updated in seconds and easily accessed with a QR code.
Customised Surveys
Let your happy guests leave a review on TripAdvisor or Google, and spread the word about their personalised stay.
App-free Access
Let your guests access everything without the need to download an app.
Simple to set up, easy to use.
Rich Reporting
Know what's working at a glance, with simple yet thorough performance reports.
Easy Subscription
It's quick and simple to sign your guests up to your mailing lists, with tick boxes on every digital asset.
Built for Hoteliers
Get up and running in no time, with designs and functionality custom-built for hoteliers.
Over 20 Languages
Build rapport, and communicate with your guests in their own language.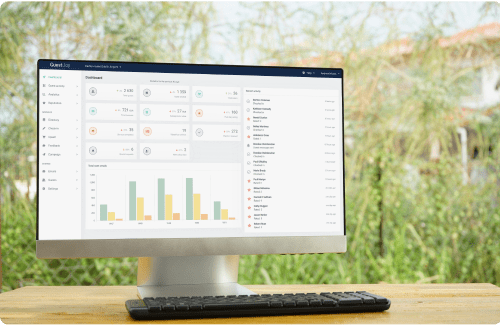 Achieve complete customer satisfaction.
Discover how you can perfect the personalised guest experience at your property.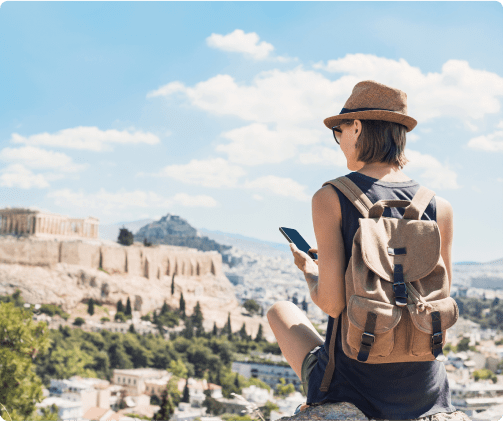 Frequently asked questions.
Guest Engagement can help you communicate with your guests in over 20 languages, and we are constantly adding new languages.
You decide exactly when you want emails sent. You have complete control over when an email should be sent at each point of the guest's journey.
Yes – Guest Engagement emails sent to your guests with a booking.com masked email address will receive your emails in their personal inbox, just like a guest who booked directly with you.