Hotel Website Builder
Attract more guests with beautiful hotel website creation
Integral to our hotel commerce platform, the website builder lets you create the professional website your hotel deserves. Simply choose from a range of easy-to-use templates to showcase your unique brand to travellers everywhere, all while saving money on web development fees.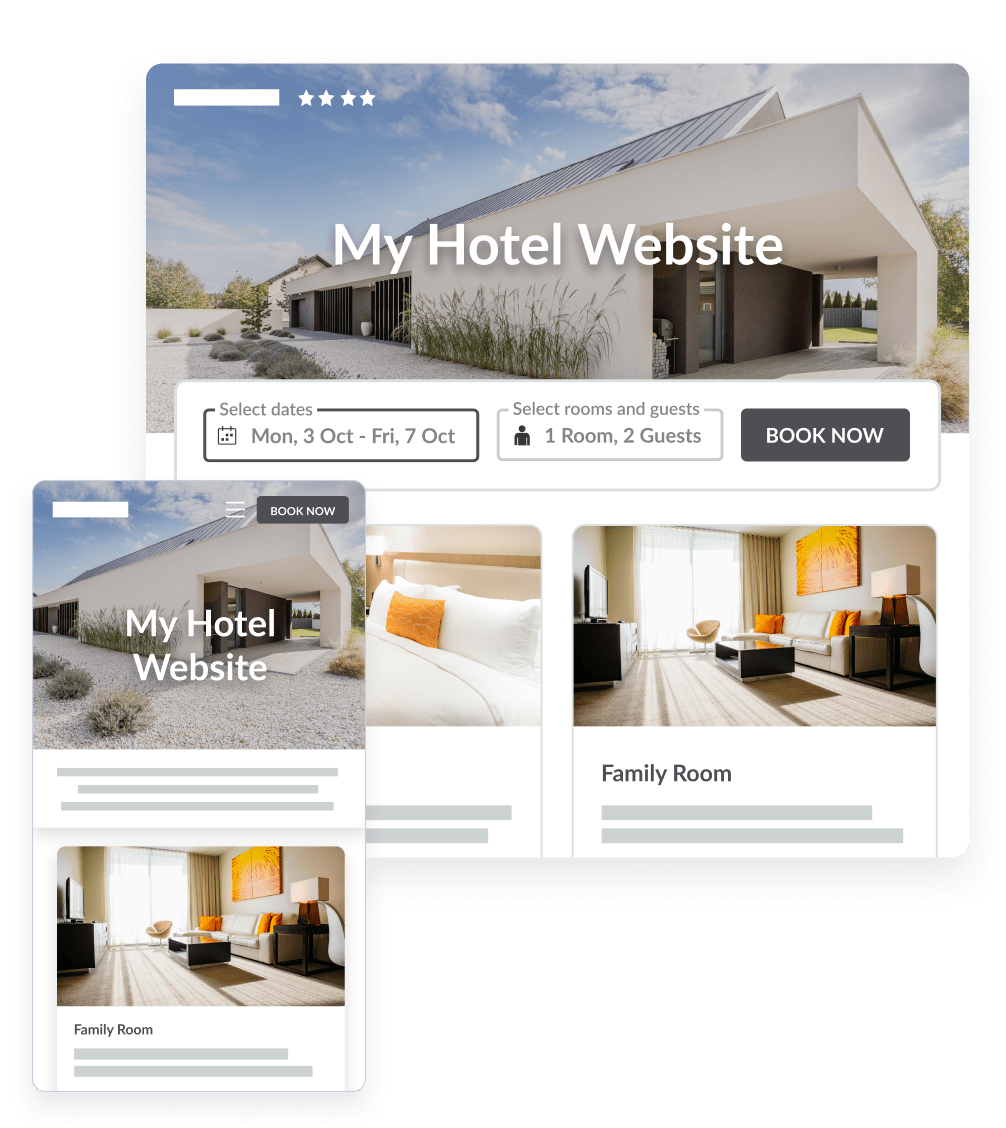 A simple website builder for hotels
Build your website, without compromise
Create a professional hotel website, without the hassle of finding and managing web developers.
Attract more direct bookings
Drive more direct revenue to your property by seamlessly connecting your website with the SiteMinder booking engine.
A website in your local language
Attract global travellers with the option to view your website in more than 20 languages.
Website design for all devices
Leverage our mobile-optimised themes and templates to ensure your guests are able to book on-the-go.
Use an online website builder to boost your hotel's most profitable channel
Booking engine integration
Easily integrate the website builder with the SiteMinder Booking Engine to provide a seamless booking experience for travellers.
Promotions and offers
Once integrated with the booking engine, your website can display promotions and optional extras to convert last minute bookings.
Free website domain hosting
Enjoy complete control of your website with a free SiteMinder web domain.
Globally available
Make it easy for international guests with multi-language options available.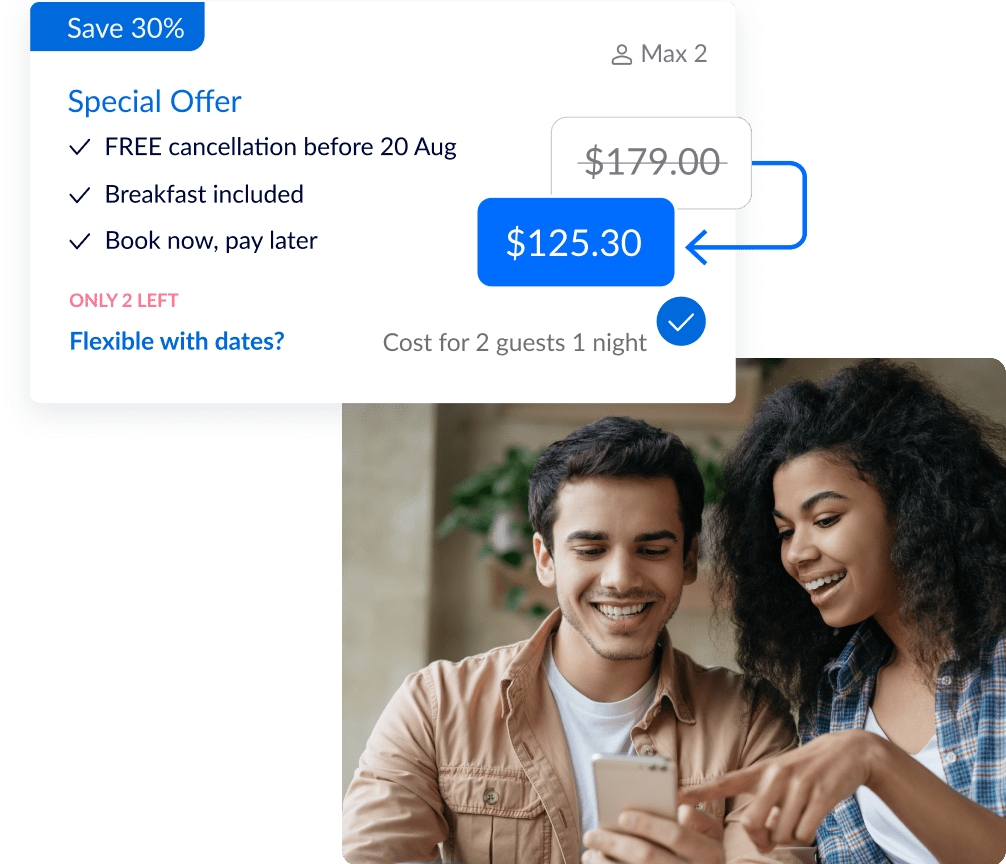 A professional website builder that makes you impossible to ignore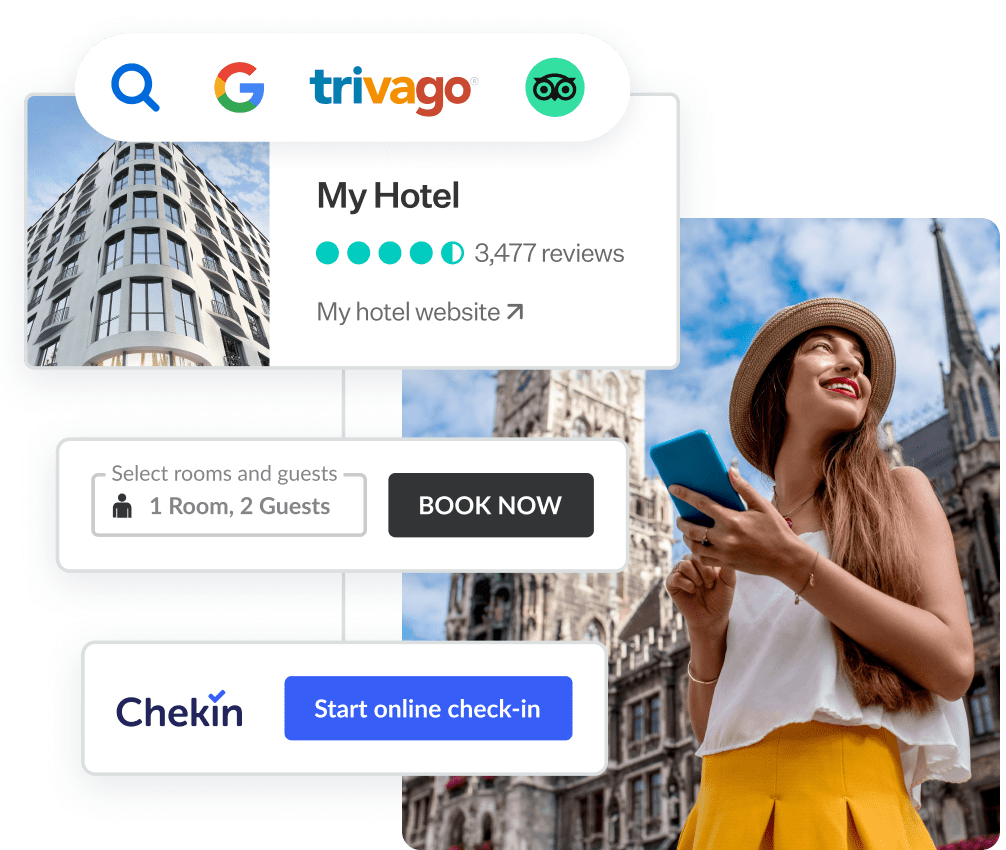 List your rooms on leading metasearch sites
Enjoy more direct bookings when your hotel is highly visible on sites such as Google Hotel Ads, Trivago and Tripadvisor.
SEO-friendly web design
Drive more organic visits to your site with a website builder that makes search engine optimisations easy.
Hotel App Store
Enhance your website experience and improve conversion with easy access to 100+ hotel apps ranging from upselling and reviews to loyalty and guest messaging.
A range of hotel website designs to choose from
Stand out from the crowd with multiple customisable themes to make your website wholly unique.
We do the hotel website development so you don't have to
A modern template, attractive themes, and simple design
Attract more guests than you thought possible with visually stunning and professionally-designed website templates.
Drive more reviews and positive word-of-mouth
Embed a Tripadvisor widget on your website so guests who have completed their stay can easily share their feedback.
Easily customise your hotel site
Convert more bookings by showcasing all your property has to offer, from your rooms and amenities, to local events and attractions.
Enjoy responsive website design
Be assured that your guests will have a smooth experience browsing and booking on your website, no matter what device they're using.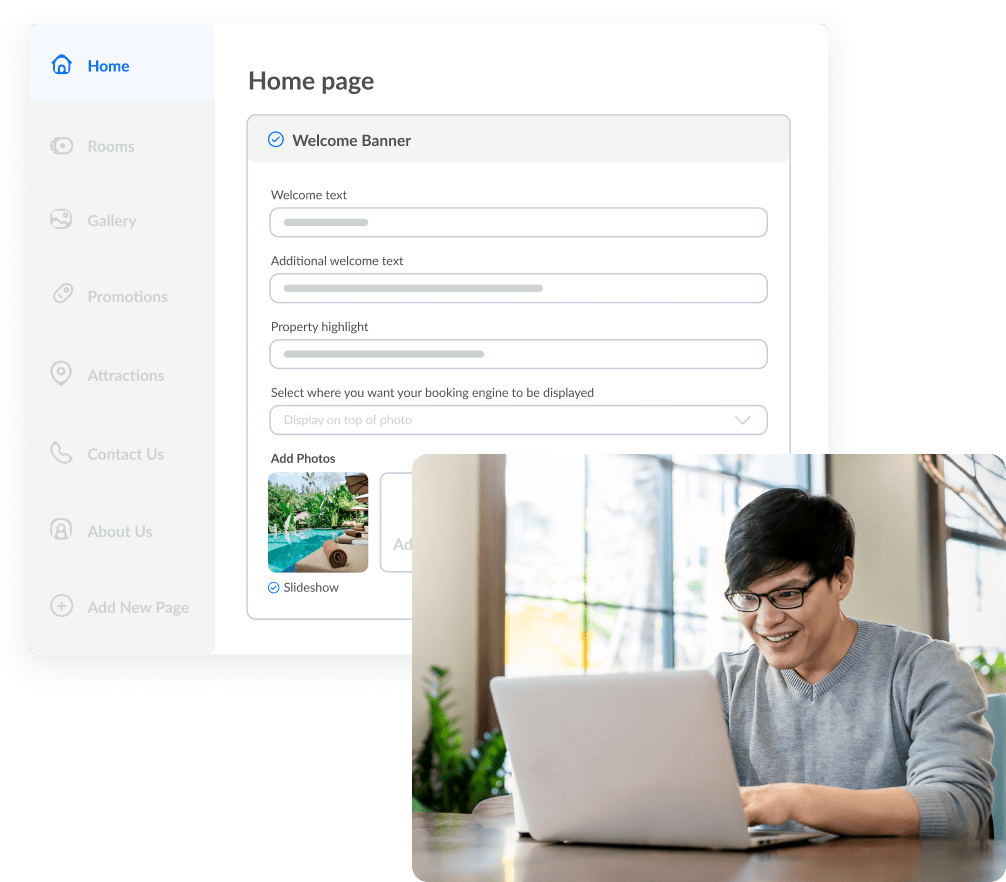 Find a customisable website template that's right for you.
Win direct bookings with these hotel website strategies
Uncover the keys to a beautiful, functional website that converts browsers into guests.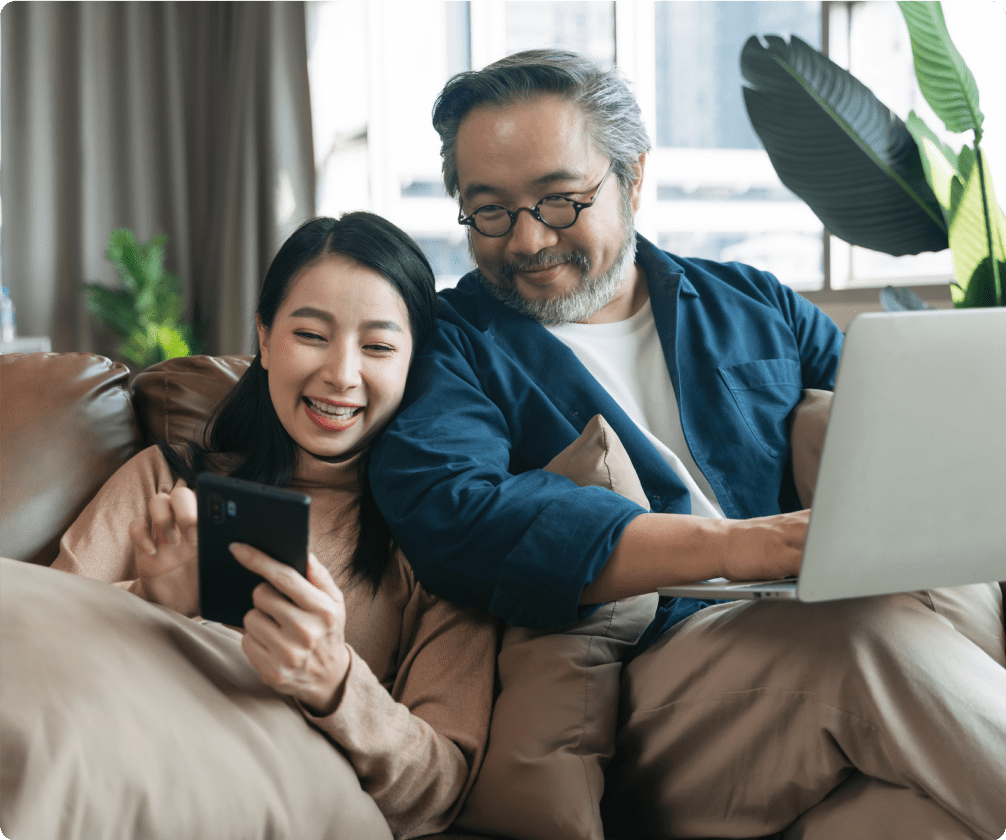 Frequently asked questions about the best hotel website builders.
A hotel website builder is an online tool that enables you to create professional and easy to manage websites by leveraging pre-built templates and designs. When using a hotel website builder, you can easily customise your website's theme, and add content and images to reflect your hotel's brand. This all means you don't need to know how to code and that you don't need to use a costly web developer to create a website.
When making a booking online, over 50% of travellers will look at a property's website before making a reservation. By having your own website you not only increase your property's visibility online, you also increase your chance to drive commission-free direct bookings. Additionally, having your own website gives you the chance to establish your unique brand identity and stand out from your competitors. You have complete control over how you present yourself, so you can use your website to influence travellers and inspire them to book with you.
Boutique hotel website design has a huge benefit for search engine optimisation (SEO) and the way that you can influence potential guests on your website.
It will help you:
Rank highly on search engine results pages
Impress visitors with the way your site looks
Be able to provide necessary information in an accessible way
Make it easy to book
Provide opportunities to upgrade
Entice guests with promotions, discounts, and packages
Show off images and great content
All of these features aren't always easy to implement in a tidy, organised manner unless you implement good website design.
There are many factors that make a hotel website builder the 'best'. Here are eight reasons why we think SiteMinder's website builder is the best option for your hotel.
1. Industry trusted website builder
SiteMinder's website builder is ranked at #3 by Hotel Tech Report, one of the industry's most trusted review sites. With almost 90% of hoteliers recommending SiteMinder's website builder, you can be confident you're getting a solution that does the job. Comments speak to how user friendly SiteMinder is; the product is easy to navigate and edits are only a click away.
2. Mobile optimised experience
SiteMinder's website builder is ranked at #3 by Hotel Tech Report, one of the industry's most trusted review sites. With almost 90% of hoteliers recommending SiteMinder's website builder, you can be confident you're getting a solution that does the job. Comments speak to how user friendly SiteMinder is; the product is easy to navigate and edits are only a click away.
3. Powerful friendship with Google
Search engine rankings are so important for your hotel website, to make sure you're attracting as many visitors and potential bookings as possible. SiteMinder's hotel website design is designed with search engine optimisation firmly top of mind, covering all the fundamentals so you don't have to worry. These include:
HTTPS security to assure the protection of guest data
Clean, well-structured HTML and CSS
Unique pages, titles, and descriptions
Full sitemap for correct indexing by search engines
All images are optimised for ultimate load time
These features will help you rank strongly on search engines such as Google, and be a step ahead of your competitors.
4. Free trial and free domain
To ensure customer satisfaction and confidence, SiteMinder's hotel website builder can be trialled for free for 14 days. Once you are a billed customer, there are still no lock-in contracts! Cease using the feature at any time for no extra fee. Additionally you will be provided your own website domain free of charge, saving you money every year.
5. Diverse, customisable design
SiteMinder offers four themes, including one that prioritises accessibility to travellers who are impaired. Combining different themes and palettes with your hotel's specific images, features, and content means you can mix and match to make your website completely unique. You can even create your own, unlimited custom pages, and with updates always in the works, no two websites are ever quite the same.
6. Outstanding customer service
Reviews show that SiteMinder provides helpful customer support when and how you need it. User experience is a priority and there will always be someone on hand to sort through any teething issues you have. Another bonus is that the process of building a website with SiteMinder's website builder requires absolutely no skill and minimal time from your side. SiteMinder's expert team uses custom templates and your existing information and images to kick-start the set-up. From there you can switch between themes, updating and changing your website instantly as many times as you like, for no extra fee. Once you've done the basics, it's incredibly easy to alter and enhance.
7. Booking engine integration
Guests can't book via mobile if your website isn't integrated with a suitable online booking engine. SiteMinder's website builder seamlessly incorporates many online booking engines, including SiteMinder's own. The online booking engine is a secure and simple booking engine that works with your website to automate as many processes as possible, making it easier to accept and record reservations.
8. It's not just a website builder!
In addition to being a beautiful website builder, SiteMinder's solution is also a useful content management system. You can craft your own custom blog or other content pages, embed videos, upload and change your logo and images at any stage, make tabs for competitions and giveaways, and use it for any other content-driven goal you can think of. Additionally you can make your hotel website even more unique with a range of guest-focused applications, available via SiteMinder's Hotel App Store.
SiteMinder's website builder not only provides you with the ability to build a beautiful and professional hotel website, it's also seamlessly integrated with SiteMinder's hotel commerce platform. This gives you a single place to manage your direct bookings (including a booking engine and payment processing) and your third-party distribution. You also benefit from 24/7 support from a single provider. If you own or manage a small hotel or property, Little Hotelier has the perfect solution to help you build your hotel website and increase your direct bookings.
Yes, SiteMinder offers a free 14-day free trial of its platform, including the website builder. There is no need for a credit card and you can cancel your free period at any time. During your trial you'll have full access to all the features, so you can see how helpful the solution really is. You'll also be able to contact support at any time if you need help making the most of your experience. Once your free period is over you will move onto a billed monthly subscription, or you can cancel with no strings attached. If you're interested, you can get started with a free trial today.