SiteMinder Pay – Hotel payment processing
Make your life easier with our pioneering hotel payment solution.
Save time, reduce cancellations and manage your cashflow more efficiently with SiteMinder Pay, the online hotel payment solution made for accommodation providers just like you.
Running a hotel is hard, but managing your payments should be easy.
Streamline your payments process
Quickly process guests payments when it suits you. No more entering guests' credit cards manually at check-out.
Take control of your cashflow
Enjoy being paid directly into your preferred bank account daily, giving you visibility of your cashflow.
Fast and accurate reconciliation
Easily reconcile your bookings and online payments with our real-time transaction dashboard.
Industry-standard security
Inspire great confidence with secure, PCI-DSS compliant online payments that guests will trust.
Processing payments shouldn't be a full time job.
Automated payments
Create your own rules that automatically schedule and charge your guests at predefined dates and times.
Instant payments and refunds
Take payments and process refunds from more than 450 online distribution channels with a single click.
Send payment requests
Protect revenue loss due to failed authentication, incorrect credit card details or no-shows by sending a payment request to collect payments.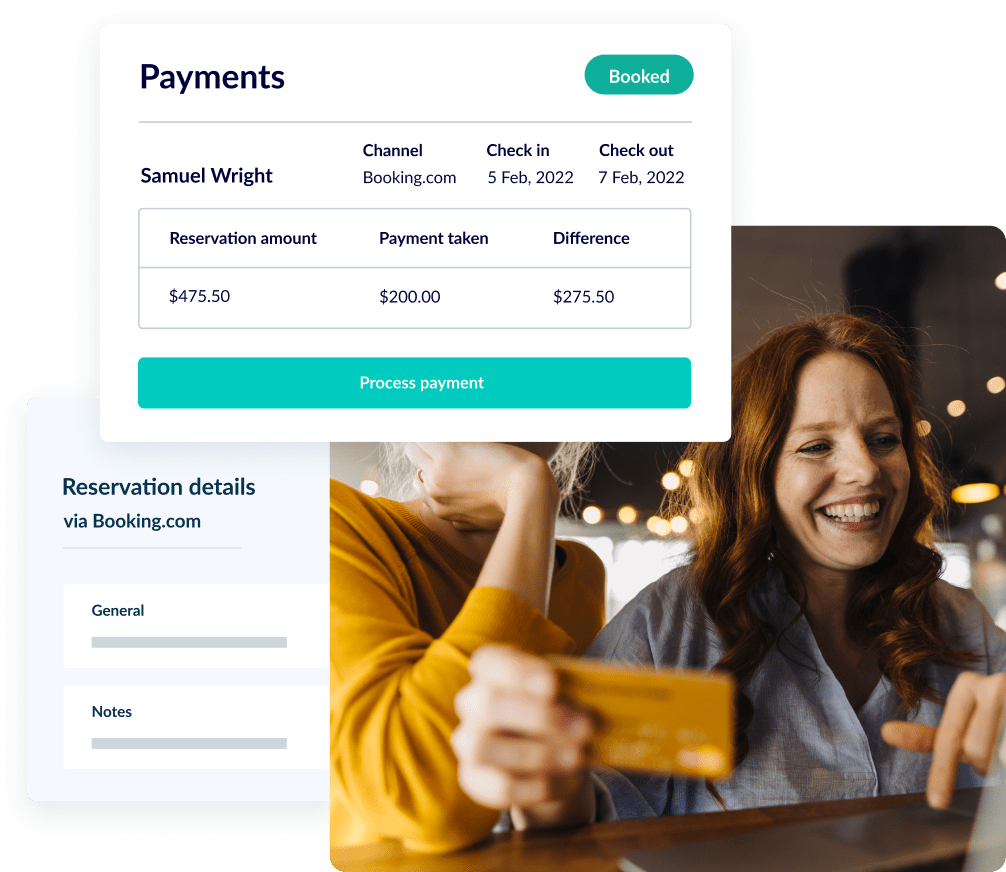 Your guest data is in safe hands.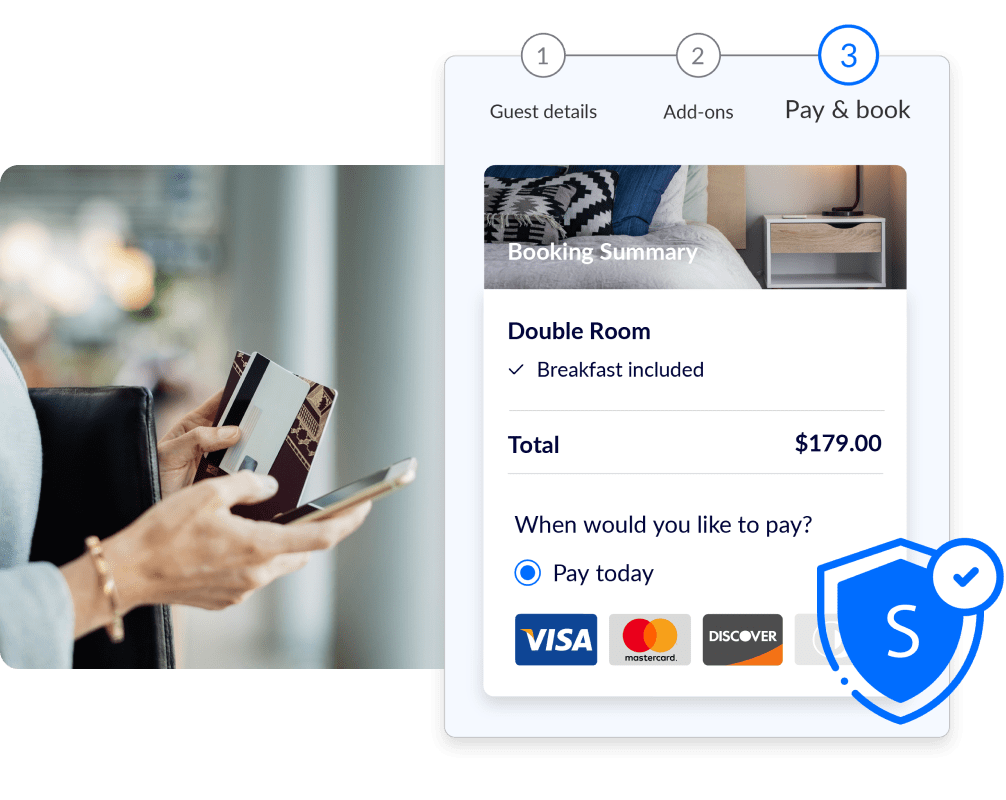 Credit card validation
Accept reservations with confidence, knowing that you will always have a valid credit card for every booking.
Secure, compliant technology
Your guests' credit card details are safer than ever before with our PCI-DSS and PSD2 SCA compliant technology.
Flexible payment options
We accept all major credit cards, virtual cards, Apple Pay and Google Pay.
Cash flow and accounts keeping you up at night?
Daily payouts
Enjoy peace of mind knowing you have cash on hand with daily payouts directly to your bank.
Easy reconciliation
Quickly and easily reconcile all your bookings and payments with our real-time transactions dashboard.
Pay as you go
There are no set-upfees. No monthly fees. No hidden fees at all. You only pay a small commission fee per transaction.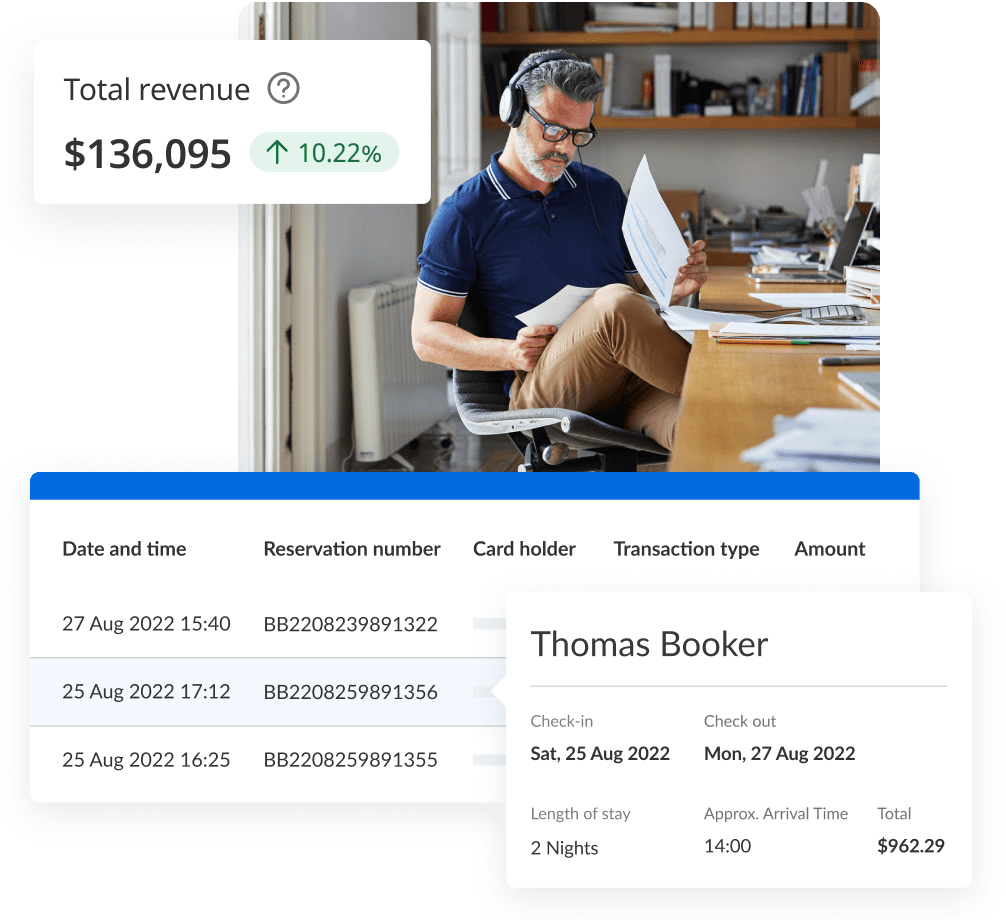 The dos and don'ts with online hotel payments.
Know how to make your property and guests feel secure with payment processing.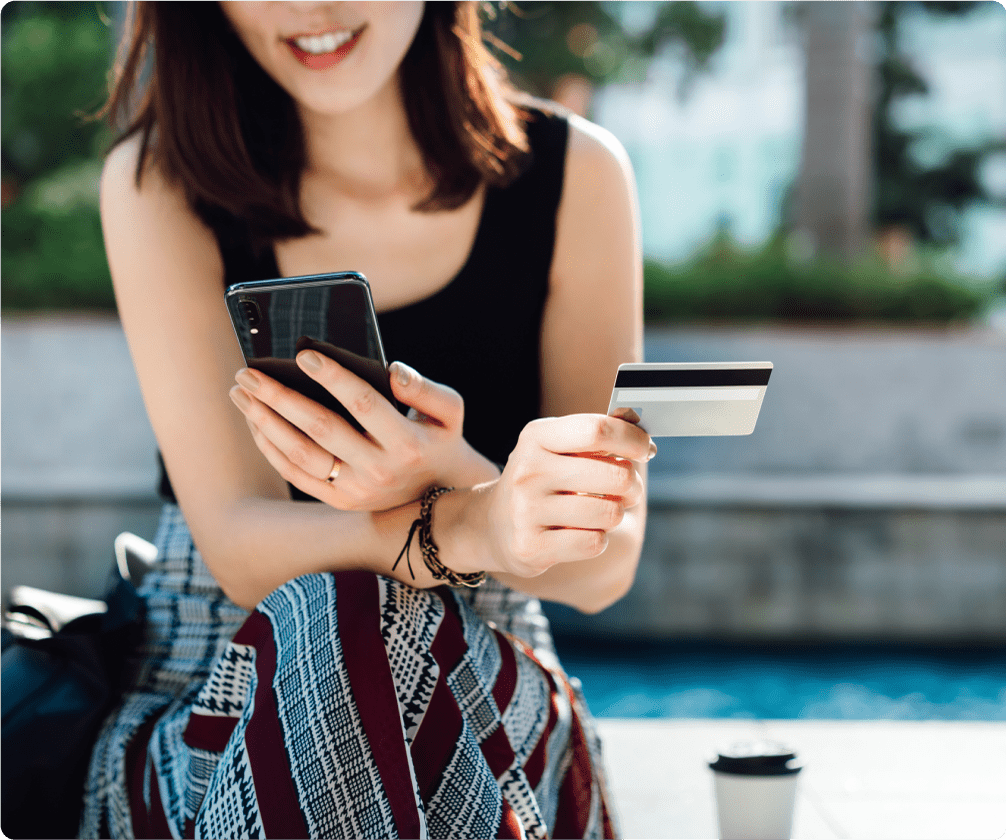 Frequently asked questions.
Hotel payment processing software integrates directly with your booking engine and property management system. This eliminates the need for a multiple-step manual process of accepting and recording payments from guests.
Integrated technology means you'll be able to process payments directly from your website booking engine, accept bookings with the click of a button, and keep all data in one place. Payments can be automated and any manual processing or double-handling is eliminated.
SiteMinder Pay is the secure and user-friendly hotel payment processing solution. Seamlessly integrated with SiteMinder's hotel commerce platform, it offers peace of mind for guests and a simpler, speedier processing experience for hosts, by processing deposits, payments and refunds, all in one place. A real-time transaction dashboard gives clear visibility of all online payments.
Yes. SiteMinder Pay enables your guests to pay with both Apple Pay and Google Pay when they make their reservation through your SiteMinder Booking Engine.