---
---

Berlin, Germany – Data by SiteMinder, the global hotel industry's leading guest acquisition platform, today reveals a gradual recovery for Germany's accommodation industry, as the country surpasses 18 percent of its 2019 booking levels for the first time in 25 days. 
The gradual recovery comes in spite of the continued lockdown. SiteMinder's World Hotel Index shows that year-on-year hotel bookings in Germany dropped to as low as 13.22 percent on 8 November, at the height of the second wave of coronavirus, and have since risen by 38 percent to 18.2 percent year-on-year. Hotel bookings in Germany were among the 20 to rise fastest on the World Hotel Index over the past week and are currently highest in Hamburg (20.81 percent YoY), followed by Berlin (17.11 percent YoY) and then Munich (13.33 percent YoY).
Of all bookings made for a German hotel in the last two weeks, 48.83 percent are for stays before the end of the year while 13.46 percent are for stays during the summer months next year. Over the coming year, hotel arrivals are set to be highest over the Christmas and New Year's Eve period, as they are in the vast majority of European destinations, including Spain, France and Portugal.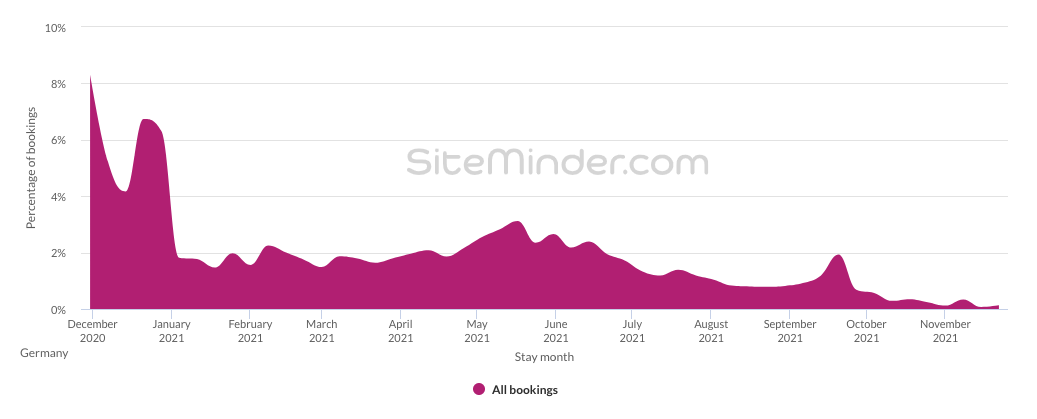 "Our data suggests that travellers to and within Germany have confidence that the economic and health situation will be stable by next year's summer and perhaps even sooner," says Clemens Fisch, Regional Director of DACH at SiteMinder. "While the current situation remains challenging for all accommodation providers in the country, what our data shows is that, just as we experienced after the first wave of coronavirus, traveller confidence has been quick to bounce back, spurred by news of an impending vaccine and easing cases."
The steady growth of hotel bookings in Germany has helped to drive global hotel bookings up by more than nine percentage points for the first time since they entered the stage of flux on 27 September. Following domestic acceleration and plateauing, flux forms the third of five stages that lay ahead of the world's almost one million accommodation providers until their booking cycle resets into a different normal.
As part of the renewed traveller confidence in Germany, trip durations are also displaying signs of growth. Over the summer months next year, SiteMinder data shows that the average length of stay at a German hotel will be 2.23 days versus the average 1.62 days seen this year.
Media contact
Maria Cricchiola
+61 2 8031 1287
media@siteminder.com
About SiteMinder
In an age of rising choice and accessibility for curious travellers, SiteMinder exists to liberate hoteliers with technology that makes a world of difference. SiteMinder is the global hotel industry's leading guest acquisition platform, ranked among technology pioneers for its smart and simple solutions that put hotels everywhere their guests are, at every stage of their journey. It's this central role that has earned SiteMinder the trust of more than 35,000 hotels, across 160 countries, to generate in excess of 100 million reservations worth over €31 billion in revenue for hotels each year. For more information, visit www.siteminder.com.