---
---

Barcelona, Spain – Building international booking volumes remain the driving force behind Portugal's booming summer of travel. This is according to new data from SiteMinder, the world's leading open hotel commerce platform. So far in August, over 77% of the reservations made to Portuguese hotels have come from foreign guests, compared to 75% in August last year and 64% in 2021.
The current number of reservations being made to Portuguese hotels is 21% above 2019's record-breaking volumes, and Portugal leads neighbouring Spain, France and Italy for comparative booking momentum.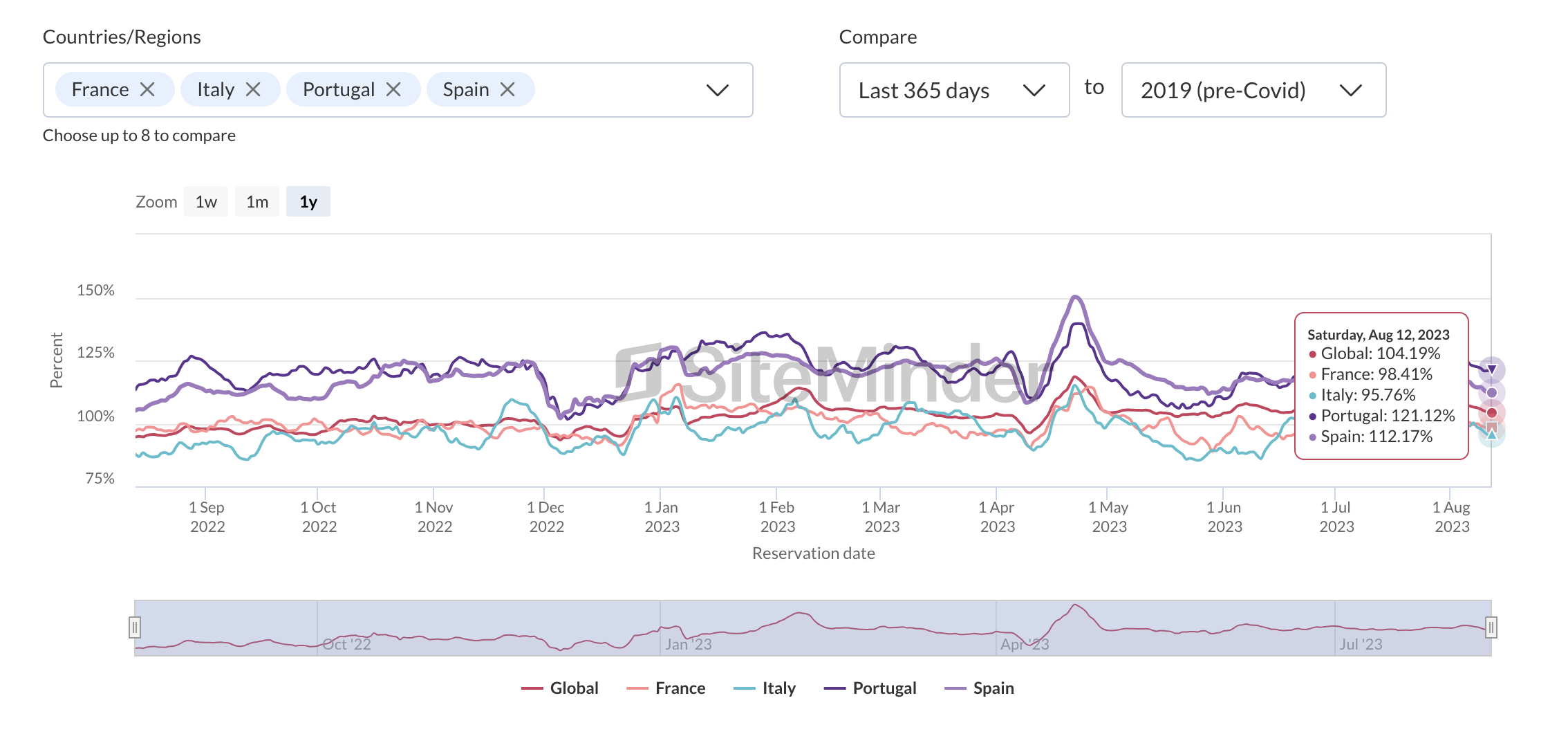 At 77%, Portugal's international booking percentage is higher than any other key European destination. It narrowly leads Italy (also with 77% of bookings from international guests), France (62%), Spain (57%), Germany (39%) and the UK (35%). Currently, 86% of secured bookings at Portuguese hotels in September are from international travellers, rising to 91% of booked October stays.
August and September remain vital months for the local sector, with over 65% of stays set to arrive before September's end. Portugal's strong hotel booking momentum comes despite the rising cost of hotel rooms across the country in 2023.
Media contact
Maria Cricchiola
+61 2 8031 1287
media@siteminder.com
Investor information
Paul Wong
+61 411 889 876
investor.relations@siteminder.com
About SiteMinder
SiteMinder (ASX:SDR) is the world's leading open hotel commerce platform, empowering hotels and accommodation providers to sell, market, manage and grow their business. SiteMinder's innovative online platform offers hotels and accommodation providers a comprehensive range of products and solutions to manage and streamline the distribution of their rooms across a wide selection of direct and indirect channels, take bookings from guests and communicate with guests. The global company, headquartered in Sydney with offices in Bangalore, Bangkok, Barcelona, Berlin, Dallas, Galway, London and Manila, generates more than 100 million reservations worth over AUD$60 billion in revenue for hotels each year.