---
---

There's a dichotomy that exists in an industry that services people on the move, and is also slow to adapt and change, itself.
It's an industry that hopes for large volumes of tourists, yet is ill-prepared for the demands and expectations that those tourists bring.
It's one of the most exciting industries in the world, enabling frictionless trips while remaining fragmented behind-the-scenes.
The global hotel industry is one that's led by digital natives and dependents, but is perceived by 78% of people to be average or behind when it comes to its adoption of technology.
They're quite the ironies for an industry that services the dynamic and interconnected world of travel.
This is the industry that we proudly share with you. And, as we at SiteMinder surpass our 17th year in the business, the time feels right to usher in a new era that's anything but resistant to movement.
How we arrived here
In 2006, SiteMinder's founders broke ground by pioneering the world's first SaaS-based channel manager for hotels. They often sat at the front desk with our hotelier customers, to understand the material impact of a single error or a room rate that didn't update fast enough on one booking website. That's because the world for hotels then was complex. They weren't to know just how much more complex it would become.
Today, the global hotel industry comprises more than 1 million accommodation properties that generate about US$1 trillion in gross booking value. Challenged by constant change, the landscape is often overwhelming, frustrating and hard to navigate for hoteliers looking to grow or simply sustain their business. As one of our customers says:
"Being a hotelier is very stressful. If you get just a few of these revenue management strategies wrong, you can ruin your business or your life with debt."
Sound familiar? You aren't alone.
For the past 17 years, SiteMinder's channel manager has rightly been seen as the critical connectivity thread powering the ecosystem of travel for hotels. While we've seen other channel managers enter the space, the power, performance and experience of ours has remained unrivalled, especially when combined with our other products to form one unified platform. As a result, we've earned the ultimate hallmark for any business – the trust of our hotel customers. And, today, there are 40k of them spread across 150 countries, using our platform in eight different languages.
Yet, still, we've come to realise that the potential of our platform is even greater than what we had ever recognised or envisioned. The truth is: your customers are always smarter than you are and they will always keep you honest. And, this was made clear to us when we learnt that our customers were using our product in ways we could've never conceived.
Among the less sophisticated users, our platform was simply the connectivity point we had designed it to be. But among the more advanced, sophisticated users, it was in fact the place where all their revenue management activity took place. Almost as though stumbling upon the capability of a smartphone from an old mobile phone, they had discovered our platform's power before even we did, and I can tell you it was a humbling experience.
What those customers taught us is that our platform is about more than passive connectivity and driving incremental revenue. It's about creating proactive, tangible and unsurpassed business value.
Long gone are the days when our product's value proposition centred simply around pushing one room rate across a high volume of channels. What our own customers have shown us is that, today, our product's value proposition lies in the space of sophisticated revenue management – but not as our industry knows it.
Introducing: dynamic revenue management
Hotel revenue management has historically been defined as "the industry process that uses data and analytics to predict future guest behaviour and demand", for the purpose of achieving the most revenue possible.
We believe that this definition falls massively short of what revenue management needs to be for any hotelier to be successful in today's highly-competitive and unpredictable environment. More than being about prediction, we believe it is about understanding and taking action. More than being about having educated guesses about the future, we believe it is about addressing the here and now, knowing that one minute can make all the difference in an industry where bookings can come at any second of any day. Additionally, we believe that the complexity of most revenue management systems today results in hoteliers choosing to apply blanket price changes rather than executing a more sophisticated strategy that grows their revenue.
Thanks to the wisdom of our customers, we know that revenue managers need to do—and already do—much more. Revenue management involves more than changing a hotel's base room rate; it's about bringing together every aspect of a hotel's marketing mix and recognising that static, set-and-forget, blanket-approach ways are a thing of the past.
Importantly, it's about having the data to win. And, it is this reliance on data that puts SiteMinder in a unique and leading position.
With 40k hotel customers, 1,800+ partners, >100 million bookings annually (that's almost 200 bookings each minute) and a history spanning nearly two decades, we've amassed data that simply no other technology partner to hotels has. In fact, our platform has the largest gross booking value among independent hotels today. It's not only data that we can continue to build upon, but data that we can use to drive user behaviour, train our future AI capabilities and create billions more in business value to hotels. Because when it comes to servicing an industry of one million potential users, size and scale do matter.
Our sustainable competitive advantage in the market puts us in a unique position to give back to you, the hotel community, by fundamentally allowing you to move at the same pace as your customers and the world around you.
If recent years have reminded us of anything, it's that no business in the world is invincible. In a matter of days, travel shifted from a booming industry to one that literally stood still.
While we thankfully are seeing travel return strongly—breaking new records in several destinations—we want to help all hoteliers maximise their opportunities to continually create revenue, regardless of the economic climate, season or their level of experience. To do this, we want to make sophisticated revenue management accessible to every hotel in the world. And this requires a reimagination of what revenue management means to hotels.
We will create this value through a smart platform that delivers what we're calling: dynamic revenue management. And, this is significantly more than pricing.
It involves an integrated, multi-factor approach that brings together distribution, intelligence and revenue optimisation to provide the world's hoteliers: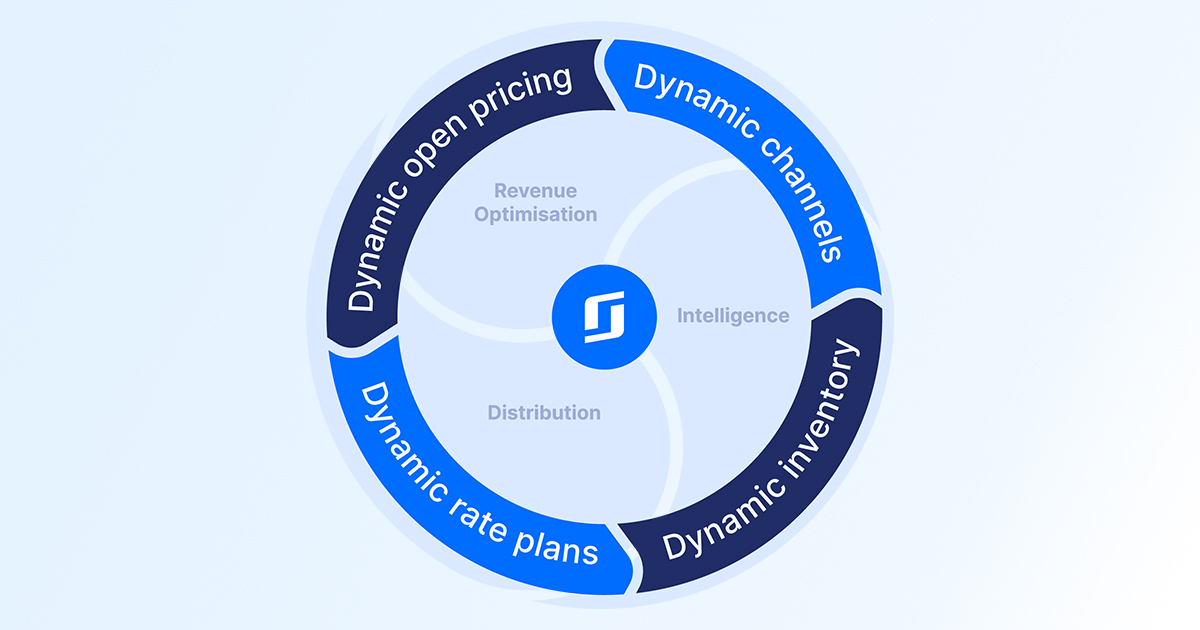 Dynamic open pricing – setting the right price in the right channels at the right time.
Dynamic rate plans – recommending market offerings optimised by channel, and optimising policies and restrictions.
Dynamic channels – offering dynamically-tailored channel choices, configurations and offerings, to optimise channel performance.
Dynamic inventory – optimising allocation of room inventory to maximise hotel revenues and profitability.
From speed-to-market to speed-to-value-to-market
This month, we introduced two new concepts to the world and each of these will form part of our smart platform.
The first is Dynamic Revenue Plus, which has two components:
Usable intelligence to support hoteliers make choices.
A real-time recommendation engine, powered by usable intelligence, to help hoteliers identify the actions they can take easily to create more revenue.
This is what that concept could look like in action: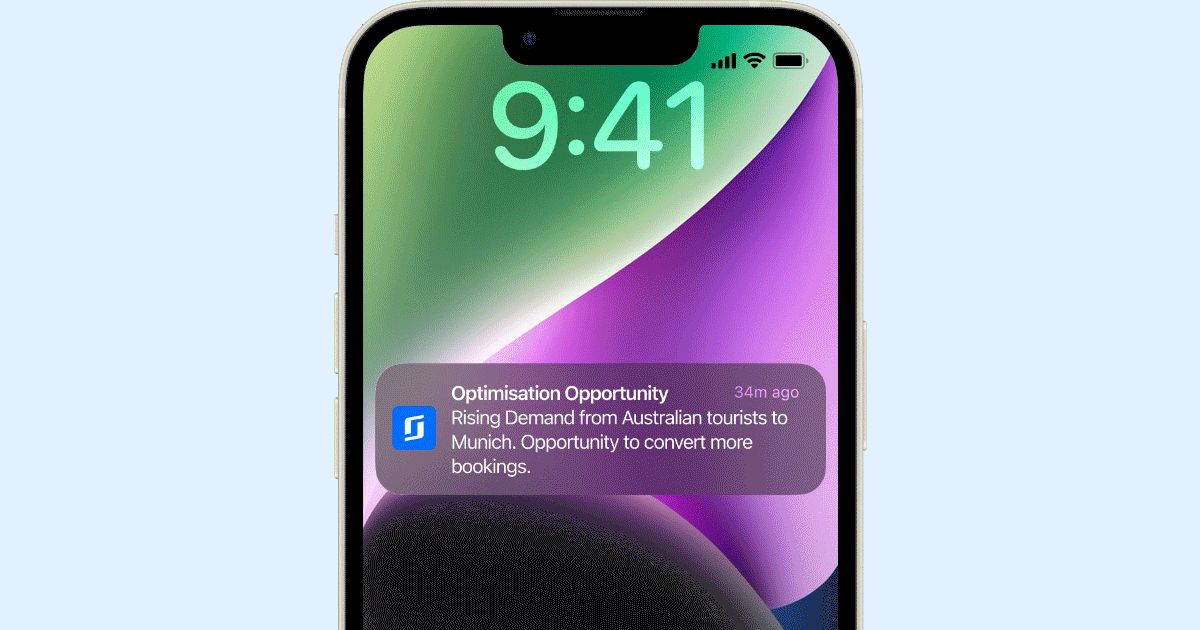 What excites us about this concept is that it will help with educating our industry. It will do this by not only recommending actions, but explaining why, and this is underpinned by an ethos that our customers should be empowered rather than follow instructions blindly. We want to always stand for choice, while providing logic so hoteliers don't ever have to experience decision paralysis.
The second concept is Channels Plus.
While we take pride in offering hoteliers the ability to market their property on hundreds of distribution channels, we know that adding new channels takes work. It involves an unnecessary amount of friction. On the other side, for the providers of those distribution channels, it's hard to access untapped value and grow, and this is especially true of newer players. When it comes to setting up a single distribution arrangement, both hoteliers and distribution channels are challenged by the complexity and volume of commercial agreements.
We want to remove the challenges of many and replace them with one solution. That means one connection, one agreement and one setup.
This will provide three benefits for both parties:
Direct relationships
Instant room supply
Exclusive rates.
Ultimately, Channels Plus will help hoteliers connect to more distribution channels, to grow their revenue, and it will help distribution channels connect with more properties to also grow their business as we support competition and choice.
We know the critics will say that this means more commissions and, to be sure, that's a necessary byproduct of enjoying a diverse range of choices from which to grow revenue. Wouldn't it be great if we could all reap the benefits of sales and marketing, without spending a dime? However, the reality is most businesses can't. Importantly, Channels Plus will help to deliver bookings to hotels not only during the good times, but also during the tougher times, when they need revenue most. It will provide control in a travel landscape that can move too fast.
We are encouraged by the overwhelmingly-positive feedback we have received so far. One revenue manager described the concepts as "a game changer", while another reflected:
"I always wonder why it takes someone so long to create something like this."
It's a sobering reflection for all of us who care so deeply about this industry.
The opportunity that dynamic revenue management presents to every hotelier
Today, we know that only a fraction of our 40k customers integrate their revenue management system (RMS) into the SiteMinder platform to automate how their availability, rates and inventory sync across the two platforms. While we believe several thousands have an RMS, they don't integrate it to the SiteMinder platform, opting instead to receive recommendations from their RMS and take action in a separate system.
About two-thirds of SiteMinder's customers don't have any revenue management function or dedicated team.
These numbers aren't limited to our 40k hotel customers. They are representative of the global hotel industry and its single-property owners with less than 20 rooms, who we believe make up almost two-thirds of the industry; its single-property owners with more than 20 rooms, who we believe make up about a fifth of the industry; and multi-property owners, which include the industry's top 12 brands and chains.
Dynamic revenue management is a reimagination of hotel revenue management as we know it. It's an invitation to the entire hotel industry to reset the way in which you perceive what effective revenue management should be, and what value you should be expecting from your technology partners. This opportunity will make sophisticated revenue management accessible to every hotel in the world, regardless of their size or technical sophistication, and far beyond the tens of thousands of customers who we know have no revenue management team or tool today.
At SiteMinder, we aren't about to neglect the distribution capability that you or your peers have come to depend on. On the contrary, we're building on our strong foundations to bring distribution, intelligence and revenue optimisation together, to create a unified experience that maximises revenue for every hotelier in the world.
Importantly, our smart platform is about pursuing the art of the possible, for the world's hoteliers who deserve more.
The statistics don't lie. While small hotels make up the majority of the global hotel industry, collectively they produce only a fraction of the world's gross booking value. And, they want the tide to turn. We only need to look at German hotels as an example. While prices for the country's accommodation providers rose by 7% between 2019 to 2022, prices among those with 20 rooms or less grew 22% in the same period.


We're breaking down barriers and bringing the hotel industry forward, as we've always done. Sure, we will adopt AI and machine learning to make our smart platform a reality, but it's not about that. Beyond the shine of the latest technologies, we've learnt that reliability will always reign supreme in the world of technology. It's what endures for customers whose livelihood depends on their ability to keep their doors open.
We know that travellers demand personalisation. We believe it's time that hoteliers demand a personalised experience, too, to enjoy a day void of friction, just as they strive to provide for their guests.
I hope you are as excited as we are about the opportunity ahead of this industry that we all love. Truly, it is all of ours to take.
Sankar