Berlin, Germany – German hotel booking volumes have grown from 12.11 percent of 2019 levels to 19.1 percent across the last month, according to SiteMinder's World Hotel Index, a shift in momentum only set to accelerate once a date for reopening has been established, broader European trends suggest.

In Austria, which recently announced that hotels will be carefully reopening their doors on May 19, booking volumes have increased by 50.04 percent, compared to what they were two weeks ago. UK hotel bookings have increased by 15.70 percent across the same period, with their May 17 reopening date now in sight, and reservations to Irish hotels have more than doubled (121.69 percent), after the June 2 date was floated.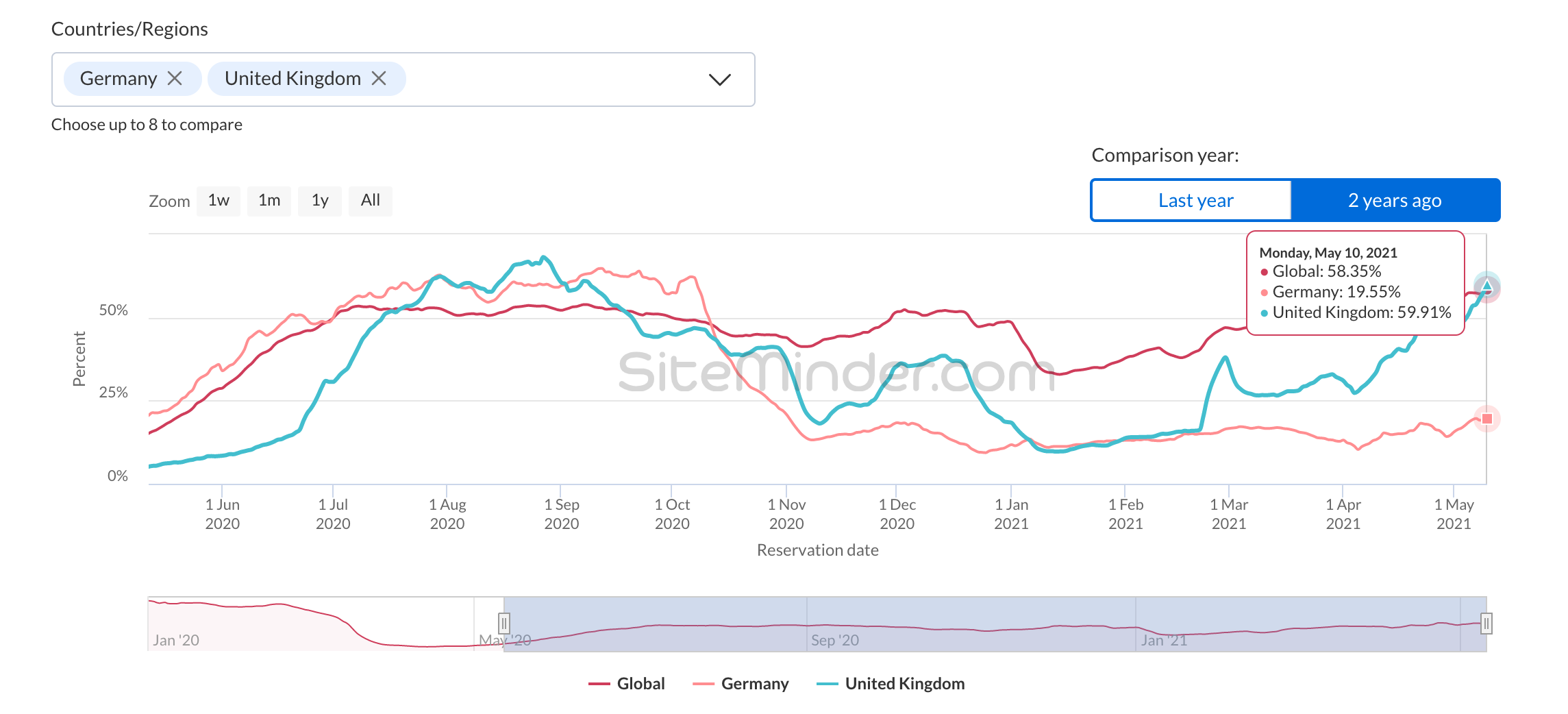 "Once a date is set for local hotel businesses to safely reopen their doors, we expect an influx of hotel bookings locally, and a busy end to the summer, just like we're seeing in other European nations," says Clemens Fisch, Regional Director of DACH & EMEA at SiteMinder. "An acceleration in bookings is all part of the five stages of the hotel booking reset that we have seen all travel markets experience since the start of the pandemic. Across the 2020 summer period, almost 80 percent of those who visited SiteMinder's German hotels were Germany's own people, and we expect a similar scenario again this year, once hotels are back in business. Locals are desperate to safely experience something beyond their four walls."

Non-cancelled bookings remain high over the summer period in Germany and, over the last two weeks, 43.32 percent of bookings made were for either June, July or August, indicating that people are hopeful to get away in the coming summer months.

SiteMinder is uniquely placed to provide data insights on the global hotel industry, due to the sheer number of bookings that the platform processes annually – a figure that reached 105 million in 2019. For more information, visit siteminder.com/world-hotel-index.

Media contact
Maria Cricchiola
+61 2 8031 1287
media@siteminder.com
About SiteMinder
In an age of rising choice and accessibility for curious travellers, SiteMinder exists to liberate hoteliers with technology that makes a world of difference. SiteMinder is the world's largest open hotel commerce platform, ranked among technology pioneers for its smart and simple solutions that put hotels everywhere their guests are, at every stage of their journey. It's this central role that has earned SiteMinder the trust of more than 35,000 hotels, across 160 countries, to generate in excess of 100 million reservations worth over US$35 billion in revenue for hotels each year.