---
---

London, UK – The proportion of international hotel guests in Portugal will exceed the proportion of domestic hotel guests this month, despite ongoing and continually changing international travel restrictions, according to data collected from SiteMinder's World Hotel Index on July 1, 2021.
Most recently, Portugal has been among several European countries to drop quarantine requirements for UK tourists, and has also opened its borders to travellers from the United States. These changes, alongside ongoing uncertainty around the spread of the Delta variant and other long-term changes to the travel habits of local and international hotel guests have led to a trend of international hotel guests outnumbering domestic hotel guests in Portugal.
The proportion of international guests in Portugal in June, 2021, was 46%, and has jumped to 62% in July to mark the first time that international guests will exceed domestic guests since the start of the pandemic. In the coming months, this proportion of international guests is expected to continue to grow, based on bookings made as of July 1, 2021, reaching a height of 94% in January, 2022.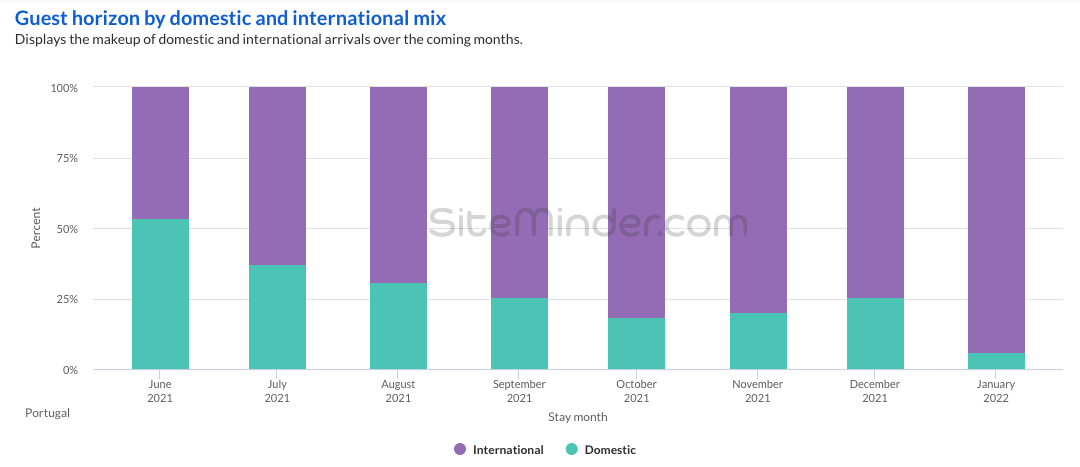 In comparison to some countries, travellers to Portugal are more likely to be taking a longer term lens with their hotel bookings. In the last two weeks, 51% of hotel bookings were for July, while 30% were for August and 10% were for September. In Spain, the UK, and the US, for example, bookings made in the last two weeks for hotel stays in August were 27%, 21%, and 19% respectively.
Overall, hotel booking volumes in Portugal are currently at 72% of levels of the same time in 2019, a dip from a recent spike to 93% on May 13, 2021, although still above the current global average of 66%. Portugal's hotel booking momentum lags only Iceland, Spain, Ireland and Malta, within Europe. Spain rebounded to over 100% of its pre-pandemic hotel booking volumes this past week and is currently reporting 102% of hotel booking levels of the same time in 2019.
"It's encouraging to see Portugal remains and is expected to increasingly be a destination of choice for international travellers, despite Portuguese hotels still awaiting an overall return to pre-pandemic volumes of bookings," says André Gois, Country Manager for Portugal at SiteMinder.
"According to our forecasts, leading up to October and even more so in the month of January 2022, we expect to see the majority of hotel guests in Portugal to be from outside of the country. With this data at hand, which we update daily and have publicly available for all hoteliers around the world to access, hoteliers should be planning ahead and thinking about how they diversify their business mix once again, through a more global marketing and distribution strategy than they may have become used to over the past 18 months. There are still many unknowns due to the pandemic, but data is our ally, and these insights give the Portuguese hotel industry opportunities right now to start planning for a diverse range of guests once more in the coming months."
Media contact
Maria Cricchiola
+61 2 8031 1287
media@siteminder.com
About SiteMinder
In an age of rising choice and accessibility for curious travellers, SiteMinder exists to liberate hoteliers with technology that makes a world of difference. SiteMinder is the world's largest open hotel commerce platform, ranked among technology pioneers for its smart and simple solutions that put hotels everywhere their guests are, at every stage of their journey. It's this central role that has earned SiteMinder the trust of more than 35,000 hotels, across 160 countries, to generate in excess of 100 million reservations worth over US$35 billion in revenue for hotels each year.