---
---

Barcelona, Spain – New data from SiteMinder, the world's leading open hotel commerce platform, suggests Spain's hotel sector could be facing a historic summer of bookings. Hotel booking volumes in Spain are currently 17 percent higher than at the beginning of summer 2019, when the country experienced its biggest year of tourism to date.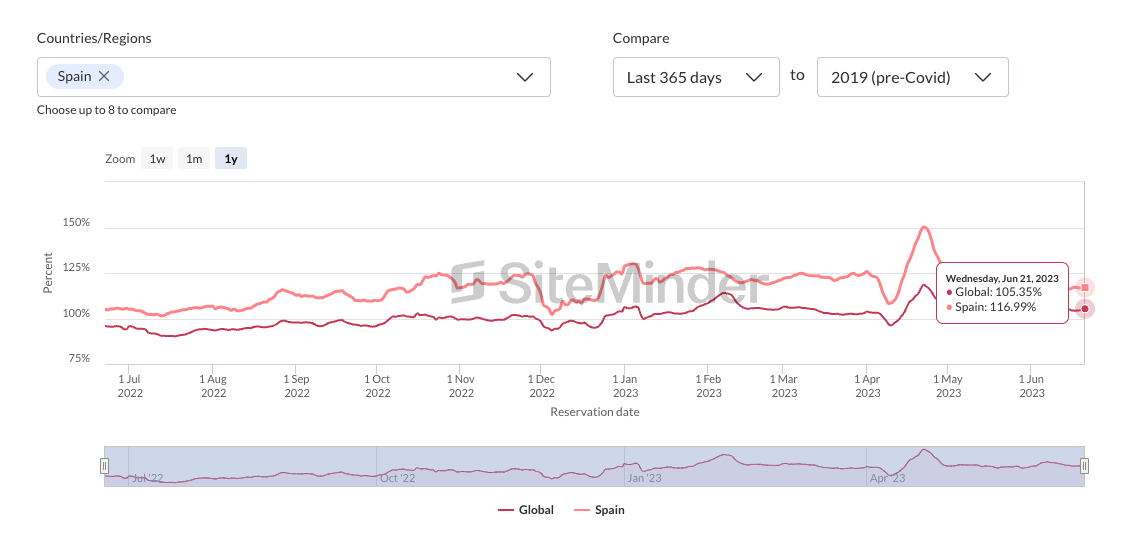 SiteMinder's data, which compares current booking volumes to those in previous years, places Spain as a European favourite, ahead of the likes of France, Germany, Italy and the UK. The trend is partially explained by the grown demand seen among international travellers, who account for 55 percent of all reservations made to Spanish properties this month-to-date, compared to 53.6 percent this same time last year. British, French, German, Italian and Dutch travellers, in that order, are visiting Spain in the highest numbers.
The growth in Spain's hotel booking volumes has come in spite of rising accommodation prices in the country, which SiteMinder data shows have increased by an average of 12 percent over the past four years.
In the last year, travellers have gone from booking their accommodation an average of 18 days in advance, to 33 days in advance, prompting experts to predict that it will be difficult to find last-minute deals in the coming months as the overall gap between booking and check-in edges longer.
"Confidence among travellers is the highest it's been in years, with the majority booking their travels further in advance to find the best deal," says Sara Padrosa, SiteMinder's regional manager for Spain. "After enduring the challenges of recent years, Spain's accommodation industry is the most ready it has ever been to accept these reservations. SiteMinder is seeing more businesses adopting technology that allow them to price their rooms strategically, create a great booking experience for travellers, and deliver timely opportunities to upsell those who make a booking."
Media contact
Maria Cricchiola
+61 2 8031 1287
media@siteminder.com
Investor information
Paul Wong
+61 411 889 876
investor.relations@siteminder.com
About SiteMinder
SiteMinder (ASX:SDR) is the world's leading open hotel commerce platform, empowering hotels and accommodation providers to sell, market, manage and grow their business. SiteMinder's innovative online platform offers hotels and accommodation providers a comprehensive range of products and solutions to manage and streamline the distribution of their rooms across a wide selection of direct and indirect channels, take bookings from guests and communicate with guests. The global company, headquartered in Sydney with offices in Bangalore, Bangkok, Barcelona, Berlin, Dallas, Galway, London and Manila, generates more than 100 million reservations worth over US$35 billion in revenue for hotels each year.