---
---
London, UK – SiteMinder is pleased today to announce it has secured yet another property of hotel group Restel, the Rantasipi Tropiclandia, to continue its rapid success in the Europe region and increase its global customer base to 20,000. Restel is Finland's largest hotel and restaurant operator, with 47 hotels and more than 230 restaurants.
Anni Kallioniemi, SVP Commercial at Restel, says, "By adopting SiteMinder's technology, our hotel has become much more visible to the thousands of travellers we know are searching for a destination that offers beautiful seaside accommodation with family attractions.
"We have also integrated our property management system with SiteMinder's Channel Manager so we can completely automate our online distribution. This means we can now keep up with the incredible speed at which today's bookings are made, which is so important to remain competitive. The setup is seamless and a powerful way of increasing our revenue while lowering our costs to acquire guests."
In addition to the Rantasipi brand, the Restel group consists of Cumulus, Holiday Inn, Crowne Plaza and Indigo Helsinki-Boulevard hotels, as well as Hotel Seurahuone Helsinki and Hotel Atlas Kuopio to provide guests access to more than 8,000 rooms.
"We are thrilled to celebrate this great milestone with Restel. While the Rantasipi Tropiclandia property is new for us, the Restel group has been a terrific customer of SiteMinder for nearly two years and we have enjoyed watching its success, especially with its recent integration of a revenue management system which has added another layer to the group's smart and efficient marketing on the web," says SiteMinder's co-founder and managing director, Mike Ford.
"It is particularly apt that our 20,000th customer should be located in a region as diverse as Europe where we are seeing an ever-growing demand for technology that empowers hotels to have more control of how their rooms are marketed and sold online."
SiteMinder's customer base currently spans 160 countries on six continents, and complements its more than 350 partnerships with the industry's leading providers of online channels, property management systems, central reservation systems and revenue management systems.
In August, the company announced it powered more than US$10.8 billion in revenue for its hotel customers over the 12 months ending 30 June 2015. The figure was generated from close to 27 million hotel reservations throughout the period.
SiteMinder's journey to 20,000 hotels across the globe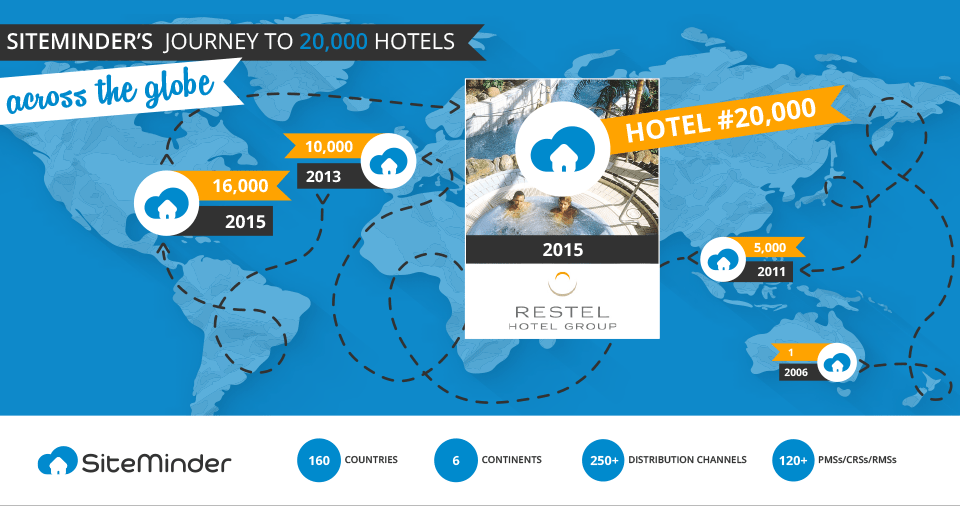 Media contact
Maria Franco
+61 2 8031 1287
media@siteminder.com
About SiteMinder
As the leading cloud platform for hotels, SiteMinder allows hotels to attract, reach and convert guests across the globe. We serve hotels of all sizes with award-winning solutions for independents and groups alike, wherever they are in the world.
SiteMinder's products include The Channel Manager, the industry's leading online distribution platform; TheBookingButton, a wholly-branded booking engine for direct bookings via the web, mobile or social; Canvas, the intelligent website creator for independent hoteliers; and GDS by SiteMinder, a single-point of entry to a six-figure network of travel agents and the world's major GDSs. With more than 20,000 hotel customers and 350 of the industry's top connectivity providers as our partners, today we have presence in more than 160 countries on six continents.
For more information, visit www.siteminder.com.