---
---
Dallas, USA – SiteMinder, the global hotel industry's leading cloud platform, today launches 'Prophet', a real-time market intelligence solution that takes the guesswork out of pricing hotel rooms and brings hotel software to the modern age. Prophet is being unveiled at HITEC and forms the latest addition to SiteMinder's award-winning suite of smart and simple technology for hoteliers who are looking to attract, reach and convert guests globally online.
SiteMinder's managing director, Mike Ford, says, "Prophet is about empowering the world's hoteliers who know revenue management is critical but don't have the time, budget or expertise to harness the rapidly-changing rate and market data available to them and use it to their advantage. Prophet purposefully breaks market rate and demand intelligence down into consumable and meaningful insights that matter, so hoteliers can optimise room rates, maximise profitability, and stay ahead of competition easily and at an affordable cost."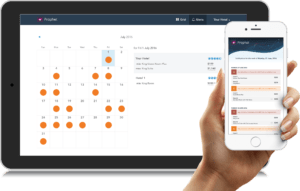 Providing continually up-to-date, aggregated market data that is refreshed daily or live on request by hoteliers through the system, users of Prophet will be able to analyse their competitor set in one consolidated screen and respond to demand up to a year in advance. Through the product's unique notifications feature, users will receive email alerts based on their pre-defined rules on market fluctuations, so they can say goodbye to manual forecasting and react quicker with strategic pricing decisions.
Prophet will appeal to a broad spectrum of accommodation providers, from the smallest hotels up to mid-sized chains, with pricing plans that start free at the trial level and are available at a low monthly fee for more advanced users, to cater for different needs and levels of sophistication.
Mr Ford says, importantly, Prophet embodies SiteMinder's design-led philosophy of allowing hotels to sign up instantly, set themselves up within minutes and enjoy the user experience.
"The simplicity of Prophet is intentional. As an industry, hoteliers have historically been exposed to clunky, slow and often unappealing software – and they've had no choice but to get used to that. It's meant that our industry has been left behind from a software modernisation perspective. Through solutions like Prophet, SiteMinder shows that software can still serve a function effectively while looking beautiful and being a pleasure to use.
"As with the beginnings of our established products, we did want to start small with Prophet and allow our early adopters to not only be a part of the experience but to shape its future. It's our belief that partnering with hotels is the only way to create truly market-leading technology, as opposed to building in isolation and hoping hotels will see its value."
One of those early adopters is Quest Southbank – Melbourne. The property's general manager, Jeremy Longstaff, says, "Being a property of nearly 90 rooms, we find that even half a dozen rooms moving on any single date can result in major changes to occupancy percentage, and ultimately result in lots of changes to how we manage our revenue overall. So, speedy and visually easy-to-read data is vital – and SiteMinder's Prophet provides that to us."
Prophet now complements SiteMinder's channel management, booking engine and website product solutions, to further empower hoteliers in competing for the online consumer.
***
Media contact
Maria Franco
+61 2 8031 1287
media@siteminder.com
About SiteMinder
As the leading cloud platform for hotels, SiteMinder allows hotels to attract, reach and convert guests across the globe. We serve hotels of all sizes with award-winning solutions for independents and groups alike, wherever they are in the world.
SiteMinder's products include The Channel Manager, the industry's leading online distribution platform; TheBookingButton, a wholly-branded booking engine for direct bookings via the web, mobile or social; Canvas, the intelligent website creator for independent hoteliers; Prophet, the real-time market intelligence solution that takes the guesswork out of pricing rooms; and GDS by SiteMinder, a single-point of entry to a six-figure network of travel agents and the world's major GDSs. With more than 20,000 hotel customers and 400 of the industry's top connectivity providers as our partners, today we have presence in more than 160 countries on six continents.
For more information, visit www.siteminder.com or the team at HITEC, stand 1611.