---
---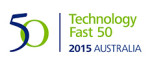 Sydney, Australia – The hotel industry's leading cloud platform, SiteMinder, has been announced a Deloitte Technology Fast 50 Australia winner for the fifth consecutive year to further cement its position as one of the country's top companies of technological innovation and continual rapid growth.
The announcement now places SiteMinder, as with all other winners, on the shortlist for the Asia Pacific Technology Fast 500 program.
SiteMinder's co-founder and managing director, Mike Ford, says: "SiteMinder is very pleased to be once again be listed among the country's most successful technology companies. The Deloitte Technology Fast 50 program highlights that innovation is certainly alive in the thriving technology hub of Sydney, and can truly compete against the very best the world's innovators have to offer.
"2015 has indeed been another milestone year for us at SiteMinder. We now have more than 250 distribution channel partners and 19,000 hotel customers globally, with a significant percentage of those customers located in Europe and the Americas. Our internal expansion also continued this year with the acquisition of Globekey in Asia and further investments into our global offices in Dallas, London and Bangkok to meet the needs of local markets."
Founded in 2006, SiteMinder offers groundbreaking, cloud-based products to help hotels increase their online revenue, streamline their business processes and lower their operational costs. Its open technology suite – which includes the world's largest channel manager, a customisable booking engine, deep hotel system integration and global distribution system connection tools – powered a combined US$10.8 billion in revenue and more than 27 million reservations for hotels worldwide over the 12 months ending 30 June 2015.
SiteMinder's ranking on the Deloitte Technology Fast 50 list, and the rankings of all winning companies, will be revealed at a gala ceremony in Sydney on 19 November.
About the Deloitte Technology Fast 50 Australia
Now in its fifteenth year in Australia, the Deloitte Technology Fast 50 program ranks fast growing technology companies based on percentage revenue growth over three years. The Australian Deloitte Technology Fast 50 is part of the global Fast 500 program run in parallel with the United States, Canada, United Kingdom, France, Norway, Sweden, the Netherlands, Germany, Central Europe, Israel, South Africa, China, Hong Kong, India, Japan, Korea, Malaysia, New Zealand, Singapore, Taiwan and Thailand.
***
Media contact
Maria Franco
+61 2 8031 1287
media@siteminder.com
About SiteMinder
As the leading cloud platform for hotels, SiteMinder allows hotels to attract, reach and convert guests across the globe. We serve hotels of all sizes with award-winning solutions for independents and groups alike, wherever they are in the world.
SiteMinder's products include The Channel Manager, the industry's leading online distribution platform; TheBookingButton, a wholly-branded booking engine for direct bookings via the web, mobile or social; and GDS by SiteMinder, a single-point of entry to a six-figure network of travel agents and the world's major GDSs. With more than 19,000 hotel customers and 350 of the industry's top connectivity providers as our partners, today we have presence in more than 160 countries on six continents.
For more information, visit www.siteminder.com.