---
---
Dallas, USA – The global hotel industry's leading cloud platform, SiteMinder, today announces it has surpassed 26,000 hotel customers with the signing of RQ Grupo Hotelero, an established provider of extended-stay accommodation in Chile's major business districts. The signing of RQ Grupo Hotelero's properties in Santiago, Providencia and Las Condes comes mere weeks after SiteMinder's exhibition at World Travel Market Latin America and the company says it plans to only deepen its penetration within the region.
RQ Grupo Hotelero has seven properties to provide guests more than 230 rooms.
The group's commercial manager, Ana Marticorena, says, "We hadn't used a distribution platform until now. We simply knew that in order to sell more rooms, we needed help to manage changes in our room rates and to achieve rate parity across our distribution channels.
"SiteMinder came highly recommended to us from other hotels, due to the performance and usability of its technology, and as RQ looks to double its capacity over the next two years, we are comforted in knowing we have a partner to help us make better decisions and reach higher occupancy rates."
Fig Cakar, managing director – the Americas at SiteMinder, says the addition of RQ Grupo Hotelero to SiteMinder's strong network of hotel partners is an indication of the company's true global footprint and its wide acceptance into LATAM.
"For more than 10 years, SiteMinder has demonstrated its ability to connect with hoteliers from all corners of the globe, from the Asia Pacific to the UK and mainland Europe, Africa, the Middle East and, more recently, the Americas. SiteMinder's growth to 26,000 hotels is testament to our technology and our people, both of which speak to the complex needs of hoteliers, including the need to engage in their own language.
"With Latin America's travel market projected to reach US$73.3 billion in value within the next three years* – and online travel growing at virtually twice the rate of the entire market – there is a need for the region's hotels to capitalise on technology like SiteMinder's and have the best opportunity to compete with the rest of the world."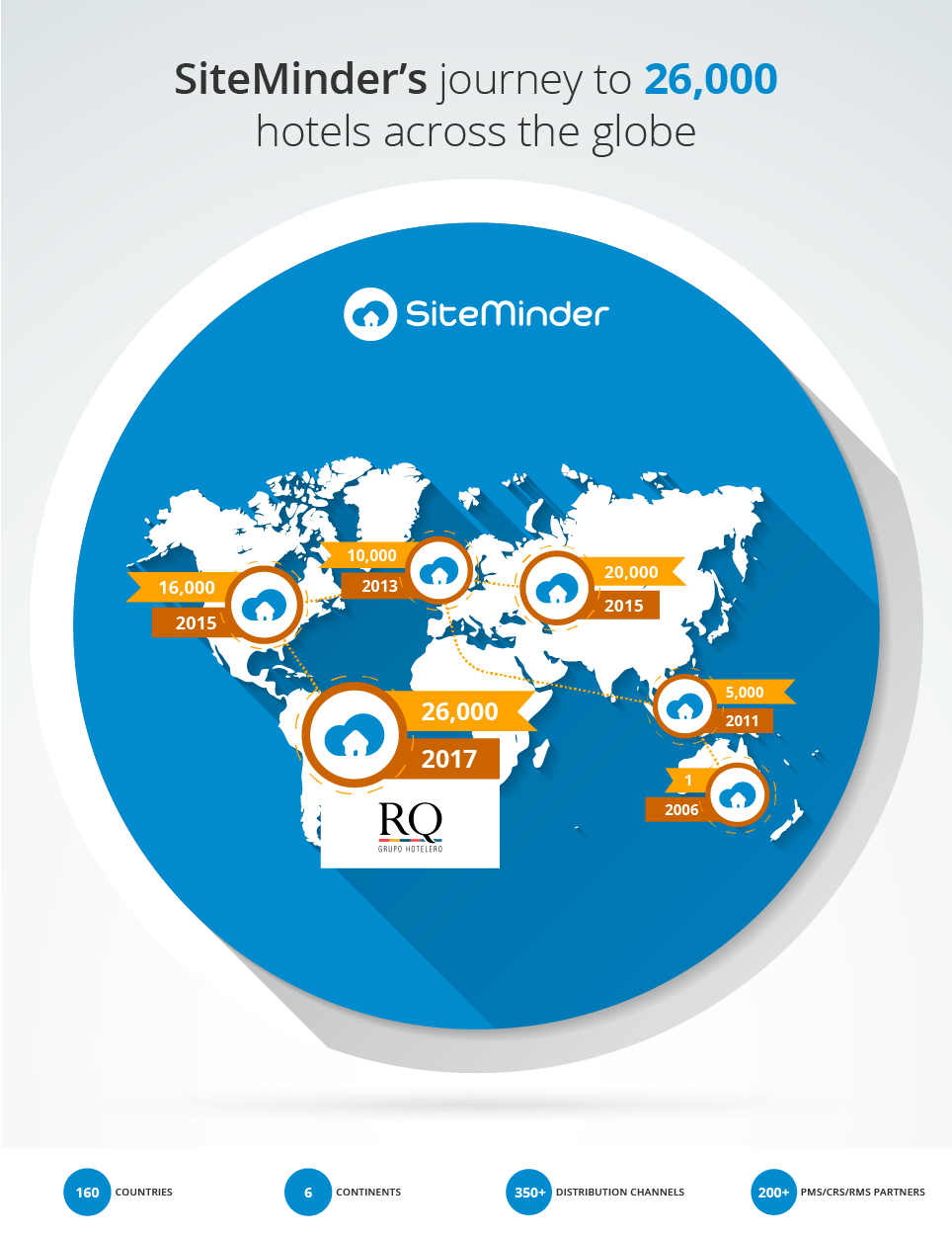 * Latin America Online Travel Overview Third Edition, Phocuswright, 2016
Media contact
Maria Franco
+61 2 8031 1287
media@siteminder.com
About SiteMinder
As the leading cloud platform for hotels, SiteMinder allows hotels to attract, reach and convert guests across the globe. We serve hotels of all sizes with award-winning solutions for independents and groups alike, wherever they are in the world.
SiteMinder's products include The Channel Manager, the industry's leading online distribution platform; TheBookingButton, a wholly-branded booking engine for direct bookings via the web, mobile or social; Canvas, the intelligent website creator for independent hoteliers; Prophet, the real-time market intelligence solution that takes the guesswork out of pricing rooms; and GDS by SiteMinder, a single-point of entry to a six-figure network of travel agents and the world's major global distribution systems. With more than 26,000 hotel customers and 550 of the industry's top connectivity providers as our partners, today we have presence in more than 160 countries on six continents.
For more information, visit www.siteminder.com.
About RQ Grupo Hotelero
RQ Grupo Hotelero is one of the leading providers of apartments and suites in Chile. With seven properties located strategically at key points across the Santiago, Providencia and Las Condes business centres, RQ Grupo Hotelero provides travellers the experience of being in their own home and is the ideal solution for a guest's extended-stay needs.
For more information, visit www.rq.cl.