---
---

Bangkok, Thailand – Data by SiteMinder, the global hotel industry's leading guest acquisition platform, today reveals the positive impact that Thailand's new four-day long weekends have had on local hotel bookings.
According to SiteMinder's World Hotel Index, Thailand's booking momentum has this week risen above 59 percent of 2019 levels for just the third time since early March. Since October 14 hotel reservation volumes have increased by 69 percent, and in Phuket booking momentum for local properties is the strongest it has been in over 250 days.
As with the November four-day weekend, Thailand's Constitution Day holiday, scheduled to commence on Thursday December 10, has caused a surge in last-minute bookings from Thai locals. 17 percent of all arrivals in the months ahead are for the week of the holiday, a figure only set to rise in the final days prior to the weekend.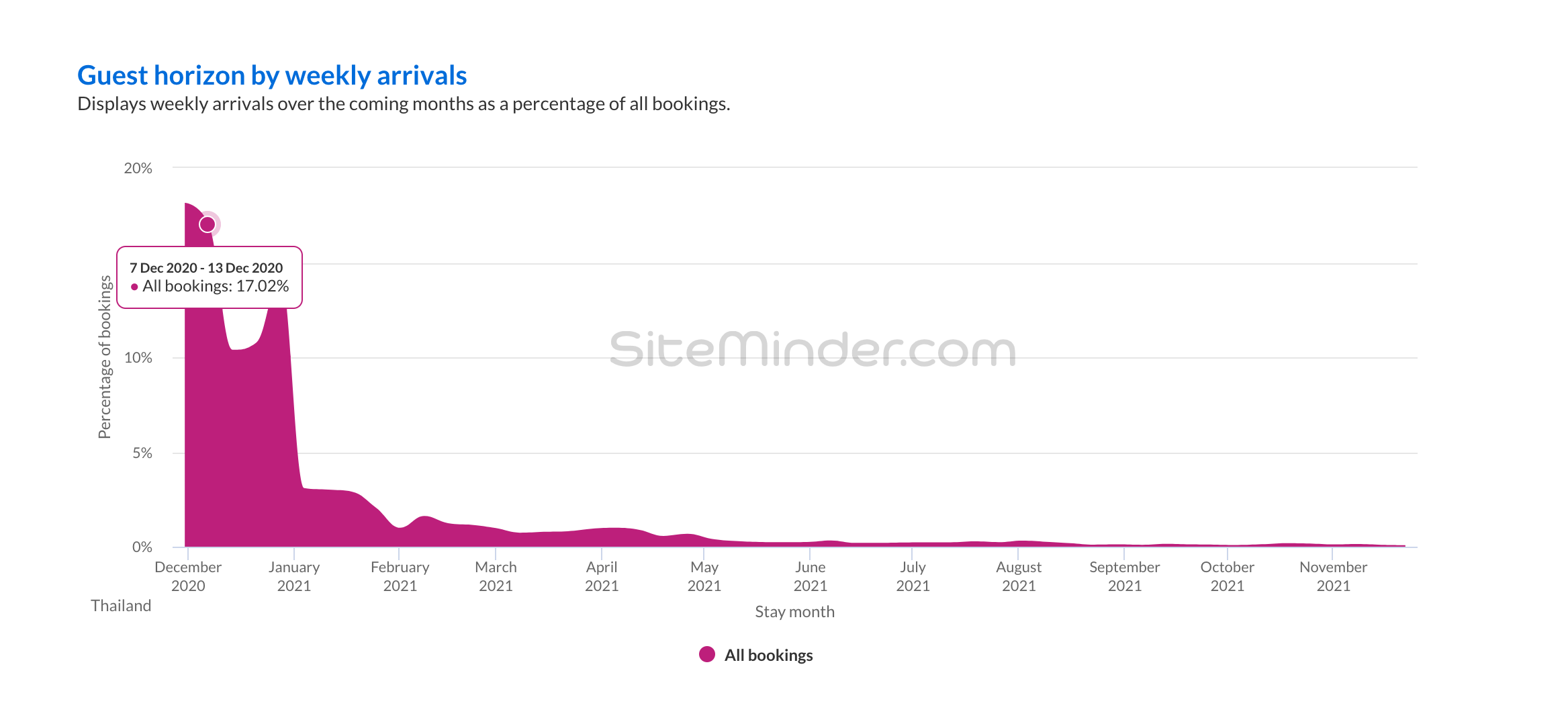 "After a difficult year for many of Thailand's hoteliers, it is pleasing to see the Thai people supporting local businesses across these four-day long weekends. With limited international guests currently in Thailand, they present a unique opportunity to experience the country, and the beauty that it has to offer, before the rush of tourists recommences," says Bradley Haines, Regional Vice President of Asia Pacific at SiteMinder.
The recent rise in hotel bookings in Thailand is also mirrored in other parts of Asia, with reservation momentum in Taiwan (+20 percent MoM), the Philippines (+33 percent MoM), and Vietnam (+63 percent MoM), all trending positively on SiteMinder's World Hotel Index.
Media contact
Maria Cricchiola
+61 2 8031 1287
media@siteminder.com
About SiteMinder
In an age of rising choice and accessibility for curious travellers, SiteMinder exists to liberate hoteliers with technology that makes a world of difference. SiteMinder is the global hotel industry's leading guest acquisition platform, ranked among technology pioneers for its smart and simple solutions that put hotels everywhere their guests are, at every stage of their journey. It's this central role that has earned SiteMinder the trust of more than 35,000 hotels, across 160 countries, to generate in excess of 100 million reservations worth over €31 billion in revenue for hotels each year. For more information, visit www.siteminder.com.