The gap between hotels equipped to meet the demands of modern guests, and those which are not, has been steadily growing. This is being driven by the guests themselves – who are savvy travellers at the forefront of behavioural and technological change – and the reluctance for some properties to adopt new front and backend tech solutions.
The divide is most prominent between Groups/Chains and Independent brands. Groups have long been early adopters, while many independent operators are held back by perceived costs, fear of change, and an attitude that outdated methods of property management still hold value.
These concerns are ultimately unfounded. In fact, tech stack investment will reduce both costs and complexity. As for change? It's something the world has had to embrace time after time.
To be successful moving forward, hoteliers need to put their current beliefs against what today's travellers are showing us they expect and respond accordingly.
This blog will uncover some of the more common guest demands and how your property can solve for them.

Guest demands in 2022 and beyond
Guests have higher standards
The winds of change were already gaining momentum, but the global pandemic only hastened the impact. SiteMinder's own report, The Dynamic Traveller, found that 52% of global travellers now have higher expectations when it comes to accommodation standards – with key focus given to:
Convenience
Personalisation
Safety
Experience
Guests want flexibility
This is evidenced by almost 1-in-3 travellers listing the ability to freely cancel or modify trips as one of their top two priorities and more than 30% planning to include work during an upcoming trip.
These wants and needs are coupled with the fact that today's travellers are:
Savvy bookers who track down the best deals and booking experiences
Avid researchers who carefully consider options
Keenly aware of the wide range of choices available to them when planning a trip
Highly focused on positive and memorable experiences, both within and outside the walls of their accommodation
Environmentally and socially conscious who prioritise responsible businesses
Increasingly mobile, whether it be to plan, research, shop, or capture authentic moments
Rarely willing to hand out second chances for sub-par experiences
Enthusiastic about technologies that improve their end-to-end journey
As the saying goes 'the majority rules' and even older travellers are becoming more well versed when it comes to social media and mobile devices, two vital considerations for hoteliers.
Guests want control
The final thing that travellers want – and hoteliers want this too – is control. If someone is going to travel a long distance and spend a significant amount of time it's only natural they'll want to feel in charge of their entire experience to ensure satisfaction.
This leans into how the purchase experience has evolved across the internet in every sector. It's become both simple and diverse, characterised by a 'shopping cart' experience that allows buyers to pick and choose exactly what they desire with the move of a finger.
Generally, customisation has been kept to a minimum at hotels to make the booking process easier to manage, but guests are pushing for this to change. After all, how likely is it that one will be 100% satisfied with a 'set-menu' experience?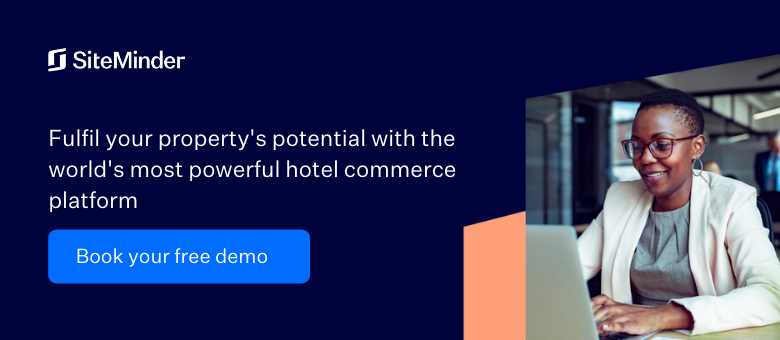 Hotels can respond with refreshed guest experiences and tech investment
Perhaps it's obvious, or perhaps it gets overlooked, but you need to think like your customer. As long as you are keeping up with what your customers are demanding, it's likely you will be strides ahead of your competitors without even focusing on it.
How to establish a 'new normal' for guests
It's important to assess your hotel's current experience holistically, keeping in mind the changes in behaviour we've already discussed.
Audit your own booking processes and ask yourself questions such as:
What first impressions are travellers getting of your property on OTAs or your own website?
Are offers and promotions easy to find and understand?
Is it simple to make a booking?
Is there enough choice or customisation in the booking process?
Do you feel engaged on a personal level?
At your physical property think about:
What atmosphere greets you when you first walk through the door?
How quickly can you check-in, get to your room, and become familiar with the property?
Do you feel welcomed and recognised upon arrival?
How simple is it to make a request and how promptly is it acknowledged?
Have the staff prepared adequately to make you feel like a guest, not just a customer?
There are certainly a lot of pieces of the puzzle to assess when it comes to guest satisfaction, and there's no doubt getting it right takes time but the payoff is potentially huge if your guests become champions for your brand.
Meeting these challenges leads us to…
The move towards modern tech solutions
Delivering the experiences guests want first relies on hotels being able to let go of legacy systems, and move towards a centralised, more streamlined, mode of operations.
Hotels have the challenge of being 'always on' to sell expiring inventory, ensure guests are satisfied, grow revenue, and manage admin 24/7. Trying to pull this off without a tech stack that prioritises simplicity, control, and connectivity is an uphill battle – even more so when many competitors are already adapting to a much-needed nimble mindset.
With the right technology in place hotels will have the chance to attract more travellers and reconfigure guest services to build closer relationships with guests. Using a single powerful platform like SiteMinder gives hoteliers the freedom to address key guests demands by:
| Action | Benefit |
| --- | --- |
| Being visible at every guest touchpoint via channel management and metasearch solutions | Reach more travellers and open up revenue opportunities earlier in the booking journey |
| Simplifying and personalising the direct booking process with online booking engines | Reduce booking abandonment and increase profit from each guest |
| Easily publishing and selling promotions on hotel websites | Convert more lookers to bookers |
| Enhancing upselling, communication, and guest experience via the latest apps | Increase revenue, trust, and loyalty |
| Processing secure payments in quick and simple steps | Allows you and your guests to save time, and makes the annoying parts of the trip easy and seamless |
| Analyse the market with business intelligence | Beat competitors to the punch with key insights to inform strategy |
| Rolling out strategic pricing with advanced performance reports | Price your hotel just right, every time |
Using a hotel commerce platform unlocks the ability to be in many places as once, without feeling stretched. It offers the control and freedom hoteliers need to be able to focus on the most important part of running a hotel – the guest.
It's an enabler that allows you to give guests what they crave, including:
Contactless check-in, room entry, and room service
Creative packaging, one-stop shopping, and exclusive ancillaries
Mobile-friendly website experiences, clear and accurate information, and easy navigation
24-hour responsiveness, intuitive service, and personalised experiences
Value for money, the opportunity to create memories, and a reason to share stories
Smart technology to boost in-room experience, luxury through automation, and luxury through choice