---
---
By Mike Ford and Mike Rogers, Founders of SiteMinder
The last 15 years have truly been an incredible journey – from starting out with a hunch in a rental house on Sydney's Northern Beaches, to serving the tens of thousands of hotel customers around the world that we do today. It's not been easy, but has been incredibly rewarding, and we've had the chance to work with scores of wonderful people that have all had a hand in helping SiteMinder become the business it is today. From the bottom of our hearts, we say thank you!
An anniversary is a great time to both reflect and share stories, so as part of SiteMinder's 15th birthday celebrations, we wanted to take a moment to share 15 of our observations and memories since founding the business, to provide a deeper insight into the journey, and what we've learnt so far.
Firstly, what has become ever clearer is that a business starts and ends with its people. When we opened our London office in 2009, a big part of our success there was due to the fact that we started it with people that were inside the business already, who were able to 'transplant' our culture and ways of working into that new operation. At every point along the way, trusting our people to create the business we envisioned, and working with those that reflected the values of SiteMinder, has proved vital. And we've been lucky to have worked with more than our fair share of great people so far.
As a founder, you never really stop selling, so being able to clearly articulate the vision of your company, and where you are going, becomes one of the most important things you can ever do. This is much easier in the early days, when you have a small team that's completely bought into what you're trying to achieve; it becomes much harder as you grow and evolve, and have to sell that same vision to a team of hundreds, to tens of thousands of new customers, to sceptical media and to potential investors.
You need a competitive spirit to drive you in a competitive environment. One of the most satisfying moments in the history of the company was defeating a competitor who raised $100 million in our home market when we had a handful of employees and not much cash in the bank. Simply because we had a better product and offered a better service.
Sometimes, to claw yourself to the next stage of your startup you just have to sticky tape stuff together. Don't get me wrong, the core of our system was always incredibly robust, but naturally we didn't have the opportunity to automate everything straight out of the blocks. (Mike Ford: I remember spending all day hitting the channel sync button until Mike Rogers could get it on an automated scheduler [while also taking customer support queries], which was memorable, but not fun. I still don't know how I got talked into that one, but you do what you have to do.)
Hire management skills ahead of the curve. It's easy to get caught up in execution mode when things are moving fast, and sometimes it's hard to see when you are at the limit of your managerial capacity. As you evolve, you need to constantly be looking to build or hire management skills that can take you to the next level, and it's easy to leave this too long if you don't have your wits about you.
Practise optimism, and always plan for more success than you expect. To give you a sense of how far forward we were looking, we initially only registered SiteMinder as a .com.au domain.
One of our most powerful sellers has always been word of mouth, so we've always kept our product and service at the heart of what we do. While we have built a highly capable sales and marketing engine, our product has always been and will continue to be what separates us from the crowd. With tech as easy and cheap to build as it is today, as soon as you stop innovating someone will take the lead from you, so your product and service as a tech company must always remain the focus.
Focus on your customers, not the competition. At times we used to get dissuaded by what competitors were saying they were doing. One thing that was quickly learnt, however, was that they almost never delivered on what they were promising, or didn't deliver well. So worrying too much about what your competitors are doing can take you off track in delivering what your customers actually need. Trust your instincts and focus on bettering the lives of your customers, rather than focusing too much on your competition.
Contrary to modern medical theory, it is possible for the human body to function on no sleep for days at a time. Not advised, but we did prove this in the early days of SiteMinder.
Don't be too pragmatic and measured in your approach. Naive optimism is underrated. Things are probably going to be a lot more difficult and complicated than you first think, but if you spend too much time worrying, you will probably never get started. There is a lot to be said about just having a crack.
To provide an insight into the early days of SiteMinder, and how our name came about, here's a snippet of an email conversation between us in circa 2006.
Mike Ford: "Last but not least, the #$#$#$%% name! I want to register a domain so I can get a site up and start talking to people (clients and possibly investors). I've come up with the following possibilities: resEasy (a pun on Rest Easy); SiteMinder; and Leapfrogg (Leapfrog is taken). If you want to laugh at this point, that's fine, but please come up with a better name in the next 2 days – if you don't then at least you have to tell me which of the above you prefer."

Imagine that, right now, if Marketing were working on a new logo for "Leapfrogg"! :P

Which leads us to: Don't get too emotionally attached to your ideas or too dogmatic about them. To the contrary, get used to just putting them out there and having them shot down. Good ideas will survive and bad ideas will evolve into good ones.

Lead with your own unique style. Yes, 'future you' may have some questions, however if you mirror your leadership style on someone else, you do a disservice to your team and are bound to end up lost.
(Mike Rogers: The team asked me to reflect on whether I'd ever made any questionable decisions in the last 15 years, and listed fashion decisions as an option to discuss, but I don't think I've ever made a questionable fashion decision, ever – even in this photo.)

Archive image of Mike Rogers trusting his stylistic intuition.

Diverse thinking creates innovation, there's no question, and a big part of that is creating a culture where it's ok for people to float different opinions or challenge ideas!

Finally, follow what excites you. It's not possible to stay motivated unless you have a passion for what you are doing, especially not in the early stages, which can be gruelling. You have to have a very understanding family to put up with the hours.
(Mike Rogers: I remember buying a tiny Linux laptop so that we could do family trips to the beach, where I would hide in a sun tent and write code, which… didn't go down well! But if you can find an idea or a cause that doesn't feel like it's work to you, then that's the key to staying inspired and motivated every day.)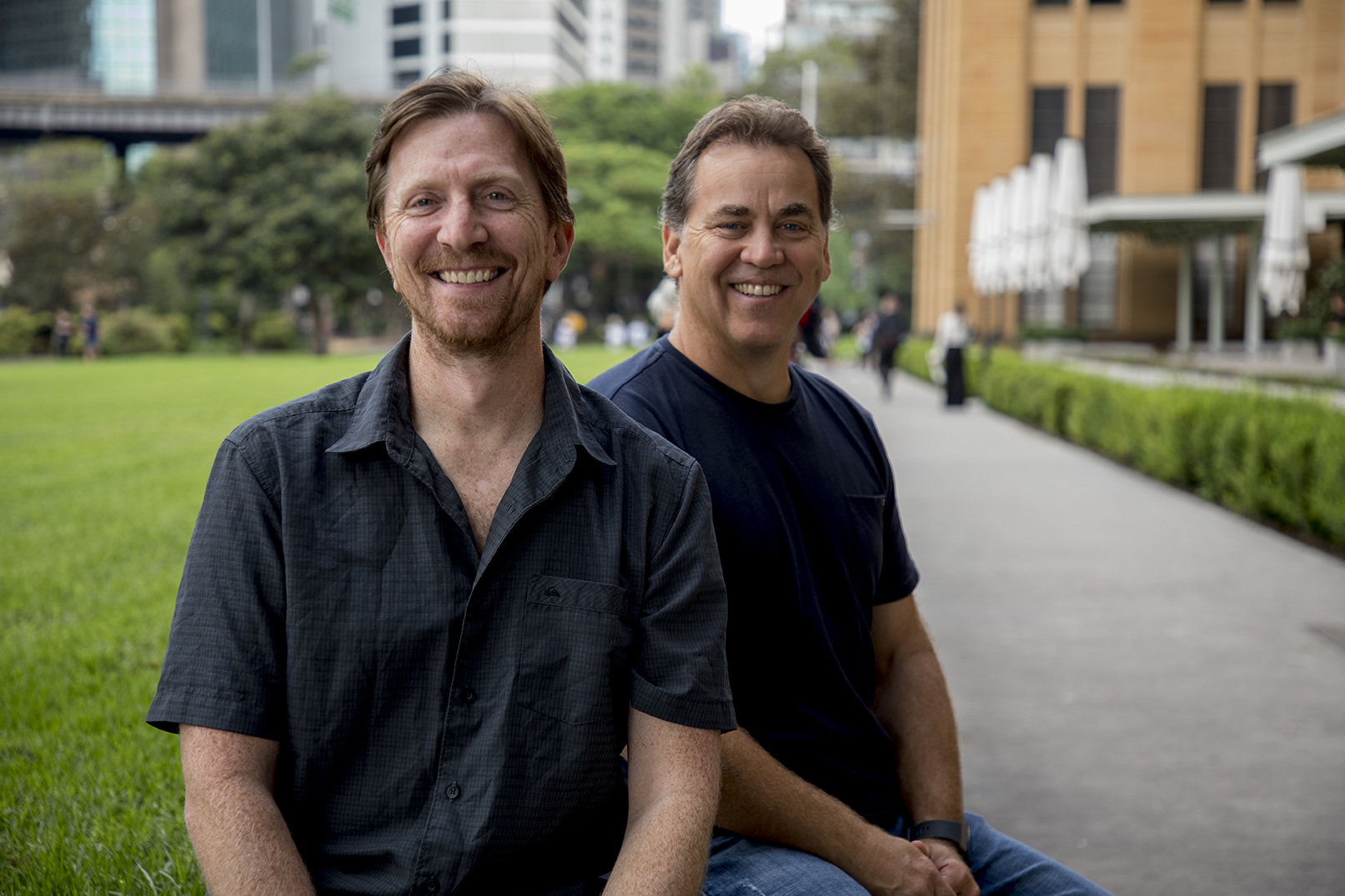 We're extremely grateful to those who have been with us from the beginning, those who may have left the business but played a role in our story, those who recently joined us, and those somewhere in between. Your collective energy helps to bring this company to life, and you should all be proud of what you're achieving.
Thanks to our customers, for the ongoing faith that you put in our technology every single day. And thank you to our partners, who allow us to create a global community for hotels at a time when technology has never been so important to them.
From both of us, thanks for a magical 15 years, and cheers to the next 15!
Mike Ford & Mike Rogers
As originally published on Startup Daily.