Keep your hotel ahead of the competition
Standing out in a world of endless choices can seem impossible. We make sure you're never left behind.
Keep on top of your competitors' rates
While pricing should never be the only reason you give guests to book with you, the reality is it can often be a deciding factor, especially among budget-conscious travellers.
SiteMinder provides a single dashboard for you to stay on top of your local competitors' pricing without having to manually monitor each throughout the day. Armed with this information, you can set or adjust your best available rates, up to one year in advance, and increase your chances of being booked.
Identify guest booking trends
Between check-ins and check-outs, online reservations and walk-ins, it can be hard to see the guest booking and behavioural trends that lie within your hotel management systems.
With SiteMinder, you can gain insight into the performance of each of your online distribution channels – by revenue and room nights generated – along with the impact of your online marketing campaigns to understand exactly where your website visitors are coming from and what calls-to-action are driving conversions.
Be seen where and how travellers are searching
As consumers, travellers today expect to be able to book a room on any device, on their preferred booking website, in a language that speaks to them and their needs.
SiteMinder gives you the ability to implement the multi-channel, multi-screen distribution strategy you need, so you can be visible to the guests you want to target most. This means greater exposure on desktop, mobile, Google and social media, as well as direct booking solutions that enable travellers to book in their local currency and language.
"SiteMinder has helped us to easily control the availability and prices of our hotels online, in real-time, and become more competitive thanks to price parity."

Sebastián Torrens, HM Jaime III

Read more about this case study
Free eBook: SiteMinder's Hotel Success Stories Collection
We've helped to optimise the day-to-day success of hotel businesses since our inception. Learn real-life examples of how our technology has helped leading hotels thrive.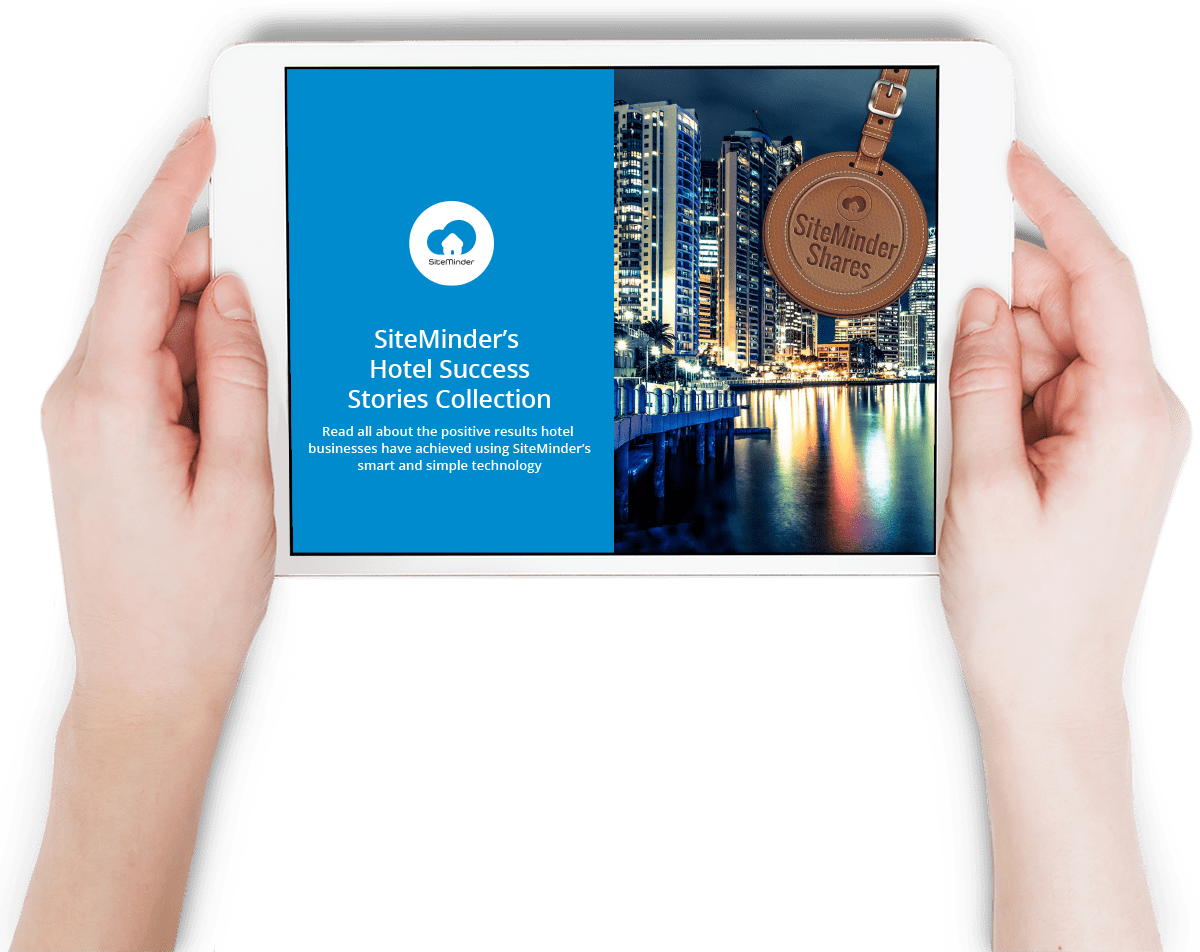 In this collection, we look at how hotels have strengthened their:
Distribution and direct bookings
Revenue management
Property management and systems integration
Website management
Download now