Booking.com Channel Manager
Use our industry leading Channel Manager to manage your hotel's rooms and rates on Booking.com and over 420 of the world's top booking channels.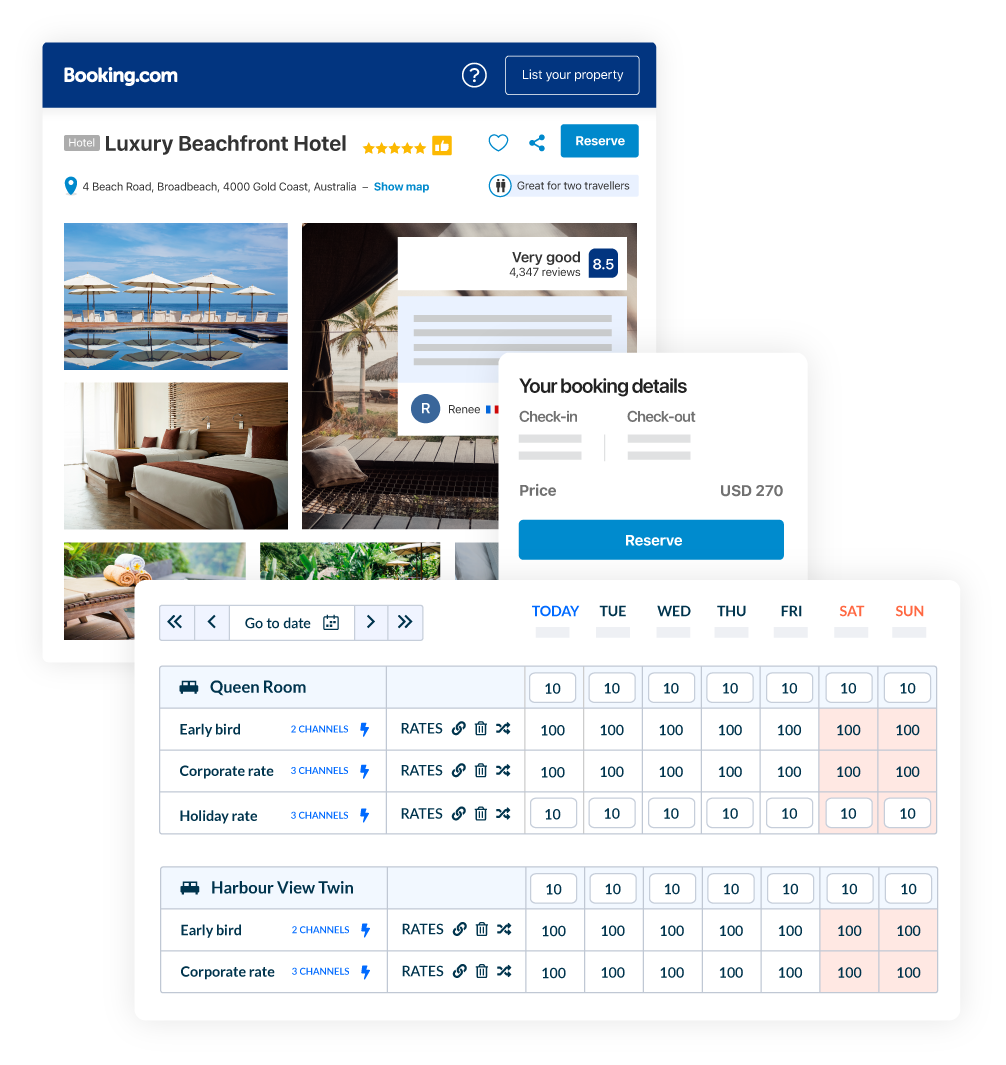 Why connect to Booking.com?
Booking.com has become a brand synonymous with travel. Owned by Booking Holdings, it's one of the largest travel ecommerce websites in the world.
More than 1.4 million properties trust Booking.com to list and sell their rooms to a vast range of guests travelling from all across the globe.
With Booking.com, your hotel has a huge opportunity to put itself in the spotlight.
If you want to connect to Booking.com and combine it with any other channels or methods of distribution, it really helps to use a channel manager.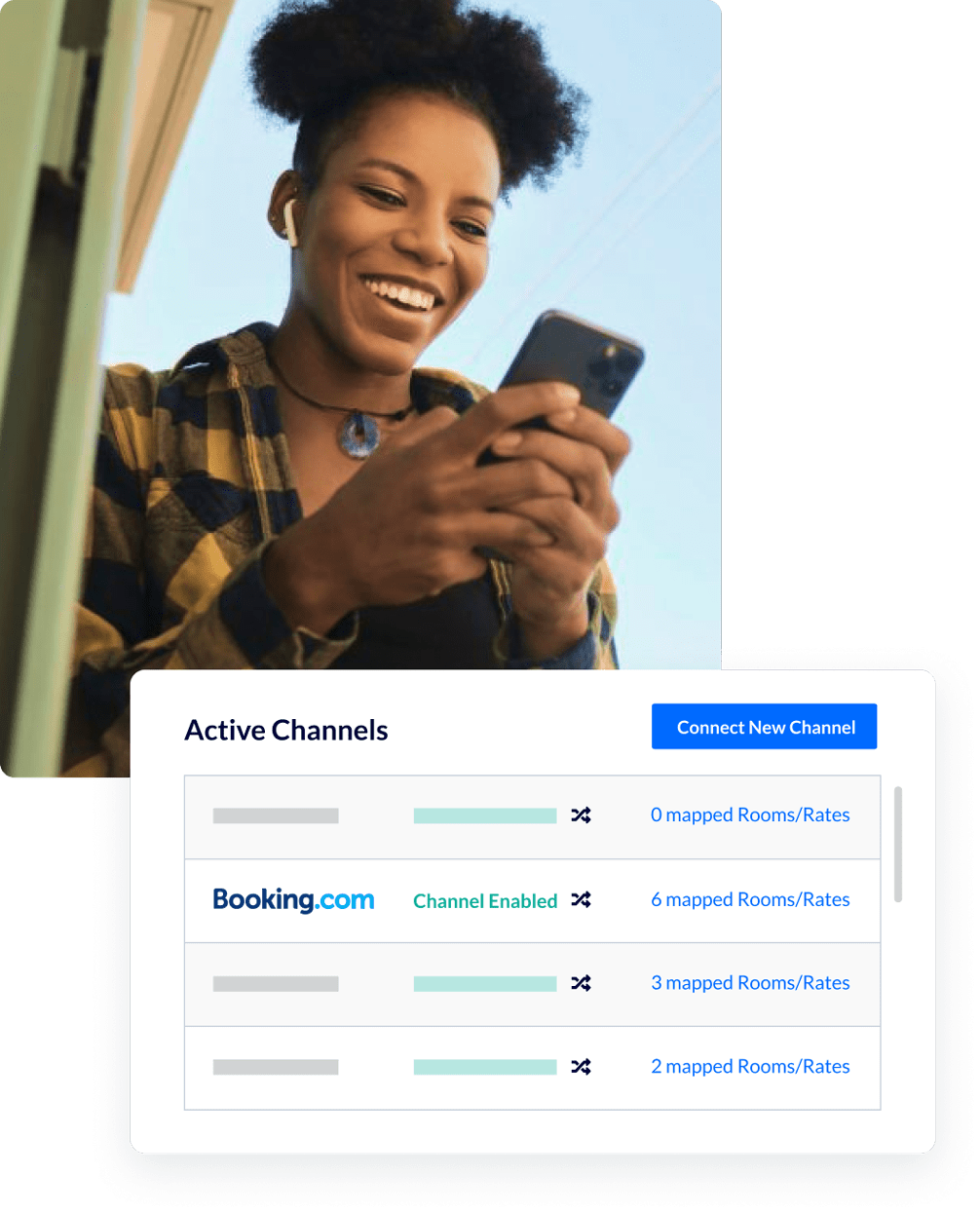 More than 1.5 million
room bookings
processed each day
Available in over
40 languages
Covers 121,000
destinations in
228 countries
How to connect a channel manager to Booking.com
Here are the steps you can take:
Map your rates, availability, and any restrictions to your channels
Start taking reservations!
All the crucial steps will be covered and set up when you begin your free period with SiteMinder and progress through your onboarding process. Once you complete your free period you will have everything you need to operate the channel manager and enjoy all your Booking.com reservations and revenue.
If at any time you need assistance, SiteMinder offers 24/7 1:1 support.
Why use SiteMinder as your Booking.com channel manager
Global reach
Seamless channel management with 450 two-way global connections to OTAs and GDSs to broaden your reach.
---
Fully integrated & instant
100% Booking.com connection quality, meaning no reservations or revenue are lost or delayed.

---
More Revenue
A pooled inventory model to put more of your rooms online and reduce overbookings.
---
Higher Profit margins
Direct booking experience on your website, on mobile and on social.
---
Frequently asked questions about Booking.com channel managers
Since Booking.com is an OTA, it doesn't feature a channel manager. However, they partner with connectivity providers such as SiteMinder to easily enable a channel manager for hotels. SiteMinder is a leading Premier Connectivity Partner of Booking.com, offering you a secure and reliable connection with the platform and over 400 other distribution channels. Once connected, you can easily find the channel manager dashboard on the "Property" tab of your Booking.com account.
Hotels need a channel manager on Booking.com so that they can manage their rates and availability more effectively and efficiently. Without an easy Booking.com channel manager, you will have to manually update each of your room rates which can lead to double bookings and poor guest experience. Not only is it too time-consuming and more prone to human error, but it also causes you to miss out on optimising your pricing and increasing your revenue.
Generally, a Booking.com channel manager works through an Application Programming Interface (API) that automatically updates your availability across multiple platforms. Once you have an account with Booking.com, you can easily connect and manage your account directly inside SiteMinder's Channel Manager. Room mapping is a secondary link, connecting each of the rooms and rates on the booking channel with their corresponding room rates in the channel manager. After this, you're ready to enjoy automated, real-time reservation and inventory updates across Booking.com and other connected channels.
SiteMinder is the best channel manager for Booking.com because of its unparalleled compatibility with the global OTA giant. Hoteliers around the world consistently vote SiteMinder as the number 1 channel manager provider, besting nearly a hundred others. As the best Booking.com channel manager, SiteMinder has received the highest ratings for ease of use, customer support, return on investment (ROI), and implementation. Learn how you can also gain as much as two times more online booking revenue through a customer success story.
Yes, you can use the world's number 1 channel manager through a free trial. One customer shared that they used the 14-day free trial and were very impressed so they signed up after the trial period ended. They even continued, "The set up didn't take long at all." Another customer mentioned that they settled on SiteMinder because of its affordable cost and because they did not have to be locked into a long-term contract. They also commended, "Everyone at SiteMinder is knowledgeable and their level of service exceeded expectations. Every request is answered quickly and professionally. We were always welcome when we had so many questions. The team was a great help every step of the way." Open your door to a world of opportunities with SiteMinder—start your free trial today.