Connect to Airbnb with SiteMinder's channel manager
Our industry leading channel manager lets you connect to Airbnb effortlessly, updating your property's content, room rates and availability in real-time.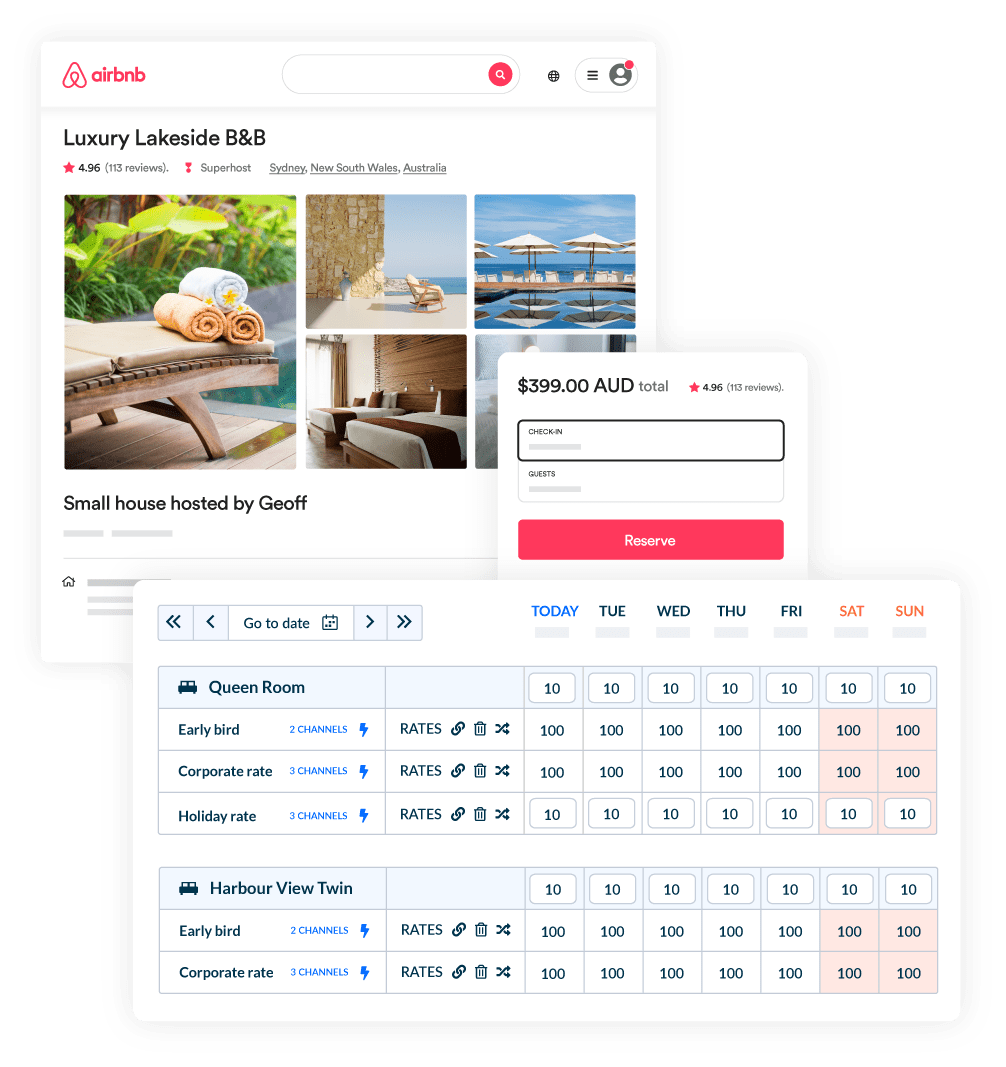 Why connect to Airbnb?
An Airbnb channel manager allows you to easily manage Airbnb alongside your other OTA connections. Overall, you'll enjoy:
Less dependency on your other OTAs
Higher guest engagement and closer guest relationships
No payment fees or contract commitments
More than 150 million users
272 million bookings made on
the platform in 2019
Over seven million
property listings
More than four
million active hosts
Benefits of using a channel manager for Airbnb
Using a channel manager for your Airbnb connection will enable you to:
Enjoy a real-time two-way connection between Airbnb and your property management system
Get automatic inventory updates on all your channel connections, so you save time and effort
Write your own listings to highlight what is unique about your property, access new audiences, and gain an edge over your closest competition
Get comprehensive insights and performance reporting for your Airbnb connection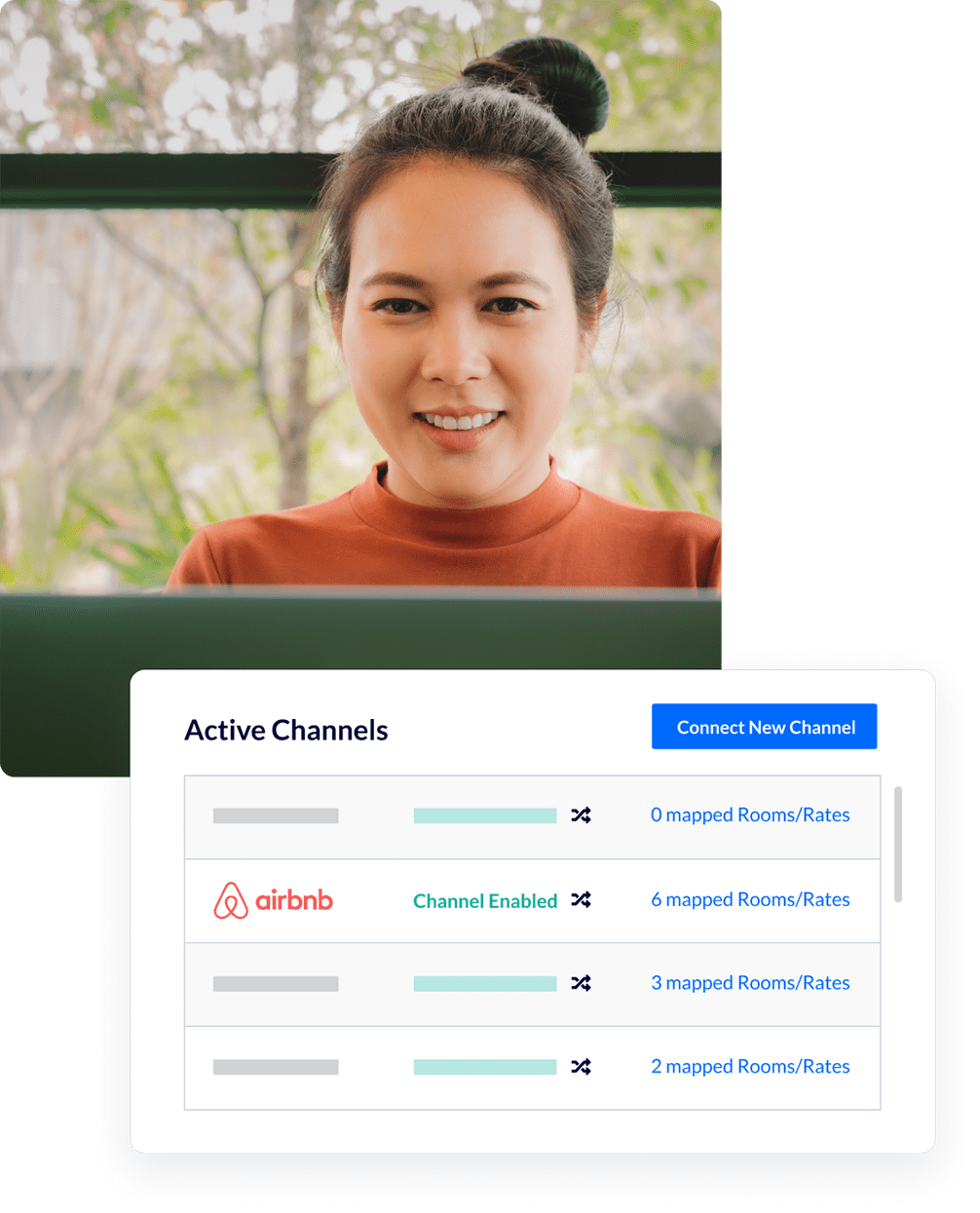 Best channel manager for Airbnb: Reasons why SiteMinder wins
Trusted Airbnb Partner with full support
SiteMinder was Airbnb's first real-time channel management connection, making it the platform's most long-standing partner. Get local access to 24/7 Support across the world, so your property's booking power never has to sleep.
---
Fully integrated & instant
Real-time processing and delivery of your hotel's Airbnb reservations, plus synchronisation with our hotel commerce platform to keep availability and rates updated.

---
Save time and money
Setup is easy and you're in complete control, with a central dashboard and automated updates.

---
Access to unique value-added services
Connect your reservation data with 100+ integrated applications to earn more revenue, simplify operations, and enhance guest relationships.
---
How to connect Airbnb to your channel manager
If you are an existing customer of a channel manager with an Airbnb connection, you can apply via your channel manager provider. Once approved by Airbnb, your channel manager will add Airbnb so you can start mapping your rates and availability and complete your listing.
Apply now with SiteMinder, Airbnb's first and most long standing real-time channel management connection.
---
If you are not a SiteMinder customer, you can still apply to be listed on Airbnb once you start your free period with SiteMinder.
---
Frequently asked questions about Airbnb channel managers
Yes, it's best practice for a hotel to use a channel manager for Airbnb. This is because you will likely be listing your rooms for sale on other third-party channels too, as well as your own website. A channel manager will eliminate the need for you to manually update all your listings each time your inventory changes. It will also communicate inventory updates instantly to your property management system so your reservation data is always up-to-date.
SiteMinder is one of the best examples of an Airbnb channel manager. It's the world's leading hotel commerce platform and #1 channel manager as rated by HotelTechReport. SiteMinder is also Airbnb's first and most long-standing channel manager partner. If you are a smaller property such as a boutique hotel, B&B, or guesthouse, then Little Hotelier may be the right fit for you. It is backed by SiteMinder's technology but is designed specifically for smaller accommodation businesses.
When Airbnb decided to enter the broader hotel industry and give all hotels the opportunity to list on the platform, it announced officially that SiteMinder would be its first channel manager partner. This was an exclusive agreement at the time and made SiteMinder the most trusted channel manager software in the world. SiteMinder is still the leading channel manager in the industry and the best way to connect your hotel with Airbnb.
Yes! A good channel manager provider will allow you to try for free and enjoy an Airbnb connection with no risk. SiteMinder offers a 14-day free period, so you can be sure it's the right Airbnb channel manager for you. There are no lock-in contracts, no credit card required, and you can cancel anytime. Get started for free today.