A well-designed hotel website plays a pivotal role in a hotel's ability to attract the most motivated hotel guests.
Travellers are becoming increasingly tech-savvy, as they spend more time researching hotels on their own and finalising their bookings from their mobile devices. The best hotel websites provide travellers with compelling visuals, social proof of the guest experience, and they make it as convenient as possible for guests to book and pay online.
Here are some of the best examples of hotel website designs to inspire you:
5 great hotel website design examples
The Bal'e Villas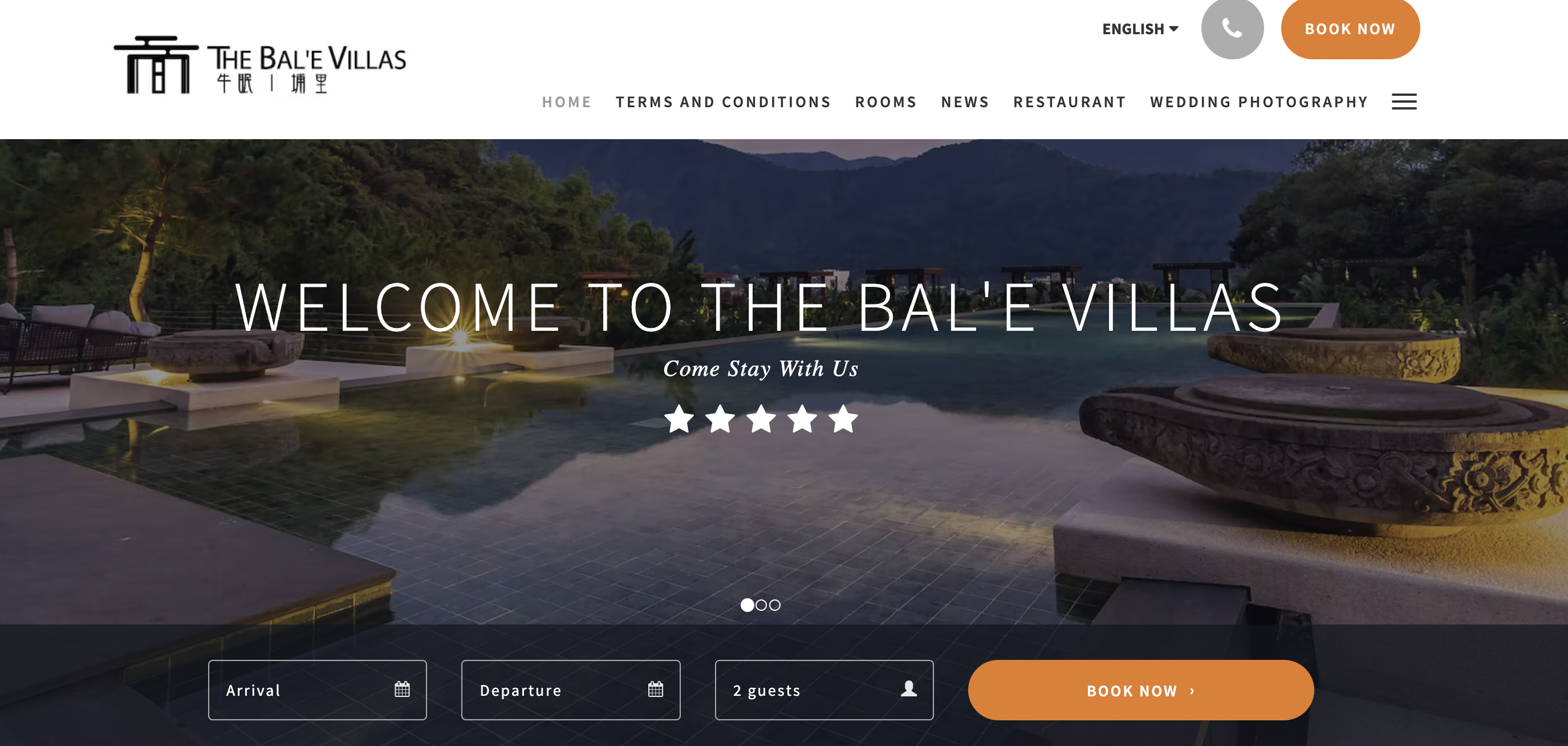 Travellers landing on the homepage of The Bal'e Villas are immediately given all the vital features they need. The stunning feature image is inviting, while the simple layout makes it easy for visitors to find the information they need or make a booking instantly if they want to.
All this information is given without needing to scroll down the page or search around the site. This is a great example of how to impress guests and also convert them quickly.
What's the secret? The Bal'e Villas uses SiteMinder's website builder, which makes it easy to create and maintain a beautifully optimised hotel website.
Petit Mirador

The hallmark of the Petit Mirador page is the scrolling slideshow banner that is prominently displayed at the top of the page. This is the first thing to catch the eye of the site visitor, and features numerous stunning images of the property and its surrounds.
Using photographs that feature unique views as well as some of the amenities, the visitor gets an immediate sense of what their own experience at this hotel might be like. The bonus is that potential guests need only scroll once to see a list of available room types.
Hoh Valley Cabins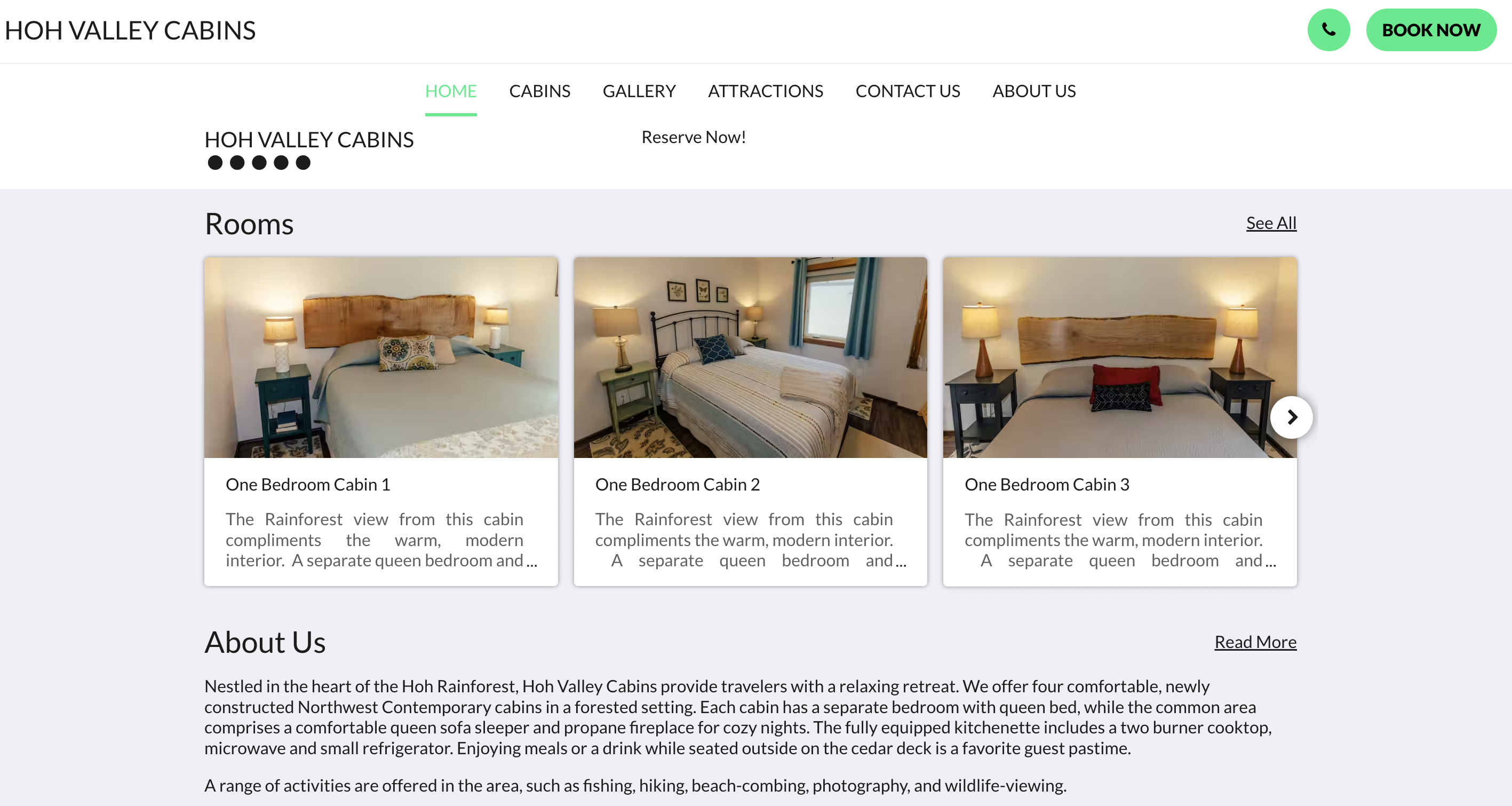 Hoh Valley Cabins knows that its visitors are looking for the most crucial information as soon as they land on the page.
In just a single view website visitors can learn about the property, see what rooms are on offer, make a booking, and choose to visit other parts of the site. this makes for a very simple experience for potential guests who are researching and weighing up their options.
This simple design is incredibly effective at driving direct bookings.
The Rees Hotel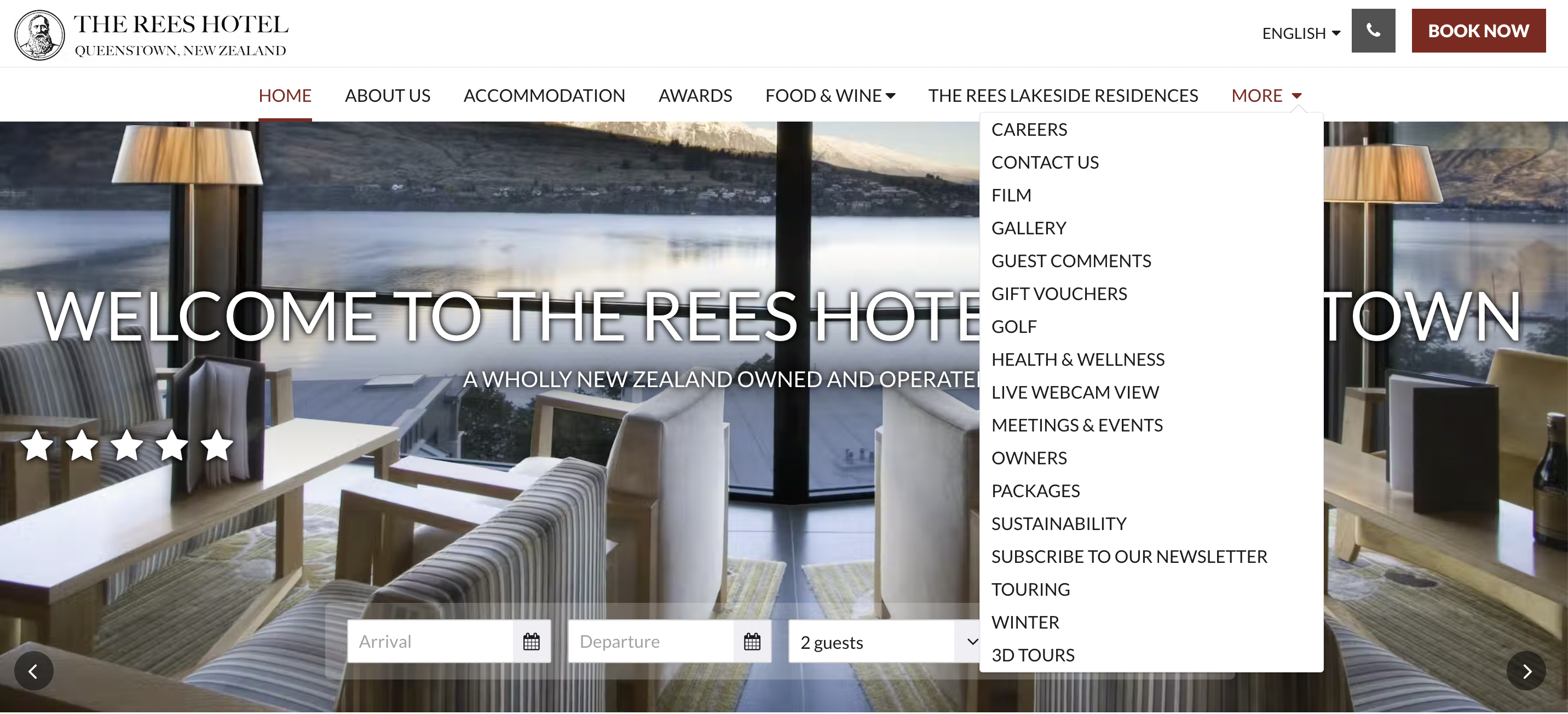 The Rees Hotel is making great use of its menu and navigation options, using SiteMinder's website builder. 
While it has a large range of information and detail for visitors to explore, everything is accessible from the main navigation, while still ensuring guests can book anytime they want with the 'Book Now' button. The 'MORE' dropdown is a particularly useful and simple way of letting guests know there are extra resources to explore without hiding anything too deep in the website.
Erakor Island Resort & Spa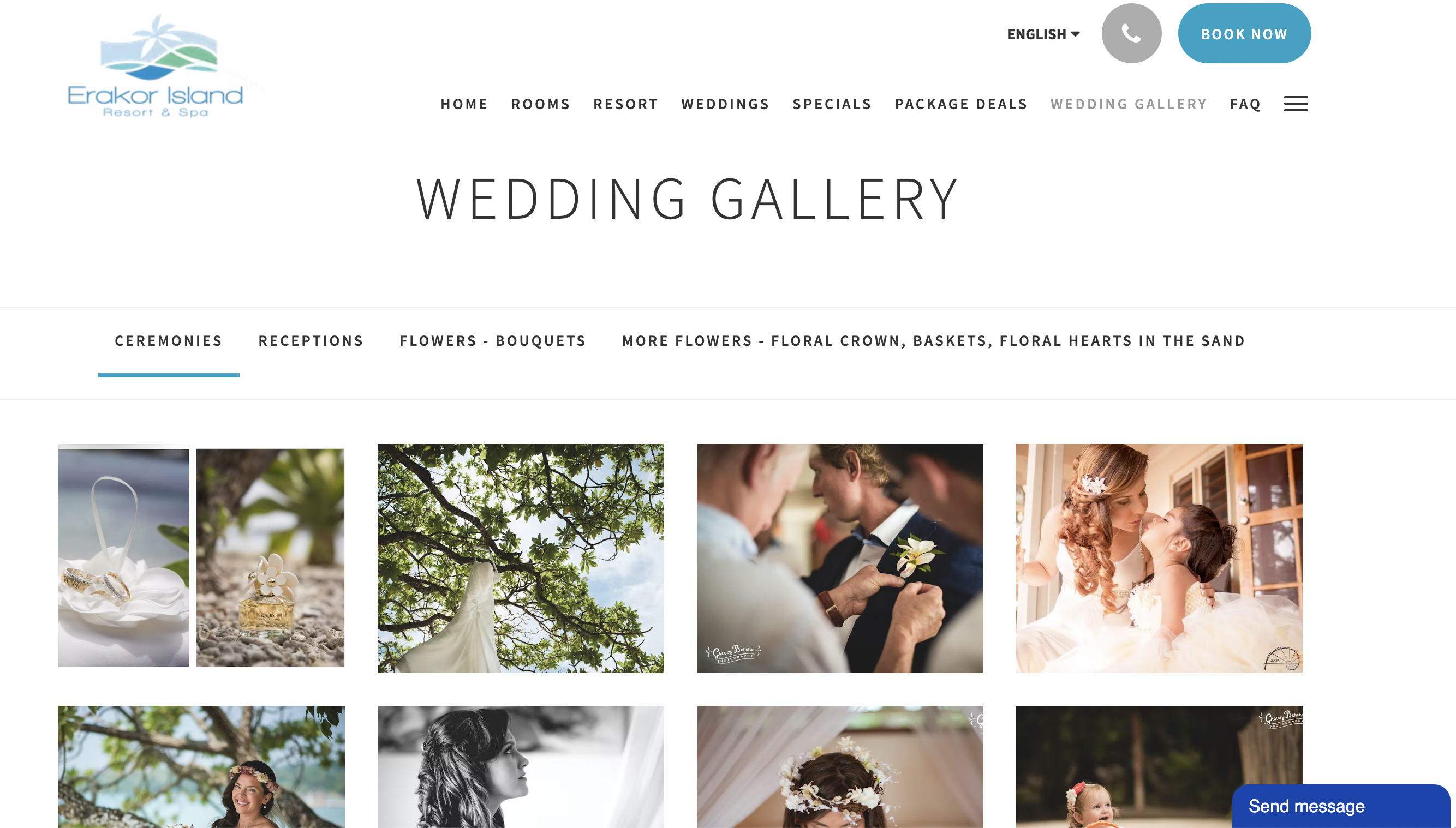 Erakor Island Resort & Spa is doing a great job of displaying one its strengths – hosting weddings and ceremonies. With a simple, yet stunning, gallery along with sub-categories, guests can easily get a taste of what a celebration of love looks like at the property.
You'll notice again, that the 'Book Now' button is always visible, allowing guests to convert to a booking at anytime. In addition, the property is using a chatbot to help visitors with any questions. This will again aid in increasing direct bookings, since researchers won't be frustrated by a lack of information.
What makes a good hotel website design?
The best hotel websites often have a lot in common. These elements are necessary when it comes to creating a well-designed hotel website:
Responsive design
A responsive website design allows a website to be easily viewed on either a desktop or mobile device. It will automatically adapt to the screen size and style of the site user, making it easier for an individual to navigate on a smartphone or tablet.
This is perhaps the most critical component of any hotel website design, because mobile bookings are rising steadily year after year.
Hotels need to have a mobile-friendly design that allows a site user to book directly from their preferred device, or the brand will lose many valuable bookings.
High-resolution images
The best hotel websites not only have vibrant, detailed images of the hotel property and the amenities available there, but these websites also include action-packed images of guests enjoying themselves during their stay.
Images of people utilising the hotel facilities provides site visitors with proof of the guest experience, and can be highly effective when it comes to capturing direct bookings.
Live rates and availability
A good hotel website design will be able to work with the hotel's property management system, allowing the website to display live rates and availability.
Any prospective guest who is exploring a hotel website will want to know if there is availability during their travel dates and what it would cost for them to stay there.
If they can't get this information from the website, the site user will simply abandon the page in search of a more intuitive hotel brand.
'Book now' button
A booking button is a small component of a hotel website, but it's one of the most critical elements. This button should be prominently displayed on every landing page, as it is the best way to encourage a site visitor to finalise their booking immediately.
Fast site speeds
A hotel website should load completely within a matter of two or three seconds, at most. Prospective travellers will not wait more than a few seconds for a site to load. Instead, they will simply go back to the search results page and click the next hotel on the list.
Fast site speeds are essential for decreasing bounce rates, and also for improving search engine results page rankings.
Tips to improve website design for hotels
Even after you have implemented a good hotel website design, you will want to continuously update your website with fresh images and valuable content.
Routine maintenance is necessary to attract new travellers and also to staying relevant on the search engine results page. The following tips can help you improve your design:

Add photographs of people who represent your largest market segment. If you are a hotel that generally attracts young millennials and solo travellers, then make sure these demographics are represented in your imagery.

Create content that serves as a valuable resource for travellers. Local travel guides and historical insights into the surrounding area can provide potential travellers with more reasons to visit your page and with a greater incentive to stay on your website for longer periods of time.

Invest in a website building tool designed specifically for hotels. A hotel website building tool will allow you to easily design and maintain your website. This option will not only save time, but also money.
Why choose SiteMinder's website builder?
SiteMinder's website builder is a feature designed specifically for hotel operators and hotel managers. It is an intuitive, user-friendly program that allows hotel operators of any skill level to create a beautiful, cohesive website in a matter of minutes.
Using SiteMinder, hotel operators can customise their website with their own photographs, logos and landing pages. In addition,  SiteMinder's website design allows a hotel to instantly integrate its web operations with other technology solutions.
For example, SiteMinder's website builder works seamlessly with the other key tools such an online booking engine and  channel manager. Ultimately, a hotel website builder is the simplest, most affordable way to create a well-designed hotel website. If you're a small accommodation provider, then consider trying Little Hotelier's website builder which is especially built for small hotel managers, owners, and operators of boutique hotels, bed and breakfasts, etc.
Hotel brands that utilise SiteMinder for their web design often notice quick, powerful results. There's almost always a direct correlation between their new website design and increased search engine results page rankings, higher conversion rates and more direct bookings.
"It's been less than a year since we launched our brand website with SiteMinder and, overall, there's been a 15% increase in website traffic, with 77% comprised of new visitors. This has led to a 20% increase in revenue from direct bookings."

Rays Taganas – Golden Phoenix Hotel