---
---

Berlin, Germany – For the first time in over 275 days, data from SiteMinder's World Hotel Index reveals that on Wednesday, July 14, 2021, the volume of bookings to hotels in Germany again began exceeding the global average.
Following generally stable cases and a ramping vaccine campaign, German hotel bookings have risen rapidly in recent months, from 15.58% on May 1 to 62.61% on July 14, when it passed the global average, in comparison to the same time periods in 2019. The booking momentum is largely being driven by last-minute summer bookings from local German travellers.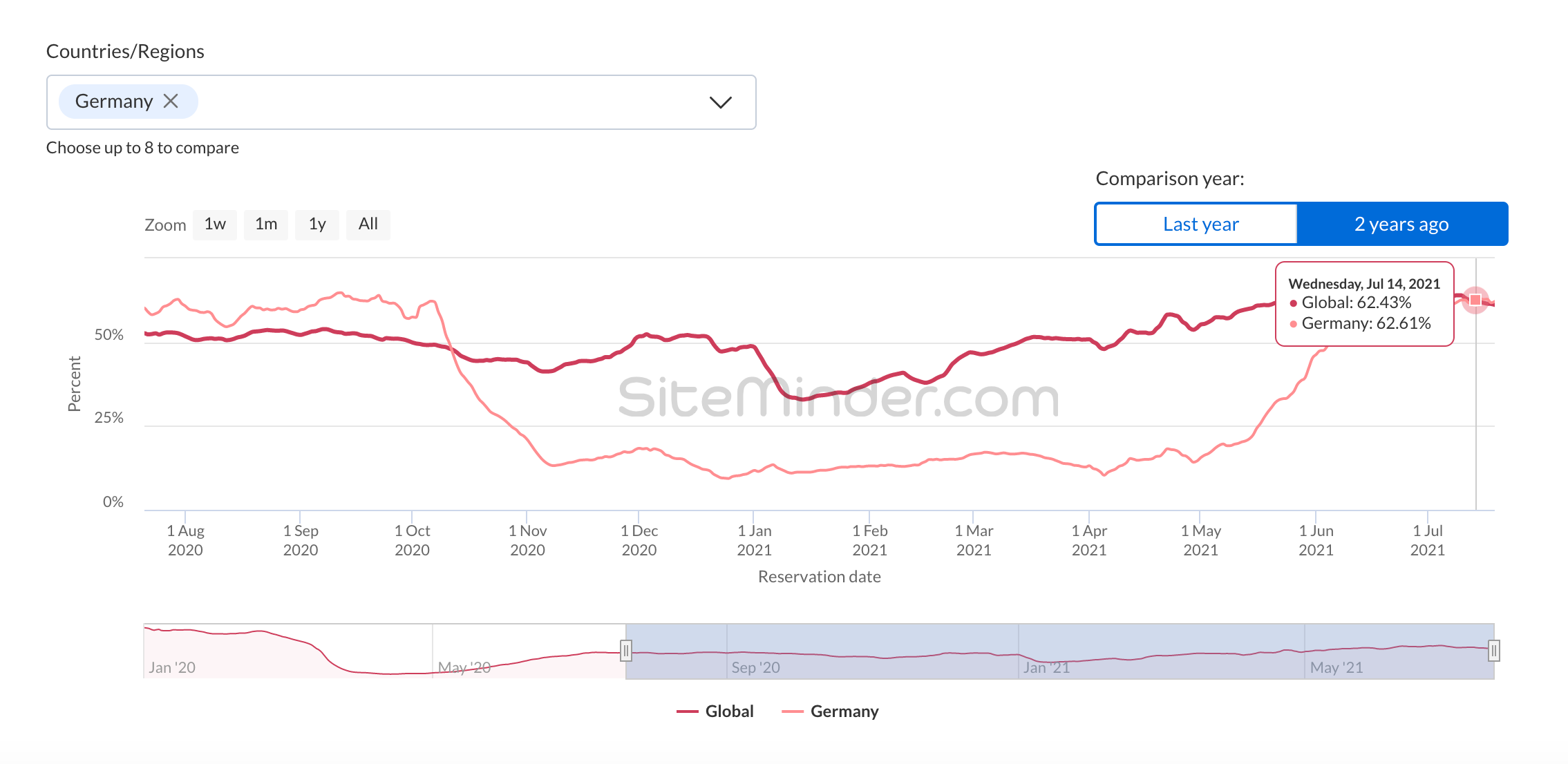 According to the data by SiteMinder, the world's largest open hotel commerce platform, the city of Hamburg has responded fastest, currently recording 64.93% of the hotel booking volumes it experienced at this same time in 2019. Hamburg's hotel bookings are followed by Berlin's at 60.79% of 2019 levels, and Düsseldorf's at 51.42% of pre-pandemic levels.
While domestic travellers are currently making up the vast majority of stays, SiteMinder's data also points to signs that international travel is making a gradual comeback, spurred on by the reopening to non-EU nations, such as the U.S. (the country's third biggest source market). The percentage of bookings made to German hotels by international guests in July, is so far the highest it has been this year, at 24.79%, and SiteMinder's arrivals data displays that 34.03% of booked stays for December are currently from international guests.
Quickly making up ground although still behind in Europe
While Germany is currently placed 13th out of the 16 European countries in SiteMinder's World Hotel Index, ahead of Austria, Malta and Portugal, it is recovering relatively faster than most. Its rally from 15.58% on May 1, to 62.81% of 2019 booking volumes now, represents growth of 303.15%, which is outpaced only by Austria and the Czech Republic across Europe.
"In spite of a delay in reopening compared to much of continental Europe, bookings have risen rapidly in recent weeks, as travel looks to become normalised once again. After the difficult start to the year, I'm thrilled for our hoteliers, who after many months without guests can look forward to welcoming them once more," says Clemens Fisch, Regional Director DACH & EMEA at SiteMinder. "What this means, however, is a need to quickly adjust to the changed preferences and behaviours of travellers, as the guests that hoteliers welcome going forward won't necessarily be the same guests that they accommodated before. Technology is a critical investment for hoteliers at this time, to better understand their guests, distribute their rooms where their guests are looking, market their properties in the best way, and ultimately maximise this growth in bookings we're seeing."
For more information and to see the live World Hotel Index, visit siteminder.com/world-hotel-index.