---
---
London, UK – Managed guest relationships, integrated technology systems, and improved data collection and security are the three most critical needs of hoteliers when it comes to distribution and online marketing, a whitepaper by hotel technology experts Dr Peter O'Connor, SiteMinder and Revinate has found today.
The whitepaper, Envisioning the Future of Hotel Distribution and Online Marketing, is based on research conducted in late 2015 with hotelier delegates of World Travel Market London. It found that hoteliers see overcoming the challenges of a fast-paced online environment, advancing technology and ever-increasing consolidation within the OTA space as priority.
"Most people involved in hotel distribution and online marketing would agree that the whole area is in turmoil right now, with both technology and consumer expectations evolving extremely rapidly," says Dr Peter O'Connor. "At the same time, competition in the online environment continues to become more intense, with the result that hotels need to pay much more attention to how and where they are being sold, as well as invest in the right systems and expertise to ensure they can compete effectively in this highly turbulent environment."
Hotelier participants were asked what their key challenges and concerns were in relation to distribution and online marketing – now and over the next three years. Topping the list was the guest experience, with hoteliers admitting they invest too much of their already-limited time and resources into driving one-off transient bookings which lead to high guest acquisition costs.
Maarten Plesman, VP of EMEA at Revinate, says: "The key to drive guest loyalty and increase direct bookings revolves around moving away from putting heads in beds to build and manage close relationships with clients. In order to do so, as a means to exceed their expectations, hoteliers need to collect, store, analyse and use the trove of guest data available today through a single, integrated view; that is the philosophy at the core of our Revinate Marketing tool."
The second and third greatest challenges and concerns, respectively, were integrated technology systems and improved data collection and security. SiteMinder, which has the industry's largest channel management platform and in 2014 achieved PCI DSS compliance across its full product suite, says solutions to these exist but it is up to hoteliers to adopt them.
"Hoteliers have access to big data that nobody else does – that is, their own guest data. What we continue to see, however, is the use of disparate, legacy systems that prevent the real-time automation hoteliers need to do their jobs. Often, these technologies also do not meet today's data security standards and while no technology can guarantee full protection of guest data, using technology that has achieved the industry's stringent security benchmarks is one way they can be ahead," says SiteMinder's managing director, Mike Ford.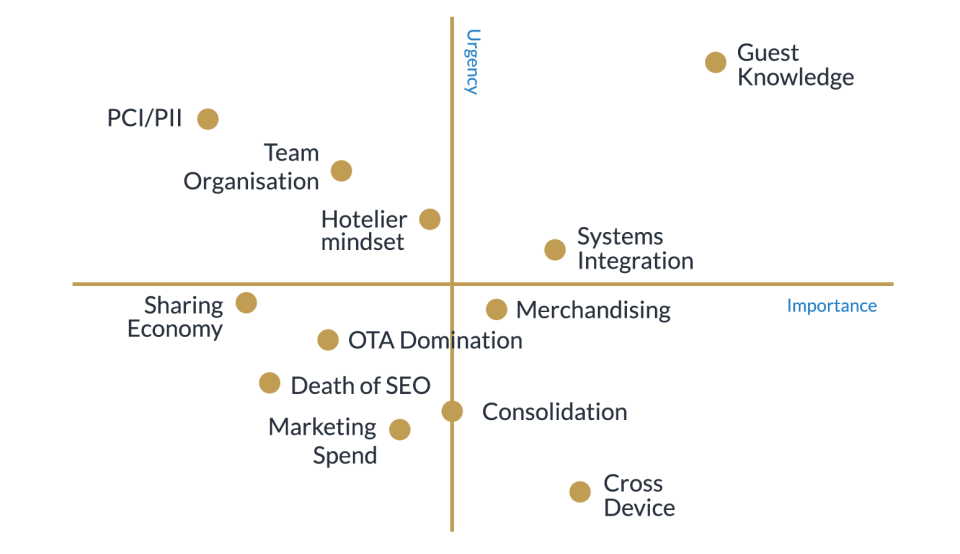 Importance/urgency matrix of hoteliers' top challenges and concerns over the next three years
Media contacts
Maria Franco, SiteMinder
+61 2 8031 1287
media@siteminder.com
Iván Carballido, Revinate
+34 607 356 820
ivan@revinate.com
About SiteMinder
As the leading cloud platform for hotels, SiteMinder allows hotels to attract, reach and convert guests across the globe. We serve hotels of all sizes with award-winning solutions for independents and groups alike, wherever they are in the world.
SiteMinder's products include The Channel Manager, the industry's leading online distribution platform; TheBookingButton, a wholly-branded booking engine for direct bookings via the web, mobile or social; Canvas, the intelligent website creator for independent hoteliers; and GDS by SiteMinder, a single-point of entry to a six-figure network of travel agents and the world's major GDSs. With more than 20,000 hotel customers and 400 of the industry's top connectivity providers as our partners, today we have presence in more than 160 countries on six continents.
For more information, visit www.siteminder.com.
About Revinate
Revinate helps hotels know more about their guests so they can deliver personalised experiences that create valuable relationships and lifelong customers. Using guest data combined with our reputation management, surveys and marketing automation technology, hotels can understand and engage their audiences like never before. Revinate is easy to use and requires minimal technical expertise so anyone at your property can use it to drive loyalty and generate more revenue, delivering on your brand promise. 28,000 of the world's leading hotels trust Revinate to help them reinvent the guest experience.
For more information, visit www.revinate.com.