---
---

Bangkok, Thailand – New data from SiteMinder, the world's leading open hotel commerce platform, highlights the growing number of international bookings being made at Thai hotels, following the country's reopening to travellers from over 60 nations.
According to SiteMinder's World Hotel Index, 46% of bookings made to Thai hotels in November to date have been from foreign guests, up from 22% in September and 14% in March.
The volume of hotel bookings is also growing. On November 1, 2021, the number of bookings processed by Thai hotels jumped to above 50% of 2019 levels for the first time since April. Today, booking numbers are at 54% of pre-pandemic levels, up from their low point of 9.74% on August 5, 2021.
SiteMinder's data suggests the New Year period, in particular, will see a spike in hotel arrivals. Currently, almost 10% of all bookings placed with Thai hotels, for non-cancelled stays in the next 12 months, are for stays during the week surrounding New Year's Eve. Over 50% of non-cancelled bookings are for stays in either December or January.
In December, 54% of those currently scheduled to check-in are travellers from outside Thailand and, by January, international arrivals are set to make up 79% of the total.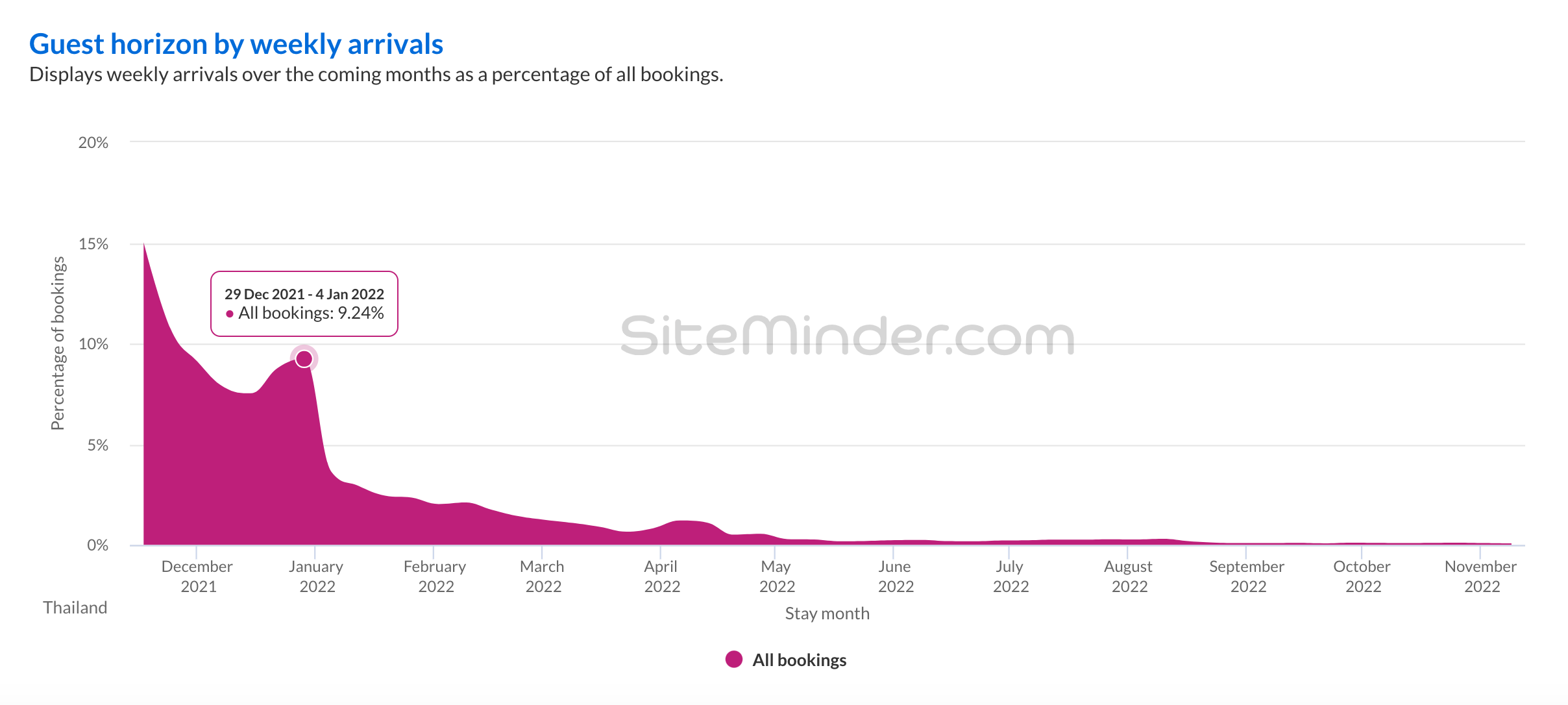 "The reopening of the country to quarantine-free international travel has been an important milestone for the Thai accommodation sector," says Bradley Haines, Regional Vice President Asia Pacific at SiteMinder. "It's given local hotel operators hope and sent a clear reminder that they should keep their marketing and distribution channels open, and think about how they market and sell their hotel businesses more holistically through online commerce, with international tourists on the way."
For the latest updates, head to SiteMinder's World Hotel Index.
Media enquiries
Maria Cricchiola
+61 2 8031 1287
media@siteminder.com
Investor information
Ronn Bechler
Market Eye
+61 400 009 774
ronn.bechler@marketeye.com.au
About SiteMinder
SiteMinder (ASX:SDR) is the world's leading open hotel commerce platform, ranked among technology pioneers for opening up every hotel's access to online commerce. It's this central role that has earned SiteMinder the trust of tens of thousands of hotels, across 150 countries, to sell, market, manage and grow their business. The global company, headquartered in Sydney with offices in Bangkok, Berlin, Dallas, Galway, London and Manila, generated more than 100 million reservations worth over US$35 billion in revenue for hotels in the last year prior to the start of the pandemic.