---
---
Berlin, Germany – Easter, Ascension Day, summer and Oktoberfest are set to remain peak seasons for hotels in Germany this year, with SiteMinder's World Hotel Index showing clear spikes in expected arrivals during all four periods.
In spite of the ongoing local lockdown—hotel booking volumes are currently at just 17% of last year's levels—SiteMinder's data shows a growing trend that many are keenly awaiting to travel this year, some in the coming weeks.
Not seen since the start of pandemic, the following four clear waves of hotel guest arrivals this year are:
Easter in April

Ascension Day long weekend in May

The beginning of summer in June

The first week of Oktoberfest in late September.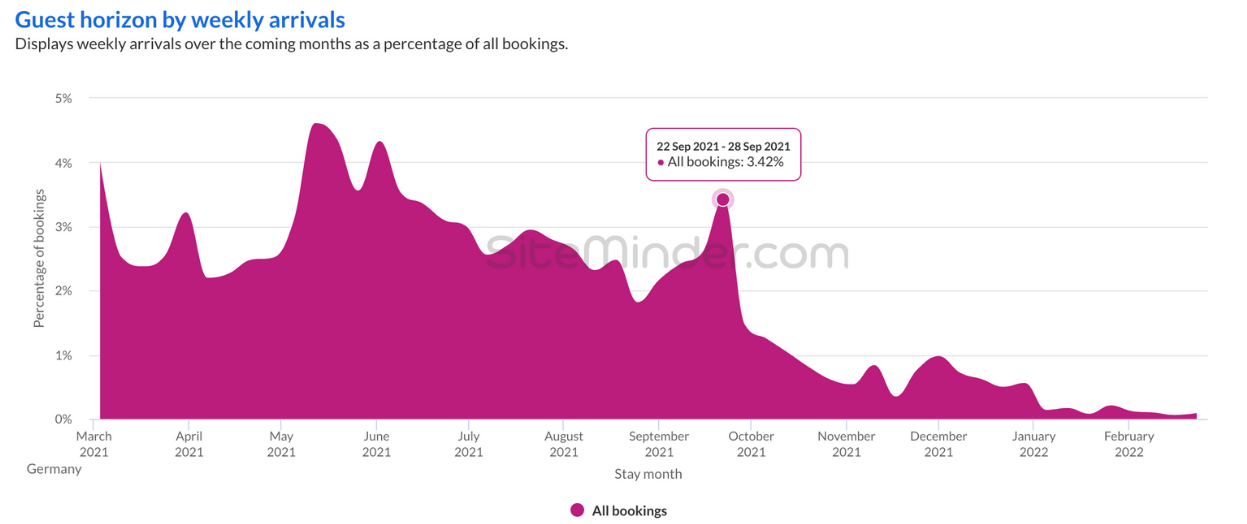 Locally, more than a third (36.01%) of all bookings made in the last two weeks are for essential travel during March, while more than 60% of all non-cancelled bookings are for stays from June.

"In spite of the continued trend of last-minute bookings, which has dominated the World Hotel Index charts since the beginning of the pandemic, it is evident that travel has returned to comprise both last-minute bookings and forward bookings," says Clemens Fisch, Regional Director of DACH & EMEA at SiteMinder.
For more information, visit siteminder.com/world-hotel-index.
Media contact
Maria Cricchiola
+61 2 8031 1287
media@siteminder.com
About SiteMinder
In an age of rising choice and accessibility for curious travellers, SiteMinder exists to liberate hoteliers with technology that makes a world of difference. SiteMinder is the global hotel industry's leading guest acquisition platform, ranked among technology pioneers for its smart and simple solutions that put hotels everywhere their guests are, at every stage of their journey. It's this central role that has earned SiteMinder the trust of more than 35,000 hotels, across 160 countries, to generate in excess of 100 million reservations worth over €31 billion in revenue for hotels each year. For more information, visit www.siteminder.com.