Are you considering what will be the best website solution for your property? Or perhaps concerned that you aren't providing your customers with the ideal hotel website experience and are losing direct business?
Thankfully, the industry has plenty of outstanding website design solutions alongside WebDirect, including SiteMinder's website builder.
Here's 8 reasons showing how SiteMinder's website builder can best meet your guests and properties website need compared to WebDirect:
1. Industry trusted website builder
SiteMinder's website builder is ranked 20 spots above WebDirect at #2 by Hotel Tech Report, one of the industry's most trusted review sites. With almost 90% of hoteliers recommending SiteMinder's website builder, you can be confident you're getting a solution that does the job.
Comments speak to how user friendly SiteMinder is; the product is easy to navigate and edits are only a click away.
2. Mobile optimised experience
Travellers are increasingly researching and booking travel via their mobile devices, commonly their smartphone or tablet. SiteMinder ensures you stay ahead of the curve.
The website builder is specifically built to recognise and respond, functioning perfectly on any device. Potential guests can can visit your website on mobile and tablet without issue, increasing your chances of direct bookings, as well as those coming in at the very last minute.
3. Powerful friendship with Google
Search engine rankings are so important for your hotel website, to make sure you're attracting as many visitors and potential bookings as possible.
SiteMinder's hotel website design is designed with search engine optimisation firmly top of mind, covering all the fundamentals so you don't have to worry. These include:
HTTPS security to assure the protection of guest data
Clean, well-structured HTML and CSS
Unique pages, titles, and descriptions
Full sitemap for correct indexing by search engines
All images are optimised for ultimate load time
These features will help you rank strongly on search engines such as Google, and be a step ahead of your competitors.
4. Free trial and free domain
To ensure customer satisfaction and confidence, SiteMinder's hotel website builder can be trialled for free for 14 days. Once you are a billed customer, there are still no lock-in contracts! Cease using the feature at any time for no extra fee.
Additionally you will be provided your own website domain free of charge, saving you money every year.
BookingSuite's WebDirect does not offer a free trial, and charges for the website domain.
5. Diverse, customisable design
Using WebDirect, customers are quite limited with access to only two foundational template designs. SiteMinder offers an additional two templates, including one that prioritises accessibility to travellers who are impaired.
Combining different themes and palettes with your hotel's specific images, features, and content means you can mix and match to make your website completely unique. You can even create your own, unlimited custom pages, and with updates always in the works, no two websites are ever quite the same.
6. Outstanding customer service
Reviews show that SiteMinder provides helpful customer support when and how you need it. In fact,it's one of the solution's real strengths compared to WebDirect. User experience is a priority and there will always be someone on hand to sort through any teething issues you have.
Another bonus is that the process of building a website with SiteMinder's website
builder requires absolutely no skill and minimal time from your side. SiteMinder's expert team uses custom templates and your existing information and images to kick-start the set-up. From there you can switch between themes, updating and changing your website instantly as many times as you like, for no extra fee. Once you've done the basics, it's incredibly easy to alter and enhance.
With Siteminder's Website Builder, you will likely find that you need support less than with a solution such as WebDirect. But, when you do, it's there for you.
7. Booking engine integration
Guests can't book via mobile if your website isn't integrated with a suitable online booking engine. SiteMinder's website builder seamlessly incorporates many online booking engines, including SiteMinder's own.
The online booking engine is a secure and simple booking engine that works with your website to automate as many processes as possible, making it easier to accept and record reservations.
Click here to see how SiteMinder's booking engine compares to BookingSuite's BookingButton.
8. It's not just a website builder!
In addition to being a beautiful website builder, SiteMinder's solution is also a useful content management system.
You can craft your own custom blog or other content pages, embed videos, upload and change your logo and images at any stage, make tabs for competitions and giveaways, and use it for any other content-driven goal you can think of.
Additionally you can make your hotel website even more unique with a range of guest-focused applications, available via SiteMinder's Hotel App Store.
Key comparisons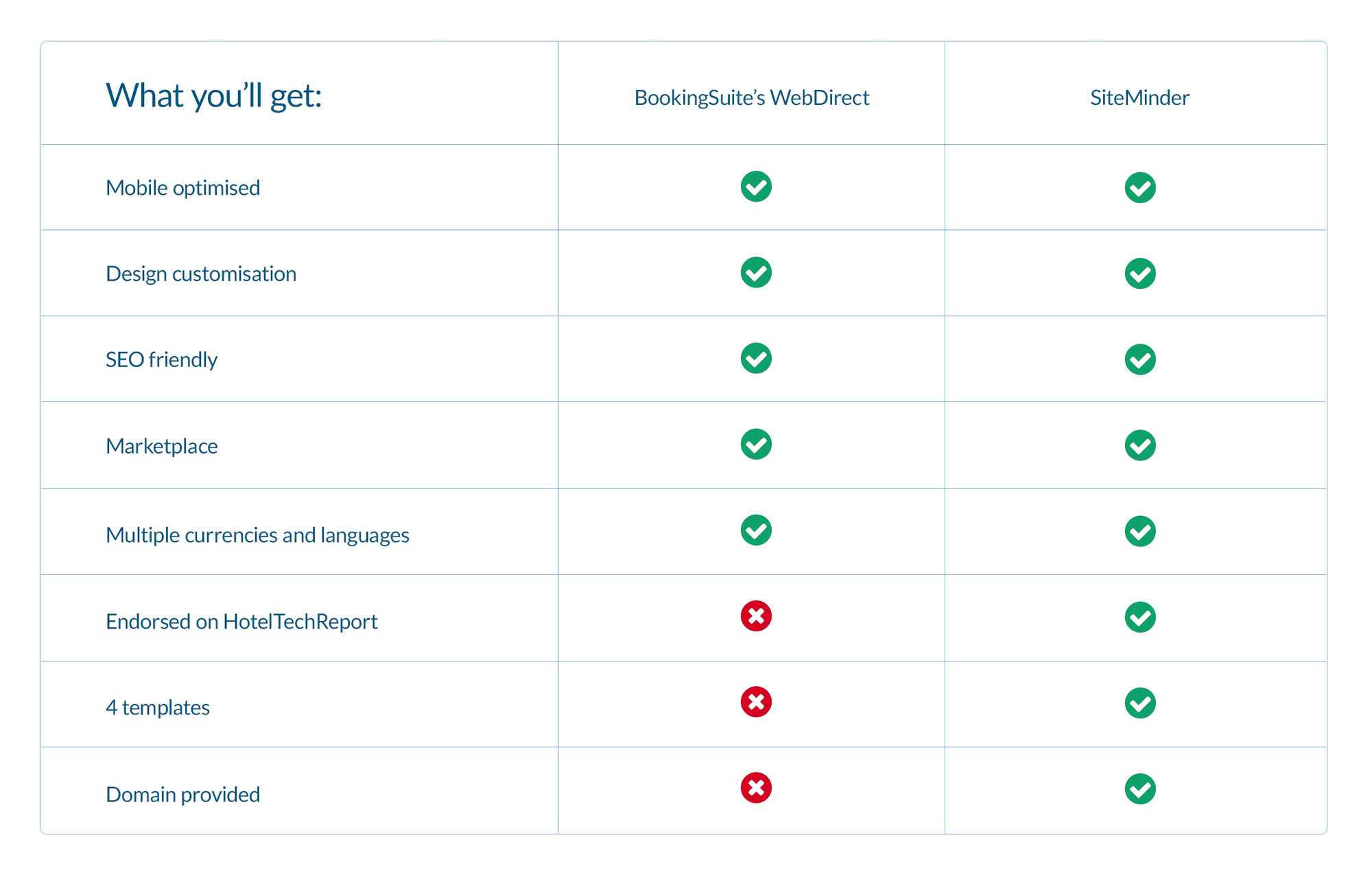 Click here for a demonstration of SiteMinder's hotel website builder
Click here to start a free trial of SiteMinder's hotel website builder