What is a hotel reservation form? 
A hotel reservation form is a crucial tool for hoteliers, providing a structured method for guests to book their stay. It's a document that collects all the necessary information from the guest, ensuring a smooth and efficient reservation process. This form is a key point of interaction between the hotel and the guest, and its design and functionality can significantly impact the guest's booking experience.
The importance of a hotel booking form
A well-designed hotel booking form is more than just a functional necessity. It's an opportunity to provide a seamless and enjoyable booking experience, which can enhance the guest's overall perception of the hotel. A user-friendly form can reduce booking abandonment rates, increase conversions, and ultimately drive revenue growth. It also allows the hotel to collect valuable guest data, which can be used to personalise the guest experience and build stronger customer relationships.
What information is recorded in a hotel reservation form?
A hotel reservation form is a critical tool that captures all the necessary information required to process a booking. The information collected in this form is not only essential for the reservation process but also helps the hotel to provide a personalised and seamless experience for the guests.
Here's a more detailed look at the typical fields included in a hotel reservation form:
Guest name

: This is the full name of the guest making the reservation. It's crucial to ensure that the name matches the one on the guest's identification document to avoid any confusion or issues at check-in.

Contact information

: This includes the guest's email address and phone number. The email address is used to send booking confirmations, receipts, and any other correspondence related to the stay. The phone number is an alternative contact method, useful if immediate or direct contact is needed.

Check-in and check-out dates

: These are the dates the guest will be arriving and leaving the hotel. This information is vital for managing room availability and planning housekeeping schedules. It also helps the hotel anticipate and prepare for the guest's arrival.

Number of guests

: This field records the total number of people who will be staying in the room, including adults and children. This information is important for compliance with health and safety regulations and helps the hotel to adequately prepare the room.

Room type/preference

: This field allows the guest to select their preferred room type, such as a single, double, or suite. Some forms may also include options for specific bed configurations, accessibility needs, or other room features.

Payment confirmation

: This section collects details of the guest's payment method and confirms the booking deposit or full payment. It's essential for securing the reservation and ensuring a smooth check-in process.

Additional information

: This could include flight details, special requests, notes, or transportation needs. Flight details can help the hotel anticipate late or early arrivals. Special requests could include anything from dietary requirements for meals to preferences for room location. This field allows the hotel to provide a more personalised and satisfying guest experience.
Hotel reservation form samples
A well-designed reservation form is crucial for capturing guest information and facilitating direct bookings. These forms not only gather essential details like the guest's name, contact information, and address, but they can also be customised to meet specific business needs. Here are some examples of different types of reservation forms used in the hotel industry:
Hotel booking form
An effective general hotel booking form is designed to capture all the necessary information to secure a reservation. For instance, the below booking form that includes fields for personal requests and planned arrival time. This form also includes a section where guests can indicate how they heard about the hotel, providing valuable data for marketing purposes. By customising the form to meet their specific needs, your hotel can streamline the booking process and enhance guest communication.
This type of form should include the below fields:
First name

Last name

Email

Confirm email

Phone

Address

Address (additional line)

City

State (optional)

Post code

Country

How did you hear about us?

Planned arrival time

Any personal requests?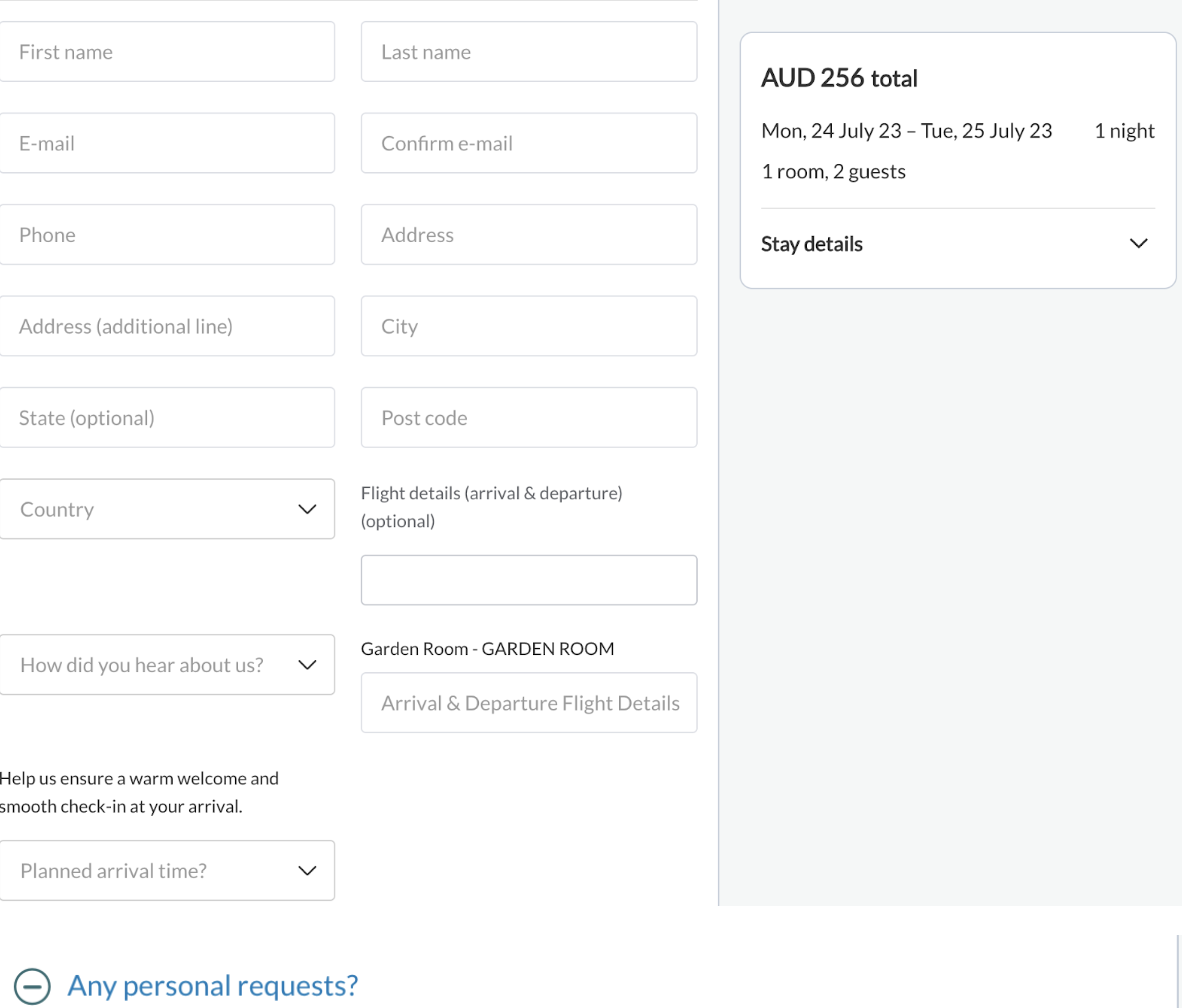 Group hotel reservation form
When dealing with large groups, such as business travellers attending a conference, extended families on holiday, or tour groups, a group hotel reservation form can significantly improve efficiency. This form typically includes fields for the group's name, the number of guests, and the number of rooms required. It may also include sections for special requests or additional services, helping the hotel to better cater to the group's needs and ensure a smooth and enjoyable stay.
This type of form should include the below fields for the primary guest:
First name

Last name

Phone

Email

Address

Check-in date

Check-out date

No. of adults

No. of children

No. of rooms

Room type/s

Reason for travel (e.g. work conference, group holiday, etc)

Airport transfer

Flight number

Special requests
Room booking form
A room booking form is designed to make it easy for potential guests to specify their room preferences. This form typically includes fields for the type of room desired, the number of guests, and the dates of the stay. It may also include sections for special requests or additional services, such as airport transfers or dietary requirements. By providing a clear and comprehensive room booking form, hotels can ensure they have all the information needed to prepare for the guest's arrival and provide a personalised and satisfying stay.
This type of form should include the below fields:
First name

Last name

Check-in date

Check-out date

Approx. check-in time

No. of adults

No. of children

Home address

Phone

Email

Which room/s are you interested in? (as a dropdown)

Any questions?

How did you find out about us?
Benefits of using online hotel booking forms
The benefits of using online hotel booking forms extend beyond the basic functionality of accepting reservations. They can significantly enhance the efficiency and profitability of your hotel, while also improving the guest experience.
Guest convenience
In today's digital age, convenience is key. Online hotel booking forms provide guests with the ability to make a reservation at their own convenience, whether it's in the middle of the night or during a lunch break. They can book from anywhere in the world, using any device with internet access. This eliminates the need for time-consuming phone calls or emails, and allows guests to book their stay in a matter of minutes.
Real time availability
One of the major advantages of online booking forms is the ability to display real-time room availability. This feature allows guests to see exactly which rooms are available for their chosen dates, helping to prevent overbooking or double booking issues. It also gives guests the freedom to compare different room types and rates, and to make an informed decision about their booking. This real time availability should extend to all listings on all platforms, from direct bookings to OTA-hosted rooms, to avoid double booking and missed opportunities.
Secure payments
Online hotel booking forms can be integrated with secure payment gateways, providing a safe and secure method for guests to pay for their booking. This not only protects the guest's financial information, but also provides an instant payment confirmation. This immediate confirmation can enhance the guest's peace of mind and trust in the hotel's booking process.
Instant confirmation
Upon completing their booking, guests receive an instant confirmation directly to their email. This immediate feedback assures guests that their booking has been successfully processed and provides them with all the details of their reservation. This instant confirmation can enhance the guest's peace of mind and increase their anticipation for their stay.
Seamless integration 
Online booking forms must be seamlessly integrated with a hotel's property management system (PMS) or hotel management software. This integration allows for automatic updating of room availability and rates, and instant recording of bookings into the hotel's system. This not only streamlines the reservation process, but also reduces the risk of human error and helps to ensure accurate record-keeping.
Data Collection and Personalisation
Online booking forms allow hotels to collect valuable guest data, such as contact information, booking preferences, and special requests. This data can be used to personalise the guest experience, from tailored marketing communications to personalised services during their stay. By offering a more personalised experience, hotels can enhance guest satisfaction and build stronger customer relationships.
How to create an online booking form
Creating an online booking form involves several steps:
1. Define the information you need to collect from guests
This will typically include their contact details, booking dates, number of guests, room preference, and payment information.
2. Choose a form builder or booking engine that offers the features you need
This could include real-time availability, secure payment processing, and integration with your property management system. Siteminder's booking engine comes pre built with an optimised online booking form that integrates directly with the broader Siteminder hotel management ecosystem, for example.
3. Design your form
It should be easy to navigate, visually appealing, and consistent with your hotel's branding. Test the form thoroughly to ensure it works correctly and provides a smooth user experience. Make sure to test a variety of different scenarios, especially unusual ones, to ensure that all guest needs will be met from the moment they book with your hotel.
Remember, the goal is to make the booking process as easy and enjoyable as possible for your guests. A well-designed reservation form can significantly enhance the guest experience, leading to higher booking rates and increased guest satisfaction.
Gain more reservations directly and effortlessly with SiteMinder
Driving direct bookings is a crucial aspect of a successful hotel management strategy. SiteMinder offers a comprehensive hotel reservation solution that seamlessly integrates with your hotel's website, simplifying the booking process for your guests and enhancing their overall experience.
Streamlined Booking Process

. SiteMinder's platform is designed to provide a seamless booking experience. Its intuitive interface makes it easy for guests to secure their stay directly through your website, thereby increasing the chances of direct bookings and reducing dependency on third-party platforms.
Access to Real-Time Data

. SiteMinder equips you with real-time insights into your bookings, guest preferences, distribution channels, and payments. This data-driven approach empowers you to make strategic decisions, optimise your offerings, and drive more direct bookings.

Centralised Hotel Management

. Whether you're overseeing a boutique hotel, a group of properties, or a large hotel chain, SiteMinder offers a unified platform to manage all aspects of your operations. This centralised management system enhances efficiency, saving valuable time and resources that can be invested in improving guest experiences.
SiteMinder is the #1 Hotel Commerce Platform. Whether you're managing a single hotel, a hotel group or a large chain, SiteMinder gives you a single place to manage everything — with access to real-time insights, bookings, guests, distribution, and payments.