Considering the fact that hotel website design best practices change frequently, it's necessary to evaluate your website on a regular basis and determine if anything is lacking from the overall design.
One of the best ways to do this is to compare your hotel website design with others. This allows you to discover hotel website design inspiration and decide what will work best for your property.
Many properties spend a lot of time and money trying to build their own website, or hiring designers to do it for them. Neither situation is ideal.
There are better options available however and this blog will give you all the hotel website design advice you need.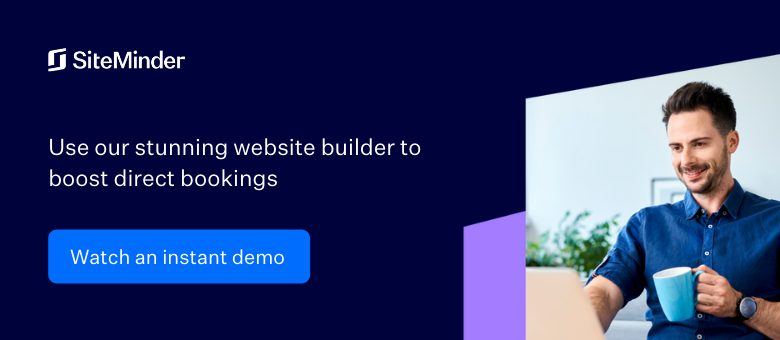 Why do you need hotel website design?
Hotel website design is a huge influence on the booking behaviour of travellers and helps your hotel address their desires and expectations.
Good hotel website design will enable you to:
Attract additional online traffic
Boost direct booking conversions
Establish and elevate your brand
Inspire and engage travellers
Build trust with customers
The only way for hotels to function successfully today is to have a professional, attractive, and fully-integrated online presence.
Hotel web design best practices
It's very important that potential guests are able to navigate your website easily and quickly understand the content that's most relevant to them.
What are some of the best practices for hotel web design?
Implement an effective pattern into your hotel website design
The F Pattern and the Z Pattern are two of the most common patterns that travellers follow when they are booking rooms on a hotel property's website.
The F Pattern includes headings and subheadings that grab the attention of the target audience and encourage them to continue to scroll down the page. It can be a text-heavy pattern which can drive traffic away from the site if you do not capture the audience's attention quick enough.
The Z Pattern is typically followed on a page with lots of visual elements. The reader goes from the headlines to the visual elements and back to the sub-headings.
Always include a call-to-action on the page – especially 'book now'
There are various wordings that you can use for a call-to-action, and you also can incorporate the latest packages and promotions that you have available. The most important component, however, is the "Book Now" button which encourages travellers to finalise their reservations.
Luxury hotel website design: Why load time is so important
The optimisation of your hotel website load time is the first vital step in your mission to secure direct bookings.
Visitors to your page will be expecting a fast and seamless user experience. It doesn't matter how amazing your website is to look at or how luxurious your property is – if it takes too long to load no one will ever see it.
This is especially relevant on mobile devices, with more than 70% of users saying they've encountered a website they considered too slow to load. On the web, around 50% expect a website to load within two seconds for them to be satisfied.
Not only will a slow load time frustrate travellers viewing your website but it will lower your search engine ranking, a crucial element of attracting direct bookings. If your site isn't appearing on the first page of search results, the direct traffic you garner will be minimal.
There are many components of a website that can affect load time. Fortunately most of them can be solved by making specific alterations to the configuration of your website manually, or if you invest in a simple, intuitive website builder.
Here are 6 areas you can optimise to improve your hotel website load time:
1. Hosting
If your website is running on a shared hosting service, this will be less flexible and slower because as your site grows in usage and content it won't have the necessary resources available to maintain an optimum speed. Consider moving to Virtual Server Hosting (VPS) or dedicated sharing.
2. HTTP requests
Most sites encounter load time issues from HTTP requests, which occurs when the web browser retrieves a file from the server. You can eliminate these by cutting down on external scripts such as commenting systems, icon boxes, pop-ups etc.
3. Images
The size of your images have a significant impact on the size, and ultimately speed, of your hotel website as a whole. The larger your images or other media files, the slower your site will be. Approximately 60% of site weight is attributed to images. While you definitely need beautiful, high-resolution images to show off your property, try to optimise them before you upload so the file size is as small as possible.
4. Caching
Caching is a process that stores static responses, significantly speeding up your website. When someone visits a page, the cached version will be served, unless a change has been made since the last time it was cached, meaning less requests have to be made to your server.
5. CSS and JS files
A Cascading Style Sheet (CSS) helps keep your website information in its desired display format. It controls font, size, colour, spacing etc. JS relates to JavaScript and may contain all the necessary HTML information. Removing as much whitespace, comments, redundant grammar, and reducing hex (colour) codes will help optimise these.
6. Plugins
Plugins are features that can bring new and exciting functionality to your website but the more you have, the slower your website is, so be sure if you're installing them that they're adding value to your site. Be sure to audit them regularly for any that are out of date or not being used.
Given just a one second delay in page response can result in a significant decrease in website conversions, hotel website load time should be a priority for hotels who want to maximise their direct bookings.
Luckily, technology exists to make this much easier. A simple, attractive, and instinctive website builder will do all the work for you. You only need to upload your content and customise the available templates as you please, as often as you like.
What are the benefits of hotel website design templates?
'Hotel web design template' may be too much of a rudimentary phrase to describe the type of product offered by companies that deal in website builders, but the templates provided within website builder tools can be extremely effective – while remaining simple to use.
One of the biggest bonuses you enjoy when purchasing a website builder and editor is that all the work is immediately done for you. The best providers use custom purpose-built templates and your existing content to kick-start the setup.
Using quick and easy hotel website design templates will increase your ability to:
Drive website traffic
Present engaging content
Promote your rooms
Create packages and deals
Integrate with online booking engines
Accept reservations easier
Create a unique, brand-friendly website
Naturally you'd hate for your website to look exactly like a competitor's, which may be a concern when you use a software provider to build your website. Establishing yourself as a unique brand and promising a unique experience to travellers means your website has to convey this message. So to further help you make your website unique, quality providers give the option to create your own custom pages on the website. There are multiple themes, templates, and colour palettes you can switch between to make your website unique and beautiful – providing you possess high quality images.
For instance, you might want the option to create a blog page for your property. This lets you differentiate from competitors and also more effectively engage with your target market. You'll also be able to install themes that are accessible to travellers who have some kind of impairment.
Other features that prove beneficial include being able to install third-party widgets – so you can link to TripAdvisor for example – and connect social media accounts, along with listing your promotions.
The real value of this is the ability to create your own custom pages and make as many edits as you want, for no additional fee.
What is a hotel website builder?

A hotel website builder is an instant solution for hoteliers looking to create or update their property's website design and performance.
Some great features you get with website builder software include:
1. All the work is already done
The process of building a website requires absolutely no skill and minimal time from your side if you choose a good provider.
Custom templates are used with your existing information and images to kick-start the set-up.
From there you can switch between themes, updating and changing your website instantly as many times as you like, for no extra fee. Once you've done the basics, it's incredibly easy to alter and enhance.
2. Friends with Google
Good website builders are designed with SEO firmly top-of-mind, guaranteeing all the fundamentals are covered including:
HTTPS security to assure the protection of guest data
Clean, well-structured HTML and CSS
Unique pages, titles, and descriptions
Full sitemap for correct indexing by search engines
All images are optimised for ultimate load time
This optimisation will ensure your website displays highly on search engine rankings, meaning more people will be looking at you as an accommodation option, placing you above your competition.
3. The latest mobile booking trends are covered
It's no understatement to say that most reports in recent times show technology gaining more prominence in the hotel industry and mobile use starting to envelop the entire marketing landscape.
Modern website builders are specifically built to recognise and respond, functioning perfectly on any device.
People can visit your website on mobile and tablet without issue, increasing your chances of direct bookings, as well as those coming in at the very last minute.
4. Direct booking integration
Guests can't book via mobile if your website isn't integrated with a suitable online booking engine. Website builders built for the hotel industry should have no trouble integrating with popular booking engines.
5. Your hotel's website design can be unique
With a selection of templates, themes, and palettes, the combination of these with your hotel's specific images, features, and content means you can mix and match limitlessly.
You can even create your own custom pages, and with updates always in the works, no two websites are ever the same.
6. It's not just a website builder, it's a content management system (CMS)
Your website is not just a placeholder for your basic information and images, it should be a place for more exciting and sophisticated promotion purposes.
In addition to being a beautiful website builder, your product should also be a useful content management system.
You can craft your own custom blog or other content pages, embed videos, upload and change your logo and images at any stage, make tabs for competitions and giveaways, and use it for any other content-driven goal you can think of.
Why do you need to design your hotel website?
Simply being visible and providing the necessary information about your property isn't enough.
Design is essential for improved SEO value and for the impact you can have on travellers. To really encourage more bookings via your website you need to:
Rank highly on search engine results pages
Impress visitors with the way your site looks
Be able to provide necessary information in an accessible way
Make it easy to book
Provide opportunities to upgrade
Entice guests with promotions, discounts, and packages
Show off images and great content
All of these features aren't always easy to implement in a tidy, organised manner unless you implement good website design. Your site could be missing vital components such as a 'Book Now' button, a secure payment processing system, or many high-value SEO features.
Using a website builder to design your website means you won't have to worry about the finished product; everything will be covered by the technology. Modern website builders are designed with best practice in mind, making it as easy as possible for you to drive traffic and conversions.
The importance of mobile when designing your hotel's website
As we know by now, people are basically running their entire lives from their mobile device. They use their smartphone to respond to emails, talk with friends and family, shop online, check their calendars, attend calls and video meetings, play games, date, order food, take photographs, and research, plan, and book travel.
With this behaviour so entrenched in the majority of society, or at least in those that are wealthy enough to take regular trips domestically or internationally, hoteliers cannot ignore it.
Why mobile is so important
All the signs point to mobile becoming the majority shareholder of all online bookings before long. Consider these user statistics:
More than 70% of consumers who own a smartphone have used it to research travel
More than 40% of all visits to US travel sites come from mobile devices
More than 46% of travellers make their booking decision while researching with a mobile device
More than 50% say their smartphone has led them to making more spontaneous decisions when searching for travel or when on holiday
More than 72% look for the most useful information, not specific brands
More than 90% of travellers switch between devices
The lack of a mobile first approach is creating a cycle of lost revenue for hotels. Hotels are reluctant to spend money on serious website upgrades and shift their marketing to suit mobile devices.
Compounding this, is the enthusiasm travellers have for mobile search and bookings, and the frustration from coming across so many hotel sites that don't treat mobile optimisation as a priority.
Online travel agents will certainly take a mobile-first approach, providing 24/7 mobile travel service.
Google prioritises a mobile-first approach
The search giant made it known in recent years that user queries completed on mobiles have surpassed desktop as the majority Google search type – a trend that will only grow as smartphone usage and voice search continue to thrive.
This prompted it to introduce a mobile-first indexing initiative, meaning Google will now use the mobile page versions of a domain for indexing and caching in search results, and subsequently, for ranking. Prior to this, the desktop page was used to determine relevance to search queries.
How can hotels maintain valuable search ranking slots?
The most obvious and beneficial move for hoteliers is to redesign their website to be optimised for mobile, or invest in a website builder that has this feature already.
A responsive website design is important for increasing conversion, bookings, return-on-investment, user experience, and full compatibility with mobile-first indexing and mobile search engine optimisation in general.
It's key to remember to please Google with your mobile site, you have to please your users. Google will prioritise mobile websites that load quickly, are well designed, and include relevant content.
Ultimately, here are some aspects of your website that should be in place for a good mobile experience:
Users don't have to pinch, scroll, or zoom to see information
Font is legible and content is concise
The use of Adobe Flash and pop-ups are limited
Click-to-call functionality is enabled
Google Maps is integrated so people can find their way to and from your hotel
Your logo is linked so it's simple to return to the homepage
There's an easily accessible search bar and date calendar
Forms are auto-filled for returning visitors
There is contrast between images and colours that make the site beautiful
What this adds up to is speed and ease of use, something Google values very highly. A handy hint to remember is that you shouldn't create a separate mobile site designed just for smartphones. It's better to have one dynamic website that adapts to all devices.
To help with this, consider investing in smart, intuitive, website building software.
What annoys consumers on your hotel's mobile site?
If your current website isn't optimised for mobile, there are a lot of potential bugs that will irk consumers. Here are just a few examples:
Small, hard-to-read text that forces users to zoom in and out
Large images that load slowly
Small links that are difficult to click
Lack of ability to quickly connect to your property directly
Pages that don't fit the screen and cause people to scroll unnecessarily
Mobile users are very goal oriented. They want a responsive website so they can get things done quickly and without confusion.
If they can't clearly see your call to actions or access the areas of your site they deem relevant, you'll lose their business before you ever had it.
5 key hotel website design tips
There are certainly some best practice steps you can take when it comes to being your own website designer – and you certainly can by using the right tool. There's no need to pay for an external website designer.
To avoid any potential pitfalls, here's some web design fails that would keep guests away:
1. No up-to-date design and functionality
If you haven't updated your website in the last few years, chances are it's outdated and lagging behind.
The three must-haves in this mobile-first age are:
A mobile-friendly website that features a responsive page design.
A site that loads quickly. (In fact, 64% of smartphone users expect pages to load in less than four seconds.)
A site that offers travellers the information they both want and need (and a quick way to find it).
A website that can attract guests on any device and convert lookers into bookers is vital to your success online and you can learn more about improve your conversion rate here.
2. No secure payment and booking process
Handing over credit card details and personal information to an unsecure website can be truly horrifying. Your hotel's online payment portal needs to be provided by a PCI DSS compliant technology supplier.
This is a guaranteed secure way to accept payments online from your guests, and it will increase your guests' trust in your brand. Having a payment process that your guests trust is one of the most important elements of your booking experience.
Research shows that two thirds of US travellers are nervous about being redirected to pay, indicating that they are less likely to trust a hotel website and complete the booking. Reassure your guests on your website where you can.
3. No reviews to be found
If travellers are searching TripAdvisor, Facebook and Google and can't find a single review of your hotel, they are going to question why.
Instead of letting your guests feel like they are roaming down the empty halls of a haunted house while they are searching for feedback about your hotel, focus on generating positive online reviews from previous guests.
Use automated emails to invite reviews, and regularly engage with your audience on social media. One great way to encourage reviews is to display your awards and certificates of excellence – make sure your website creator and editor can facilitate this and showcase your hotel's achievements.
4. No inspiring photos or online gallery
A couple of thumbnail photos of the rooms and amenities that you offer isn't going to convince anyone to book with you.
Create a gallery filled with high-resolution photos that showcase every aspect, view and detail from your property.
5. No option to book direct with you
Your guests might be more shocked by the fact that you can't accept direct bookings, than they would if they saw a witch fly past on a broomstick!
Travellers today want to book directly with hotels in a way that is convenient for them. This means a way to self-serve, no matter what device they're booking through.
Key Takeaways
Travellers need a website to reflect their desires and expectations.
Many properties spend a lot of time and money trying to build their own website, or hiring designers to do it for them. Neither situation is ideal.
The optimisation of your hotel website load time is the first vital step in your mission to secure direct bookings.
A hotel website builder is an instant solution for hoteliers looking to create or update their property's website.
One of the biggest bonuses you enjoy when purchasing a website builder and editor is that all the work is immediately done for you.
Design is essential for improved SEO value and for the impact you can have on travellers.
The lack of a mobile first approach is creating a cycle of lost revenue for hotels. Hotels are reluctant to spend money on serious website upgrades and shift their marketing to suit mobile devices.