Note: The original version of this blog was published by Homelike. You can read it here.
Introduction from SiteMinder: The bleisure market and hotel booking trends
Following the pandemic, the bleisure market changed from a growing niche to a mainstream source of bookings for accommodation providers. SiteMinder's most recent Changing Traveller Report found that 36% of global travellers plan to incorporate work on their next trip. It's also projected that by 2035 there will be a billion digital nomads travelling the globe. This represents a lucrative opportunity for hoteliers if they can meaningfully understand and provide for this group. The good news is that they don't discriminate when it comes to choosing their accommodation. You'll find just as many in luxury hotels as you will in B&Bs or vacation rentals.
Additional data from SiteMinder's Hotel Booking Trends indicated that the average length of stay is also on the rise, with 2022 recording longer stays than previous years. This was particularly true for Spain in summer, which had the longest average stay length in August.
Average daily rate was another key metric that increased globally, up 24% when compared to 2019. For hoteliers who can adequately meet the needs of their guests and provide value for money, there's plenty of revenue opportunities to be had throughout the European and American summers.
Read on to learn more about it from Homelike, the platform of choice for midterm bookings.
Homelike's 4 key reasons for hosts to consider midterm bookings
As summer approaches, hosts are gearing up to attract guests to their vacation rental properties. While short term bookings are the norm during high season, overlooking midterm bookings could mean missing out on a significant revenue opportunity.
Can you generate more profit with midterm bookings compared to short term rentals? What are the benefits of offering midterm rentals during the summer months? Let's examine some of them more closely.
1. Quality tenants
Homelike's platform concentrates on accommodating business travellers who are interested in stays lasting for more than 28 days. As a result, the platform attracts higher-quality guests who tend to take better care of the property, avoiding disruptive party bookings and community disturbance.
Moreover, midterm bookings usually result in less wear and tear on the property, as guests tend to treat it as their home away from home and handle it with care. This reduces maintenance costs and prolongs the property's lifespan.
2. High occupancy rate during the shoulder season and low season
The shoulder season is typically the period between the high and low seasons, and it can be difficult to attract guests during this time. However, by offering midterm bookings, hosts can appeal to guests who are looking for longer stays. A midstay booking from Homelike typically has a Length of Stay of about 3 months, significantly increasing your overall occupancy rate.
3. Financial Stability due to predictable revenue streams
Along with a high occupancy rate, midterm bookings provide more predictable revenue streams all year long. Hotels that primarily cater to business travellers may face a downturn in demand during the summer months, for instance.
Additionally, short term bookings are often subject to last-minute cancellations, which can make it difficult to predict when and for how long your property will be occupied. This unpredictability can create cash flow problems and make it challenging to plan for expenses.
Midterm bookings, on the other hand, can provide a steady stream of income over a longer period, creating greater financial stability for hosts. Planning ahead becomes a lot easier for Homelike bookings, as more than 75% of them have a lead time of more than 2 weeks. This stability can help hosts to be more effective and allocate resources accordingly, ensuring that they are able to meet their financial obligations.
By having a consistent and reliable source of income, hosts can have greater peace of mind and focus on providing quality service to their guests.
The following table illustrates the difference in the ADR, occupancy, monthly expenses, and profit between short term and midterm bookings. Compared to short term bookings, midterm bookings have a lower ADR, but the higher occupancy rate and lower expenses result in a higher monthly profit.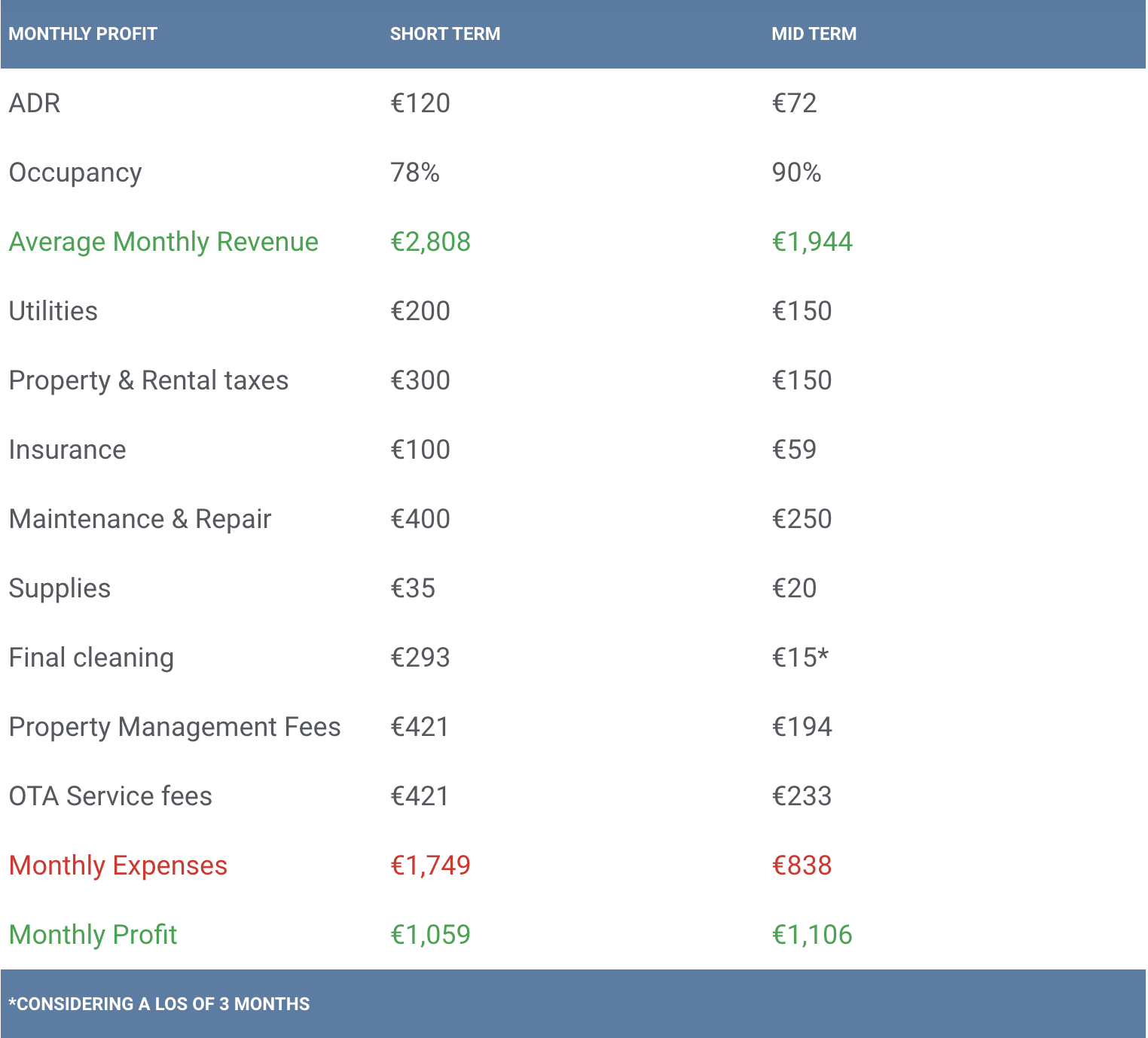 4. Optimisation of Operations
The midterm segment requires way lower maintenance compared to the short term, particularly when it comes to booking management, check-ins, and check-outs. With longer stays, hosts have fewer turnovers, resulting in less cleaning and less wear and tear on the property. This not only saves time and money for the host, as proven above, but also provides a more comfortable and hassle-free experience for the guest.
Establishing a more personal relationship with guests who are staying for a longer period of time is much easier, which can lead to increased loyalty and positive reviews, with increased future revenues as a direct result.
Additionally, since mid-term guests are more likely to have a stable schedule, hosts can better plan their staffing needs and schedule maintenance work during guest absences, minimising disruption to the guest's stay. Therefore, if you're a host looking to streamline your operations and reduce costs, the mid-term segment is definitely worth considering.
To get the most out of the summer, hosts should develop a strategy that aligns with their goals. Building strong partnerships with OTAs that focus on longer stays and working closely together with platforms like Homelike and its representatives is key to understanding the platform's capabilities and can give hosts the edge they need for the upcoming summer.
By focusing on midterm bookings, hosts can take advantage of the many benefits they offer and maximise their revenue streams while providing an excellent experience for their guests.
Use SiteMinder's channel manager to optimise your online connections
To make the most of online channels like Homelike, your hotel needs a leading channel manager.
A channel manager will allow you to connect to and manage as many third-party channels as you like, all at the same time. You can also manage your own direct booking engine with a channel manager. Through automation and integrated two-way communication, a channel manager will ensure your rates and availability are always accurate and up-to-date across all booking channels as well as your property management system.
Reduce double bookings, increase reservations and revenue, and save time!
Try SiteMinder's channel manager for free today.