When you run a hotel, it can be hard enough to keep on top of your competition down here on Earth. But very soon a new hotel will make a play for ultimate bragging rights by opening in space.
Aurora Station, developed by Orion Span, will orbit its guests around the globe 16 times each day. It means that every 90 minutes lucky travellers will experience a sunrise and a sunset from the world's first luxury space hotel located 200 miles above the Earth's surface.
So, what are the ins and outs of this huge development? Surely there's a catch. Well, only if you count the $9.5 million reservation fee…
Let's take a look at the finer details and what travellers can expect during their stay at the world's first space hotel.
When will Aurora Station launch and who can stay there?
Named after the Aurora lights that dazzle the Earth's polar skies, the hotel was first announced during the Space 2.0 Summit in San Jose, California. It's due to be launched in 2021 and will check-in its first guests in 2022. The trip will span 12 days, giving four travellers at a time (and two crew members) the experience of their life.
The first four months of travel, requiring $80,000 deposits, have already sold out – (now to find the rest of the $9.5 million).
The space hotel is also accepting booking payments via cryptocurrency. While the price tag may seem hefty it's significantly lower than early estimations of between $20 and $40 million per guest.
The lucky people who do secure a reservation will undergo a three-month Orion Span Astronaut Certification program, effectively certifying them for most future space travel.
The first phase will cover basics such as eating and using the bathroom in the space hotel. The second will take place at the company's Texas headquarters, and the third will be on-the-job training aboard the Aurora Station.
What will the Aurora Station look like?
The hotel will be about the size of a large private jet cabin.
Measuring 13.3 by 4.3 metres, with a pressurised volume of 160 cubic metres, Aurora is billed as a cosy yet comfortable space for guests, but of course pales in comparison to the International Space Station, which is 109 metres long and has an internal pressurised volume of 916 cubic metres.
High speed internet is being treated as one of the biggest priorities to ensure guests can share their hotel experience with friends and family back on Earth.
Meanwhile, food will be as gourmet as it gets given cooking in zero gravity is extremely dangerous. A middle ground between the average astronaut diet and food on Earth is currently being worked on by professional chefs. With no gravity it also means guests will shower and use the bathroom just like astronauts on the International Space Station. So get comfortable showering out of large plastic bags.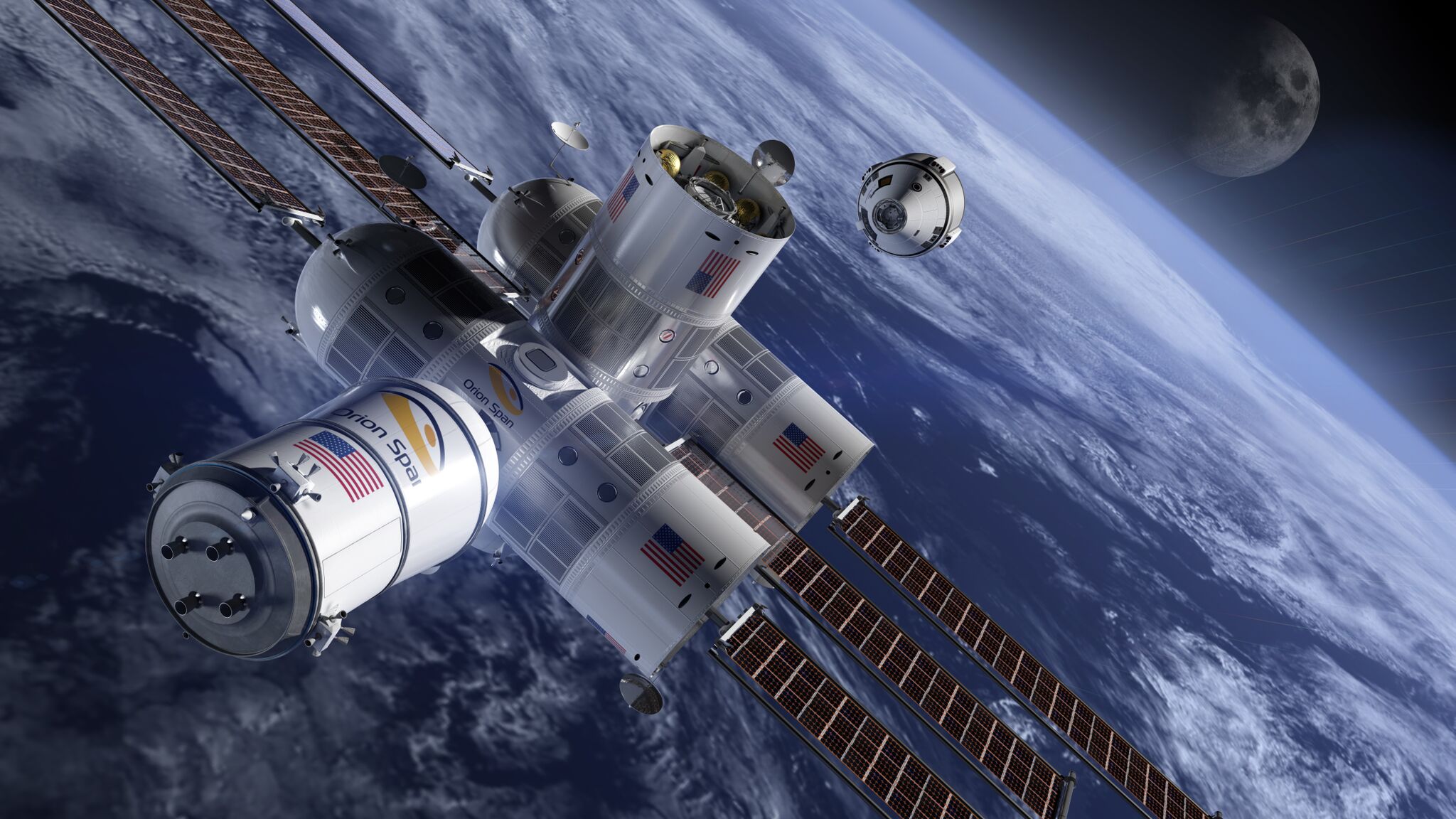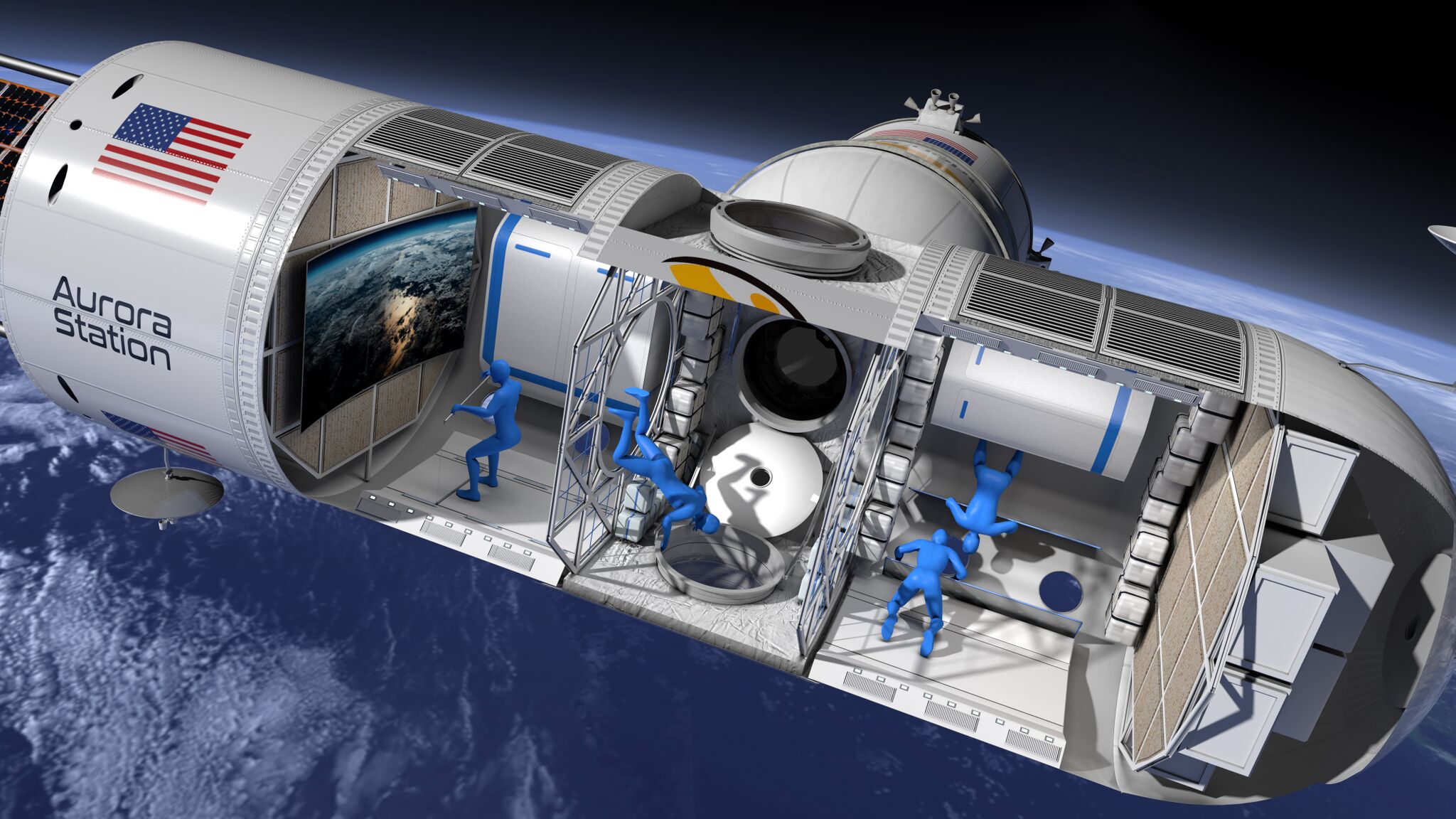 What's the story behind Orion Span?
Orion Span is an aerospace startup operating out of Silicon Valley in California. Founder and CEO Frank Bunger is described as a veteran technology executive and serial entrepreneur with extensive experience building early stage company team, product and go to market.
He says the company is about more than a hotel: "We will offer full charters to space agencies who are looking to achieve human spaceflight in orbit for a fraction of the cost and only pay for what they use. We will support zero gravity research, as well as in space manufacturing.
"Our architecture is such that we can easily add capacity, enabling us to grow with market demand like a city growing skyward on Earth.
"We will later sell dedicated modules as the world's first condominiums in space. Future Aurora owners can live in, visit, or sublease their space condo."
The company also states this hotel development is part of a much deeper and more contextual mission. The complexity of the station is that it's planned to be the first in a series of travel destinations in space.
"We start by first providing safe, robust facilities in low Earth orbit – including space hotels. As the competitive landscape for launch capability increases, and launches become more frequent, we expect prices to come down," says Orion Span.
"Once a non-government destination exists in space, we believe that it will create a virtuous cycle between the three commercial space ecosystems of launch, spacecraft, and destination."
To read more about the Aurora Station and Orion Span's mission to sustain human communities in space – or indeed book a room – visit: www.orionspan.com