A quick search on TripAdvisor for the Rembrandt Hotel in Bangkok reveals a collection of reviews that would make any general manager proud. Guests describe the property as a "great international hotel" and a "perfect stay in a perfect location".
More than 4,000 guest reviews rate the Rembrandt as either excellent or very good – and it's no surprise with general manager, Eric Hallin, at the helm. Now in his tenth year at the property, Eric is dedicated to leading his team who work hard to create a home away from home for the many international guests visiting Thailand.
His career spans 40 years in the hospitality industry and has taken him to hotels in Spain, France, Africa, and the Maldives to name just a few. In 2008, Eric led the team at the Six Senses Hideaway on Koh Samui when the resort was proudly named Condé Nast Traveller's 'Best Hotel in the World'.
Fast-forward to today and Eric is only the second general manager to oversee the Rembrandt since it opened in 1993.
SiteMinder's Clare Riley spent some time with Eric to find out the secrets to his success, how he deals with the pressure of hotel management, and why improving your hotel's reputation is a great way to compete.
---
SiteMinder: Your hotel industry career has been long and successful, but I read somewhere that if you weren't working in hospitality, you would have been a diplomat. They sound like the same job to me?
Eric: (laughs) Yes, they're very similar. Running a hotel is like running a city. You have to market it and you have to do everything from managing sewage to looking after royalty. You have hundreds of staff and many suppliers. In Bangkok, it's not so bad, but I've managed hotels in the Maldives where you're basically doing everything. You must run your own electricity, your own water. You must take care of, not only sewage, but even burning your garbage. City hotels are different, but still, it's a big operation. We can't run everything on our own. You need a good team. Doing everything on your own is impossible.
SiteMinder: You clearly have a passion for working in hotels. What is it that you enjoy so much?
Eric: I like people. It's a people job. That makes a difference to me. Some hotels have very limited service and you can probably manage the property without a lot of people, but I prefer it the old fashioned way. Of course, we must keep changing all the time. If we kept doing things like we did five years ago, we couldn't exist. But I love working with people.
SiteMinder: What is it about the hospitality industry that you think allows people to have a career that spans decades? Because there are so many general managers that we speak to who have worked in the industry 20 years, 30 years, 40 years, and there's not a lot of industries where you see that.
Eric: I've been a general manager for over 30 years and you need a strong liver! As I said, it's a job with people, so you can only do it if you truly enjoy that element. For me it's a hobby as well. And it's fluid. It's very difficult sometimes to say where my work begins and ends.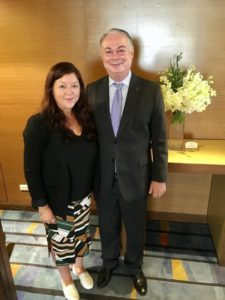 SiteMinder: What excites you the most about your current role here at the Rembrandt Hotel?
Eric: It's always evolving, so there are no two days the same, and that's one of the reasons that we do stay in this industry as long as we do, because it's never boring. It's always challenging. I've been in this hotel nine years, starting my tenth year. One of the nicest things about my job is managing my fantastic team. You have some great people, they move on, and then you get other great people.
SiteMinder: You once said that you were drawn to work at the Rembrandt Hotel because it has a lot of soul. How does that present itself to your guests?
Eric: (points to a guest) See this guy, he must have been here 50 times. The people that were sitting here before, I do good business with them. I know everyone here. Of course, we do have other guests too, but a lot of them are regulars. We have two guests over there who haven't been here for three years and they said our staff recognised them from before. In our industry, there's always staff turnover, but we have a lot of employees staying with us for a long time and that brings a family feeling. I hope our guests feel like they're coming home. It's difficult to say what that feels like to our guests who are travelling, but we know it feels nice to come home.
SiteMinder: You're only the second general manager to work at the Rembrandt since it opened in 1993. Does that add a certain pressure to your role? Or is it something you embrace?
Eric: In hotels – especially if they are part of big hotel chains – you often get posted somewhere else and so I think there's a place for hotels that have a constant. I also think it's great to have new people. I like young people coming in and we need young people because new technologies offer up a new way of thinking. We can't do things like we did before. We always should think what's the better way. It can be frustrating for people to do something well and we say, 'how can we do that better?'. We can never rest on our laurels or stay as we are, so even though I've been here that long, it doesn't mean I don't change. I constantly change too, and I have to. I don't feel pressure from elsewhere, but I must put pressure on myself because if I become complacent I don't think the hotel will be as successful.
SiteMinder: That's great advice. You're from Scandinavia originally and you've been in Thailand for a long time now. What makes Thai hospitality so unique?
Eric: The people and the culture. Thailand has a tradition of hospitality – they are very hospitable to foreigners by nature. They are very polite by nature and they're always smiling. I've worked in a few countries, but I'm here by choice, not because I have to be. I like to work with Thais. There are some fantastic Thai general managers and for hundreds of years Thais have worked with foreigners so together hospitality here just works well.
SiteMinder: Are those the characteristics that you look for in staff that you hire at the hotel?
Eric: Attitude is the number one thing I look for. Skills you can teach, but attitude is a bit more challenging.
SiteMinder: That's very true. In 2008, you managed Condé Nast Traveller's best hotel in the world. What does it take for a hotel to be named the very best?
Eric: Well, I wish I knew. I just had a wonderful team. I mean, yes, the Six Senses Hideaway on Koh Samui was in a beautiful location and I had wonderful chefs, both foreign and local, producing good food. The whole team were just great. We wanted to prove something but we weren't trying to get the Condé Nast best in the world award. We weren't advertising with them and we had no idea. It feels fantastic to get it, but for sure it's working with good people. I had a team that whatever I suggested, they would do it, but do it better. They'd go the extra mile, and that's wonderful.
SiteMinder: What do you think have been the key turning points in our industry's development over the past five to 10 years? What's the biggest change that you've seen?
Eric: There are many. Turn the clock back 40 years and there were less than 5,000 hotel rooms in Bangkok. There were only five tall buildings. Dusit Thani Hotel was the tallest building in Bangkok, and now you can't see it. It's going to be demolished next year. That's going very far back. Still, in 1997, around the time of the big Asian financial crash, I still knew every hotel in Bangkok. By that time, there were maybe about 65,000 rooms. Today there's 130,000 rooms. The last five years they just keep adding hotel rooms.
Technology gets more and more important. Channel managers are a great example because the importance of OTAs has increased a lot. Guests' travel patterns vary from country to country – how people book, how they think, and how they plan. I think online distribution has changed revenue management. Now in many places, the director of sales doesn't have as big a voice as the revenue manager. This isn't the case at my hotel, but I see it in our industry. I still think people tending to guests is the most important factor, but you must be sure that you're on top of technology and use it to your advantage.
Sometimes it's good to be an early adopter, but often it can be very expensive if you jump on the wrong thing and pay a lot for it. You must know when to jump.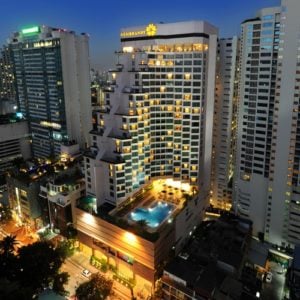 SiteMinder: That's interesting. Thinking about challenges, what do you think currently unites hoteliers all around the world?
Eric: Training staff. Due to the big increase of rooms I just mentioned, there's a big increase in the number of people needed to work in these hotels. The result is often that people steal staff to fuel new openings – and that's one of the dangers facing the whole industry. I think people often get promoted too fast as well. It's good to be promoted fast, but too fast is not good. Sometimes you have a waiter, and some become a captain and a supervisor and then assistant manager and then a restaurant manager without actually having learned the skills needed. This is a bit too quick, and it's our fault. I think this is something facing the whole industry. Then of course, the other huge challenge is how to market your hotel with the onset of so many things happening online. What differentiates one hotel from another? How do you go to market? How do you make people choose to stay where you are? How do you control the rates and their structures so it makes sense? How do you not cannibalise your different distribution centres? There are many, many challenges.
SiteMinder: It's certainly a noisy landscape and we've touched on it slightly, but what technology do you use at your hotel that you think is instrumental for driving revenue?
Eric: I think there are a plethora of technologies we need to be aware of and use. Connectivity, channel management, online distribution and more use of Artificial Intelligence (AI), will become more important. But we should never lose track of the most important aspect of all – the guest and our reputation with them. We need tools to keep track of our online reputation – we use TrustYou – but there are many other good ones, where we can monitor where we are and see where we must improve the guest experience. This is important because no matter how much technology we have to make our work easier, we always need human interaction to grow our business.
SiteMinder: So, you're seeing that most travellers aren't booking your hotel without researching and looking at your online reputation and credentials?
Eric: Oh, absolutely. Well, I hope so. Reputation is very, very important. Sometimes it's not fair, but I think most of our guests are intelligent, so they can see beyond the noise. Of course, if you happen to be in position one or two or three on those sites, the amount of bookings you get is so much more, and you can therefore charge more. It's not always easy, because there are so many algorithms to understand, and there are so many things beyond your control. The main thing is that your aim should be to improve your reputation – and you must have buy-in from your team. Great guest experience is the most important thing for us to do.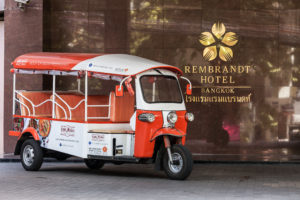 SiteMinder: Because you believe if you deliver a great guest experience then that in itself is great marketing?
Eric: Exactly. For that reason, we've recently employed a quality control manager, just focusing on guest satisfaction, just focusing on guest experiences, and just focusing on improving. He's been a training manager in many hotels, in many countries. It's a new and important position because I truly believe that where we can best compete as a hotel is on our reputation.
SiteMinder: What advice would you give to general managers who are perhaps struggling with the day-to-day life of hotel management? Is there a piece of advice that you always go back to?
Eric: Like most leaders in travel I have a big ego (laughs) – but we must still be humble. We have to constantly learn. We have to adapt our style both to the people that we are working with, as well as the the many external factors we face. Everyone has a different way of managing things and the team must have a life of its own, so to speak. Translating that into advice, that's not easy. But, I think you should never be satisfied with what you're doing. Always try to do better. Always try to understand the customer and put yourself in the shoes of the guest, because the customers will always vote with their feet.