Australia, Mexico the latest to crack pre-pandemic levels
By Mike Ford, Founder and Managing Director at SiteMinder
Posted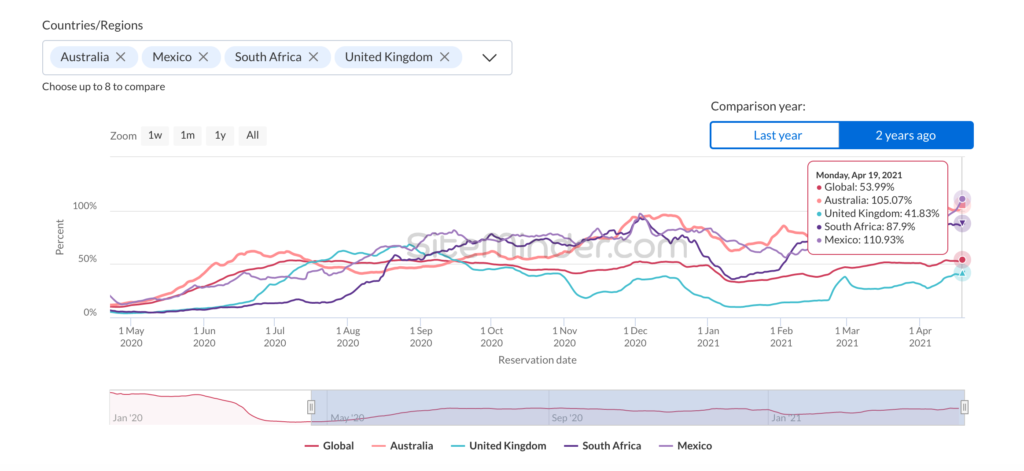 It's been an interesting month. At the start of April we saw bookings slow once again, due to new waves of coronavirus, but as at today the global booking momentum has rebounded to above 53% of 2019 levels, and has reached its highest point since March 15 of 2020, some 400 days ago, continuing the upward trend that began in mid-January this year.
Driving this positive trajectory are the countries approaching—or indeed surpassing—their 2019 booking volumes. In the last two weeks, we've seen both Australia and Mexico join the Maldives as the only countries currently outpacing pre-pandemic levels. Australia crossed the 100% mark on April 12, led by bookings in Hobart and Cairns, while Mexico surpassed its 2019 reservation volumes last Friday, driven by hotel bookings in Playa del Carmen, a coastal resort town in the Riviera Maya.
This news is not insignificant. For Australia, it signals that the country is on the cusp of international acceleration, the fifth and final stage of the hotel booking reset. In fact, the acceleration may have already started with the commencement of the trans-Tasman bubble with New Zealand this week. It's hard to believe that talks of a travel bubble between Australia and New Zealand surfaced as early as last May!
Other countries may too surpass 2019 levels as soon as next month, with Taiwan, South Africa and New Zealand all experiencing an uptick in booking volumes through April. As always, we'll be on the lookout and will report back.
Asia Pacific continues to top-and-tail the World Hotel Index
As it stands, three out of the top four countries within the World Hotel Index are currently from the Asia Pacific (Maldives, Australia and Taiwan), which shows the region's ongoing resilience in dealing with the pandemic. Looking deeper, though, we can see that the isolated nature of some Asia Pacific nations, and their heavy reliance on international travel, continues to be challenging. Fiji, Cambodia and Vanuatu—all based in the Asia Pacific—are the three countries that have been slowest to recover their booking momentum globally.
Sentiment is brightening in parts of Europe ahead of a long-awaited summer
In many parts of Europe, a commonly heard question is currently: "Will we be able to get away for a summer vacation this year?" And, our data suggests that many holidaymakers believe they will.
Only four European countries on the World Hotel Index (Finland, France, Norway and Sweden) didn't gain momentum in the past week. Spain, the UK and Portugal are now all within 15 percent of the global average, and the UK was the sixth-fastest rising country in terms of momentum on the World Hotel Index over the past seven days. Unsurprisingly, for the UK, a large number of bookings are targeting the May 17 reopening date that's been set for local hotels and B&Bs.
In Spain, over 50% of current, uncancelled bookings are for the months of June, July and August, despite June 1 being only over one month away. On average, 47% of these bookings have been made by international guests, which again suggests not only extensive pent-up demand by keen travellers, but hope that the current situation in Spain will subside soon.
With more markets eyeing off the possibility of opening to international travel, as vaccines roll out globally, we look forward to keeping you up to date with what's happening in the world of hotel bookings next month. Until then, take care.