A wrap of the year when travel started to run once more
By Mike Ford, Founder at SiteMinder
Posted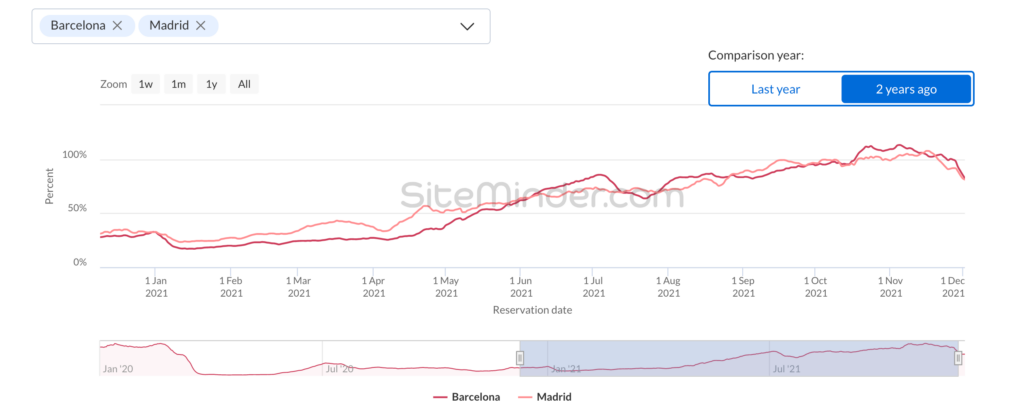 If 2020 was the year the travel industry got knocked down, 2021 was the year it found its feet and started to run again. Booking momentum grew through the year, international movement accelerated and, in November, global booking volumes averaged just under 80% of pre-pandemic levels.
With the hotel booking data of more than 40 countries at our disposal, there are endless moments from the year in travel to be relived. Below are five to get the conversation started.
1. Major cities made a comeback
Many major cities sprang to life in the second half of the year, as vaccine programs built confidence and local travellers stopped limiting themselves to solely remote adventures. In Europe, the hotels of Madrid and Barcelona at times exceeded their 2019 booking volumes, while hotel businesses in London, Paris, Stockholm and Dublin all jumped above 90% of their relative pre-pandemic levels. In the Americas, Los Angeles again began to receive the same reservation numbers as before the pandemic, and Mexico City achieved 119% of its 2019 volume in late October. Here in the Asia Pacific, while major cities have been slower to bounce back, hotels in locations like Kuala Lumpur, Taipei, Hong Kong and Bangkok have all seen a resurgence of booking activity in recent months.
2. International travel boomed where it could
In May, when the Cook Islands opened its doors to New Zealanders, it created a sharp spike in hotel booking momentum resembling the mountains the country's known for. With a population of just 17,500, the South Pacific nation has seen the highest percentage of international guests make bookings to its hotels this year, at 99.6%. The Maldives is a close second at 99.58%.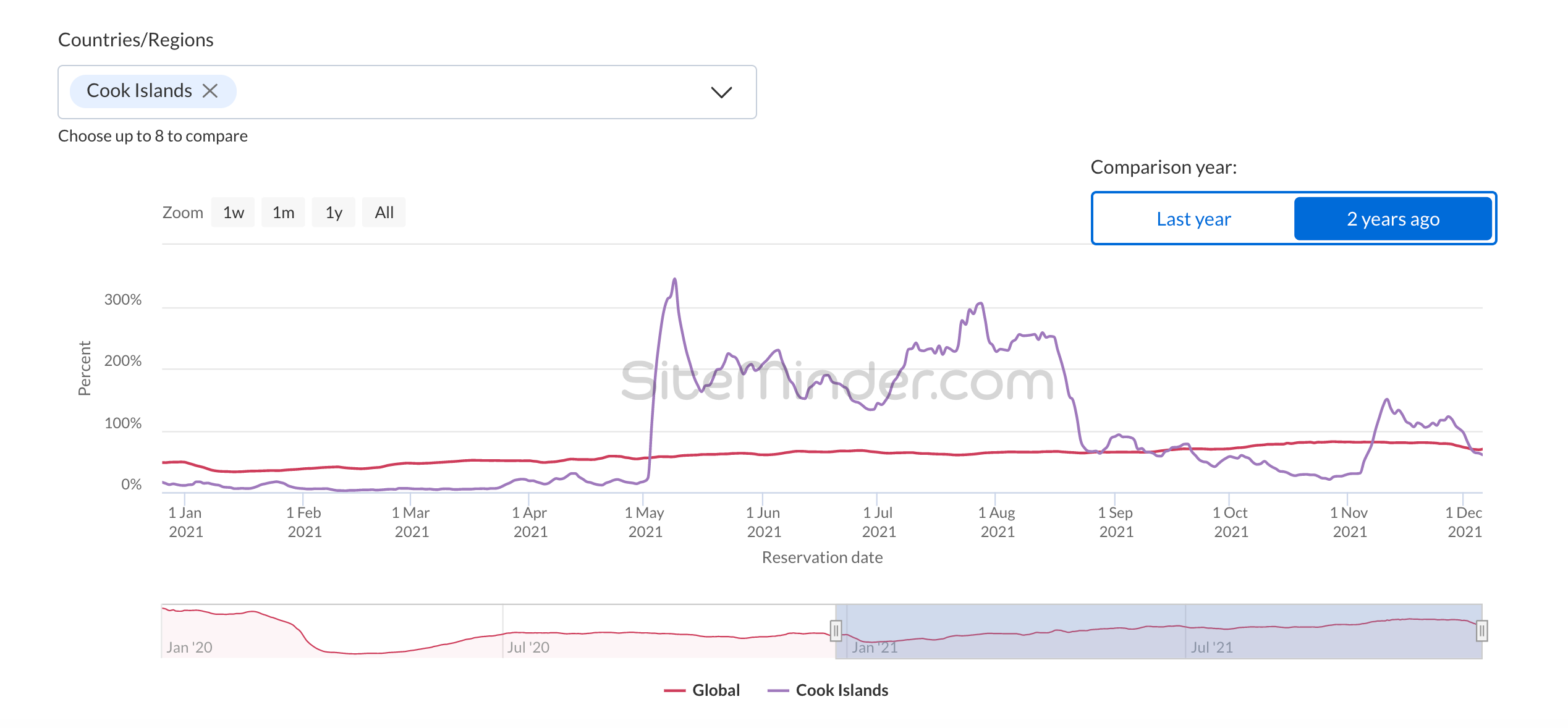 To the other extreme, Taiwan has been the one location with the highest percentage of domestic stays booked so far in 2021, at 97.26%. It's just narrowly ahead of Australia, where 96.56% of bookings made to hotels this year have come from local guests.
3. October 28, 2021
Thursday, 28 October became the biggest day for bookings so far this year, with volumes reaching 81.73% of 2019 levels. On that day, Chile led the World Hotel Index, at 147% of its pre-pandemic levels, following the removal of over a year-and-a-half of restrictions.
4. The 10 days when the Maldives dipped below pre-pandemic levels yet still remained the year's top performer
Through 2021 to date, the Maldives has spent the greatest amount of time as the top ranking country on the World Hotel Index (115 days), compared to its pre-pandemic levels, edging out both Iceland and the Cook Islands for the top spot. Having opened to international travel in July of 2020, the archipelago continues to be a global success story, spending just 10 days below its pre-pandemic booking volumes this year-to-date.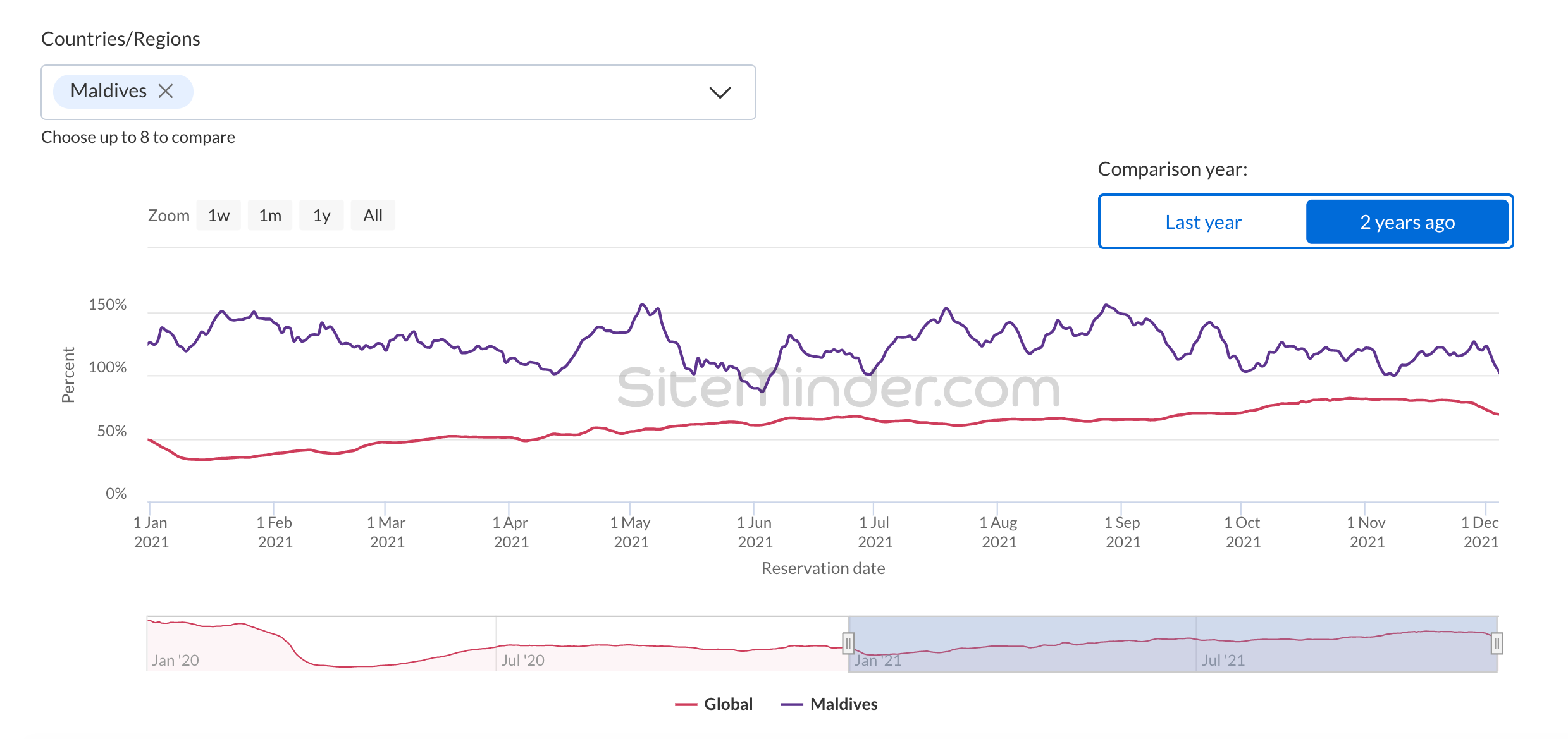 5. Every moment that domestic travel kept the United States above the global booking average
With 9-in-10 U.S. hotel bookings this year coming from locals, the country's ability to stay above the global booking average each day of 2021 so far is impressive. Only two other countries—Mexico and the Maldives—have achieved this level of consistency, and while they have seen their bookings driven by internationals, the robust performance of the U.S. sector has its own people to thank.
As it stands, we will be closing the year far stronger than we began. At the beginning of the year, 11 more countries were below 50% of their pre-pandemic levels than today, while only one country was outpacing its pre-pandemic booking volumes, compared to the five (Chile, Costa Rica, Estonia, Iceland and Mexico) currently.
As always, I hope that by sharing updates from the World Hotel Index this year, we've been able to deliver clarity via data to the industry we love. It's something we look forward to continuing in the New Year.
Until then, I wish you all a safe Christmas and holiday season. Please take care and I'll speak to you in 2022.
View the live World Hotel Index