Domestic travel to remain a pillar for the year ahead
By Mike Ford, Founder and Managing Director at SiteMinder
Posted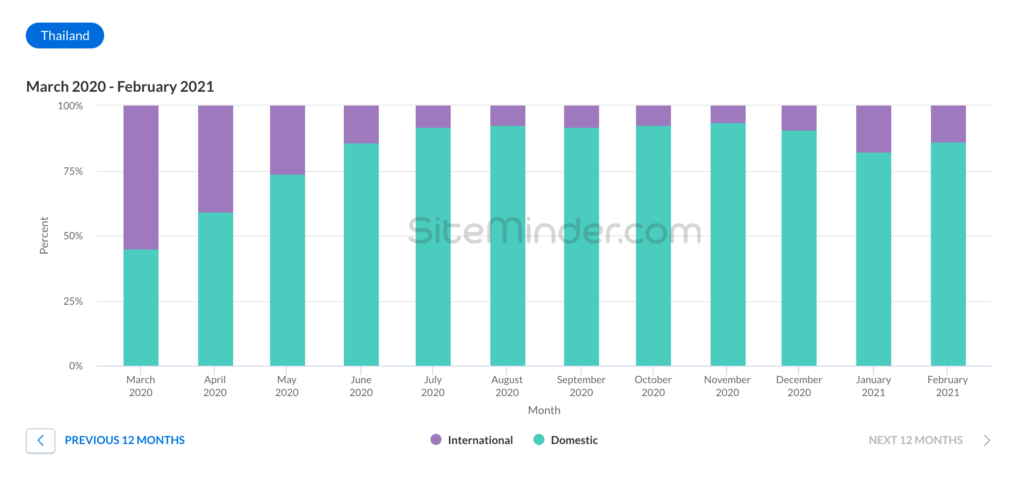 Many of you will have read our recent analysis of the distribution channels that brought the greatest booking revenue to hotels around the world in 2020. Unsurprisingly, a key finding from that analysis was the strengthening of local and regional booking channels as a result of restricted international movement, particularly from April, as we've covered extensively here from the World Hotel Index.
Will we see a continuation of this trend in 2021? Currently, our data suggests we will.
World Hotel Index presses refresh
Before jumping further into the data, I would like to first introduce a few new features of the World Hotel Index that will help to make such predictions possible.
Given the nature of 2020, we've created a new switch on the Booking Momentum tab, which now not only allows us to compare booking volumes against last year's levels, but also against the year prior – a level of detail that will be vital from mid-March. The year of 2019 was not only pandemic-free, but it set new records for tourism, with 1.5 billion international arrivals recorded globally, so it forms a good benchmark to be mapping bookings against, as we discover what the new norms are once markets complete the five stages of the hotel booking reset.
We've also included an extra 12 months of data, per country, to our graph illustrating the booking momentum by domestic and international mix, to provide a deeper level of understanding about global traveller flows as the year develops.
The changing face of guest origin
Analysing this fresh data, we can see just how critical domestic travel has become for hotels, particularly for countries that have traditionally relied heavily on foreign guests.
In a destination such as Thailand, for example, which in recent years has generated a lot of its stays from Chinese, Malaysian and South Korean tourists, we can see that locals made up less than 30% of the bookings processed in March of 2019, compared to over 86% of the bookings so far this month. A similar trend can be seen in Vietnam.
In a European context, countries like Denmark, Portugal and the Netherlands, which have also placed a strong reliance on international travellers, comparative to other European nations, have seen similarly strong shifts in their traveller base due to restrictions. We can now see that domestic travellers made up only 25% of the bookings processed in March of 2019, compared to 60% so far this month.
Cautious optimism is building as cases fall
Despite the current status of lockdown and reduced movement that much of the world is in, there is however genuine reason for optimism that the mix of domestic and international guests will normalise either later this year or in early 2022, in many parts of the world. In recent days, it's been pleasing to see that the global seven-day average of new coronavirus cases is the lowest it's been since October 19, decreasing sharply by over 50% since its January 20 peak. This has prompted the continuation of the long-range booking activity that we highlighted in our January analysis, as a marker of traveller confidence.
In Germany, for example, where the lockdown has been extended until March 7, a wave of bookings has recently been made for Oktoberfest, where we can see a clear spike, some seven months in advance.
The same is true for Indonesia, where we can see a clear uptick for the end of Ramadan in May.
Hotels in Ireland, which despite being in lockdown until at least March, have continued to receive bookings for the summer months ahead, with over 60% of reservations in the past two weeks being made for June, July or August stays.
As the vaccine rollout continues here in Australia, and around the world, I'm sure we all keenly await how this will impact our data. In the meantime, I think it's safe to say that domestic travel will surely remain a pillar for the year ahead.