Planning relaxes, as travellers increasingly leave their options open
By Mike Ford, Founder and Managing Director at SiteMinder
Posted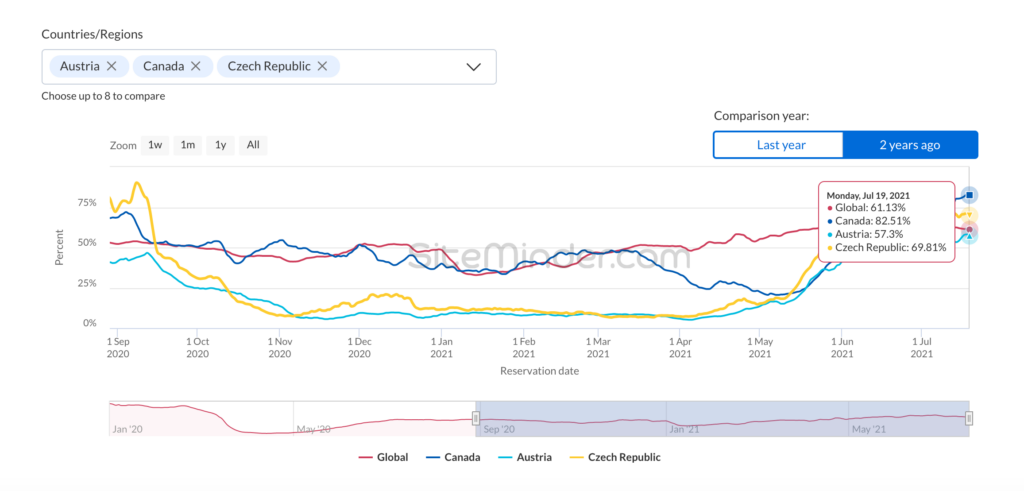 After consistent growth in hotel booking volumes since January, global momentum has slowed in July, falling from a year-high 67% of 2019 levels in the last week of June, to 61% of 2019 levels in recent days.
In Europe, where summer bookings have been key to recent momentum, the last week in particular highlights the mixed attitudes to travel that currently exist. There, eight of the countries on the World Hotel Index have seen a growth in booking volumes, while nine have contracted, as the Delta variant makes its presence felt.
Despite this, a number of positive storylines continue to emerge around the world. In the Americas, Canada and the United States continue to perform strongly. Canada, now at 83% of its 2019 levels, is the third fastest rising country on the World Hotel Index this week, growing by over 300% since its low point in May, while the US remains stable at 84% of 2019 levels.
Central Europe is another region to highlight, with low case numbers and an influx of international reservations ensuring that Austria, the Czech Republic and Germany have been the three sharpest European risers since May.
Here in the Asia Pacific, the Cook Islands' travel bubble with New Zealand continues its success, with ongoing booking volumes greater than 200% of 2019 levels laying the blueprint for other Pacific Island nations to follow, in the latter half of the year.
While enthusiasm for travel remains strong in much of the world, there's growing comfort in taking a wait-and-see approach to making plans
In January, we reported that travel planning was making a comeback for the first time since the pandemic began, however as we approach 18 months since hotel bookings were first impacted by the virus, we can see that this is largely no longer the case. Across all of the countries in the World Hotel Index, 70% of bookings made in the last two weeks were for stays in either July or August, and for countries such as Norway and Sweden, this number extends to well above 85%.
While markets that rely heavily on international bookings such as the Maldives, Costa Rica and Namibia do buck this trend. The limited number of bookings in the second half of 2021 for the majority showcases just how shortsighted planning has become for many around the world, as they adjust to a time of unrivalled disruption.
Here in Australia, we present a prime example of how nimble travellers can now be. While the latest Covid outbreak recently resulted in the country's booking momentum sadly crossing below the global average for the first time in almost 300 days, there has been silver linings in many parts of the country. In a location such as Townsville in northeastern Queensland, for example, as soon as interstate cancellations began impacting local hotels, businesses and available travellers acted quickly upon the fresh availability, and soon the booking momentum was again moving towards 100% of 2019 levels. This highlights that while a last-minute, wait-and-see approach is becoming more popular than ever before as a way of approaching travel, it certainly doesn't display a lack of eagerness to explore. It's a finding that we have consistently seen in our ongoing Changing Traveller Report series – travellers globally are now more enthused to travel, compared to prior to the pandemic, so hoteliers need to be prepared for their return, as they have higher expectations also.
We look forward to keeping you up to date with what's happening in the world of hotel bookings next month. Until then, take care.