Booking momentum exceeds 60% globally as Europe reawakens
By Mike Ford, Founder and Managing Director at SiteMinder
Posted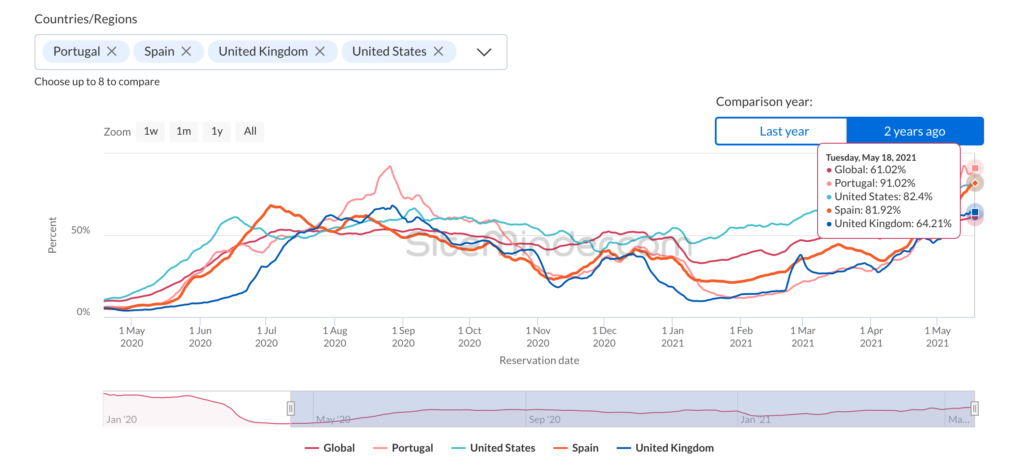 A lot now happens in a month in the world of travel and, since we last spoke, booking momentum has rallied by over 15% month-on-month, to now sit above 60% of pre-pandemic levels for the first time since March of 2020. And while the markets that we've been highlighting in the Pacific and Americas have remained largely stable, it's been the long-awaited recommencement of European booking activity that's helped to drive the fresh momentum.
Excited holidaymakers are showing little hesitation to book in their summer stays at European hotels
Across the European continent, the relationship between reopening announcements and booking activity, as we saw last summer, is again clear, with travellers looking to lock in their plans as soon as they possibly can.
In Portugal, for example, which began accepting all EU and Schengen area nationals, as well as thousands of UK travellers on Monday, we can see a large initial spike in booking momentum when lockdowns were eased locally on April 19 and then again from early May. Early May signifies when Portugal's state of emergency was lifted, the country's land border with Spain was reopened and plans for international travel were discussed. The viability of international travel has certainly influenced the makeup of guests for local hotels. This month-to-date, 58% of bookings to Portuguese hotels have been from foreign guests, compared to just 40% in April.
In the UK, where hotels and B&Bs also opened on Monday, we saw that the Easter announcement on April 5 around loosening restrictions triggered a large-scale recommencement of booking momentum. And this has only continued, with booking volumes increasing by more than 60% month-on-month to reach 64% of 2019 levels.
In Spain, too, we can see that booking numbers accelerated more sharply when the state of alarm ended on May 9.
Pent up travel demand across Europe has ensured hotel bookings are being made very close to the date of arrival, with summer now just days away. In France, for example, which leads Europe for last-minute bookings currently, we can see that around 65% of bookings made in the last two weeks have been for stays in either May or June, and less than 7% have been for stays beyond August.
Bookings remain largely solid in the Pacific and Americas
Moving across to the Americas, the United States and Mexico continue to perform very strongly, at 82% and 100% of 2019 booking levels, respectively. In both instances, we can see the positive impact that a consistent and steady lowering of COVID cases is able to have on traveller confidence.
Down under, hotel bookings in Australia are again outpacing their pre-pandemic levels, led by bookings to Newcastle which are at 134% of their 2019 levels. Australia entered the World Travel & Tourism Council's global top 10 this week, in terms of the GDP contribution made by its local tourism and travel industry, and it's looking likely that it will retain that top 10 spot over the coming year.
Finally, we have long been discussing the difficulties of Pacific island nations throughout the pandemic, so it's been pleasing to see Cook Islanders receive their first international visitors in over a year earlier this week, after a two-way travel bubble was established with New Zealand. Enormous demand saw booking momentum top out at 345% of 2019 levels in the World Hotel Index on May 9, with local operators calling for more flights to be scheduled.
On that celebratory note, please continue to take care of yourselves, safe travels to those who can, and congratulations to all of our customers that are freshly open once again.