International travel drives booking volumes above 80% of pre-pandemic levels
By Mike Ford, Founder at SiteMinder
Posted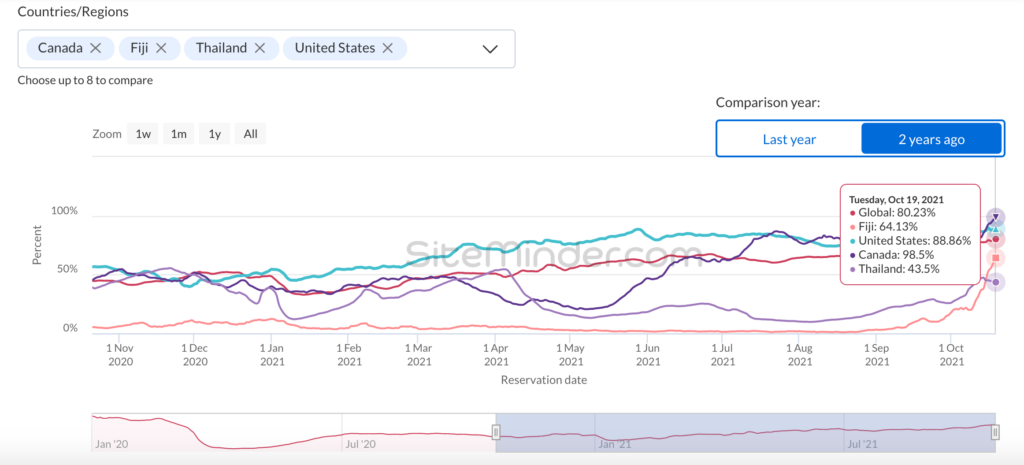 As the world reopens further, hotel bookings are only accelerating. Eleven countries on the World Hotel Index are now surpassing their pre-pandemic booking volumes, while a further six sit above 90%.
What's driving this strong performance? One of the key ingredients is an uptick in international bookings, the fifth and final stage of travel's recovery.
In my August analysis, I discussed that 44.84% of global hotel bookings made in that month were from international guests, up from 33.22% in August of 2020 – a number that has only grown since. So far in October, 49.03% of bookings made to hotels globally have been from international travellers, and nearly 3-in-4 countries have received more international bookings this month than last.
As the extended European summer continues to drive momentum, other regions, in part due to this increase in international reservations, are now able to play a more pivotal supporting role in the holistic recovery of travel.
Asia Pacific takes its biggest steps yet to reopening
In the Asia Pacific, some of the world's longest and toughest restrictions are finally being eased, with countries taking their biggest steps yet toward reopening as the year-end holiday season approaches.
Fiji, which has been sitting at below 10% of 2019 levels for the majority of the pandemic, is one such example. Bookings to local hotels have boomed in recent days, growing from 23% of 2019 levels to 67% in recent days, as their November reopening to international tourists was confirmed. The Christmas and early 2022 period is the clear focus for travellers, with almost 30% of booked stays to Fijian hotels squeezed into the three weeks around New Year's Eve.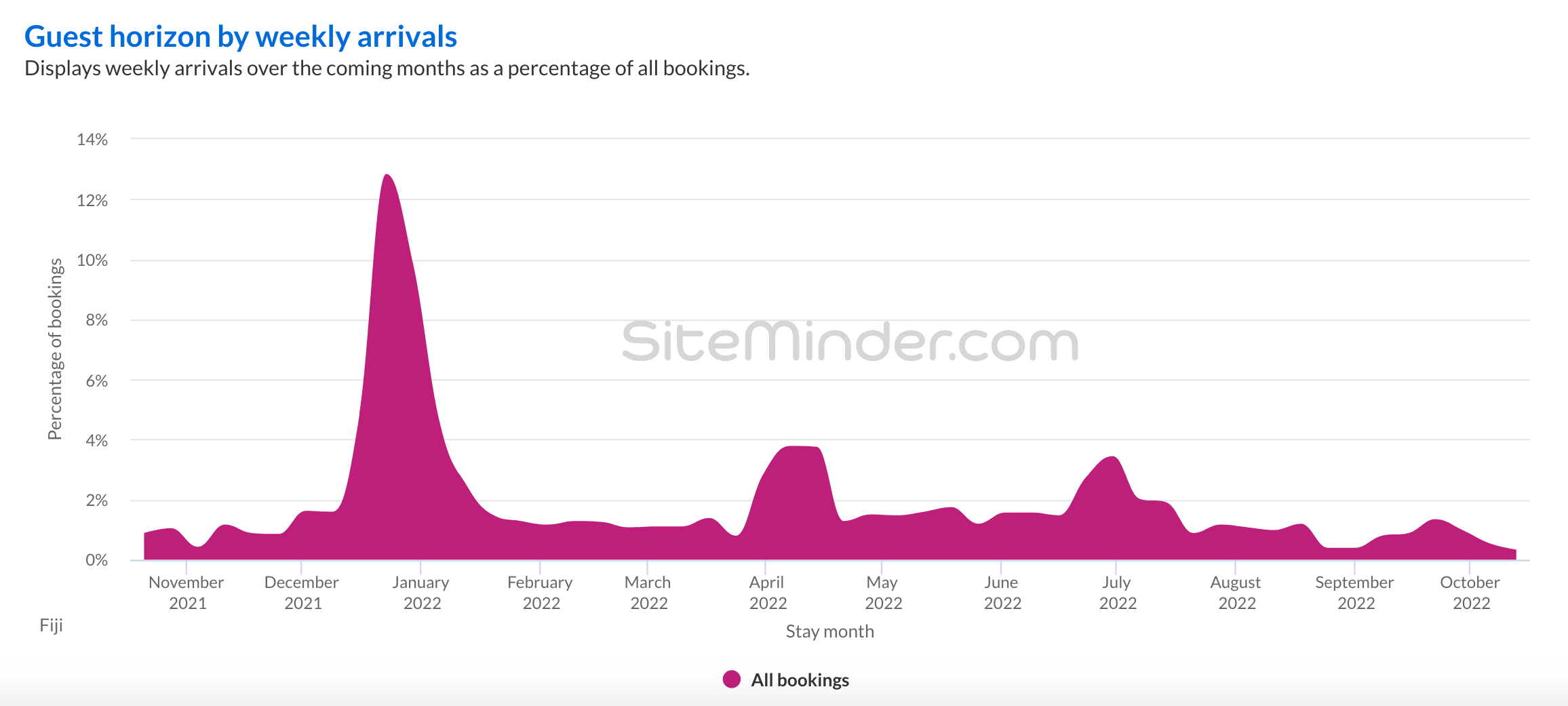 In Thailand, while domestic travel is already in full swing, some international travellers will no longer be required to quarantine from November and the effect of that is already being seen in the World Hotel Index. With booking momentum building to almost 50% of 2019 volumes, reservations from international guests have grown to 28% this month, from 22% in September, and 56% of current booked stays for December are from international travellers.
United States and Canada reach their highest booking levels since March 2020
Looking to North America, the United States and Canada continue their strong and consistent performances. Off the back of falling Covid case numbers and a steady resumption of international travel, the U.S. is at 89% of 2019 booking volumes, led by hotels in Los Angeles and Tampa, while Canada is ahead at 97% of its pre-pandemic level. In both instances, international traveller numbers are set to continue their growth into 2022.
In recent weeks, as part of our 15 birthday celebrations, the SiteMinder team was asked to reflect on why it is they travel, which for me has added a fresh perspective to the above trend. While some of the international trips discussed will be workations, to escape the monotony of life at home, or first-time trips to secluded locations, a large number will simply be to visit family and friends overseas who, for the first time in years, they get to see and enjoy in person, without a Zoom icon in sight. For SiteMinder to be playing just a small part in this special moment in history makes me extremely proud.
As usual, I will be back next month to monitor this trend and others found in the World Hotel Index.