Normalcy edges closer as hotel booking momentum hits two-year high
By Mike Ford, Founder at SiteMinder
Posted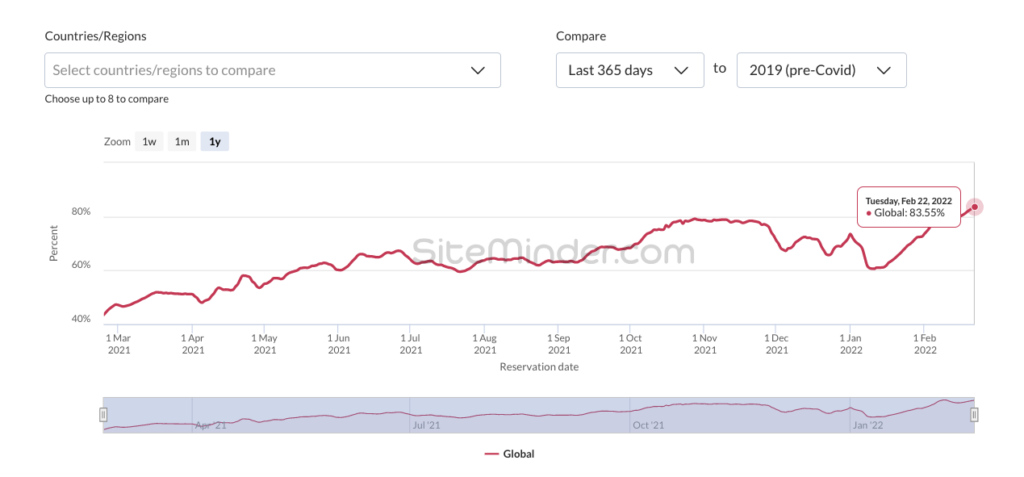 February's data represents a further step towards normalcy for the world's hoteliers. With global hotel booking momentum rising to almost 84% of 2019 levels this month, hotel bookings have now reached their highest point on the World Hotel Index since February 27, 2020 – the product of easing restrictions, lowering cases, and strengthening booking volumes to major cities.
Asia Pacific's commitment to tourism eases pressures
In the Asia Pacific, Australia, Thailand, Vietnam, Japan, New Zealand and the Philippines have all either rolled out, or announced, fresh guidelines for travel in recent weeks.
Australia, which reopened to international tourists on Monday, has seen not only a steady increase in air traffic (there were 50 international arrivals on Monday alone), but booking momentum, as volumes approach their 2019 levels and hit a nine-month high.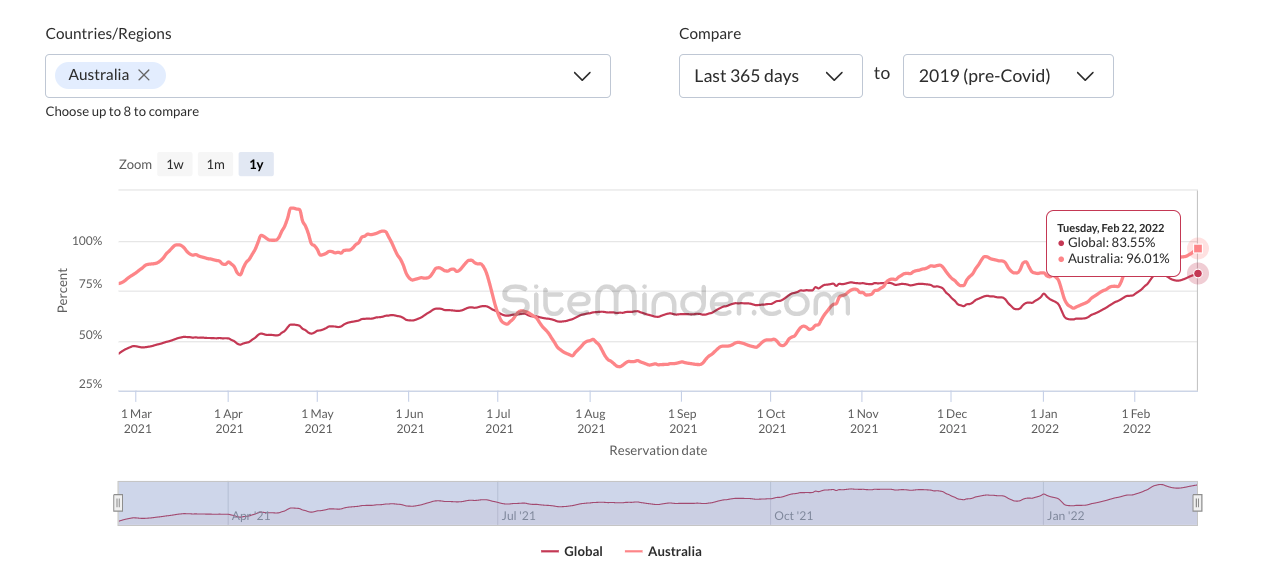 The Philippines, too, is experiencing a wave of bookings following its February 10 reopening. Reservation numbers to local hotels have surpassed 60% of their pre-pandemic levels, which is the highest they've been in nearly two years.
Vietnam, which plans to fully reopen its border in March, jumped to 44% of 2019 levels earlier this month, and, in Sri Lanka, surging international bookings have pushed momentum above comparative 2019 levels. The Maldives continues to remain well above the global average.
Onwards and upwards in the Americas and EMEA
The Americas continue to perform strongly. In the north, Canadian hotels are experiencing their highest reservation volumes in almost two years, largely driven by international arrivals and the performance of Vancouver's hotels.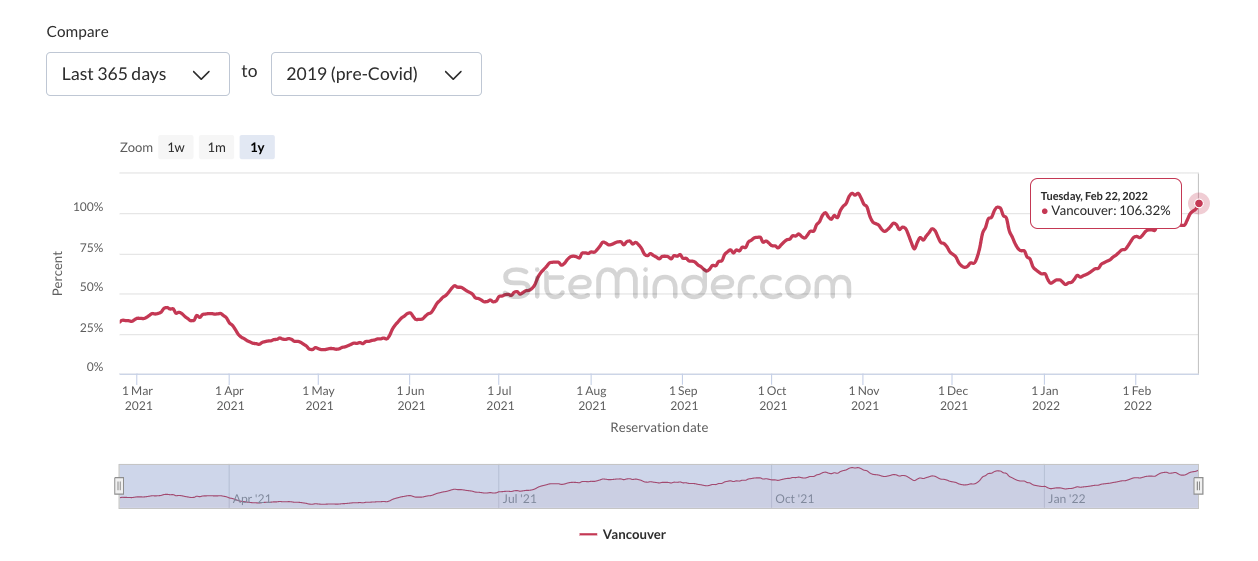 Costa Rica and Mexico, thanks in part to the robust performance of hotels in San José and Mexico City, continue to lead the region. Meanwhile, in the U.S., properties in New York, Los Angeles, Miami and Honolulu are receiving between 80% and 100% of their 2019 volumes, driving the market as a whole to its highest percentage of 2019 levels since the pandemic began.
Crossing to EMEA, the announcement of evolving travel restrictions in the Netherlands, Sweden, Norway and Denmark has had an immediate impact. In the Netherlands, where the majority of restrictions will be eased today, bookings have increased by 40% since the start of the month, to 88% of 2019 levels nationwide, while booking volumes are currently exceeding 2019 levels in Sweden and Norway. In Denmark, booking momentum is now sitting at less than 10% below the global average, having slipped to 38% at the start of the year.
Estonia, Iceland, Portugal and Spain are the other EMEA markets currently outpacing their 2019 levels, while France, Ireland and the UK are all now above 90%.
In France, which like Portugal and Spain recently eased restrictions, Parisian hotels (following the lead of Porto and Barcelona) are now exceeding their 2019 booking volumes for the first time since the pandemic began. Meanwhile, in Ireland, a strong uptick in planned arrivals for the recently announced St Patrick's Day four-day-long weekend has ensured booking volumes remain strong, just shy of 2019 levels.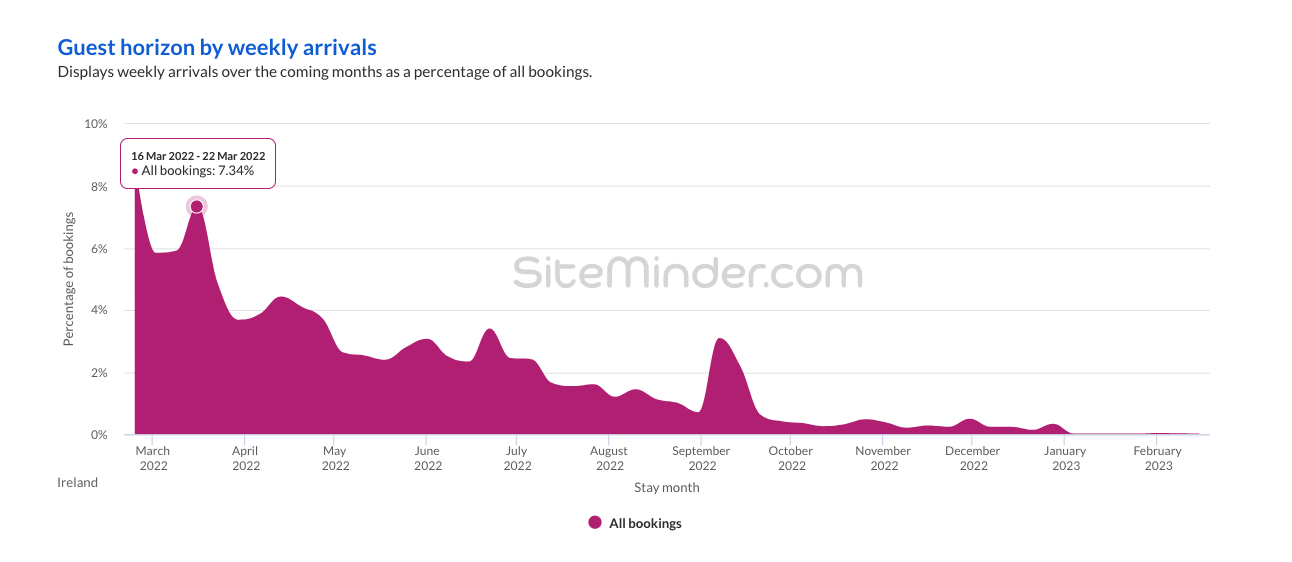 Planning remains minimal but is increasing outside of APAC
Globally, 56% of bookings made in the last two weeks were for either February or March stays, highlighting that the majority of guests continue to be minimalists when it comes to planning. Those in the Asia Pacific are booking particularly last-minute, with a quarter of bookings in the region made in the last two weeks being for stays in February. This compares to 19% in both the Americas and EMEA, where summer planning, particularly amongst international holidaymakers, sees more advanced booking activity taking place.
As usual, I will be back next month to monitor all of the major trends found in the World Hotel Index. Until then, take care.
View the live World Hotel Index