Today vs January 2021: the progress in travel we can't ignore
By Mike Ford, Founder at SiteMinder
Posted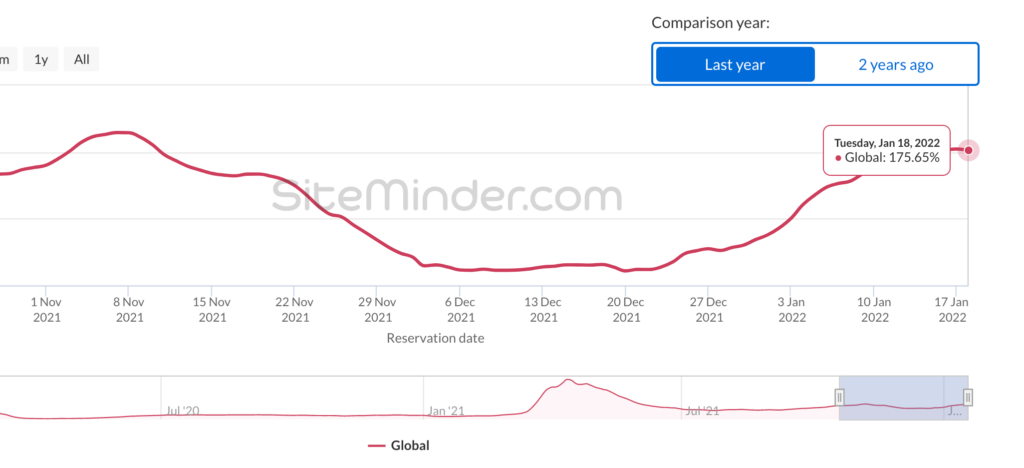 It's said that the only time you should look back is to see how far you've come, and this rings true for the world of accommodation as the year gets underway. Yes, ongoing speed bumps and obstacles remain in view, but SiteMinder's data makes clear how much stronger our industry is now than at this same time 12 months ago.
Globally, bookings are at over 175% of their January 2021 levels and, at a more granular level, 35 out of the 42 countries on the World Hotel Index are currently outpacing last January's volumes. There is also far more international movement. An average of 47.18% of hotel stays in January will be from international guests, which compares to an average of just 29.84%, 12 months ago.
So, which parts of the world are driving this improved performance? While we see a holistic uptick, there are standout regions and nations to report on.
A closer look at the Americas and Asia
One strong performer is the Americas. Each of the region's countries on the World Hotel Index remains above the global average, and well above their January 2021 booking levels, with Costa Rica and Mexico even currently exceeding the number of reservations they were receiving at this same time in January of 2020.
The U.S., too, remains steady. In Tripadvisor's 'Travel in 2022' released last week, it was found that 71% of Americans were planning to travel for leisure in 2022, up 8% compared to 2019. And, it's this positive domestic sentiment that has helped U.S. booking momentum largely remain above 75% of pre-pandemic levels for the last nine months. Markets like Miami, Orlando and Los Angeles continue to perform consistently.
Through Asia we also see a much more active market, 365 days on. The stability of Malaysian hotel reservations off the back of largely domestic movement has been a highlight, after a 2021 defined by lockdowns and extreme weather. Sri Lanka, which relies heavily on internationals, is also taking positive steps, back above 40% of its pre-pandemic booking volumes after spending the majority of 2021 well below 25%.
A different European winter
Perhaps most clearly exemplifying the increased robustness of the travel industry now, compared to last January, are the booking volumes through Europe's second pandemic winter. Each of the 17 European nations on the World Hotel Index are outpacing their January 2021 booking volumes, with seven currently outpacing the global average.
Spain is one of those seven nations. In January 2021, Spanish hotels were processing just over 20% of the number of bookings they were in January of 2019. Today, they are processing over 75% of their pre-pandemic volumes. Looking forward for Spanish hotels, the summer months ahead are shaping up particularly well, with over 25% of uncancelled bookings to local hotels due to check in between June and the end of August, despite the start of the season being over four-and-a-half months away.
On that note, I wish you all a belated happy and safe New Year! As usual, I will be back next month to monitor all of the major trends found in the world of travel and accommodation, via the World Hotel Index.