Strong demand as Northern Hemisphere prepares for its summer of travel
By Mike Ford, Founder at SiteMinder
Posted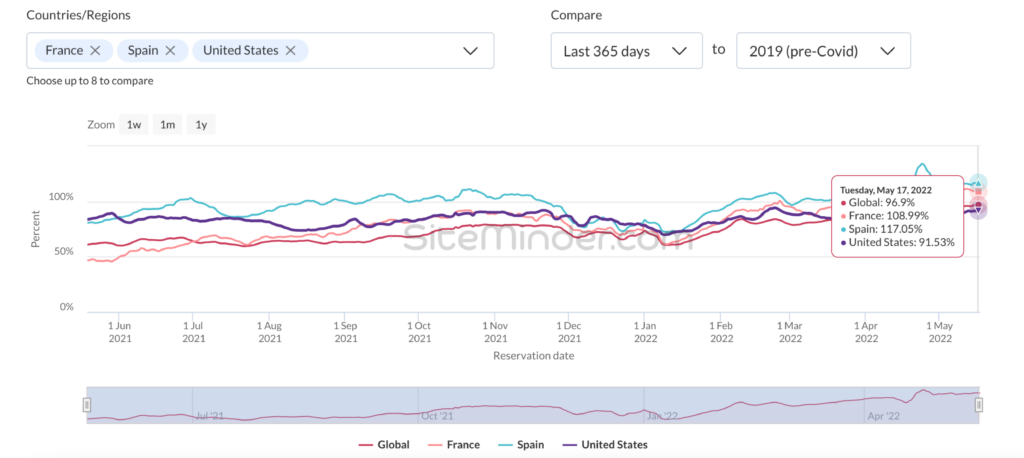 Some of the world's biggest travel destinations are bracing for a summer of high hotel occupancy, as booking volumes edge towards 100% of 2019 levels globally.
Momentum in France and Spain, historically the world's two most visited nations, is sitting at 109% and 117% of 2019 levels respectively, with over 50% of bookings made in the last two weeks being for June or July stays. While in the US, the world's third most visited country, reservations are hovering around 90% of 2019 levels.
In each instance, the percentage of international bookers is higher than at any point in the last two years, and cities synonymous with summer like Paris, Barcelona and Tampa are the most popular.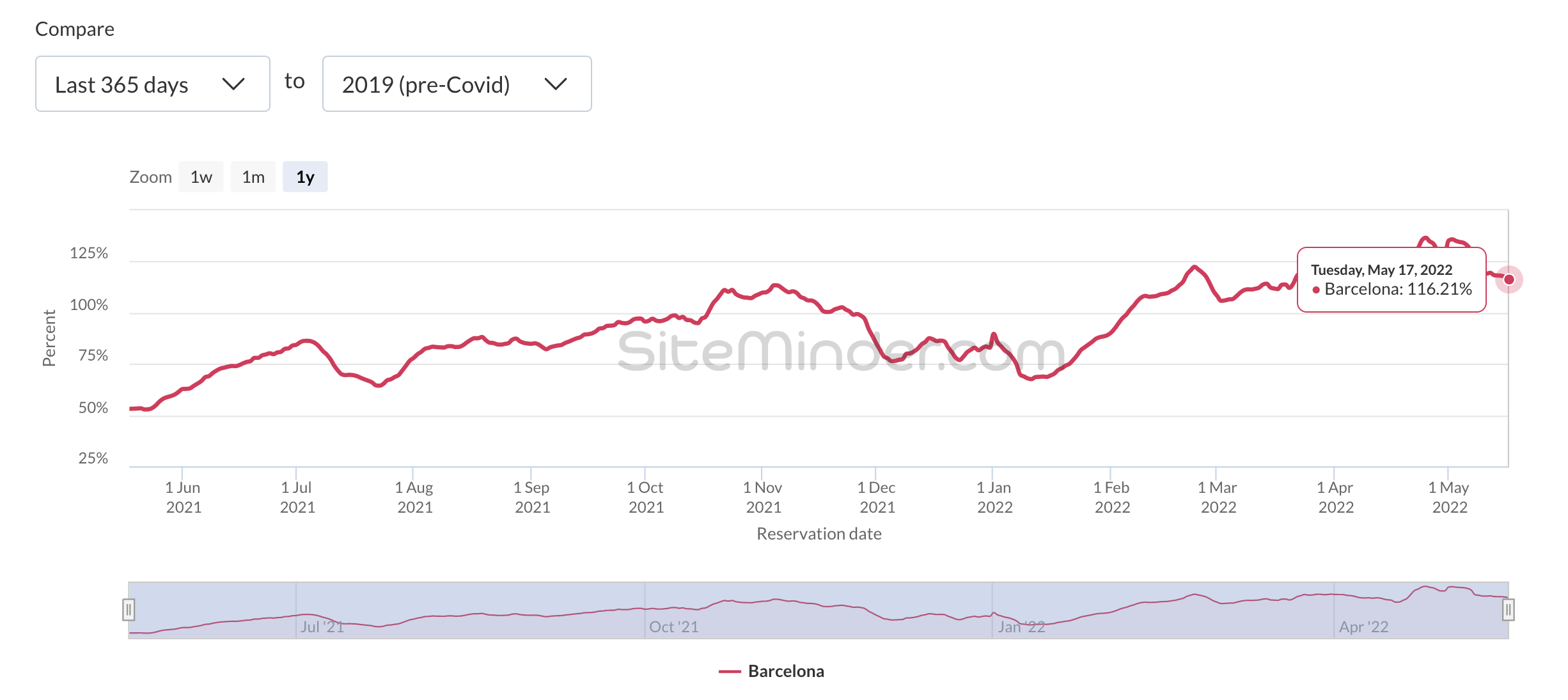 Costa Rica, Ireland, Italy, Mexico, the Netherlands and Portugal are some of the other Northern Hemisphere standouts.
Italy, once the epicentre of Europe's outbreak, has relaxed restrictions ahead of peak season in recent weeks, helping volumes to Rome's hotels extend above 75% of 2019 levels for the first time since February 2020. And in Mexico, hoteliers continue to embrace a wave of largely last-minute international guests seeking out the coast.
More Southern Hemisphere accommodation sectors are normalising
In the Southern Hemisphere, momentum also thankfully continues to build, with locations like Fiji, Malaysia and New Zealand experiencing healthy demand through May.
Malaysia, which eased restrictions in time for Eid al-Fitr at the beginning of the month, has largely seen domestic tourism drive the recovery of its accommodation sector, with bookings reaching almost 130% of 2019 levels at times this month. For New Zealand, its decision to reopen tourism to 60 nations on May 1 has contributed to booking momentum again bouncing above the global average, and in Fiji, one of the good news stories of 2022, volumes are now outpacing their respective 2019 levels, as tourists plan their July and Christmas trips.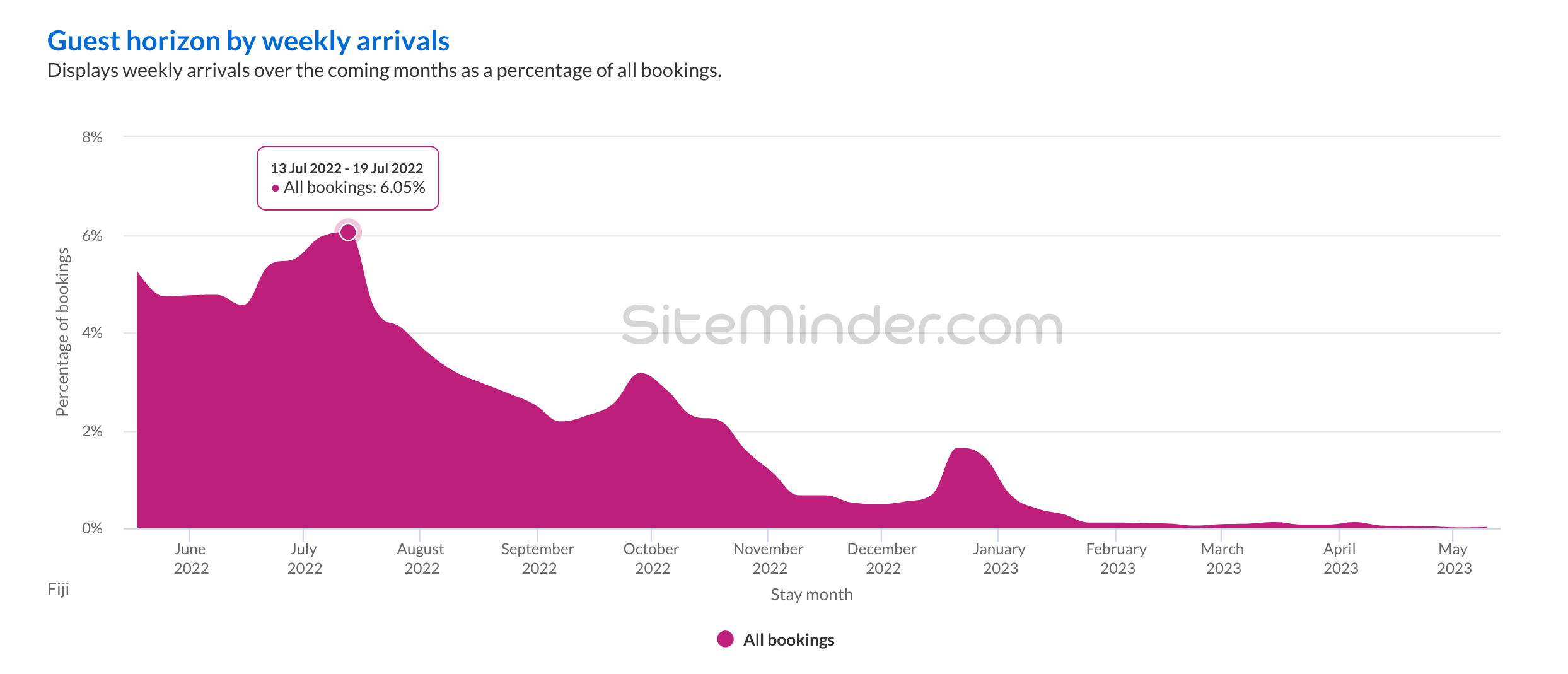 Here in Australia, domestic travel remains robust and bookings continue to come at short notice. Perth is Australia's most heavily booked state capital, followed by Adelaide and Hobart, compared to their respective 2019 performances, and two-in-three trips booked in the last two weeks country-wide were for May or June.
As usual, I will be back next month to monitor all of the major trends found in the World Hotel Index. Until then, take care as the 'roaring 20s of travel' begin to take shape.
View the live World Hotel Index