Travellers who are visiting Wertingen, Germany, and are searching for an authentic Bavarian experience know they should look no further than the Hotel & Gasthof zum Hirsch.
With 36 rooms available, this boutique hotel has been welcoming guests from around the world for more than 128 years.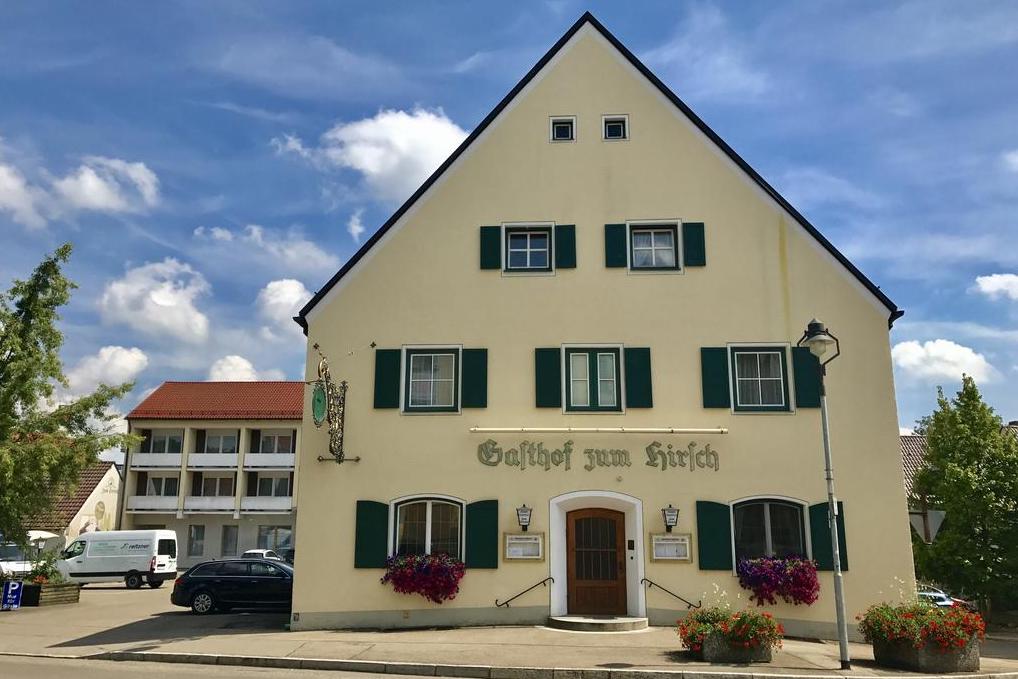 Hotel owner Dominik Birzele takes pride in the fact that he offers his guests fresh, local products in a quiet and inviting atmosphere. His speciality lies in providing a German experience to travellers, and that's where he likes to focus his energy. Recognising this, he knew that he needed to find a website builder that allowed him to create an intuitive and easy-to-maintain website.
Owner needed to increase online presence without sacrificing guest experience
Operating an intimate, boutique hotel in a global travel economy requires any owner to implement a user-friendly website with a clean design, but it can be challenging to find the right solution. Using free website design tools often limits a hotel's ability to customise and personalise the website design, but hiring a website designer to create a completely unique website can be expensive and time consuming
Dominik found the answer to this challenge in the hotel technology products that he was already utilising. He has previously implemented SiteMinder's two most popular products, TheBookingButton and The Channel Manager.
"Canvas offered an easy-handling solution, implementing this product meant changes to the website could be done by myself without a professional IT background", Dominik said.
---
Hotel & Gasthof zum Hirsch's website home page: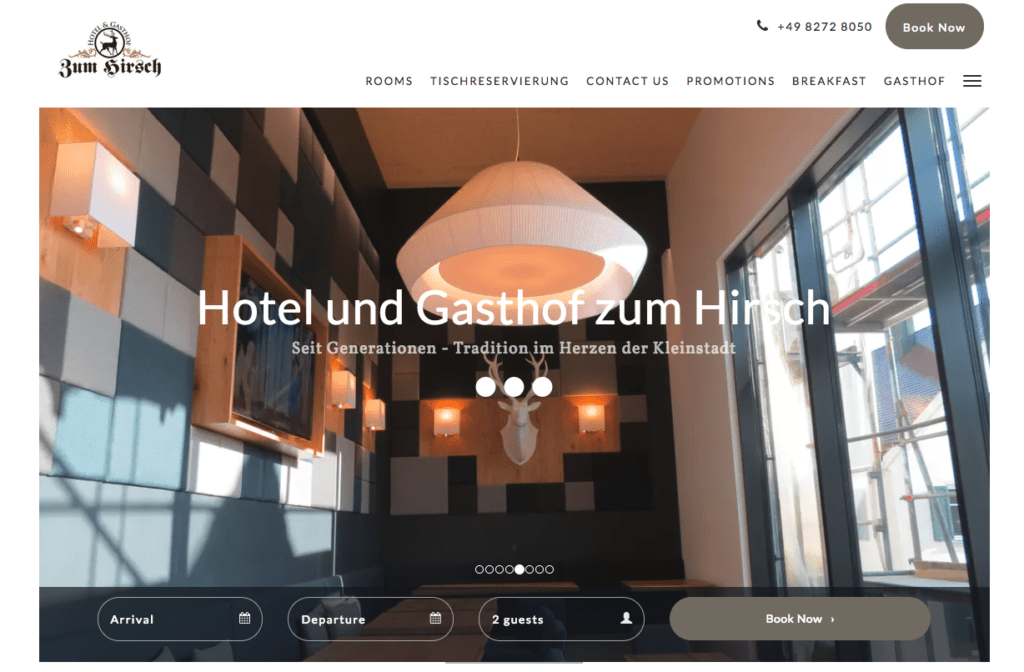 ---
The solution was closer than he expected
He trusted that SiteMinder would provide him with the service he needed and the results he expected, so he decided to also invest in Canvas by SiteMinder.
Canvas allows hotel owners to create a beautiful and functional website using hotel-specific templates in a matter of moments. The platform is simple to use, so even hotel owners that aren't IT experts are able to update and maintain the website on their own.
It only took a day to get the new website up and running, which exceeded Dominik's expectations. Had he hired a website designer to create a website from scratch, he would have waited months for it to be complete.
Then, any updates would have had to go through that designer as well, which would make it more expensive and time consuming to maintain.
---
Hotel & Gasthof zum Hirsch's fully customisable page used to promote their delicious breakfast: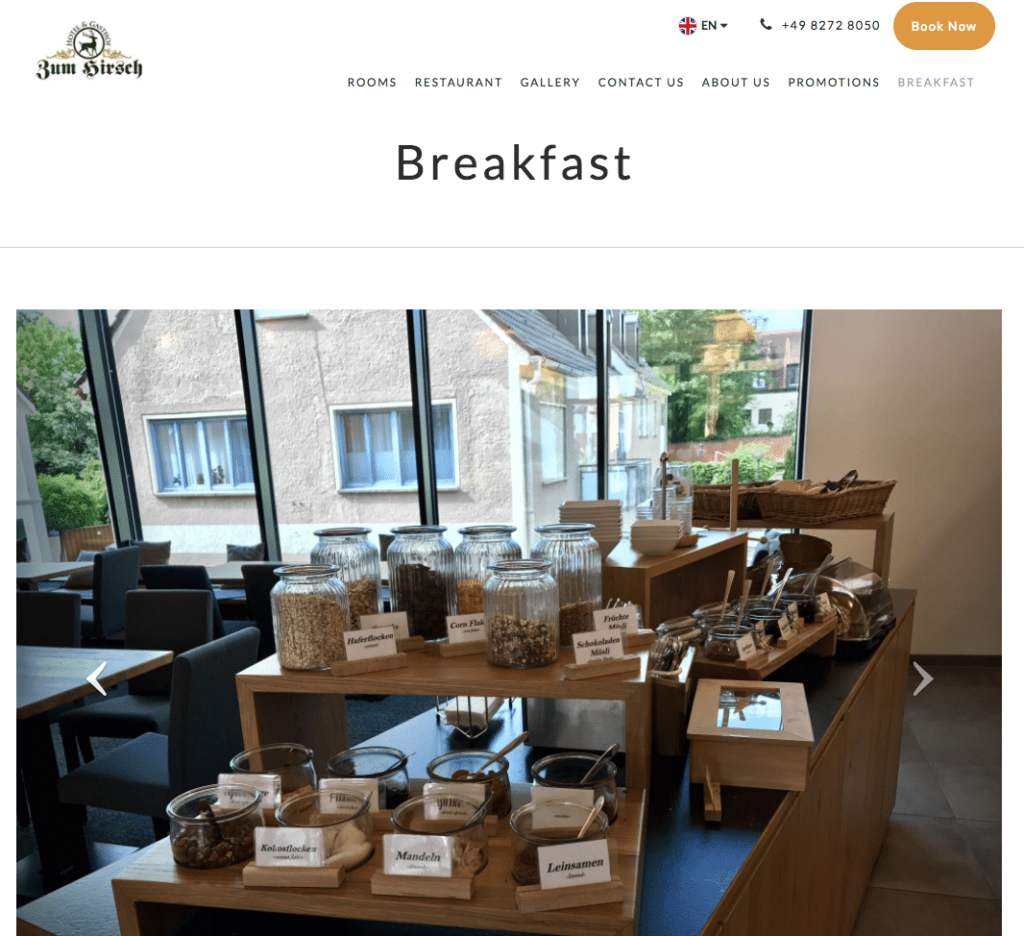 ---
Direct bookings increased by 18%
After creating the new website, Dominik is seeing great improvements with Canvas.
"Our direct bookings have increased by more than 18% and we have more independence from third party sites", he explained.
Dominik attributes this success to the fact that the new website design increased the brand's visibility on the search engine results page, which drove more traffic to the website.
In addition, the design itself encourages user engagement, which lowered the bounce rate and further boosted direct bookings among prospective hotel guests.
Travellers who stay at Hotel & Gasthof zum Hirsch can now enjoy the same authentic experience that guests have been accustomed to for more than a century, without sacrificing the conveniences that come along with modern technology.
Canvas by SiteMinder was the perfect solution and allowed Dominik to strike just the right balance at his property.