The Kapital Inn is a quaint, intimate bed and breakfast (B&B) in the heart of Budapest, Hungary. Rated on TripAdvisor as the best B&B in Budapest, the guests who stay here have the opportunity to get to know one another in a comfortable setting, while also immersing themselves in the local culture and flavour of the region.
When the bed and breakfast opened its doors 10 years ago, its only technological features were a website without direct booking capability and a TripAdvisor profile.
While the rooms were being filled the hotel's operators, Albert and Paul, recognised that they needed to do more to grow their business and increase bookings into the future.

The Challenge
Increasing distribution and boosting bookings appeared difficult for busy managers
The staff at Kapital Inn were so focused on providing guests with stellar service and authentic experiences, that they found it difficult to also manage their hotel technology.
Needing an effective online booking system, they started to research the product options that were available. SiteMinder was one of the first hotel technology solutions to appear during their online search, and after much consideration, they decided it was the best option for their property.
The Solution
User-friendly product suite provides practical answers to direct booking challenge
First, the team decided to use TheBookingButton to allow guests to book directly with them through their website, which was the most efficient way to increase direct bookings at their bed and breakfast. 
As the business continued to grow with the use of SiteMinder's products, Kapital Inn has continued to add more products to its arsenal. Most recently, it began using website builder and editor Canvas.
"Canvas has helped us to appear more professional and attractive to the most motivated travellers around the globe", explains Paul.
Kapital Inn's website before Canvas…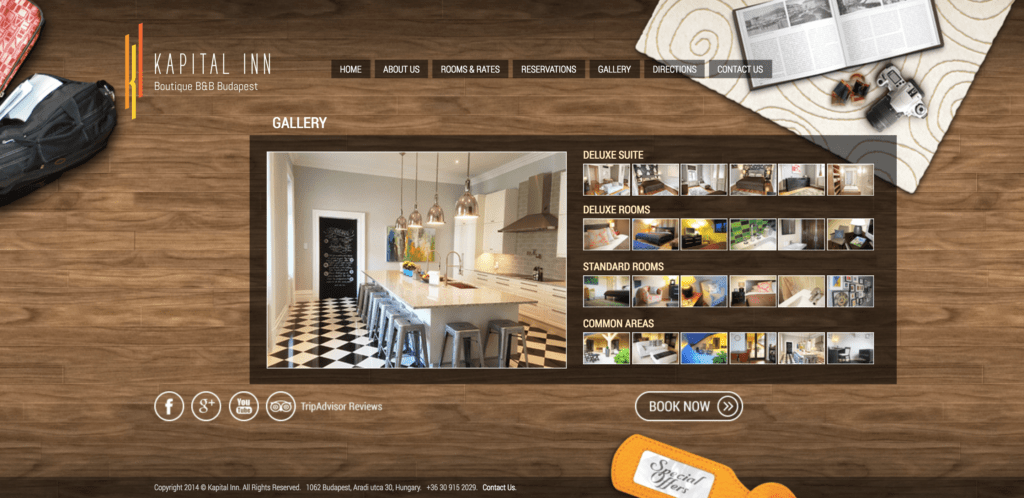 Kapital Inn's website after Canvas…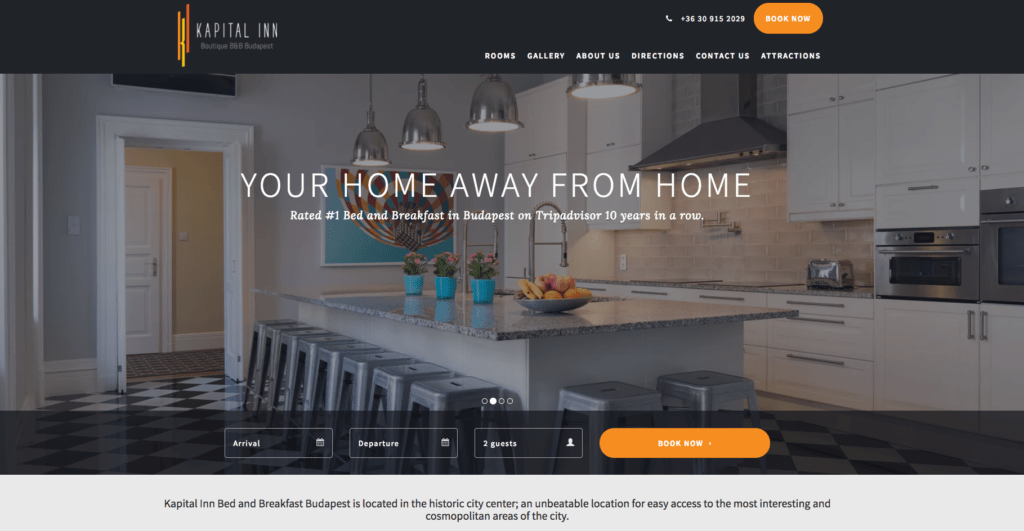 The Result
Property improves performance as a result of SiteMinder technology
It took less than a week for the Kapital Inn to start using SiteMinder.
"It makes all the online and property management a little easier, and helps us spend more time working on our service delivery rather than figuring out what has to happen behind the scenes."
The benefits of using SiteMinder have been so far-reaching, that Albert and Paul find them difficult to quantify. However, each time the hotel seems to slow down or occupancy rates decline, they discover yet another SiteMinder feature that can help improve the way they do business.
"Every time we've improved our service delivery by adding one of your services and our declining occupancy not only recovered but increased," says Paul.

"Without it, we would most certainly not be able to remain rated the best bed and breakfast in Budapest on TripAdvisor."