Hotel Website Templates
Take your pick from some of our easy to use hotel website templates perfectly designed and built to help you take direct bookings.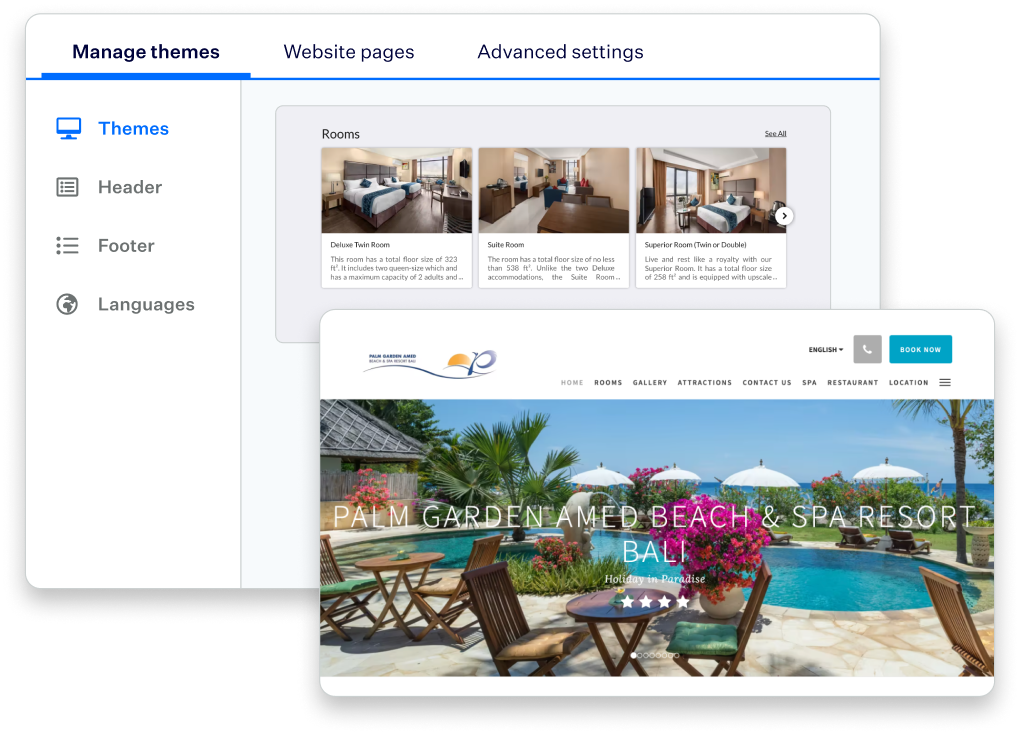 Our templates are built to:
Showcase your property's best features with high quality images and videos
Give your hotel a platform to promote itself, highlight your destination, and host valuable content
Allow travellers easy navigation as they research their trip, find your property information, and book their stay
Integrate seamlessly with a booking engine so you can take direct bookings and increase visibility and revenue with Google Ads
Save you money on development fees by keeping your website evergreen with SEO and mobile-friendly optimisation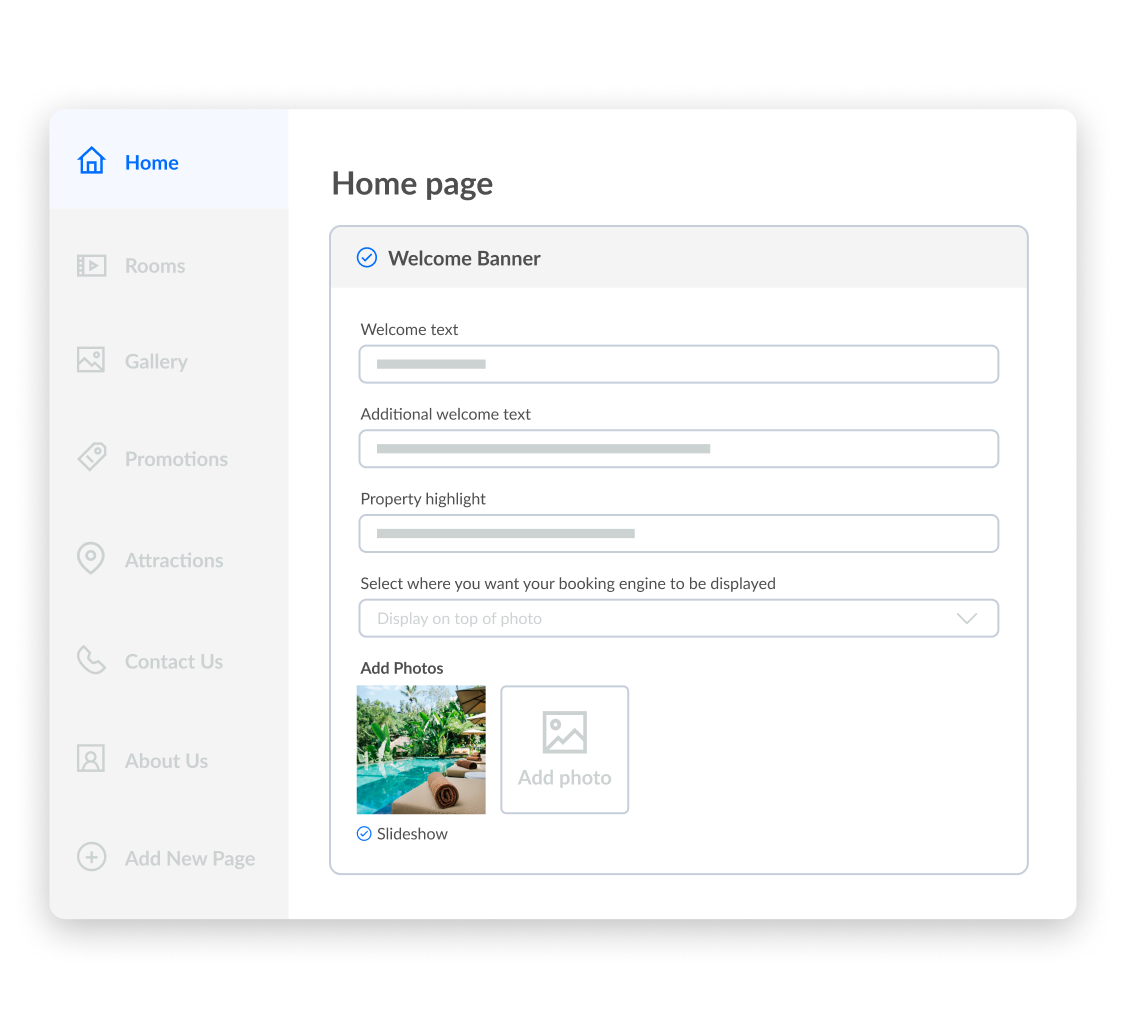 Websites built by industry experts
Our templates are built to be SEO and mobile optimised
All the hard work taken out of your hands with automatic updates and easy customisation – no web design experience necessary
Designed to maximise conversion from travellers researching online
Perfected to make your website your most profitable booking channel
"It's been less than a year since we launched our brand website with SiteMinder and, overall, there's been a 15% increase in website traffic, with 77% comprised of new visitors. This has led to a 20% increase in revenue from direct bookings."
---
FAQs
A hotel website template is a pre-built website that you can use instantly, no costly web development required. The website template utilises the content you provide and comes with built-in features such as a navigation, image galleries, booking forms, and is mobile-friendly.
Hotel website templates are tools that you can use to make a visually-appealing website in a matter of moments. These website-building tools allow you to create a user-friendly website for your hotel that allows you to improve your online brand recognition, reach a broader audience, and increase your direct online bookings.
There are many hotel website templates available that allow you to create an optimised website without the frustration and stress of building yourself a custom one from scratch. A good hotel website builder will include beautiful templates that are also designed to appeal to the search engines that will be ranking your hotel website based on responsiveness and relevant information provided to interested travellers.
If you need to attract more guests and help drive more direct bookings for your hotel, a website template is a quick and easy way to start achieving results. A website template for your hotel will eliminate the need for expensive and time consuming web development. You also won't have to worry about constantly making updates or checking SEO, as most of the work is done for you. A website template will allow you to easily customise your content and drive bookings for your hotel.
A hotel management website template and a hotel reservation website template are both critical components in the running of a hotel business online, but they serve different purposes.
Hotel Management Website Template: This type of template is designed to help hotel owners and managers run their business efficiently. It usually features various functionalities that allow managers to organise and control different aspects of their hotel operations, such as room management, staff management, inventory control, accounting and reporting tools, etc. It may also integrate with other systems used in running a hotel, like a property management system (PMS), customer relationship management (CRM), etc. The goal of a hotel management website is often to provide an internal system for the hotel's employees and managers to streamline operations.
Hotel Reservation Website Template: This kind of template is primarily customer-facing. It is designed to make the booking process as smooth and intuitive as possible for customers. It allows them to check room availability, compare room types and prices, make reservations, and sometimes even pay for their stay. Additional features might include customer reviews, local attractions, and an FAQ section for potential guests. It's designed to attract and convert visitors into paying guests.
A hotel management website template is more operationally focused, providing tools for hotel staff to manage their tasks. A hotel reservation website template, on the other hand, is designed to improve the guest experience, making it easy for them to find information, book rooms, and engage with the hotel.
Choosing the right hotel website templates is critical for your hotel. Basic features that your template should include are an online booking engine with a visible book now button, a responsive website design, and capabilities for image galleries and high-resolution photos.
Your hotel website template must be able to integrate with your online booking engine, because this is the only way that you can accept direct online bookings. Be sure that you invest in a hotel booking engine that includes an easy-to-find 'Book Now' button.
The search engines today are looking for websites to not only be filled with useful information, but also be versatile and adaptable for the users who will be visiting the sites. Hotel websites with responsive designs will automatically adjust to the screen size of the individual user, making it easy for mobile users to find what they need and book a room at your hotel. With a responsive web design, you will rank higher on the top search engines.
Your website needs to showcase all that you have to offer. A web design template that includes an image gallery will allow you to give your target audience the visual proof that they need to book a room at your hotel. You need to invest in a website design that allows you to display high-resolution photographs without slowing down your overall site speed.
The best hotel website templates should encompass a variety of features that enhance user experience, promote the hotel's unique offerings, and simplify booking and customer service. Here are some of the key elements to consider with your template for a hotel website:
Virtual Tours: It's essential to give your potential guests a clear idea of what they can expect. High-quality images and videos of your hotel, rooms, amenities, and surrounding areas can significantly help. Some websites even offer 360-degree virtual tours to provide an even more immersive experience.
Easy Navigation and User-friendly Design: Your website template should be intuitive and easy to navigate, ensuring that customers can find what they need quickly. This includes clear menu structures, a prominent search function, and readily available contact information.
Multilingual and Multi-Currency Capability: If you cater to an international clientele, it's important to support multiple languages and currencies through your booking platform as well as your website template.
Secure Online Transactions: Ensure that your website offers a secure booking and payment process. SSL encryption is crucial to protect your guests' personal and financial information. Any template provided through a reputable website builder like SiteMinder has this baked into the design.
Detailed Room Information: Your website template should allow for each room type to have a dedicated page detailing room features, services, and amenities. This information should be easy to find and understand, helping potential guests to choose the best room for their needs.
Clear Pricing and Availability: The pricing of different room types and dates should be transparent and easy to understand on your website template. Additionally, information on room availability needs to be accurate and updated in real-time.
Connections with Social Media: Your website should be linked with your hotel's social media profiles. This allows guests to share their experiences and also helps to create a broader online presence for your hotel.
Personalised Experience: Tools for personalising the user experience can make your guests feel special. This could involve personalised greetings, recommendations based on browsing history, or the ability to save favourite rooms or dates.
Accessibility Features: Inclusivity is vital in today's world, so ensure your website is accessible to all users. This includes colour contrast for those with vision impairments, screen reader compatibility, and other features that make your website user-friendly for all. Check out the Ally theme on the SiteMinder website builder for an example of what can be achieved.
Live Chat Support: Live Chat is all the rage in the modern day and your website template should have plug-in options to support it. This allows potential guests to ask questions and get instant answers. This can significantly enhance the user experience and increase bookings.
SiteMinder's platform can tick all of these boxes – and many more.
With the SiteMinder website builder themes, you can have a hotel website up and running in as little as an afternoon, depending on the complexity of your business and its branding. A motel website template, for example, may provide everything you need straight away. A resort website template may need some tweaking, adjustment and additions to reflect the unique nature of the resort.
Once you've signed up to SiteMinder, all of our hotel website themes are free for you to use. Simply pick your favourite hotel website design template! You can also edit and update them as many times as you like, whenever you choose to for no extra cost.