During the course of running your hotel you would have heard of SEO, just like any business professional has. We all like to talk about making sure we perform SEO, but how many of us really get it right or fully understand it? With best practices seemingly always changing it can be difficult.
It's important to persevere with making the effort because it won't matter how beautifully designed your hotel website is if no one views it. That's where SEO comes in – this blog will help give you a simple but complete guide to improving your hotel SEO as it stands today.
What is Hotel SEO?
SEO is 'search engine optimisation' and it combines a number of strategies and methods designed to increase the amount of visitors to your hotel's website from organic search results.
The strategies and tactics used by your hotel will hopefully lead to your property achieving increased visibility within search engine results pages, or SERP.
Here is an example of what we're talking about.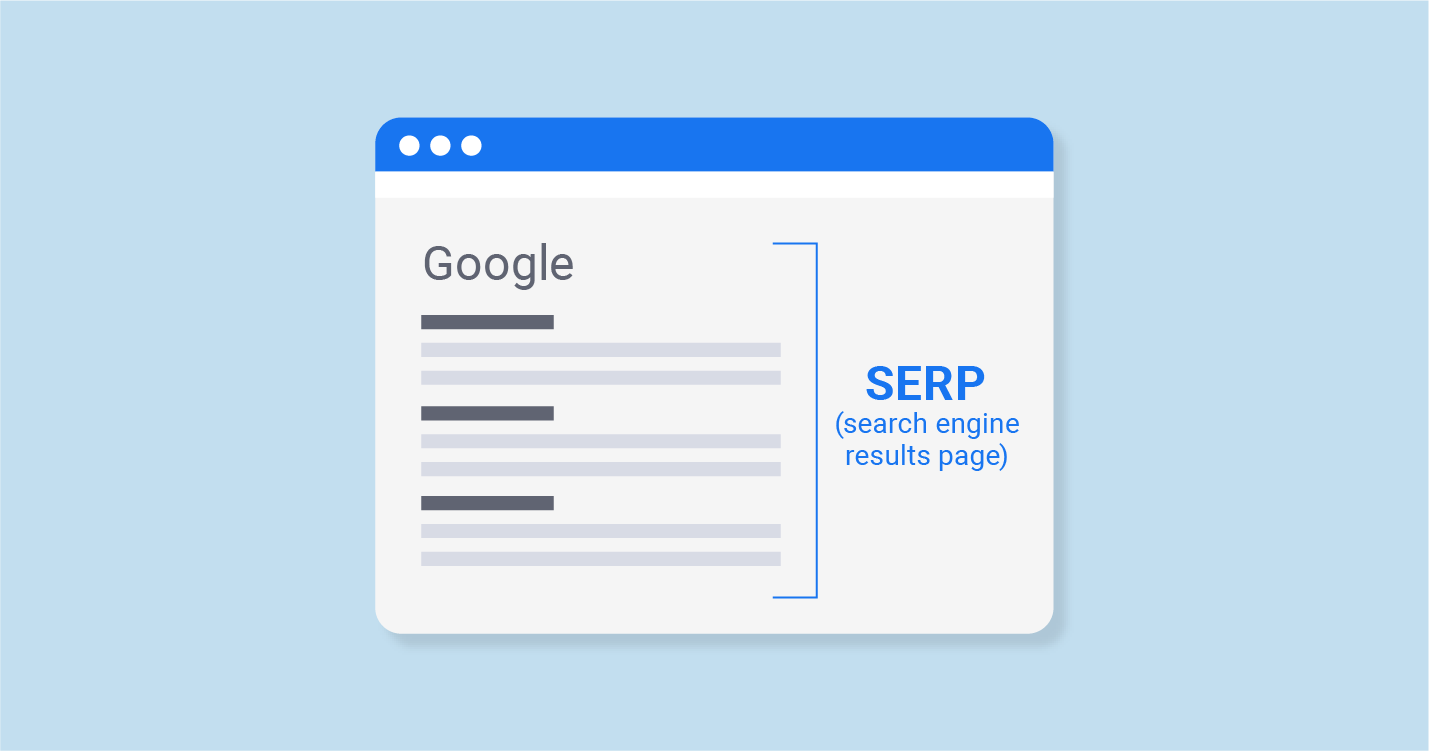 Well executed SEO means that when people search for certain keywords or phrases, your hotel will be one of the first and most relevant results for their query, increasing the likelihood that the user will click through to your website or online profile and then go onto book a room with your property.
When we mention search engines throughout this blog, you can safely assume we are referring to Google, since more than 90% of the world uses Google to perform searches.
The traffic you generate – the users who visit your site from a search engine result – might be referred to as search traffic, Google traffic, organic traffic, or organic search.
It's also important to note that you shouldn't expect overnight results from optimising your search engine strategies. SEO is about sticking to a consistent process for an extended period of time.

Why is SEO important for Hotels?
SEO is important for any business that operates on a transactional basis. If you want to get direct bookings through your hotel website, you need people to visit it and one of the best ways of sourcing these people is by ranking highly on search engines. Given that websites which appear on the first page of Google results receive more than 90% of traffic, it's crucial to have an SEO strategy that can get you there. Benefits of strong SEO include:
Organic traffic from SEO is free and evergreen
SEO is good for targeting users who are considered 'high' intent' – If they are searching for hotels in the area, things to do, or places to visit it's pretty clear they are intending to visit your city and become a paying guest at a hotel
SEO might be the most important it's ever been, with reports indicating searches for hotels and resorts are higher now than at any time in the past decade.
SEO can deliver commission-free bookings when travellers visit your website from Google
Beating out the competition isn't easy. It will take time, but if you do it right, you'll be able to win more bookings than your competitors with fewer dollars spent on marketing.
SEO basics: Keyword research
Okay now it's time to get started on how you can start improving your SEO. Focusing on keywords and developing a keyword strategy is a big first step and will inform a lot of the content you put on your website.
Keywords are the words and phrases that people use in search engines and will inform what you target and build content around. For example you already know guests will be looking for great experiences, so you might write a blog on your website dedicated to 'Hotels with the best amenities in…'
There are obviously a whole range of keywords that will be applicable to your hotel and location so it's important to correctly match your keywords with user intent. You need to create content that addresses what the searcher is looking for, otherwise they'll perform a new search without clicking and Google will identify your content as neither useful nor relevant.
Moz tells us there are four types of user intent:
Informational
As the name suggests this describes users looking for information in a general sense and in your case might be used at the start of researching their trip. E.g 'things to do in Paris'
Commercial
Here users will investigate more thoroughly before they fully commit to making a decision. For example, they might search 'top rated restaurants in Paris'.
Transactional
This is when users know what they want and are ready to buy. So a likely search could be 'hotel room for two in Paris'.
Navigational
These users want to navigate to a specific part of a website and a Google search makes it easier. Think along the lines of '[hotel name] cancellation policy'.
Generally there are two types of keywords: broad and long tail. A broad search might be 'hotel in sydney' while a long tail would be more specific, such as 'Hotel for business traveller in Sydney CBD'. Google is getting smarter all the time, understanding user intent better and as a result long-tail keywords are becoming less of a priority, with medium-tail keywords taking their place. So, 'Hotel for business traveller in Sydney CBD' could be served just as well by 'business hotel Sydney'.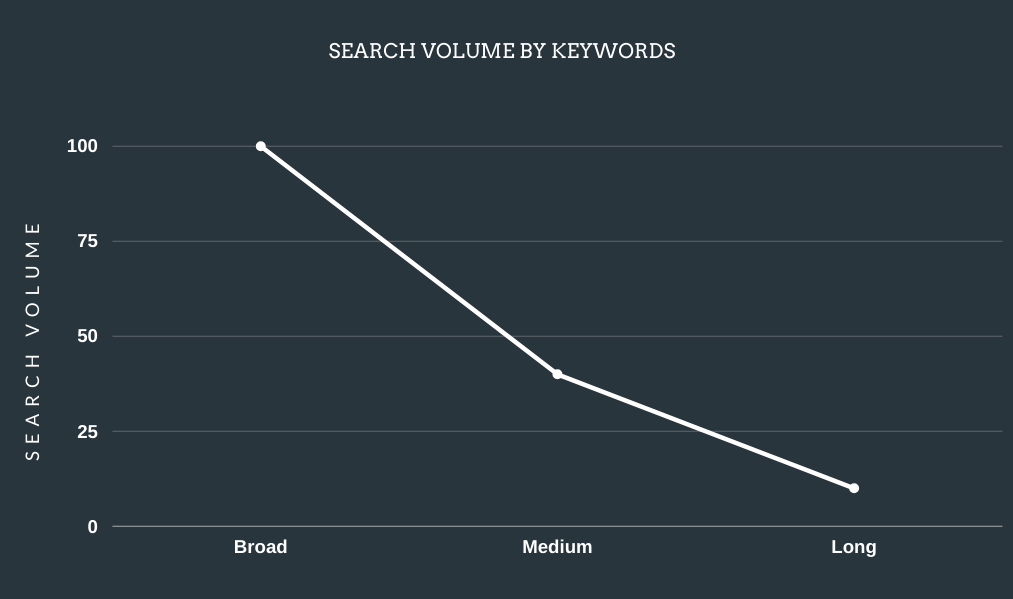 Finding your keywords for SEO
To develop your keyword strategy for SEO focus on your hotel's main features and characteristics, such as:
Target terms travellers use to describe your hotel
Why are people traveling to your location?
What are they looking to do?
What would they like about your property?
What peripheral services does your property have; including weddings, conferences and events?
As you start to identify terms and keywords you think you want to target, it's a good idea to validate these with a keyword research tool. Keyword research tools will give you insight into the average number of times each month a keyword is searched for. If you see 0/mo however, it doesn't mean people aren't interested in that topic, it may just be that you are using different words than they are – so keep looking! For instance, according to Ahrefs, 'new york pizza' is searched 291,000 times each month.
Once you have a list of topical keywords ready, you'll need to split them into primary and secondary keywords.
Primary keywords
A primary keyword is the main topic or term you want a particular page to rank for. It's worth mentioning that these are usually more competitive keywords, however, if your hotel is pet friendly you will want to make sure that you have content on your website that supports this.
Examples of primary keywords:
Hotels
Hotel near me
Hotels in New York
Secondary or related keywords
These are keywords which are more detailed yet still related to your primary keywords. In a lot of cases, these are often keywords that reflect somebody researching prior to making a decision. For example, a potential guest may want to know if your hotel is pet friendly or has WIFI, therefore these are all things you should mention on your website.
Examples of secondary keywords:
Pet friendly hotel
Pet friendly hotel near me
Pet friendly accommodation New York
Beware that Google knows when you're simply stuffing keywords in to try to rank better. Your content must always be useful and informative. Google values content that meets the needs of the user, so for a better chance of increasing your visibility, think about how you can create content that meets the user's needs.
Content creation and user experience
Content is still king, as they say. If you want to rank for keyword searches it's critical you have quality content to back it up, otherwise you won't stand a chance.
To create valuable content, it needs to be:
Relevant – does your content match the user intent? To help, use your chosen keyword as a topic or concept and go from there. This way you'll cover all bases and be super relevant (and best friends with Google).
Authoritative – Your content needs to be in-depth, with juicy detail and to be well researched. You want to make sure your content answers all the questions the user had when they searched. Obviously, some queries will require more content than others.
Trustworthy – It's important that Google sees your information as reliable. Make sure you use sources where necessary and always make sure your content is up-to-date. For example, if a festival takes place each year and you have a blog on it, don't forget to refresh the blog each time.
Unique – Whatever you do, don't mass copy and paste content from other sites or elsewhere on your own site. Google will usually penalise duplicate content.
Friendly – It needs to be easy to read and navigate for the user. It's important that it looks good, loads fast, and is digestible.
At the end of the day if you treat your content in the context of supply and demand and create it in a personable way, you should be okay!
On-site SEO
On-site or on-page SEO basically means optimising elements of a website (the content and HTML) to improve your website rankings in search engines and therefore drive more organic traffic to your website.
Some elements you can optimise include:
Page titles
Meta descriptions
Heading tags
URL structure
Website content – Image, text, video and audio
Image alt text
The term site refers to your hotel's entire website, while page refers to a singular page such as a blog post. The goal of using on-site strategies for your hotel's SEO is to make it easy for both search engines and users to understand:
What a website is about
What each of the pages on the website is about
If a page is relevant to their search query
If the page is of high value
The topical authority
Page titles, Meta Descriptions, & URLs
When we think about optimising our content we need to start thinking a little more technically and consider page titles, meta descriptions, heading tags, URLs, links and more.
These help both search engines and users understand more about your content and can ensure your content is relevant to what the user is searching for.
Title tags, or SEO titles are the first thing a potential visitor will see when searching and are displayed on SERPs as a clickable headline for the page.
A meta description is a short summary of a page's content and is shown in search results below the title tag.

Your URL will be the address of each page on your site.
Quick technical SEO tips for creating content on your content management system
Your title tag needs to be an accurate and concise description of a page's content
Make your primary keyword a main header (H1)
Use your primary keyword in your content's first paragraph
Include your primary and secondary keywords throughout your content
Use Header 2 (H2) tags for related keywords
Ensure your URL includes your keyword, is concise, and clear
Use relevant links to boost your content's value
Image Optimisations
Images play a huge role in SEO. People often purchase based on emotion so it's definitely important to have amazing imagery on your site, especially in the hotel industry. According to Hoosh, only 17% of Google users scroll down the traditional results page, while 35% of users scroll down the images results page. Furthermore, 63% of users who click on an image in this results page then visit the website. However, failing to optimise your images can severely impact your SEO efforts, from slowing down your site to giving users a poor experience.
The most important factors you need to pay attention to are image quality, image size, and image alt text. Let's take a look at each of them.
Image quality
Using your own images is a much better option than using stock photos because they're likely to be more relevant to your content, plus they'll look more authentic and genuine. Choosing random photos to suit your content management system's SEO requirements is not the right move when it comes to Google and users. However if you do use your own, you must ensure the quality is as high as possible so users are likely to click through. This underpins good web design and hotel content marketing.
Image size
Just as quality is important, so is file size. While you don't want to sacrifice quality, your file can't be too large if you want your web pages to load quickly. A slow website will impact your visibility of search engines because it creates a lesser user experience. Mobile visitors in particular won't wait long before going to another hotel's website. Keep track of how many people visit your site from a mobile device using Google Analytics.
Image alt text
Image alt text is alternate text that is shown if an image cannot be displayed. It describes what is being shown in the image. This is important if an image goes missing, internet connection is slow, different devices are being used that can't load images, or if visually impaired people are using screen readers to consume content. Additionally, alt text gives information to Google so it can index your pages more accurately.
Image file names
Believe it or not but search engines use the file names of images to gain a better understanding of what the image is about. If you have an image of your hotel or hotel rooms, make sure the file name accurately reflects this. For example, deluxe-room-hotel-name.jpg. Avoid file names such as 1234abcd.jpg.
Also make a note to be careful with thumbnail images and decorative images. Make your thumbnail file sizes as small as possible. Too many thumbnails or thumbnails that are too large in size will significantly slow down your site.
Decorative images include background images, forms, product images, buttons, and borders etc. Since these will all have an impact on load time, it's worth looking at how you can reduce or limit these while still maintaining the design and aesthetic of your website. Run some tests to see what's optimal for you.
Structured data
Structured data, also known commonly as schema mark-up, is code that helps Google better understand the elements on your webpages, and how they address user searches and intent.
Consistency is important when it comes to your schema. For instance, your hotel name, street address, and phone number or contact details need to be consistent across all pages, so there is no confusion. It helps Google deliver clear, informative results like this: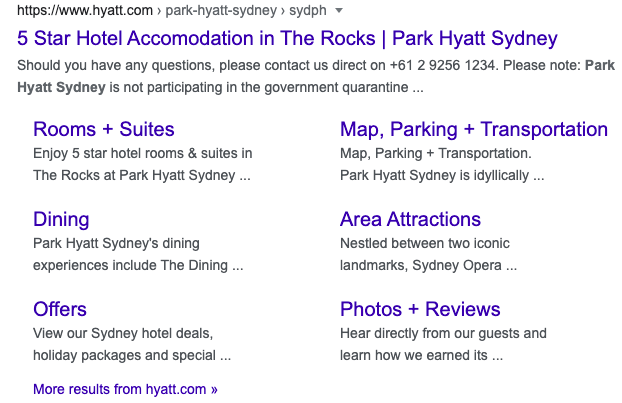 You may require a developer to help you implement your structured data on your hotel website. Or you could use plug-ins that are available for your platform.
The best option may be to simply invest in a website builder that is specifically designed for hotels, which will automatically optimise your content.

Key considerations
When modeling hotel-related schema there are three core objects:
A business – a hotel, hostel, resort etc: the place and local business that houses the actual rooms.
An accommodation – the relevant units of the establishment (e.g. hotel rooms, suites, apartments, meeting rooms, etc.). These are the actual objects that are offered.
An offer – to rent a hotel room for a particular amount of money and for a given type of usage (e.g. occupancy) and time.
If you're struggling with the concept of Schema markup, Google Search Console has a Structured Data Markup Helper and here is a guide for better understanding.
Improving page speed
One of the worst experiences for a user is a site or page that refuses to load or takes an age to do so. Obviously no one likes an unresponsive website and with Google now rolling out an update to focus more closely on pages that deliver great user experiences, you need to put even more emphasis on load times for your hotel website.
If you're wondering where to start, you can run analysis using Google's PageSpeed Insights. This will give your website a score along with some recommendations on how to improve and optimise your site speed.
The faster your site loads, the lower your bounce rate (people leaving your site on the same page they entered) will be. The lower your bounce rate, the better your chance of winning a reservation, since it means travellers will be looking at multiple pages – a sure indication of genuine interest.
It's not always easy to know what to fix however, which is why Google's insights are so valuable. Often you'll find your image file sizes are too large or you're employing too many videos on your site. Sometimes your code needs work.
Knowing that the average load time of a desktop site on the first page of results is 1.65 seconds, it's definitely worth the effort. Getting your load time under two seconds can be vital for bounce rates. If you are unfortunate enough to have a site that takes around 10 seconds to load, the likelihood of someone leaving your site before it even loads increases by more than 120%.
Mobile sites are even harder to optimise and are typically slower, with a recent study showing that the average mobile site takes 27 seconds to load. So you can see that making improvements on your site can give you a distinct advantage over your hotel competitors.
There are two most common causes of slow pages: big images and poor coding. Based on that, there are a few common tasks that can help improve the speed of your site:
1. Compress your images
Reducing the file size of images really helps your site load quicker, and there are a number of tools you can use to do this. It's so common because high quality images can often be large files but using a tool such as Adobe Photoshop or Squoosh will help you sort it out.
2. Use browser caching
Browser caching is about retaining previously-loaded resources so the site doesn't have to reload them upon every single visit from the same user. When a website visitor navigates to a new page on your site, like logos and footers etc won't need to load again.
3. Minify your HTML, CSS, and JavaScript
Minimising the space your code takes up is another big factor. Minification is the process of removing or fixing unnecessary or duplicated information without impacting how a browser will process it.
4. Eliminate render-blocking resources
Render-blocking resources means that some resources on your website are preventing the important parts of your page from displaying in the browser. For example, as a hotel you will want your hotel's logo, banner, and images of your rooms to load before a social sharing plug-in so it's important to make sure your website's code reflects this.
Make your website mobile-friendly
The first thing to consider when checking if your site is SEO-friendly and mobile-friendly is to ask which content management system (CMS) it uses, if any. Most CMSs now have plugins, or add-ons that enable the user to make the site more SEO friendly.
Often for your hotel it can be a much simpler process to use a hotel website builder, which takes care of all of this automatically and is updated every time Google makes changes to its own algorithm.
Check out SiteMinder's website builder to see what we mean.
Consider the following things to make your website mobile responsive:
Ensure your website's loading speed on other devices too.
Include the 'Viewport Meta Tag'.
Make your button sizes large enough to work on mobile.
Use large font sizes.
Compress your images and CSS.
Perform mobile testing.
Click-to-call feature
Improving your existing content
Whilst new content is always great and a key factor in strong SEO, there's also room to improve what you have. If you already have a website, you probably already have some content that you can look at improving or refreshing.
You can do this by analysing your current content using:
Heat mapping tools – Tools like Hotjar will let you see how visitors are behaving on your website. Where they click, move, and scroll. For example, are they ignoring some important pieces of information? Knowing this, you can see what's working or what you can try to make improvements.
Session recordings – Google Analytics will let you see which pages on your website are recording the most sessions and visits, so you can double down on good content and improve bad content that isn't working.
Checking visibility – Google search console will enable you to see which keywords your content is having an impact on and which keywords are driving impressions and clicks on your website. If you have high impressions yet low clicks for a keyword or topic, you may want to see if that's something your current content is missing.
When you've properly analysed your current content, you can start building out new topics to explore, extending existing pieces of content, or simply optimising what you already have with the best keywords.
Off-Site SEO
Off-site SEO refers to factors that increase and demonstrate a website's authority, relevance and trust. These are elements you can't directly control but you can certainly influence.
One example is link building.
Links are seen as a solid backbone to SEO. Google looks at pages to see how many people linked to that page, weighing up their value and relevance. Think of it like a vote.
Internal links allow you to show Google how content on your site relates to each other and identify which pages are the most important. External links navigate to other websites that are not your own. Linking externally enables you to back up any claims you make, help other sites who may help you in return, build trust with guests by providing them useful content, create more trustworthy content, and associate your site with other high quality sites. Backlinks are links that come to your site from external sources.
When it comes to link building Backlinko has a number of tips:
It's quite vital that the page linking back to you is a highly authoritative page, otherwise the traffic may not be significant or particularly relevant. It will also help pass authority to your own page. If Google sees that your page is deemed valuable by authority content, it will favour you as well. There are certain tools, such as Ahrefs, that will allow you to check the authority of a page or site.
Relevance matters – Even if you get a highly authoritative link to your page from another site, but the content isn't relevant to your audience, it may not improve your SEO.
Link positioning is crucial – Don't bury links in hidden places or down in the footer of your pages. They are deemed more valuable in the body of your posts.
Anchor text – Google pays close attention to the actual text that is linked in your site. It uses it as a ranking signal. So if you link text that reads 'vegetarian restaurant' Google will assume the being linked to will be about that topic.
Visual assets – Charts, graphics, and images are very easy to link to and usually full of very useful information. So if there's a way to create an asset for your site that people will link to, it could be well worth the effort.
Outreach – Connecting to writers and influencers who will link to your site is very beneficial. Try reaching out to travel bloggers to invite them for a stay.
Check out Backlinko's post for a full range of advanced tips.
Other off-site factors that may influence your SEO efforts are brand building activities such as:
Social media marketing
Pay-Per-Click marketing
Online reviews
User-generated content
TV, out of home, radio campaigns
First and foremost, it's crucial to have a brand that your guests can come familiar with and you can build a relationship with. In turn, this is going to increase people searching for you, talking about you online, linking to you, and as a result, this will help your SEO efforts.
Local SEO for Hotels
Local SEO refers to the process of optimising your online presence to attract more business from relevant local searches. And while we said this blog was mostly about Google; Bing, Yelp, Apple Maps, and other engines play a part here.
Local SEO is about emphasising your location as a way to rank highly for specific searches. Afterall, travellers won't often simply search for a hotel, they'll search for a hotel in a specific location or a 'hotel near me'. In fact, since COVID-19 and in recent years, we've seen growing search demand for 'hotels near me' as well as growth in demand for specific hotel amenities i.e. doggy hotels near me and cabin rentals near me. Travellers are clearly searching for their next getaway locally, so it's important to focus on local SEO.
One of the easiest ways, and it should be your first step, is to claim your Google My Business listing. This is a free account you can set up that enables you to manage your business profile on Google. Your business profile will appear on normal search results as well as search results on Google Maps.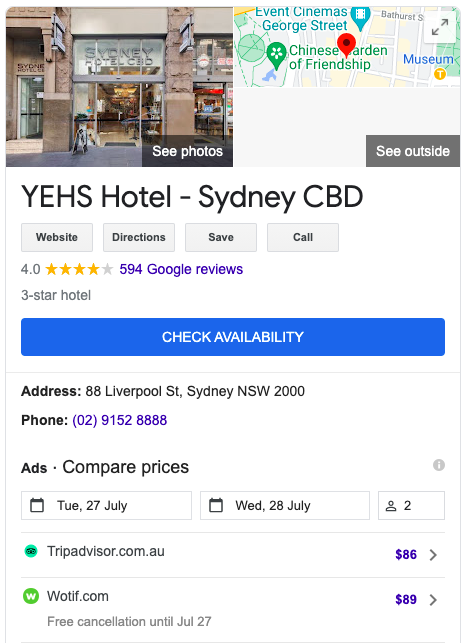 As you can see it will list key details such as your address, contact details, website, operating hours, and more. Creating a Google My Business account lets you customise all this information.
Useful things you can do include:
Respond to reviews
Answer questions
Enable messaging
Display photos
Publish posts similar to Facebook posts
Highlight the key elements of your business
Prioritise which information you want to display
Link to where guests can make bookings
Incorporate keywords to help rank for local SEO!
Google will prioritise sections of your profile depending on what someone has searched for but you need to make sure there is enough information and content to allow Google to do its work, just like on your actual website. Target appropriate keywords, provide useful information, and give users a reason to trust you. Reviews and responses can appear on your profile so you need to stay on top of these if you want to make a good impression.
To master local SEO, many of the general SEO practices we have spoken about will apply but you'll need to think carefully about your keywords and how you can accommodate the search queries from people in your area.
Note that there are two distinct sets of search results when someone makes a local search:
The 'snack pack' results
The regular organic results
If you aren't familiar with 'snack pack' results, they are contained within a boxed area that appears on the first results page when a local online search is made through Google. The Snack Pack box displays the top three local business listings most relevant to the search enquiry. Traffic is split pretty evenly between the two so it pays to rank for both, which is where your local SEO needs to be up to scratch. Nothing will help you to win over potential customers more than genuinely helping them find what they're looking for.
Ideas that might work well for your hotel is to create posts on the 'best ofs' in your area. E.g 'best restaurants in…' 'best local attractions…' 'best walks to do in…'
You could also make sure to offer coverage of any local or regular events that take place.
SEO Measurement
It's all very well to implement a bunch of new SEO plans and strategies but at some point you have to know if it's making a difference and providing a return on your investment. You need to track and measure your improvement by looking at key SEO metrics.
Metrics you'll want to consider include:
Revenue
The most important part to track any SEO work is revenue. Is organic traffic driving your hotel direct bookings? You can measure this in something like Google Analytics.
Goals and conversions
As well as revenue, you will want to setup some goals for your website including hotel bookings, contact us completions, or even blog sign-ups.
Organic traffic
Naturally this one is a big deal since SEO is about growing organic traffic. Are you seeing more traffic to your key web pages than you were before?
Keyword rankings
If you are actively targeting certain keywords with your content you'll want to check how your site is performing in regards to those keywords. Are you getting any top 10 rankings?
Hotel SEO Software
Unfortunately there isn't any dedicated hotel SEO software on the market, but basically all the tools you would generally use for SEO can also be used for your hotel.
A number of tools and software that will help with your SEO efforts include:
Google Analytics
GA is perfect for setting up and tracking key metrics and goals. However, as a hotel you will want to be able to track transactions and revenue plus see which rooms or which of your hotels are contributing to your revenue so it's crucial that you have eCommerce setup within your Google Analytics profile.
Google Search Console
Allows you to measure your website's performance, troubleshoot any issues, and see how Google views your website.
SEMRush
This is an all-in-one tool suite that has features for competitive research, keyword research, backlink analysis, monitoring rankings, and PPC research.
Ahrefs
Ahrefs is another all-in-one tool that includes features for keyword research, backlink analysis, content research, and technical SEO.
Screaming Frog
This is an auditor that will crawl and analyse your site for potential SEO errors and opportunities.
Accuranker
Track your keyword rankings to measure visibility over time and versus key competitors
Google My Business
As discussed, this will help you enormously when it comes to local SEO.
Keyword Planner
Google's own keyword research tool
SEO strategy checklist (key takeaways)
Don't forget to download your SEO cheat sheet or sign-up to the blog below!
SEO is 'search engine optimisation' and it combines a number of strategies and methods designed to increase the amount of visitors to your hotel's website from search engines
One of the best things about SEO and organic traffic is that it is essentially free and evergreen, and can deliver direct bookings
Keywords are the words and phrases that you target and build content around based on what you know your audience is likely to search
On-site or on-page SEO basically means anything the user sees, and what the search engines see
Off-site SEO refers to factors that increase and demonstrate a website's authority, relevance and trust
You need to create content that is relevant, trustworthy, unique, and in-depth
Optimising website elements and images is extremely important for SEO
Link building can be a powerful driver of traffic and rankings when done right
Structured data, also known commonly as schema mark-up, is code that helps Google better understand the elements on your webpages
It's crucial to get your page load times as low as possible to retain visitors on your site
Place a high focus on local SEO and your Google business profile to improve metasearch conversions
Always remember to track your SEO metrics and use helpful tools or software