By Clare Riley, Content and Editorial Manager, SiteMinder
Roll back to the year 2000 and there are plenty of milestones to reflect on. The Tate Modern art gallery in London opened its doors for the very first time, Vladimir Putin was elected the President of Russia, the billionth living person in India was born, George W. Bush became 43rd President of the United States, and the Summer Olympic Games were held in Sydney.
2000 was also the year that TripAdvisor launched in to the market. Fast forward through 15 years of rapid growth, and the self-proclaimed world's largest travel website, is now home to more than 200 million reviews from travellers around the world. More than 90 new contributions are posted every minute, and the TripAdvisor app has been downloaded 100 million times to date.
The TripAdvisor story is one of impressive scale and its success is the result of a commitment to continuously evolve its website features – both for travellers researching their next hotel stay, and business owners wanting to promote their property. Its latest offering, TripConnect instant booking, is aimed at hoteliers looking for another way to promote hotel rooms online. So how does TripConnect instant booking work? What does it cost? And how does it fit with your existing hotel technology?
Here are 10 things you should understand about working with TripConnect instant booking:
1. What is TripConnect?
In 2013, TripConnect launched with an initial Cost-Per-Click (CPC) model allowing hotels to advertise on the TripAdvisor website in order to generate more direct bookings by sending users through to the hotel's own website. Hotels pay a fee every time a click is sent through to their website regardless of whether that user actually makes a reservation. TripConnect's newest feature is called instant booking and allows travellers to book without leaving the TripAdvisor website. Hotels pay a low commission and only pay for a booking when a guest completes their stay.
2. How does TripConnect instant booking work?
TripAdvisor works with your connectivity partner to display your rates, alongside a 'Book on TripAdvisor' button on your property page. Travellers click the button to seamlessly complete their bookings on the site. The booking process is fully optimised for desktop, tablet and mobile platforms in 25 languages and many global currencies. Once the reservation is complete, the booking details are passed to you via your connectivity partner.
3. Is TripConnect instant booking considered an OTA or a direct booking engine?
Good question – and the answer is neither! It's quite unique and so it's somewhere in between. TripAdvisor says it's a new model and describes it as "an assisted booking", sending the reservation directly to your property management system (PMS) or central reservation system (CRS), but charging you a commission.
4. Where do these features appear on my TripAdvisor listing?
Both CPC and instant booking allow your property's rates and availability to appear in the hotel price comparison area of your TripAdvisor listing.
5. Why does my guest book on TripAdvisor and not my website?
TripAdvisor is aiming for consistency here and says it's putting the user experience first. Historically, some hotel websites haven't looked great or been optimised for mobile causing some users to drop out of the booking process, due to inconsistency, or security concerns about website familiarity. As a result, hotels haven't wanted to pay as much to third party websites because guests were not converting as often. TripAdvisor believes that by creating a 'stay within the TripAdvisor experience', travellers are more likely to convert there and then. The travel website wants to make sure that the user experience is as good as it can be. Keep in mind that reservations made on TripAdvisor are still delivered entirely to you, even if a guest doesn't actually visit your website.
6. How does SiteMinder work with TripConnect instant booking?
TripConnect instant booking is one of the more than 250 distribution channels integrated with SiteMinder's Channel Manager. Hotel customers of SiteMinder who sign up for instant booking benefit from maintaining full control of their rates and inventory, which are pushed out to the TripAdvisor site in real-time through The Channel Manager. Bookings made on TripAdvisor are then delivered back to the hotel's PMS or CRS through SiteMinder's Channel Manager, to enable easy tracking, measurement and reporting for users. To further support you, SiteMinder has implemented a complete self-signup process so you can immediately map rooms to TripAdvisor and start attracting bookings within 24 hours.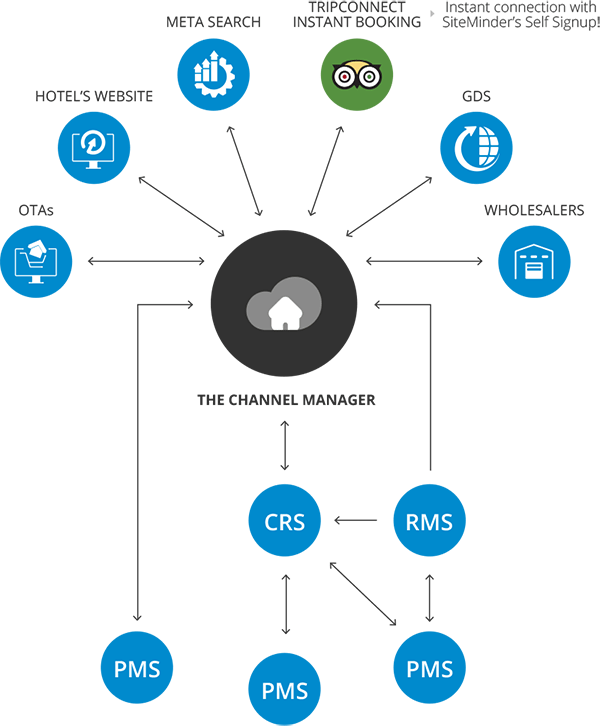 7. What will it cost me?
There is a commission rate of either 12% or 15% – and you select which one. The rate you select affects how often the 'Book with TripAdvisor' button appears for users in search results. Select the 15% commission and the button will appear in 50% of search results for your hotel. For a 12% commission the button will appear in 25% of search results for your hotel. However, instant booking is a 'pay for stay' model—there is no upfront investment, and you only pay when a guest completes a reservation.
8. Do I need to pay for a TripAdvisor business listing?
When TripAdvisor launched TripConnect CPC hotels were required to pay for a business listing in order to use this feature. This is no longer the case and so there is no requirement for you to have a business listing.
9. Will I own the relationship with my guest?
You sure will. Any reservation through TripConnect instant booking is delivered directly to your PMS or CRS and you hold the record for the sale. You'll get all the contact information allowing you to not only get in touch with your guest pre-arrival, but also market and up-sell additional products before they check-in.
10. How can I check my hotel's eligibility for TripConnect?
You can check your eligibility for TripConnect by visiting the dedicated page on the TripAdvisor website. Start by logging in and then following the prompts.
(11. Why does TripAdvisor spell instant booking lowercase but Cost-Per-Click uppercase?
We really don't know. But if it's of any consolation, it's stumped us too! We did say instant booking was unique!)
Read more about how TripConnect instant booking has become one of SiteMinder's fastest-growing channels.
For more information on how SiteMinder and TripConnect work together, click here.