What is a Hotel Reservation System?
A hotel reservation system, or hotel reservation software, is a technology platform that enables hoteliers to accept direct bookings through the hotel's website and through various distribution channels.
Also known as a booking system or online booking engine, it is a tool that allows hotel guests to schedule the dates of their stay, choose rooms at the time of booking, and take payment from them.
Advanced reservation systems for hotels even empower customers to select extras such as wine, flowers, or other niceties to be placed in their room at the time of arrival or at a later time.
Types of Hotel Room Reservation Systems
There are different types of reservation systems in the hospitality industry primarily based on property type, hotel preferences, and business needs.
Any kind of hotel booking reservation system should easily integrate with the accommodation provider's existing technology infrastructure.
Generally, there are 2 major types of hotel booking reservation systems:
1. On-premise reservation system
Formally called locally-hosted systems or sometimes referred to as a computerised reservation system, this type of software is installed in computers at the property and runs on the hotel's own servers, where they won't need the internet to work and have complete control over their data and security but can be difficult to set up and expensive to maintain.
2. Online hotel reservation system
Often known as cloud based hotel reservation system or web based hotel reservation system, this type of software is securely hosted in remote servers and can be accessed by authorised people online which means that users from different locations can manage real-time reservations on any device such as desktop, laptop, and iPad or tablet with internet connection.
Benefits of Reservation System for Hotels
A hotel reservation system software is the helping hand you need to keep your occupancy up, even during the slow times and make sure everything is running smoothly.
There's a range of benefits to having this technology in place at your hotel, mostly based around simplifying your life as a manager or staff member and speeding up a number of processes.
Here's the top 7 benefits of implementing a hotel reservation system:
1. Streamlined administrative tasks
Rather than requiring you to respond to email inquiries and accept reservations over the phone, a hotel reservation software system does the work for you. Instead of being stuck completing your administrative duties in the office, you can then spend more time interacting with your guests.
You also can keep the rest of the staff more organised and efficient, because everyone will have access to live information about the current occupancy at the hotel. It is the easiest way to increase productivity when you manage a hotel or any other type of accommodation.
2. Reduced risk of double or over bookings
When a hotel reservation system is not in place, one person has to manually update the reservations coming in from all the connected distribution channels. Given the fact most hotels have a diverse distribution network with a wide range of agents, this can be an extremely difficult task.
With a hotel reservation system in place, all live rates and availability are automatically updated by the software. The risk of overbooking rooms is massively reduced, which significantly improves the smoothness of your hotel operations.
3. Improved guest experience
With an online hotel reservation system, guests can book their preferred room type on their computers, from their tablets or on their phones. They can also complete the transaction quickly, efficiently from the comfort of their own office or living room.
With short forms and secure payment portals, your hotel reservation software makes the process of online booking a room simple, easy and enjoyable. Remember, this is their first impression of your hotel and it will have a lasting impact on their perception of your brand. It should be user-friendly if your guests will complete the process and book online.
4. Less work for the front office
When guests input their own reservation details through the system, everything happens automatically. As guests book their own stays, the reservation simply pops into your system with all details intact and your staff don't need to worry.
There's no need for the front desk staff to process reservations—all they have to do is get ready for the guests' arrival when the time comes, which also gives your reception staff more time to tend to their other tasks.
5. Decreased chances of losing or messing up reservations
With guests putting in their own details, there's less chance of the wrong data being entered. Human fallibility is a far less significant factor when they input the dates and specifications themselves.
That way, if something goes wrong, you'll have a record to prove it's no fault of your business. You can still provide them with a solution, but your reputation is protected.
6. Easily gathered data
Data collection is absolutely critical, especially in the hotel industry where guests are demanding a more personalised experience. A hotel room reservation management system captures a huge amount of valuable guest data and compiles it into comprehensive reports that allow you to utilise it more effectively.
Without a hotel reservation system, it's hard to know how many guests are travelling, what their interests are, what amenities they prefer, how old they are, where they're coming from, why they're visiting your destination, and so forth.
That's very useful for you to know and will help you improve both customer service and hotel marketing, tailoring your campaigns to attract the most motivated guests to your hotel brand.
7. Simpler administration of rewards
Guest loyalty programs work and you could be leaving a lot of money on the table if you're not using them. A good hotel reservation information system empowers you to keep track of customer stays and reward them accordingly, keeping them around for the long haul. Gain better management and monitoring of rewarding guests for their loyalty.
Features of Hotel Reservation Management Systems
A hotel reservation system does more than just allow you to accept and manage bookings through your hotel website. Reservation systems offer a variety of features that enable you to streamline your tasks and automate your processes as well. There are a number of basic features every online hotel reservation management system should have such as:
Functional Features of a Hotel Reservation System
Associate every online booking with an account

Limit every account to a single user

Enable users to search and find the most relevant booking options

Accept date and time to check available rooms for that particular time

Booking confirmation should be sent to the specified contact details

Calculate and display accommodation charges and other utilities

Cancel bookings

Display and change records of guests

Change rooms
Non-functional Features of a Hotel Reservation System
Use encryption to avoid bots from booking

Search results should populate within acceptable time limits

Users should be helped appropriately to fill in the mandatory fields, in case of invalid input

System should accept payments via various payment methods

Easy to use, efficient, and accessible

Keep track of documentation, activities, and responses
The main point to remember is that this technology enables guests to choose and book their own rooms online via a secure portal. It must be straightforward and safe, but it must also offer you the same convenience and range of use it does your guests. This way, it won't only make life easier but you can use the data it provides to source more revenue and profit for your hotel.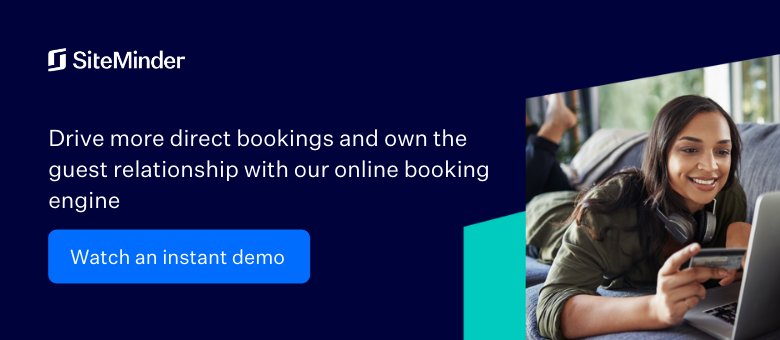 How a Hotel Reservation System Works
As an overview, hotel reservation systems typically work by allowing guests to reserve the dates for their stay based on the real-time display of your rates and inventory across all booking channels and finalise their reservation through an online payment portal.
After completing their transaction, it automatically updates your property management system (PMS) and with the help of a channel manager, all your hotel listings on reservation websites get updated as well. Below is a simple step-by-step process of how a hotel reservation system usually works:
A potential guest inputs a specific number of people and their planned check-in and check-out dates in the calendar of the system.

The system validates the availability of the hotel's different room types and your indicated travel dates, then displays the available rates at the time of the search.

The guest reserves their desired room through the system by providing their personal information such as name, contact number, and payment details. They can also add special requests such as a room with a view or a specific location, and the system will notify the hotel of these requests.

The system confirms the booking and automatically updates room inventory in the hotel's PMS. It also generates a confirmation number which can be automatically sent to the guest via email.
Best Hotel Reservation System in 2023 and Beyond
It's not exactly a revelation that if you want to run a successful hotel, you need guests. Crucial to your chances of capturing and keeping those guests is the use of a reservation system. It is a practical essential at any property, regardless of size or location.
When you have the right hotel reservation system in place, it can increase both your efficiency within the office and your profits as a business. We've listed 3 of the best hotel reservation systems to help you get started—or try for free:
SiteMinder
Voted number 1 by hoteliers worldwide, SiteMinder is the top choice for managing hotel reservations. Our online reservation system easily connects with many other hotel software and systems which makes it easier to manage every aspect of your business, from day-to-day operations to online distribution. Start your 30-day free trial today.
Little Hotelier
Specifically designed for small accommodation providers, Little Hotelier is the best pick for a simple hotel reservation system. Easily manage your bed and breakfast or boutique hotel reservations and more—all from a single platform. Their small hotel reservation system has a user-friendly interface, making it easy for non-technical staff to use.
Hotel App Store
If you're looking for more options to suit your hotel reservation needs, the world's leading hotel marketplace is the place to go. Hotel App Store is a curated collection of the most useful mobile apps for hoteliers. Search through nearly a hundred applications or filter by what you're aiming for e.g. make more money per booking, get more guests to book directly, etc.
Choosing SiteMinder as Your Hotel Reservation System
As the trend for online bookings continues to move upwards, it's imperative that hotels keep an accurate centralised record of room reservations to avoid reputation damage through overbooking.
With SiteMinder, all you need is a computer with internet connection and you'll have a single dashboard to manage hotel room inventory across all online booking channels. With our hotel commerce platform, hoteliers can achieve:
Global reach:

Seamless channel management with 450 two-way global connections to online travel agents (OTAs) and global distribution systems (GDSs) to broaden your reach.

Lower cost of acquisition:

Instantaneous integration with the world's leading hotel technology platforms.

More revenue:

A pooled inventory model to put more of your rooms online and reduce overbookings.

Higher profit margins:

Direct booking experience on your website, on mobile and on social media.