TripConnect Cost-Per-Click (CPC)
Send booking ready travellers from TripAdvisor directly to your website's booking engine.
What is TripConnect CPC by TripAdvisor?
Travelers can now quickly research and compare pricing and availability directly within TripAdvisor. Using TripConnect CPC a Cost-Per-Click (CPC) model, accommodation owners can compete for direct bookings and drive booking-ready visitors directly to your website's booking page with no commission payable. 

If you want to drive more direct bookings, it's vital to appear in these results, right where travelers go to make their booking decisions!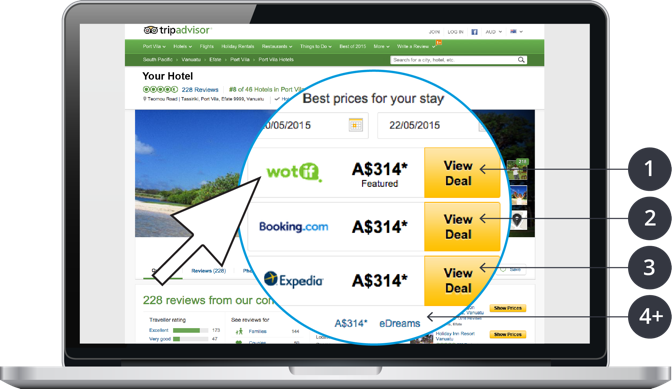 How does SiteMinder work with TripConnect?
The integration of SiteMinder's TheBookingButton with TripConnect allows you to generate CPC campaigns on the fly. Simply place bids to appear in the price and availability search results which represents how much you're willing to pay for a qualified lead. When booking-ready travelers click on your CPC ad in these results, they are taken directly to your hotel's website to complete the transaction and will be charged for this click accordingly.
Read more
---
Harness the power of using SiteMinder with TripConnect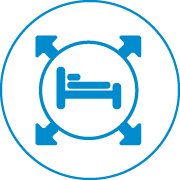 Maximise bookings
Drive travelers directly to your booking engine
TripConnect sends travelers who are ready to book straight from TripAdvisor to your website's booking page. Make direct bookings fast and easy for potential guests!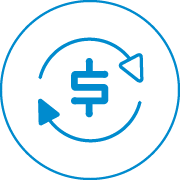 Increase revenue
Turn direct bookings into upsell opportunities
TripConnect sends travelers directly to your website – where it's easier to upsell guests to higher-priced rooms. Generate higher per-guest revenue by using your website's upwell capabilities!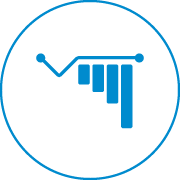 Reduce costs
Make more by spending less
When you generate more direct bookings, you spend less in commission fees. TripConnect brings the power to maximize direct bookings to your fingertips.
---
How much is the SiteMinder subscription charge for TripConnect?
A flat monthly fee will be automatically added to your next SiteMinder bill and will vary depending on your billing region and currency. There are no additional per click or commission fees associated with direct bookings made from TripConnect CPC campaigns.
| Region | Fee |
| --- | --- |
| Africa | £15 GBP |
| Asia | $20 USD |
| Europe | €20 EUR |
| Oceania | $25 AUD |
| United Kingdom | £15 GBP |
| The Americas | $20 USD |
Note: Prices are exclusive of any fees charged by TripAdvisor and are additional to any existing or future SiteMinder product updates.
What is included in the SiteMinder subscription to TripConnect?
TripConnect is a powerful set of technologies that distributes your rates and availability to customers in real time directly to TripAdvisor users in a quick, simple and hassle-free way. As customers booking behaviour changes, so does our partner technologies and integrations and we adapt our technologies accordingly to remain at the forefront. The nominal monthly subscription ensures that we provide you with a product and service required to maximise your direct bookings.
What will I need to start using TripConnect?
All you need is a desire to generate more direct, commission-free bookings and an active TheBookingButton account.
I have TheBookingButton:
Add TripConnect to your existing Booking Button account
I don't have TheBookingButton:
Sign up for TheBookingButton and TripConnect: